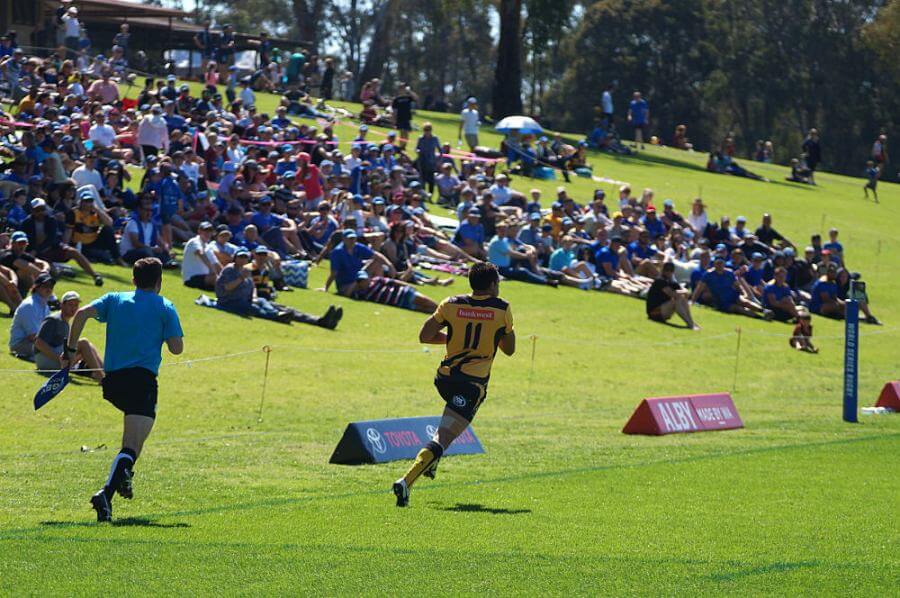 Friday's Rugby News sees Twiggyball now not happening, NRC Corner, a radical shakeup of World Rugby and news from the east and west.
---
The Angry Ones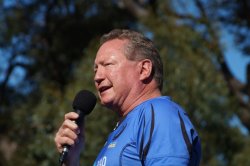 Rugby Australia has annoyed a lot of people in the last twenty-four hours.
There's a very angry man sitting in Perth this morning by the name of Andrew Forrest, and he has good reason to be.
Only a few weeks ago, he was posing for photographs with Raelene Castle and Steve Tew at the announcement of World Series Rugby, and with World Rugby interested too, the competition look set for a bright future.
Well, yesterday the NSWRU, Rugby Australia and our brothers and sisters across the Tasman announced that they would be blocking the rebel league in western Sydney and Auckland until after 2020.
In a way though, it is kind of understandable. With the current format of the Super Rugby and the international test schedule up in the air, both sides have indicated to Twiggy that while they want to be involved, they will not support a bid until both schedules are sorted out.
This means, aside from the Western Force, WSR won't have any Aussie or Kiwi teams until the 2021 season.
Andrew Hore did try to emphasise that they will still want a team supporting western Sydney in the competition when he spoke to the Sydney Morning Herald.
In the end, he emphasised that it wasn't a case of "never," more a case of "not now."
"There won't be a World Series team there [in Western Sydney] next year. As we know there's a lot of work to be done in and around western Sydney and nobody's saying no to that but making sure it's done in an effective way," he said.
"Our whole focus at the moment has been on unifying the game so anything we do has to be tied to our new governance model and have the full support of the rugby community, otherwise you just end up with another fraction.
"That's still open for discussion but I think everyone's in agreement it could all be too quick. You've got 2020 on the horizon and the renegotiation of where rugby will be after that."
However, Hore did mention that Castle has maintain strong contact with Twiggy, reportedly bringing the issue to his attention at a working dinner last month (which Tew was also attending).
"I think Raelene's alluded to that and it seems that both her and Steve Tew have had some good meetings, which is good, and we had one meeting with his representative," Hore said.
"I think everyone's under agreement that you can't put a professional team and build it on sand, it just doesn't work. So all of the other variables that make a team like that sustainable and potentially, whether it will go ahead at all, needs further discussion.
"To try to put a professional team in by next March – nobody's got the resource probably outside Twiggy's group at this stage. Because at the end of the day we've got to look after 100,000 rugby players in our own state. With everything else going on it's a lot of work."
Twiggy and Castle are (as of me writing this on Thursday night), still to comment on the matter.
The other big news that has got folks riled up is the news that Rugby Australia will not intervene with Michael Cheika's coaching style, or remove him or any of his assistant coaches from the team.
Speaking with Fox Sports, Raelene Castle admitted that while she is concerned about the results, she does not think it is time for action "just yet."
"I don't think were there, I don't think we're at that stage," she admitted.
"We've seen, as we've all identified, some inconsistent performances, but that's what we've asked Michael to do [fix]. He's a world class coach and he'll be coming to us to present what he believes is the plan that can deliver some more consistent performances.
"What is the plan? To recognise that we can see improved performances. Michael is contracted through to the end of the World Cup, and he has a plan he has continued to work on to get us through to that World Cup and to make sure the Wallabies can be in a position to perform. He's the head coach, it's his responsibility to put that plan together, and he will be presenting that to the board.
"He runs the program, he leads the program. So, at this stage, he deserves that right to come and present what he sees as going to be the important parts to ensure we can deliver consistent performances.
"The reality is, we expect to go very deep into the World Cup. And the expectation is, the Wallabies will be pressing very late into the tournament."
NRC Corner
It's the final regular round of NRC, and we've got two do-or-die clashes this weekend. This is going to be bloody brilliant.
For context, here's the ladder: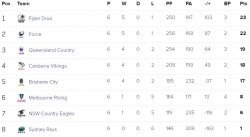 For some context, five teams are in contention to finals positions, and the first one playing will be Queensland Country, who travel to Tamworth for for their match against their country rivals, the NSW Country Eagles.
QLD had a promising start to their season before they lost two on the trot, however last week they bounced back into form with a demolition of the Sydney Rays at home. Depending on the result over in Perth, they are a chance of a home semi-final if they grab a big win here, however I don't think that is going to happen.
For all the frustrations with the NSW teams this year, at least the Eagles have been close to winning on multiple occasions, and aside from their match against the Melbourne Rising have been a competitive outfit. They've always proved a handful at home as well, and with this being their last game of the season I expect they'll put everything into it to finish on a high.
I do think Queensland will take it, but not by much. QLD Country by 5.
We'll also have a new podcast coming up where we chat to Eagles coach Darren Coleman about this game, so keep an eye out for that on Soundcloud. 
Next up is a contender for the match of the entire competition (and possible Grand Final rivals) when the Western Force host the Fijian Drua in Perth. As NRC games go, there aren't many bigger than this. Not only will this decide the minor premier position, but the winner also goes home with the Horan-Little Shield for 2018.
The Force have been unstoppable at home, not to mention major contenders all year. With an unblemished home record (so far) and only one loss on the road in Canberra, they've been looking all around outstanding all season. It's so hard to knock them off in front of such a loud and passionate crowd on the hill at UWA Sports Park. This weekend though, the Force fans are going to have to really get behind this team, because the Drua are the only other team that I think can challenge them.
While the Drua haven't been as successful on the road, at home they've been on a whole other level. The fact they have such potential in their armoury is unsettling for even the best teams. As they proved against the Sydney Rays, all they have to do is flick a switch, and they're on top of you.
This is up there, not just for game of the round, but for game of the season. The winner gets the silverware, the minor premiership, and the best run in the semi-finals. I think the Force will win, but this one is too tight to call. Rugby fans in WA, you are not going to be disappointed. Force by 2.
Sunday sees us head down to Ballarat for the last match between the Melbourne Rising and the Sydney Rays. With little on the line, this match will effectively be all about pride. However, Ballarat fans should still get along to this, as the solitary win hasn't been a correct indication of where the Rising have been all year. This year, they've consistently threatened even the stronger teams in the competition, and it's often been the case that they've either run out of steam or the roll of the dice hasn't gone their way. They've often been so close, but in this competition, being so close often isn't enough.
I expect them to be heavy favourites over this Sydney side. 309 points conceded in just six games. It's been a long year for this Rays side. Let's hope they produce a performance similar to their game against the Drua and give themselves something to smile about.
Rising should take this one, and I reckon by at least 30.
And lastly, the final match sees the other contender for game of the round (and the season), when fifth-placed Brisbane City take on the fourth-placed Canberra Vikings at Easts Rugby Club in Brisbane. It's Roberts vs. McKay. It's the 2015 Grand Final. Ohhh this is gonna be a good one.
The hosts started their season with two woeful losses, but since then have been utterly sublime, stringing together their most successful series of wins since 2015 (the last time they won the competition). Their wins against the Rising and heavyweights QLD Country have been most impressive, but this weekend they come up against one of the most consistent teams in the competition.
Fun fact: the Vikings have been half of all the NRC Grand Finals (2/4) and have never won a single one. They have been in the Top 4 for the nearly the entire season, and aside from their first round loss to QLD Country, have barely put a foot wrong. It would be a genuinely heartbreaking way to end their season if they were to fall at the final hurdle here, because they have the talent to win this competition.
No buts about it: this match is going to be a beauty! I honestly don't know who to pick. Honestly, no idea. Flipping a coin. Brisbane by 1.
Honestly, if any of you folks haven't gone down to an NRC match, now is the time. Enjoy your footy this weekend, ladies and gents.
League of Nations
So more light has been shed on the planned restructure of the international season post Rugby World Cup, with the three-Test series in June/July set to abolished by 2020.
In it's place, as mentioned by World Rugby, will be a "League of Nations" strategy. Unlike the failed version that began in the 1920s, this version aims to enliven the international game.
Basically, during the June and July window there will be a rolling tournament that will see the top 12 nations in the world will play each other once a year.
The top four nations at the end of each year would then square off in finals to decide an annual champion.
According to rugby.com.au, this will fulfill two main aims: to up the stakes of each Test between the world's leading nations and boost broadcast revenue for competing nations by selling it as a package. There will also be a promotion-relegation system and tier 2 competition, which will allow emerging rugby nations to have more game time, and also to potentially work their way up into the tier one competition.
But, to fit all the games in under the new model, teams would have to play three different nations in July. The Six Nations and Rugby Championship will also still continue, being incorporated into the League and being included for competition points.
"The premise is we need to generate more money for the international game and the more meaningful those games are, the more likely they are to generate broadcast revenue so we're doing an exercise in the viability of a broadcast uplift in those fixtures," World Rugby CEO Brett Gosper said.
"It just makes sense and it would seem to be the time to do this and there's a consensus and a desire to try and do that.
"It's not just Australia, everyone can do with more revenue in this area and the sport deserves to get the value it can get for those fixtures.
"The team coming south (in July) would have to play three teams, but it's making sure each game count towards an end that is more interesting to the fans, and therefore a more viable product.
"I think we've now spoken to most CEO's across the north and across the south as well as unions across the north and the south and I think everyone wants to see if the theory leads to higher values and the implications.
"It's interesting from a rugby point of view but it's also regrouping the rights of these international games at one purchase point which in itself creates an uplift in value so all international rugby, including World Cup, including all the November, July, Six Nations, Rugby Championship, all grouped together."
British & Irish Lions tours will also not be hampered or part of the competition.
Both Raelene Castle and Michael Cheika have indicated that they are interested in such a competition (unsurprising, considering how desperate we are for money).
"Certainly the southern hemisphere are keen to make sure that we're working more closely with our northern hemisphere colleagues and it's not an us-and-them scenario, it's actually how can we work together to make sure we maximise the opportunities for the game of rugby as a whole," Castle said to when she was last on Fox Sports. 
"Rugby Australia's on board and we're very open to the conversations that are happening at a World Rugby level."
"It'd be one hell of a mission to get all of the rugby playing countries from the north and south on the same page, that's for sure," Cheika added.
"But I think the idea of more meaningful series, even though every test match is very important, but maybe from the fan's perspective, that could be something interesting."
East to West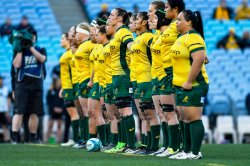 Starting in sunny WA, Rugby Australia has confirmed that next year will see the Bledisloe double header continue, and have announced they will take the competition to the new Optus Stadium complex in Perth.
The Wallabies and Wallaroos played double-headers earlier this year against the All Blacks and Blacks Ferns, and while the Wallabies were woeful, every other team was not. The Wallaroos have shown immense progress under their new coach Dwayne Nestor, and their progress was rewarded by the fact that they had a record 28,000 reportedly turn out to watch the Womens game.
The move west will mark the first time in their history that the Wallaroos will play a test in Perth, and for WA local Nestor (who coached the Perth Spirit to their first NRC Toast Rack back in 2016, and is one of WA's most promising coaching talents), the announcement is another step towards parity for the Womens game.
"It's fantastic news that the Buildcorp Wallaroos will get to play their first Test match in Perth," Nestor said to rugby.com.au.
"As a Western Australian myself I know personally how strong the women's game is in the west and this is only going to help to inspire a whole new generation of female Rugby players in WA.
"Our team is building on the mantra of "influencing a generation" and we are proud of the steps we have taken with the program in 2018 but there is still a number of targets we want to hit."
Raelene Castle was also over the moon that the double-header matches will now become a staple of Bledisloe events.
"We are really proud to announce that the Buildcorp Wallaroos and Black Ferns will play again in 2019 after two great Test matches this year in Sydney and Auckland," Castle said.
"There is now double the incentive for fans to get out to what will be a memorable rugby event at Optus Stadium with the Bledisloe Cup heading to Perth for the first time, and the first ever women's Test match in the west.
"I know many fans from across Australia and New Zealand will want to travel for this historic occasion, to experience outstanding Rugby and everything that Western Australia has to offer."
And lastly, over in Queensland, the Reds are set to reunite two rugby league legends, except this time they'll be in the coaching box. Peter Ryan, who formerly played alongside Brad Thorn in the Brisbane Broncos, has signed on as Queensland's defence coach.
Ryan first got into coaching through working at the Brumbies during the golden when they won two premierships, and after that moved over to league, managing both the Broncos and Cowboys. The Reds showed a lot of progress under Thorn this year, however defence was a major weakness in their plans. Ryan is now tasked with changing that around.
"Brad and I have worked together on-and-off the field for many years and his role at the Reds played a big part in my decision to come to Ballymore," Ryan said to rugby.com.au. 
"We have very similar views on rugby and I'm looking forward to getting stuck in with this group of Queenslander."
Thorn also had plenty to say about Ryan joining the panel.
"I've known him since 1994 when we played at the Broncos together," Thorn said.
"We had great success over the years, including winning the title in 2006 when I was still playing and he was in the defence role at the club.
"He was a tough operator as a player and I know he'll bring that attitude and hard edge as a Defence Coach here at the Queensland Reds."
As a result, Ryan's inclusion means that Tony McGahan will no longer be in the coaching box. Instead, he will take up a role alongside former assistant Paul Carozza in the Reds academy.