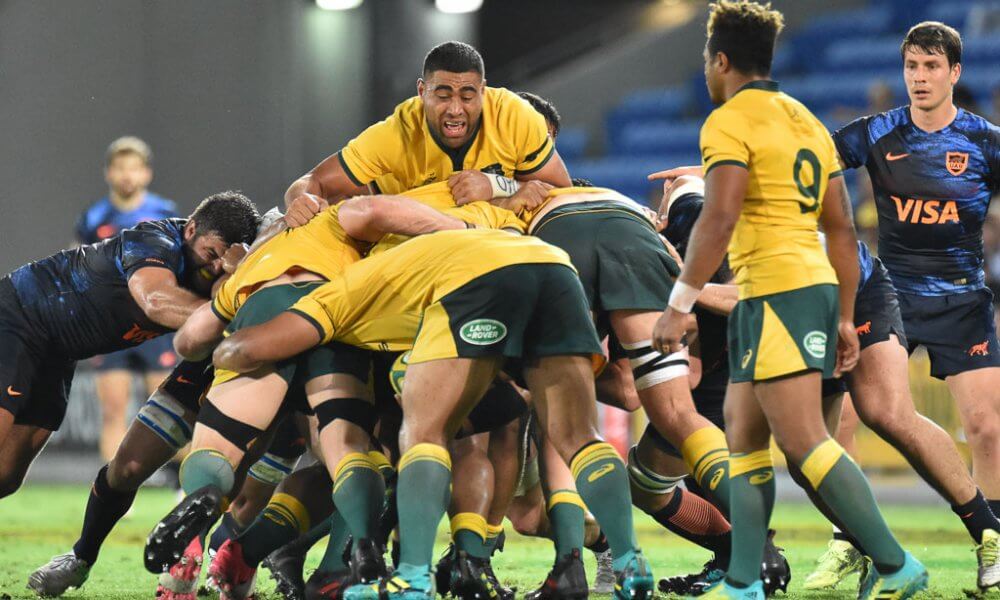 Friday's Rugby News sees us talking about cold, hard cash, the latest from the Wallabies and Womens Sevens, The Rebels adding more to their stock and more controversy around a certain English coach.
---
Cold, Hard Cash
It's the end of the week, so let's talk money. Ya know, the thing Rugby Australia focus more on than the management of the game in this country?
But, while it is easy to poke fun at the governing body, according to Raelene Castle, money could be in much more plentiful supply come 2021.
With the next iteration of Super Rugby being ironed out, changes apparently planned for the Rugby Championship format and more tests scheduled to be lined up as the new World League structure takes shape, Raelene is confident Aussie rugby can end up with more money in it's coffers compared to the previous broadcast deal.
They may be boosted by an even better offer, with Castle and her SANZAAR counterparts engaging in a combined sales pitch at the international sports broadcasting conference, Sportel, in Monaco, prior to the All Blacks-Wallabies test in Japan last week.
"The interesting thing is what package do you take to the broadcasters? You can't look at Super Rugby in isolation," she said to the Sydney Morning Herald. 
"Our domestic competition is Super Rugby, [there's] our international product and then there's the potential of this World League and that is no doubt a strategic conversation from World Rugby to see if we can maximise our broadcast rights right across the world.
"It's about what we can do, having broadcast conversations in this market, about the rugby package, that we can deliver. On the package, yes I do think we can grow our broadcast revenues."
Raelene was back in Sydney this week, announcing a new partnership between Australian Rugby and the Australian Army.
With the future of Super Rugby still up in the air, Raelene did give one thing away: despite the success of the Fijian Drua in this years' NRC (not to mention the fantastic support they got at home), it is unlikely that Fiji or any Pacific Island nation will get a Super Rugby team in the next broadcast cycle.
"It's an interesting balance for us in Super Rugby," she said.
"Is that the place to try and trial new products and bring them into the environment? We know that the financial sustainability of teams has been a real challenge for every nation within the Super Rugby competition and financial sustainability is a really important part of the mix.
"So for us we see the success of the Drua as an opportunity to grow and evolve. Will we see a Fijian or Pacific Islands team in the short term in Super Rugby? Possibly not in the very short term but we continue to have those conversations."
In other good money news for Rugby Australia, their decision to take a Bledisloe double header to Perth next year has paid off spectacularly: with the news that the event has officially sold out eight days after going on sale. Rugby fans in the west again put the rest of us to shame, yet again.
Scheduled to be held at the 60,000 capacity Optus Stadium in August next year, Castle confirmed that the results shows that the game is still very much alive and well in WA, that there is interest in catching the Wallabies and Wallaroos, and that hopefully, after the controversy surrounding the game the last eighteen months, that some of angry sentiment towards Rugby Australia has subsided.
"I think it does (show sentiment is changing) but I think the important thing is that it shows that rugby is really strong and alive in WA," she said to rugby.com.au. 
"The combination of rugby, with the Bledisloe Cup for the first time over there, and also the fact this it's a very mixed environment of New Zealanders, South Africans and also lots of Australian fans. It'll be a really live audience and it's really exciting.
"I think the important mix is how do we maximise the great relationship we've had with NSW and the history of playing it here…but also thinking about the opportunity the Bledisloe presents to us, both from sharing a brand and the story of Rugby Australia and the Bledisloe Cup with the other parts of Australia."
Following the news, Castle also confirmed that the governing body are hopeful of adding another Test match to next year's shortened schedule, ahead of the World Cup.
Stacking up the Firepower
The Melbourne Rebels outfit was already looking disgustingly good.
Now, they've somehow been able to find the spare coin lying to around to strengthen their backline, signing Campbell Magnay for next season.
Magnay came up in the Queensland system, playing for QLD Country in the NRC before playing 17 games for the Queensland Reds.
However, since then he's been plying his trade playing for Suntory in Japan, and learning from a certain bloke called Matt Giteau. 
Competition for the backline in the Rebels will be fierce next year, with Magnay joining the likes of Will Genia, Quade Cooper, Matt Toomua, Reece Hodge, Marika Koroibete, Jack Maddocks, Sefa Naivalu, Tom English and Billy Meakes.
"I'm happy to be returning to Super Rugby in 2019 and very privileged to be welcomed to Melbourne," Magnay said to Fox Sports. 
"The Rebels is a pretty impressive set up with their players, coaches and management and I'm looking forward to joining the squad early in the new year.
"I've enjoyed my time in Japan and embracing a new experience, but I was always hoping to return.
"My time away has strengthened my desire to consolidate myself in Australian rugby and to work hard aspiring towards the Wallabies.
"The conversations with (coach) Dave (Wessels) and the Rebels recruitment staff made the decision to become a Rebel a clear winner for me.
"The Japanese Top League is very fast and technically precise.
"The teams in Japan shouldn't be underestimated and I can see now how they can often surprise favoured visiting teams.
"I'm now coming back fitter and faster and I think the experience has made me a much more well rounded player.
"It's going to be a great challenge for me with the roster the Rebels have to make the team and to work hard to make a solid contribution.
"I can't wait."
Let's just say, with a squad this good and a coach this promising, if the Rebels don't make their first ever finals next year, I'll eat my hat.
"Campbell left Australia with a lot of promise and a growing reputation as being a super talent," Dave Wessels said of the announcement.
"He's gone away and broadened his life experiences and now he has the opportunity to get back into Super Rugby and work hard to challenge for a place in our team.
"He could've gone to another club that might have had an easier path to game time but he wants to come here to challenge himself and to be the best player he can be."
All the best to them, but in honesty, with the amount of talent they have there I'm increasingly seeing the Rebels as rugby's answer to the Melbourne Storm. All they have to do now is win a title and not get down for breaching the salary cap.
All things Gold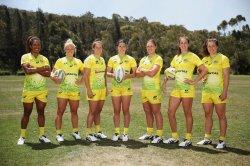 Let's just get the most obvious statement out of the way: the Wallabies have been crap this year and not many folks are optimistic that we can turn things around.
However, Raelene Castle has admitted that she only wants to see one thing, an undefeated Spring Tour. In her mind, only that result will qualify as a pass mark for the Wallabies.
It's a big ask (especially the games against England and Wales), but Raelene is hopeful that the lessons learnt from getting smacked three times this year by the All Blacks will be enough to achieve that feat.
"They are determined to go there and win all three games," she said to rugby.com.au. 
"That's the start point, that's the pass mark from where they are, from their perspective, that's the expectation that certainly Michael's setting for them and there's no reason why they can't do that.
"They will be very confident that they can come home with three wins."
Yep, someone said it. "Very Confident." What's that phrase: pride comes before a fall?
Castle admitted that she did see an improved side in Yokohama, (especially defensively), and said that despite the 37 points scored against the Wallabies, it didn't serve as a true indicator of the match.
"I think the great thing about the third Test was we saw some improvements and some things they identified they were concerned with," she said.
"I'm not justifying the result – we all wanted a win – but if you think about building into a World Cup, there was some very specific improvements, particularly around the defensive patterns and things I know they had targeted, that Michael [Cheika] had (targeted), as important for that game."
Unfortunately, the elephant in the room is that we have a 3-7 record this year, which is piss poor.
Raelene admitted that the governing body wasn't happy with it either.
"No one's suggesting we're happy with the lack of wins," she admitted.
"We also play the All Blacks more than any other country in the world, so we have that pass mark and that's the benchmark that we set for ourselves.
"We played Ireland earlier on in the year, they're second in the world, beat them in the first Test, arguably should've won that series, gave ourselves enough opportunity.
"I think as we move into the UK tour, it's a slightly different style of rugby, different emphasis and I think the preparation the All Blacks will have given us is the best platform we could have going into that Spring Tour."
Believe it when I see it. What do we reckon GAGRs? Is there anyone out there who thinks we can pull off a 3-0 win record this Spring Tour?
In other Aussie Gold news, the Aussie Womens Sevens team is in the final preparation for their second round of the Womens Sevens, which is set to begin at the end of this month in Dubai.
Round One in Colorado, USA was a disappointing start last month for the defending champions, with arch-rivals New Zealand taking top honours, followed by the USA, Canada, France and then Australia. 
The girls have been decimated by injury, with Emilee Cherry, Emma Tonegato and Alicia Quirk all missing from the squad.
Cherry (a gold medallist in Rio), is set to make a long awaiting comeback after she injured her ankle in July, and has begun running again for the first time this week.
"It's been a fair while and counting since surgery," she said.
"It's been pretty slow but it feels really good now so it feels good to be back running on it and running pain-free is nice again.
"We're not ready to make a call at this stage yet, we've still got nearly a month to go so we'll see how these next few weeks.
"Next week will be the telling sign to how we go if I get back for Dubai.
"It was very hard to be back here and see the girls.
"It was good to watch them on day one, I think they showed some really good signs and if they can bring that into Dubai they'll have a really strong tournament going into Dubai if they can take that energy and enthusiasm and that defence style into the first day of Dubai."
While signs are optimistic that Cherry can return, there are concerns that co-captain Shannon Parry will miss out due to an injured leg. She played through much of Colorado, but the prognosis is only looking worse after she arrived back home, with the worse case scenario being she'll require surgery.
"It's been really hard with myself, Quirky and Emma being in rehab for a fair while now, that's quite a big chunk of the leaders on the field so we've kind of had to see the other girls really step up," Cherry added.
"I think they're beginning to do that and I think Dubai will be a really telling sign for them, for the younger girls to really step up and put their hand up for those starting positions and to show Johnny (coach John Manenti) that they can step up to that next World Series level."
The Womens World Series Sevens will continue in Dubai on November 29-30.
Absolute Paranoia
The English continue to dig their own grave and bring on #downfall2018, with a brand new biography out about under siege England coach, Eddie Jones.
Eddie Jones: Rugby Maverick, was put together by veteran Australian News Corp journalist Mike Colman, and reportedly goes into detail about Jones' demanding approach to coaching: a method that has reportedly always been divisive among fellow coaches and players.
The book comes at a volatile time for Jones. After starting with two wins against Italy and Wales, the old enemy suffered a five match losing streak, which saw them come second last in the Six Nations and lose a tour against the Springboks they were favoured to win.
While they eventually ended that losing streak with a 10-25 win at the end of that series, many in England are still concerned about the inconsistency of the national team.
Additionally, in the last six months, a lot of Jones's support staff have left, including defence coach Paul Gustard (is he free? Can we get him down here to replace Grey?).
Then, this book comes along. And while some have plenty of praise for Jones' methods, others (like former Wallabies fullback Roger Gould, who worked as an assistant coach under Jones in 2004) say otherwise.
"He has bad managerial skills," Gould said, as reported by Fox Sports.
"I couldn't believe the way he talked to people in front of other people. I've managed enough people to know that there are some things you just can't do to people.
"You can't take away their dignity. People might be impressed that someone works 18 hours a day.
"Working as an assistant to Eddie, you were always having to defend your position. You would put everything on the table and have to convince him that you were right. When he put something on the table, you'd have to convince him he was wrong.
"Trouble was, that never happened."
Another former Wallaby, Andrew Blades (who worked with Jones at the Brumbies and Waratahs), echoed those sentiments, talking of Jones experiencing paranoia that the coaching staff and players were deliberately not following his game plan when he managed the Wallabies.
However, another assistant coach Ross Reynolds had the most damning thing to say about Jones when success started to wane.
"He was good to have a beer with but when the pressure grew he was not in a good place," Reynolds said.
"He lost the dressing room. He went against the players.
"Eddie had a group of elite players who had been with him, right through the Brumbies into the Wallabies. When things started to go awry and Eddie lost his cool, the inner sanctum didn't enjoy it. At one stage they had been winning 80 per cent of their games and then all of a sudden they weren't winning.
"People started turning on each other. It was a combination of a lot of things, but it became a pretty unpleasant environment.
"The amount of video analysis we did was incredible, probably too much. We got analysis paralysis. After games we would be doing reviews and finishing up at 3 to 4am. You'd send him an email and get an answer straight back."
However, Jones also received praise in the book from the likes of former media manager at the Wallabies, AJ George, as well as Glen Ella, who argued that Jones has since evolved as a leader.
"He'd belittle players in front of other players (in the past)," Ella said in an interview with Fox Sports in 2016.
"He's not like that anymore. If he has a gripe at a player, he'll get the player and they'll talk privately.
"But he doesn't rant and rave and have the outbursts anywhere near what he used to.
"He's got a good squad behind him and when he's got a good squad that he wants to, obviously, make even better, it sort of gives you acknowledgement that you can't be doing any more than what you're doing.
"When he was over here while he appeared outwardly stressed and doing what a coach does, he was pretty well relaxed with the players."
It also says a lot that earlier this year RA high performance manager Ben Whitaker admitted that Jones is among close to a dozen coaches who are under consideration to be a potential replacement for Michael Cheika post the 2019 World Cup, despite the fact he's contracted with England through till 2021.
It'll only matter when the teams hit the field.
This weekend, the November Internationals will kick off, with Japan hosting the All Blacks, Wales hosting Scotland in Cardiff, Ireland hosting Italy at Chicago Field in the US, and lastly, England hosting South Africa at Twickenham.