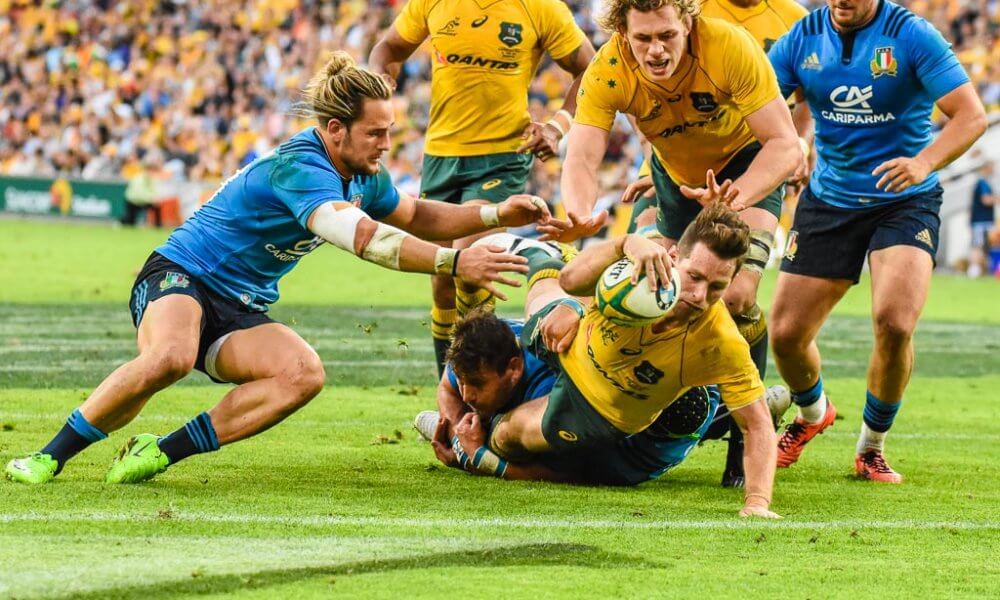 Friday's Rugby News sees our squad to take on the Azzurri, universal frustration, great news for Force fans and another double header announced.
---
Penultimate Peril
Week two of the November Internationals are upon us, and this week the Wallabies are on their way to Padua to play the Azzurri.
It's fair to say that confidence in the Wallabies have hit the bottom of the barrel, but let's face it, for all the pain of this year, if we lose to the currently 13th ranked Italy (as South Africa did last year), it'll be the equivalent of going straight through the cellar floor.
Surely? Of all the records we've broken this year in terms of badness, SURELY we won't hand Italy their first ever victory against us.
Michael Cheika has made several changes to the squad (again) from the side that lost to Wales last week. With the likes of Adam Ashley-Cooper coming back alongside Jordan Petaia, Cheik looks to be trying something new.
Wallabies Squad: Israel Folau, Adam Ashley-Cooper, Samu Kerevi, Bernard Foley, Jordan Petaia, Matt Toomua, Jake Gordon, David Pocock, Michael Hooper (c), Jack Dempsey, Adam Coleman, Izack Rodda, Taniela Tupou, Folau Fainga'a, Scott Sio. Reserves: Tatafu Polota-Nau, Jermaine Ainsley, Sekope Kepu, Rory Arnold, Pete Samu, Will Genia, Kurtley Beale, Dane Haylett-Petty
Italy Squad: Jayden Hayward, Tommaso Benvenuti, Michele Campagnaro, Tommaso Castello, Mattia Bellini, Tommaso Allan, Tito Tebaldi, Braam Steyn, Jake Polledri, Sebastian Negri, Dean Budd, Alessandro Zanni, Simone Ferrari, Leonardo Ghiraldini (c), Andrea Lovotti. Reserves: Luca Bigi, Cherif Traore, Tiziano Pasquali, Marco Fuser, Johan Meyer, Guglielmo Palazzani, Carlo Canna, Luca Morisi.
So, what do we reckon? Could we be about to witness history, yet again? Italy have, statistically, been more successful this November than we have, having grabbed a win over Georgia.
Part of me, in a really pessimistic way, wants to say I hope we lose so that Rugby Australia finally gets their heads out of their arses and realise that, despite the honest efforts of Cheika (I honestly think he's trying), this is a team that is not heading in the right direction.
But I think that we will win. But only by 7. Come on lads, you guys desperately need some confidence, and I know that everyone here at GAGR, for all our complaints, honestly want you guys to play well. Go out there and give us something to smile about.
Enough of talking rubbish, because the rest of the weekend looks infinitely more better.
The first match of the round kicks off between Romania and the USA. This is a 15 vs. 16 clash, so this has the potentially to be a really interesting one. If the US win, they could potentially leapfrog Georgia in the World Rankings.
Uruguay will also have their first match of the November season, coming up against a Fiji side that got slaughtered by Scotland last week. A lot of investment (especially by the Argentine Rugby Union) has been made into Uruguayan Rugby, so there is potential for the Flying Fijians to get surprised here.
Following the Azzurri-Wallabies match, Georgia will host Samoa in what is set to be a fiery encounter, before Wales host Tonga in Cardiff. The Dragons are currently on a seven match winning streak (remember those days), so good luck to Tonga there.
Spain then host rising stars Namibia in Madrid, which will be followed by England hosting Japan at Twickenham.
Next, come the best matches of the round, the first being Scotland hosting South Africa. Both sides have been the big improvers on the World atage this year, with the Saffas currently 6/12 (including a win over the All Blacks), and the Scots 5/8 (including a win over England).
Next up is the match of the mother-f&#king year, when Ireland host the All Blacks in Dublin. Ireland are looking unbelievable at the moment under Joe Schmidt, so if there's any team to topple the All Blacks this month, this is it. *touch wood* They've only lost one game the whole year, ironically, against us.
And lastly, the final match sees the Pumas head to Paris for their second match of November against France.
Despite only having two wins out of seven to his name, the stats aren't reflective of how much this Pumas side has come under Mario Ledesma. Add to the fact they went down swinging 28-17 to Ireland. I think they are legit shot to knock over France here, who have had their moments this year but haven't won since defeating England in the Six Nations.
Enjoy your footy this weekend, folks.
"Universal Frustration"
The cracks are opening up, yet Raelene Castle and Co. still stand firm.
This comes even after Castle told Michael Cheika that she expected three wins from three in the upcoming spring tour. That of course, went really well.
Speaking to the Sydney Morning Herald following the Australia's failed Women's Rugby World Cup bid, Castle still spoke out in support of Cheik, but finally admitted for the first time that she's not happy.
"[There is] universal frustration," Castle said.
"You know the effort is there, you know the focus is there and it was a tremendous arm wrestle that could have gone either way, so I think it certainly wasn't a game where we were far away.
"We could have ended up with a win. I know no one is more frustrated than the players themselves and they will be looking to turn that around this weekend."
Cheika will meet with Rugby Australia at the end of the tour to conduct a review in regards to whether change in the form of coaching staff will occur.
In regards to Cheika's position itself, Castle stuck to script.
"At the end of the day, Michael's contract goes through to the World Cup," Castle said.
"We've said that publicly and we're continuing to support that stance. There is a review at the end of every year.
"There is no doubt that that's become even more important because of our performances but the review will identify the areas that we need to focus on as we move on to that very important World Cup next year."
This weekend, Cheika and the lads will be focussed on grabbing our fourth win of the year against Italy, and Matt Toomua admitted that the team is well aware of what is on the line this weekend.
"We've got to win, don't we," Toomua said to The Sydney Morning Herald.
"We've got to give respect to Italy as a team who we know can upset a lot of teams. We struggled against them a few years ago back in Australia, so I don't think going out with wholesale changes would be the smartest tactic.
"We've lost a few on the trot now. There might be selections that are enforced because of form rather than just giving guys a go. It'll be imperative that we win the game and win well and get some momentum going into England."
"No one wants to be a part of that team that loses the first game to Wales in a long, long time," he added.
"The nature of the game, it being so tight and being literally on a knife's edge, particularly in that last 20 to 30 [minutes] … it's probably tougher to take.
"We've been on the back of quite a few losses obviously this year so it makes it even a bit more frustrating."
Fingers crossed they provide a more positive performance come the weekend.
Stamp of Approval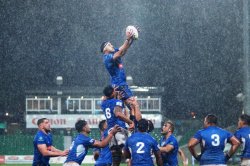 Outside of the Womens Rugby World Cup announcement, there was plenty of other news that came out of World Rugby's meeting in Dublin.
The first big news was that Fiji and Samoa were officially accepted into the World Rugby Council, following them meeting guidelines to improve their governance.
They follow the likes of other rising rugby nations in Georgia, the USA and Romania as new additions to the council.
"This is an historic day for World Rugby and the Pacific Islands, and a reflection of the importance and success of the transformational governance reforms made by this organisation and the unions," said World Rugby Chairman, Bill Beaumont in the officially press release.
"We are delighted to be welcoming Fiji and Samoa to council, two unions who have contributed so much to the game. The Pacific Islands are unique, immersed in rugby heritage, and I know that the unions will bring excellent insights and make strong contributions on council.
"This shows that the model is in place, the pathway is in place and the door is open to other unions who aspire to have a seat on Council. We encourage all unions to take inspiration from Fiji and Samoa, review their governance and strive to achieve the required criteria.
"World Rugby is committed to the sustainable growth of the sport set against a backdrop of strong governance, and we will continue to work with our unions to ensure that they have all the support to achieve and maintain the necessary criteria."
The other big news on the Australian front out of the event was that Andrew Forrest's revamped comp Global Rapid Rugby was also given conditional support for 2019, all but signalling it's imminent arrival on the Aussie rugby calendar (subject to the approval of participating countries).
Twiggy and his disciples of the game in WA unveiled further details of the competition as well, announcing (finally) the teams that will battle next year.
Along with shorter halves and rule changes galore, the Force will be battling teams from Japan, Fiji, Samoa, Hawaii, Hong Kong, Singapore and Malaysia for a $1 million prize.
Check out the many rule changes here, as there is a hell of a lot.
Twiggy was positively chuffed when he spoke to the media yesterday.
"It has not been a simple road," he said.
"I'd like to thank everyone that has been bold and brave enough to support this brand-new competition.
"Like all sports, rugby needs to evolve. The modern sports public is spoilt for choice and demands easily digestible, fast-paced action."
The future already looks bright for GRR, with Twiggy noting that a the Kiwis were "seriously interested" in fielding a team, and that he hopes to up the number of teams from eight to twelve within the first five years.
Regardless of what you think of Twiggyball, it is great that rugby looks to be finally guaranteed a future in the West.
Double Header Across the Ditch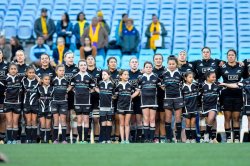 Following the announcement of the now-sold out double header in Perth that will take place on August 10 next year between the Wallabies/Wallaroos and All Blacks/Black Ferns, the NZRU have responded in kind, announcing earlier this week that the same fixture will take place at Eden Park the following week.
The two matches will form part of a shortened Rugby Championship next year, as it makes way for the World Cup which will kick off in September.
New Zealand also announced that they will host the Springboks in Wellington as well, following on from their match earlier this year which saw the Springboks clinch a rare win in the land of the long white cloud.
The Wallabies will draw the rough end of the stick in this shortened version, with them also having to travel to South Africa for a one-off match with the Boks.
This will give them only one home game during the entire campaign, being a home game against the Pumas. The venue is still to be confirmed, however most folks expect it to be Suncorp Stadium in BrisVegas.
The last time the tournament was shortened, the Wallabies had a more favourable draw with two home games and were able to win the tournament, a feat we haven't achieved since.
Check out the current fixtures here, though keep in mind a lot of these are still to be confirmed.
And finally, the last bit of news out of New Zealand sees Tana Umaga has being demoted to the defence assistant role at the Blues, with Leon MacDonald taking charge as head coach.
Umaga has been at the Blues for the last few years, and despite his efforts the team has been on the slippery slope when it comes to results, especially against other Kiwi sides. Umaga accepted the board's decision and released a statement to the public.
"I signalled that my passion lies with my new responsibility as defence coach and I believe that is where I can make the greatest contribution and difference at the Blues," Umaga said to the Herald Sun. 
"I believe that the coaching team of Leon, Tom and myself is the best that we could have at the Blues for the 2019 season and beyond."
MacDonald also spoke to the media.
"This opportunity has arisen and I am honoured to have been considered for the role. I will give it my heart and soul," he said.
"I've also talked to Tana and Tom and both of them are both hugely supportive and also very committed to our combined desire to continue to move this club forward."