Friday's Rugby News sees us preparing for the match against the old enemy, spin from the Wallabies and Sevens camps, Twiggy defending Raelene and a new lad on the block at Brumbies HQ.
---
Finishing in Style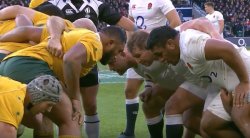 It's the final weekend of rugby for the year (with the exception of a Barbarians-Pumas match on December 1), so without further ado, let's dive in.
The Wallabies will head into their last match of the year off the back of a disrupted week of preparation, further set by calls for selection changes and illness reportedly affecting a third of the squad. God help the team doctor.
While it has been, by all considerations, a shit show of a year, (with the exception of the win against Ireland) a surprise win against England at Twickenham would be a positive way to finish off the year.
Eddie Jones has been showing the sympathy card for the last few days, however with the pressure on him as well to perform, this match shapes up to be a key clash for both teams in their World Cup preparations.
Currently, as of me writing this at 10:30pm on Thursday night, the squads for both sides have not yet been named. Once they are, I'll link it down in the comments section below.
It would be great if the lads pull this one off. Honestly, after the year we've had, it would be a much-needed moral win to shake the monkey off their back and break the five match losing streak against the old enemy. Even the Eggchasers' own JB predicts the Wallabies can pull it off (see the most recent GAGR pod).
That being said, I've had the optimism beaten out of me, week after week, so I'm expecting the Poms to take this one by 7.
The season wraps up for many other teams this weekend too. Starting in Bucharest, Romania will come up against Uruguay, having both come off heavy losses to the USA and Fiji, respectively.
Next up, the Azzurri have to face the might of a pissed-off All Blacks in Rome, I can already hear the knives being sharpened. Following that, Georgia will face Tonga in Tbilisi and will look to add a second Pacific scalp following their defeat of Samoa last week.
Russia will host Japan in Gloucester, before a really exciting fixture between the Scots and the Pumas will take place at Murrayfield.
In the Iberian Peninsula, Spain will look to grab their second win of their campaign when they host Samoa, then Portugal will host Namibia.
Finally, to finish off the round, Wales will host South Africa and will look to continue their impressive winning streak, Ireland will host the USA in Dublin and France will look to finish their year on a high when they host Fiji at Stade de France.
So there you have it! One more weekend and then (after one Baabaas game), we'll be done for the year.
How time flies…
Gold Speak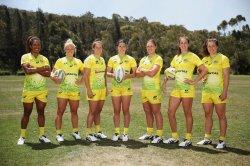 The Wallabies were all talk yesterday evening, following an improved performance last week (albeit against a weaker side in Italy).
However, the lads made it no secret that they believe they can shut down the England set-piece, particularly in the lineout.
"It's definitely improving, definitely turned a corner and (we're) starting to get consistency back but we've got a big challenge this week," Isaac Rodda said to rugby.com.au.
"England are quite good on the defensive lineout, they have a lot of movement, different structures so we have to be really keyed on to our moves and calls.
"They have a lot of different setups which makes it harder for the caller to work out where they're going to call.
"For instance, [Maro] Itoje will be at the front at some lineouts but at the back at others and they just change their personnel around and play tricks with you when you're trying to work out where to call."
England's lineout struggled against the likes of the All Blacks when they played a fortnight ago, and Rodda has admitted the lads will have to be more adaptable in order to counteract the English.
"As the game goes on you get a picture of what is happening and if you are smart enough you can adjust on the run if you are taking things in like New Zealand did," he said.
"Definitely been taking things in from every team that has played them and working out what will work for us."
Honestly, I'm at the stage where all the matters is the performance on the field. Less talking, more doing.
However, away from the Wallabies for a moment, the Aussie Womens Sevens team will be lining up to defend their crown when they play in Dubai next week.
Coach John Manenti has named two teen debutants – Sariah Paki and Lily Dick – in the squad that will head to the UAE.
Both players have been picked off the back of an outstanding season in the Aon Uni Sevens, playing for Macquarie University and the University of Queensland, respectively.
"It's been a long time coming for them in a sense," Manenti said to rugby.com.au.
"They've both been part of our pathway for a while.
"We followed them closely through the Aon series where they were both very strong and I suppose the Oceania was the icing on the cake for them in making the most of their opportunities.
"They should get enormous confidence and experience out of this and it will put us in great stead for 2020, 2024 and beyond."
Manteni is determined to retain the Olympic Gold medal in Tokyo next year, following them losing the gold in the Commonwealth Games earlier this year to the women across the ditch. The girls unfortunately also had a disappointing opening round to the Women's Sevens, finishing 5th in the first leg in the US last month, while arch-rivals New Zealand clinched first place.
"We felt we let ourselves down in our performance and credit to the countries we played – there were some really good performances against us there too," Manenti said.
"The bar has been raised and in an Olympic qualifying year everyone is playing for keeps.
"We have to be better if we want to progress further and make the podium or above that now that we go to Dubai."
"A Breath of Fresh Air"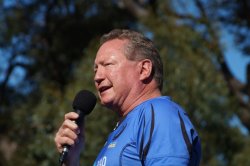 In what's been a shit year for the governing body, Rugby Australia has been under pressure to take action on an underperforming Wallabies side, grappling with struggling against other codes in traditional heartland areas, and has also been dealing with the aftermath of cutting the Force in the form of a new competition in Global Rapid Rugby.
Many in rugby heartlands have been calling for the entire board to resign, with particular attention paid to Raelene Castle, who started in the role this year.
However, earlier this week Raelene received glowing praise from an unlikely ally – GRR's very own Twiggy Forrest.
It has often been the narrative within the media (and fans) that Twiggy has been consistently frustrated by the lack of engagement from RA, beginning with when he approached them with a $50 million paycheck to keep the Force in the competition.
Twiggy has made it no secret of his struggles with the RA board, but at the GRR announcement he admitted that of all the folks in the governing body, Raelene has been the one most on-side with the competition.
All I can say is the new chief executive is a breathe of fresh air," he said to Perth Radio earlier this week, as quoted in the Sydney Morning Herald.
"When I was trying to deal with Rugby Australia before she came on board, mate, it was like taking a refreshing dip into a swimming pool of glue.
"It was just so bad, you were just getting nowhere fast.
"Meetings would get put off, the other bloke would have a headache."
I'll be the first to admit that, while some decisions this year have been questionable, Raelene really did inherit a shitshow at the governing body. And, according to Twiggy, she "sees the vision" of the competition doing well.
"She looked at the world of rugby and thought 'hey, this game really needs this new tournament, we really need this new tournament and the players in particular, they want new choices," he said.
"We're opening up new markets, we're going where no one else has gone with rugby."
Raelene did admit earlier this year that she was very open to working with the Force, and admitted it would be ideal to have them back, a far cry from less than twelve months before, when Cameron Clyne and Bill Pulver announced they'd be cutting the Force for the future of the game.
"[When the Force was removed] there was no moral, technical or intellectual reason why you would drop that side," Twiggy said.
"I always believe out of every setback, every slap in the face, every time you slip and skin your shin, it's a seed to equal or greater opportunity.
"When I saw the Force get cut, I have to admit I was no great rugby tragic but I'm deeply championing anyone who takes on unfairness.
"[But,] we got 15,000 through the gate almost every single game [this year], we averaged 100,000 for the seven games," he said.
"We shot the lights out across Australia.
"These were the best attended rugby games, not by a bit, first by a very long margin. You've got to say, why would you knock back a community like that?"
The Force launched Global Rapid Rugby earlier this week, announcing sweeping rule changes and teams from across Asia and Hawaii, who will be competing for a $1million purse.
Re-joining the Herd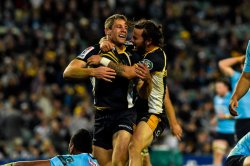 It's been a busy week for folks down at Brumby HQ, with the Super Rugby outfit releasing their 2019 jerseys and recently being named as the 14th most successful club (in any sport) statistically in Australasia (have a guess who's number one).
However, this week they also welcomed back a former prop to their coaching ranks, with Ruaidhri Murphy signing on as one of ACT's scrum gurus. Working with Dan Palmer, Murphy will be responsible for the Ponies squad back to its glory days, and making Canberra the fortress it once was.
Murphy has been rising through the ranks slowly in the Canberra system, coaching Gungahlin Eagles Colts and moving into the Canberra Vikings coaching outfit during the NRC.
All of this, and on top of that he's been studying, running a cafe, oh, and he became a dad recently.
"My big ambition is to someday be a full-time coach. But at the moment, owning a small business and everything else will serve me well, and gives me a break away from footy," Murphy said to the Sydney Morning Herald.
"In terms of coaching, I took a job to do the Brumbies under-20s to start with and it was a way for me to stay connected … then I started to like it and it kept going.
"I did Gungahlin Eagles Colts and first grade, NRC [with the Canberra Vikings], the Junior Wallabies and now this. It's very different because you're emotional, but you've got no control because you're not on the field.
"I loved playing and training, but the rewards from match day were painful sometimes. The balance of a coach is very different, but I enjoy the same hard work and preparation and I can handle the game day better."
Murphy was forced to retire in 2015 from the game due to a badly broken finger, which didn't allow him the grip to scrum properly.
Now, he'll be joining the likes of Dan McKellar, Palmer, Peter Hewat and Laurie Fisher in the Brumbies coaching panel, and will be helping Wallabies Scott Sio, Allan Alaalatoa, Folau Faingaa and James Slipper anchor the Brumbies set piece.
"It's all very different challenges now. There are some great players [in the squad], but speaking to Dan McKellar my biggest challenge is what we can do for Angus or Tom to make sure they develop," Murphy said.
"Setting up Scotty and Allan is about clearing up things and showing them pictures for the weekend. But there's a lot of development in that next group, and a big part of my role is about that conveyor belt [of front-rowers]."
Interesting times in the Nation's capital…