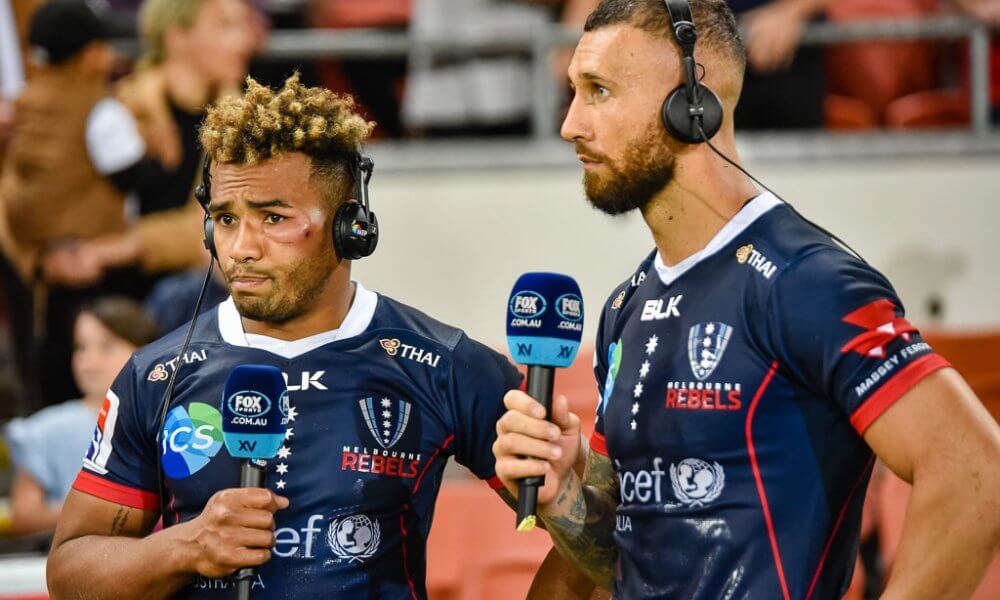 Fridays Rugby News sees the power of our game, the Wallaroos building depth, Cooper and Genia going and the game doing better than ever (globally). 
---
The Inaugural Kolia Cup
We start today's news with a small reminder of the power of rugby and how it brings people together.
In Sydney, this weekend's Western Sydney Two Blues fixture v Randwick will see the two teams compete for the inaugural Kolia Cup, named in honour of Two Blues Colts player Kolia Aigaga-Liko, who the club tragically lost to suicide last year.
To honour the memory of Kolia, the winning team will be awarded the Kolia Cup.  The Two Blues will be wearing a commemorative jersey promoting Lifeline, with a Pasifika design and brandishing the message that "It aint weak to speak".
The day will also feature two very special Pasifika performances by Kolia's family and representatives of Western Sydney University, where Kolia attended, as well as a day of Pasifika music celebrating the clubs ties to the Pasifika community and Kolia's heritage.
Whilst tragic circumstances have lead to this special round, it is hoped that by highlighting this very real situation, it will  assist in supporting anyone who may be finding things a bit tough. This is a frankly awesome initiative by the Two Blues to talk about this topic, to encourage anyone experiencing difficulties to talk to someone as help and support is always available.
The Kolia Cup will take place from 12pm at Lidcombe Oval, Church Street, Lidcombe, and we highly recommend you get down there for a great day of footy, supporting a great cause that is close to the hearts of many. And if you ever need help, you can call Lifeline at any time on 13 11 44.
It ain't weak to speak.
Here are the other club games happening this weekend:
Shute Shield:
Eastern Suburbs v Sydney University
Eastwood v Gordon
Southern Districts v Manly
West Harbour v Warringah
Western Sydney v Randwick (Kolia Cup)
Hospital Challenge Cup:
GPS v Sunnybank
University of Queensland v Brothers
Wests v Bond University
Easts v Norths
John I Dent Cup:
Queanbeyan v Easts
Tuggeranong v Wests
Royals v Gungahlin
Dewar Shield: 
Harlequins v Footscray
Power House v Moorabbin
Endeavour Hills v Melbourne
Melbourne University v Box Hill
Fortescue Premier Grade (Premiership Division):
Wests v Cottlesloe
Nedlands v Associates
UWA v Wanneroo
Challengers Await
It's exciting times for the Wallaroos.
Ahead of their first game against Japan this weekend in Newcastle, Sarah Riordan and Alisha Hewett admitted to rugby.com.au that over their preparation, a lot of younger rookie players have given the senior veterans a run for their money.
Riordan has admitted though that acting as a teacher for the younger players has been a lot of fun.
"Probably just  using my experience (is where I'll be of most use)," Riordan said.
"There's a lot of new girls in the team, so just using my experience that I've had from past Test matches  and I've played against Japan in the last World Cup.
"Just being that mentor for them on the ground will probably be the best role for me."
However, while there is improved depth in the team, Riordan admitted that she plans to be at the 2021 Womens World Cup.
"You always want to strive for more and get the most you can out of this sport," she said.
"Even though it's a long, long way away, (the next World Cup) is a goal that I have set myself. In the meantime we'll just focus on this year.
"There's a lot of new talent coming through which makes me work a lot harder, I'm getting a bit on the back end of my career, I suppose but it's good, it makes you work harder."
It's clear that the Aon Uni Sevens and the Super W is already reaping rewards for the Wallaroos, and Hewitt admitted that the competition for the starting fifteen has been strong.
"It's awesome to have all these youngsters coming through because they keep me on my toes," says Hewitt.
"Just the progression from where I started to where I am now, it's lifted immensely and it's great to see the growth and depth in the squad come through because that's just going to build us into a better team moving forward.
"I think these next two Test matches are really going to set the platform, particularly moving towards the matches against New Zealand.
"It gives us the opportunity to play with each other against another country and work out what our strengths and weaknesses are and them moving forward to work on those."
Tickets are reportedly selling fast for the match, so if you're in Newcastle this weekend be sure to get along. Check out the remaining ticket options here. 
As of writing on Thursday night, the starting fifteen is still to be named. Once they are, I'll add it in the comments.
Mass Exodus
The exodus continues, and this time, we're down in Melbourne.
The Rebels are set to lose their two biggest stars, with Will Genia and Quade Cooper joining the latest batch of Wallabies chasing fortunes overseas.
Both players are set to join second-tier Top Challenge Team the Kintetsu Liners, and with their domestic season not far off, their move could be sooner rather than later.
Genia, due to expected World Cup commitments, is expected to link up after the end of the tournament.
However, Cooper, having not being selected, could start as early as September.
"My aim is to do my best and, through my play, I would like to make this the number one team in Japan," Genia said in a statement, published in the West. 
"I will work hard to take the team back to Top League," added Cooper.
"When we reach the Top League, then I want to contribute more again at that stage.
"I want to challenge rugby in Japan, and I can still contribute on the pitch."
Their move is the latest in a huge exodus of players from Australia, with David Pocock also moving to Japan next year. Interestingly though, All Blacks Kieran Read, Brodie Retallick and Ryan Crotty will also be heading to Japan, along with South African loose forward Duane Vermeulen.
And that doesn't even take into consideration all of the players that will be going to Europe next year as well.
The power money has.
Seeing the Light
While it is often the narrative here in Australia that the game is struggling, in the greater scheme of things, we are very much in a minority, or at least according to World Rugby. In a recent report released by the global governing body, it's been revealed that the game globally is doing better than ever.
Released on Wednesday, World Rugby Year in Review 2018 reported that last year an unprecedented 9.6 million men, women and children playing the game around the world. This includes 2.7 million women, up 10 percent on the previous year.
"Excitingly the total number of registered female players grew by an impressive 28 percent to 581,000 across World Rugby's member unions. This comes during the first full year of implementation of World Rugby's ambitious plan, Accelerating the global development of women in rugby 2017-25, which aims to support the growth and development of the women's game and promote parity," said the global body in a statement, published on RugbyPass. 
"That success was matched off the field by increased engagement levels from female fans – 38 percent increase in video views by women and the growth of the World Rugby and Rugby World Cup female audience on Twitter to more than 30 percent.
"It was also reflected in increased diversity at the highest levels of the game in a year when World Rugby added 17 new female members to its Council and New Zealand was named as first-time hosts of Women's Rugby World Cup 2021.
Other results included 2.82 million boys and girls participating in Get Into Rugby programs,  over 1 million people in Asia being involved in rugby (a first for the game), and over 534 million online video views occurred around viewing World Rugby tournaments.
However, it wasn't all rainbows and sunshine.
The statement continued: "Off the field, player welfare remains World Rugby's number one priority with the international federation focusing on evidence-based injury prevention at all levels of the sport. Alongside its ongoing focus on research, World Rugby's training and education programmes remain core to its strategy, with more than 2,700 training courses delivered worldwide in 2018."
World Rugby Chairman Sir Bill Beaumont said: "2018 was another special year for rugby as we watched the sport continue to prosper and grow both on and off the field. Within a total playing population of 9.6 million it was fantastic to see our Get Into Rugby programme – run in partnership with unions and regions – continue to break participation records with over two million girls and boys worldwide getting involved for the second year in a row amid a growing global interest of 800 million people."