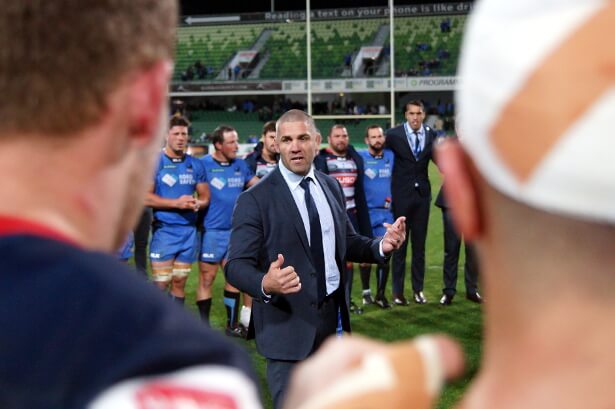 For those of you who may not be aware – I am a Western Force fan.  What I am about to say may upset other Western Force fans. That's OK, it won't be the first time. I believe that it's time to stop the fighting, it's time to get back to what important, it's time to make Australian Rugby Great Again. It's not going to be easy. It is dependent on some parties agreeing to some things that they may not want to stomach. But it is possible.
To fix Australian Rugby we have to recognise some problems.
The Western Force
Super Rugby is Dying
Recognition of the Indo-Pacific Competition
Make Rugby Affordable
Stop Criticising Rugby
The Western Force
We can get all legal about this – and we have people who have done that for us. I am not a lawyer. I don't know how to be legal, or gentle. The Western Force were screwed. This was done in daylight hours and without the courtesy of lubrication or a nice meal first. I am saying here and now it's time to move on. But first the Western Force organisation and its members and fans need their pound of flesh otherwise the court cases and the enquiries are going to continue. That isn't a threat, it's a fact. I am not here to negotiate. This will help ease the tension. ARU Chairman Cameron Clyne must resign. A public apology stating that the Western Force were set up to the be team to be kicked out. If he resigns, we can all move on. RugbyWA, Mr. Andrew Forrest and WA Government agree to cease any and all legal proceedings.
Super Rugby is Dying
It could be argued that Super Rugby has been in trouble for the last 8 or more years. South African Rugby have had a stranglehold on the administration of Super Rugby and Australia and New Zealand have had to nod their collective heads and go along with everything that comes out of Cape Town. I believe that in 3 years' time all South African teams will move to Europe never to be seen again. If Australian Rugby do not prepare for this eventuality now, we are going to have 4 Super Rugby Franchises with nothing to do. Fortunately, Mr. Andrew Forrest has provided the answer.
Recognition of the Indo-Pacific Rugby Competition
The Australian Rugby Union must recognise Mr. Forrest's Indo-Pacific Competition as a legitimate pathway to Wallabies selection, it must be recognised as a legitimate competition supported by Australian Rugby credentialed referees. This then ensures Western Australian based juniors have a clear pathway to Wallabies selection. The recognition also allows – should the need arise for the other Australian based Super Rugby franchises to have a competition to be a part of when Super Rugby falls apart when South African Rugby Franchises leave Super Rugby for Europe. The Australian Rugby Union must also declare that no player, coach or administrator be penalised in any way for supporting or participating in the Indo-Pacific Competition.
Make Rugby Affordable
No one is attending Test Match Rugby or Super Rugby anymore. Success is a part of that. It's easy to justify the costs of Tickets to Rugby when the team is winning. But it is also easy to justify the cost when the tickets are cheaper. Rugby fans are all in. Unlike fans of other sports. Most have an attachment to Club Rugby to Super Rugby and to the Wallabies. They should be rewarded for that. A family that participates in club rugby should be rewarded with discounted tickets to Super Rugby and Test Rugby. The rugby family should be acknowledged for the work that they do and they deserve to be rewarded not exploited. Australian Rugby cannot continue to exploit its own fans to fix the financial problems it has created.
Stop Criticising Rugby
Some websites and some reporters seem to take an almost perverted pleasure when they can point out the mistake or an incident involving a Rugby player, Club or administrator. We need to embrace all that is good about Rugby, the work that the Rugby Community does in the wider community. The behaviour of Rugby players in comparison to other sporting codes. Rugby League takes great pride in calling themselves the greatest game in the world. They have no reason too – yet they all seem to believe it. Well, Rugby Union is the game they play in heaven. They gave the Millennium Stadium in Wales a roof that opens so God could watch the match too. These are all old sayings – its times that we used them and new ones to promote our game and be proud of our game. If the Rugby Community starts believing more – the general public will get on board as well.
Rugby Union in Australia needs help. We are on the verge of falling off the cliff. We need to say it's time. The fight is over, we are moving forward. Enough is enough. Rugby Union is a great game – it is just waiting for us to treat it the way it should be treated.