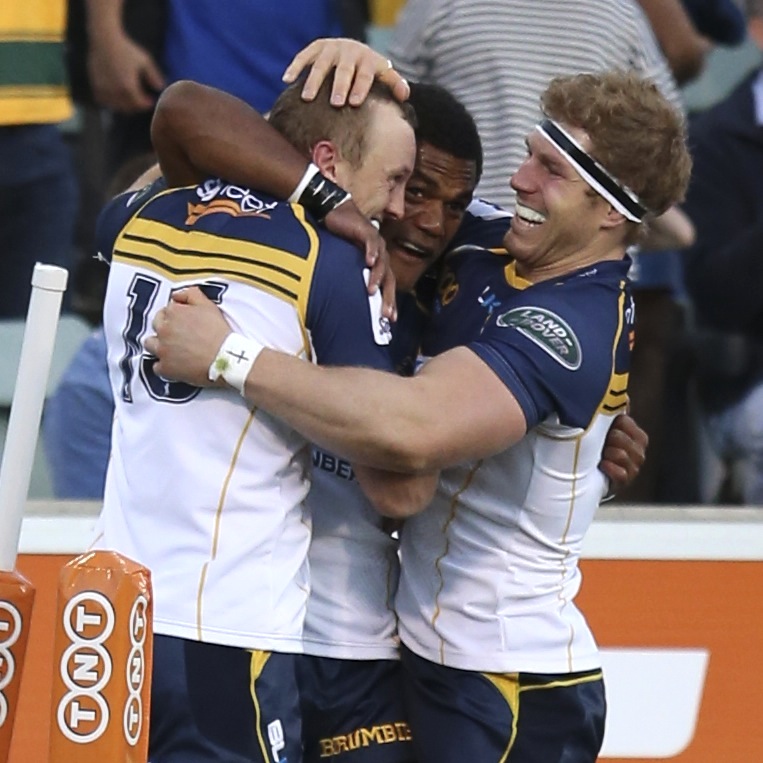 Here it is, our Aussie team of the week from round 1 of the 2013 Super Rugby competition.
The base was clearly the Brumbies, with a few ringers thrown in.
1. Ben Alexander – the Brumbies' front row bossed the Reds' scrum and hit rucks to boot
2. Stephen Moore – ditto
3. Dan Palmer – ditto
4. Hugh Pyle – strong in the lineout and dynamic around the park
5. Scott Fardy – shifted rocks
6. Ed Quirk – abrasive
7. David Pocock – everywhere, while managing to keep on the right side of the ref
8. Ben Mowen – a counter-rucking powerhouse who kept the Reds destabilised
9. Nic White – sniping, vision and an educated boot
10. Quade Cooper – struggled behind a beaten pack but directed traffic nonetheless
11. Alfie Mafi – like this kid called Alfie Mafi I used to know, but stacked
12. Kyle Godwin – gave the Force backline some much needed edge
13. Andrew Smith – key link in an impenetrable defensive line
14. Richard Kingi – sprightly and threw a gorgeous miracle ball
15. Jesse Mogg – looking Roff-like? G&GR PLAYER OF THE WEEK
What do you say — how would you improve our Team of the Week?
We're looking for ideas on other "of the week" awards we can give out. Let us have your suggestions in the comments!