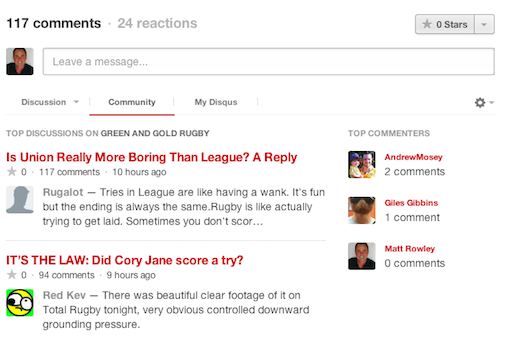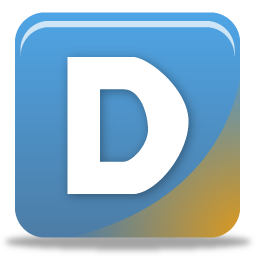 At G&GR we're always trying to new things to improve everyone's experience of the site. Recently this has included our Ranker articles and now the Infographics. We hope you've enjoyed those.
We're pumped to announce our latest little upgrade: our new commenting system powered by Disqus. We've got it in for two reasons:
First
We really value the community we've got going here on the front page of G&GR, but the old commenting engine was clunky and didn't allow people to build up their own profile or get to know others. Also, the internet being the internet and even in New Zealand now, you'll always get the odd bloody idiot.
Disqus has some great features to help with both of these and achieve our ultimate goal of the best rugby conversation on the internet. Check out the Community tab at the top of the comments section, for example. We'll be upping our game in terms of moderation as well. Remember: play the ball, not the man.
You can now connect using your Facebook or Twitter account or setup a Disqus account to build your personality more (and I'd really encourage you to, it adds loads to the experience). However, YOU CAN STILL STAY AS ANONYMOUS AS YOU WERE BEFORE, if you so choose. That element was critical for us.
Second
The features of this sucker are A-FRIKKEN-MAZING. You can:
See people replying in real-time
Filter the comments by best, newest or oldest
Tag people in posts so they get a notification – even if they're not in the conversation yet
Vote comments up and down, rate the article
See in one spot replies and interactions with your comments
Send your convo to Facebook or Twitter with a click
Drag and drop photos
Links to photos and videos will pop up into an image
See what other articles are 'going off' with comments
 Watch the Apple rip-off video below to give you more of an idea
[vimeo id="43917945″ width="600″ height="350″]
As always, we're interested to hear what you have to say about it — so let us know!