Conditions were heavy at Knox Grammar School for the annual matches between the CAS and GPS representative teams, and drizzle was intermittent.
Would these influences help the CAS, the usual underdogs in these NSW Schools trial matches, to get close to their GPS rivals—or perhaps to spring an upset win?
GPS 1st XV 50 – CAS 1st XV 0

    by "Rich_E"
What do you get when you combine players like Strang and McGregor, Pirrodi and McCauley, England and Kennewell in the same outfit? A red hot team that after 70 minutes of play had left the red shirts from the CAS with red faces.
While CAS worked hard and had many quality players on their roster, they seemed lacking in some positions and were out-muscled across the park.
The crowd, which appeared to be mainly CAS supporters, had few cheering opportunities. But despite the lopsided score line, even the CAS die-hards must have appreciated the skills on display. The GPS boys were simply a better team which executed to near the best of their ability, given the difficult weather conditions.
First half
If you were to take any prior knowledge of the players out of the equation, when they took the field, it was pretty clear which way this game was heading. The GPS pack was monstrous and it wouldn't surprise if the combined weight wasn't far off some handy senior outfits.
While the CAS forwards competed well from the outset, the GPS boys executed their plays with greater speed and authority and before long had crossed for a try.
The first five-pointer was stage one in a hat trick from the lofty and strong No. 6 Nathan Gittoes (Joeys). He revelled in the opportunity to play at blind-side flanker, rather than his usual position in the second row for his school side.
Tries two and three were scored by Jake Prindiville (11 from Scots) and Tom Wright (15 from Joeys) both off the back of CAS defensive lapses.
The other tall-timber for GPS, Ryan McCauley (4 from Scots) and Tom Pirrodi (5 from Newington) were playing the house down too and the first half scoring ended with McCauley firing a cracker of a pass to Gittoes who crossed for his second.
The only genuine scoring opportunity for CAS came just before the half-time whistle with their line-out throw close to the try line. But the ensuing raid down the blind was met with crushing defence and the attacking player was smashed into touch.
Half time score: GPS 26 – CAS 0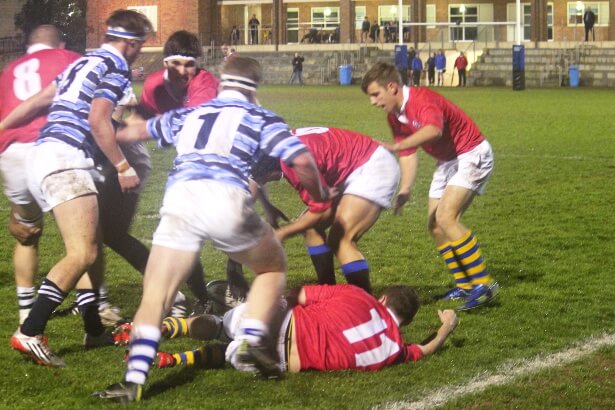 Second half
"Second verse, same as the first". The GPS forwards continued to dominate and the backs, who were strong in the first half, just lifted another gear in the second.
With another four tries scored, the CAS dominated crowd just got quieter and quieter. Scorers for GPS were Simon Kennewell (13 from Newington), Gittoes (his third), Prindiville (his second) and Charlie Smith (7 from Scots).
Super boot Jack McGregor (10 from Riverview) converted five of the eight tries, some from difficult field positions.
Final score: GPS 50 – CAS 0.
Best on field
GPS
All played well making this a difficult assessment.
6. Nathan Gittoes (Joeys) – 3 points. Three tries. A big handful in attack and defence. Showed plenty of potential in the No. 6 jersey.
11. Jake Prindiville – 2 points. Two tries and a menace with every touch. (See link below to video footage of his second five-pointer.)
4. Ryan McCauley – 1 point. Needed a strong game to justify moving Gittoes to No. 6, and delivered. Very athletic for such a big lad. Did the hard stuff well and threw some great passes.
CAS
4. Lachlan Swinton (Knox) – 3 points. The best in a well-beaten pack. Strong in the line-out which was no mean feat against such tall opposition. Also tireless in defence.
12. Sam Lawson (Alloys) – 2 points. Stood up well to classy opposition, despite not getting good ball from the halves. Strong runner.
6. Milan Basson (Knox) – 1 point. Didn't take a backward step and defended admirably.
The wrap
Any talk that the gap between GPS and CAS was closing would now quieted now.  Tonight's performance confirmed that we can expect to see the NSW teams dominated by GPS players -although Friday's matches against CHS could change that, and there are some handy individuals from the ISA also.
Matches this Friday
Friday 19 June at Knox Grammar School, Curagul Playing Fields, Bobbin Head Road, North Turramurra.
1.30pm – GPS 2nd XV v CHS 2nd XV
2.40pm – GPS 1st XV v CHS 1st XV
Video highlight of Prindiville second half try – courtesy of "sidesteppa"
Click on page 2 below for reports on earlier games