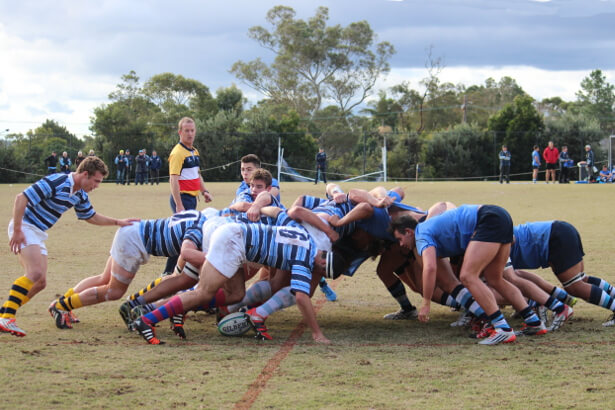 The AAGPS dominated their two games against Combined High Schools yesterday, and having beaten CAS Schools during the week, their players were well-represented in the two sides chosen last night by the NSW selectors for the National Championships.
The day started wet and finished wet at Knox's Curagul grounds, but there was enough fine weather in between to encourage some fine rugby.
GPS 38 – CHS 8
The GPS Ones had thrashed CAS Ones during the week but the CHS lads proved to be tougher opponents in the feature game of the day.
First half
The opening was even as the CHS did not take a backward step against their more-fancied rivals, and they opened the scoring with a penalty goal.
But about twelve minutes in GPS flyhalf Jack McGregor started one of many GPS attacks he launched on the day and after several sets of hands had moved the ball, 13 Simon Kennewell score out wide.
A few minutes later after some high-calibre lead up work and a tap kick, 12 Dan England scored the second GPS try.
This was followed by a snipe by GPS scrummie Theo Strang after Jack Mac launched another move with a long cut-out pass. Strang scored too easily after he seemed covered in snakes and spiders.
After extras added by McGregor, GPS led 19-3 about 20 minutes into the match.
If the backs were moving the ball well, the forwards were also.  Tall lock Ryan McCauley was dishing it out with the best of them and there was scarcely a grunter who couldn't do the same when their core skills were not needed.
But CHS were gritty and when they got a lineout near the GPS goal line they were able to switch play back towards touch and scrumhalf Sam Reimer scored wide out.
It capped a good period of play for CHS and it served GPS right because they were incurring too many penalties now.
Ironically one penalty in favour of CHS turned out badly for them when they lost the lineout that followed.  McGregor, ran with the ball from his own half seeming to attract defenders to benefit his supports, but he kept going on a diagonal run to score in the opposite corner himself.
Half-time score GPS 26 – CHS 8.
Second half
The game was more even after the break despite some typical Sevens-type running from GPS fullback Tom Wright who made defenders look at him to see what he was going to do.
The GPS scrum started to dominate but it was from a maul that GPS scored their first try of the second half as no. 8 Max Girdler dotted down.
At last the efforts of Wright had effect as defenders followed him like the Pied Piper who was looking for supporting runners, but he kept going himself and scored in the corner.
About 15 minutes into the half the score was 38-8  to GPS, but that was about the time the light rain made a comeback to finish the day as it had started: wet.  Reserves came on now and there was no more scoring.
Final score: GPS 38 – CHS 8.
The players
As scrumhalf Harrison Goddard did in an earlier game so did flyhalf Jack McGregor show class beyond his years.  We are going to hear a lot of these lads in the years to come.
That should not detract from the fine effort of GPS scrumhalf Theo Strang who has been in cracking form this week with the pass and the run.
The GPS midfield was class and it is not easy to pick the best forwards though the aggressive way 7 Charlie Smith played with a bung shoulder for so long was remarkable.
CHS no. 8 Sam Musgrove had punishing game on both attack and defence and THP Harry Johnson-Holmes was noticeable in the tight and the loose.