We thought it would be appropriate to add some special awards to the excellent GPS season review produced by Richard Edwards
Although all the players were concerned most about contributing to the performance of their team, we thought there were some that deserved special mention—and there were some special tries scored, and a special game, worthy of comment.

2015 GPS Season Highlights

Player of the Year – Charlie Smith (Scots)
Most Valuable Player – Fergus Bragg (Shore)
Rising star – Luke Edwards (Shore)
Game of the Season – Newington v Riverview (Stanmore), Rd.10
Try of the Season – James Doyle (Shore) – Kings v Shore, Rd. 1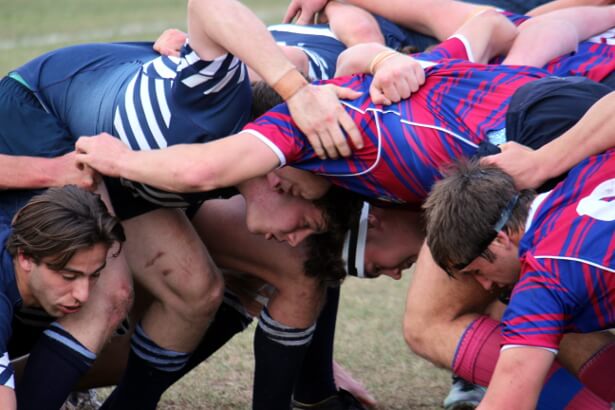 2015 GPS XV – Team of the Year
Here is the Green & Gold Rugby GPS Team of the Year based on play for their school in the 2015 GPS competition, and paying no regard to performances in trials or rep games, nor to how they played last year.
No thought was given to balancing a side for a fictitious rep game; nor was any regard given to how many players were chosen from any school. We considered injured players so long as they played in half of the games.
We chose players in the positions they appeared for their schools as much as was possible; but the lads were used in different spots, and we also compromised on a couple of occasions for good reasons.
The selectors were "Azzuri", "Byron Williamson", "Crackerjack", "Gary Owen III", "Lee Grant", "Nectarphiliac", "Not in straight", "Rob_E", "rugbycheersquad" and "sidesteppa".
GPS 1st XV
1. Opeti Helu
2. Tom Horton
3. Harrison Chapman
4. Ryan McCauley
5. Nathan Gittoes
6. Max Girdler
7. Charlie Smith
8. Dylan Pietsch
9. Theo Strang *
10. Jack McGregor
11. Tom Wright
12. Cameron Murray
13. Simon Kennewell
14. Bailey Simonsson
15. Sepesa Loga-Tarogi
* Also chosen last year.
1. Opeti Helu (Newington) – Really a THP – as a power ball carrier, he was difficult to put to ground first time, and as a tackler was aggressive in grassing opponents.  He improved markedly from a low base in Round 1.  His scrummaging, fitness and discipline needed improvement, but some of his tight work was devastating.
2. Tom Horton (Joeys) – The forward leader of his team and the Australian Schools' hooker, he wore the 2, 3 and 8 jerseys this year but threw to the lineout. Hard on defence he also linked well as typical Joeys' forwards do. He was fast enough to avoid shoulders but he had a wicked fend when tacklers were close.
3. Harrison Chapman (Kings) – A damaging player in a straight line, he was devastating on the run, and particularly hard to stop near the goal line. He was just as brutal when ball runners came straight at him because he would put them on their backs time after time. A player for opponents to avoid, if possible.
4. Ryan McCauley (Scots) – One of the most promising Australian tall-timber schoolboy locks since Rob Simmons—imperious at the lineouts and in collecting restarts, both for and against, and not bad on the run either. A John Eales type of schoolboy player, he was one of the most likely of the XV to progress in senior rugby.
5. Nathan Gittoes (Joeys) – A destructive ball runner especially away from the ruck because he was athletic enough to cause mischief in a half-gap, Had to be tackled first time or else he could make long gains. Nor was he absent in tight: at 198 cms and 109 kgs he was the biggest Joeys' forward and this year he played big also.
6. Max Girdler (Scots) – Was fiery as you would expect from a red-headed blindside flanker, and had a bit of size. He was a hybrid who took no prisoners on defence, yet was a good link man on attack and deft in the lineout. As a ball runner he could function out wide or run over tacklers up the middle. A player for all occasions.
7. Charlie Smith (Scots) – The Player of the Year was not the biggest except for the size of his ticker – a phenomenon who fizzed around the park all day yet seemed fresh at the end. He played hurt almost to a fault and inspired his team mates. His burst from a ruck in the middle of the field for a long run to score was his signature.
8. Dylan Pietsch (Kings) – The runner-up for the MVP award was a smooth yet tough player who played in the style of Welshman Dan Lydiate. Just as effective at playing on the blindside flank or occasionally at lock, he oozed class and had the George Smith knack of being in the right place at the right time to defend or attack.
9. Theo Strang (Scots) – Chosen for the second year in the GPS Team of the Year, and already in an NRC squad, the Scots' captain cleared the ball accurately and quickly, yet was just as deadly on the snipe. His strength and electrifying rugby skill marked him as another in the XV who should progress as a senior player.
10. Jack McGregor (Riverview) – As he always has, he played above his years. He represented Australian Schools in New Zealand in 2014 and was chosen this year also. He was just as adept at managing his team around the park as he was taking on defenders shooting out at him, even though seemed to he playing hurt on occasion.
11. Tom Wright (Joeys) -He wore the 13 jersey mostly but often operated as a back three player. An artful d'Artagnan of rugby, his rapier thrusts worried opponents as at Kings but he could play gritty to score as at Newington. Chosen to represent Australia for Schools and Youth Sevens, his season ended early with an ACL rupture.
12. Cameron Murray (Newington) – The Newington captain was difficult to stop one-on-one when guile was involved and not brute force. He was deadly from the set piece or when defenders were not aligned properly. As with Wright, it will be a pity that we won't see this fine youngster in the Union code when he leaves school. *
13. Simon Kennewell (Newington) – Combined well with Murray in the Newington midfield, Always a destructive runner, the rawboned centre improved his ball work this year to become a complete package. After playing for Australia in the Commonwealth Youth Games Sevens this week he will represent for Australian Schools.
14. Bailey Simonsson (Newington) – A hard but elusive runner, reminiscent of dad Paul, a touring All Black, but who played for the Waratahs and for the Aussie Sevens afterwards. Gifted in several sports, Bailey had a kit bag of rugby skills and also could anticipate events on the field as though with a second sight. *
15. Sepesa Loga-Tarogi (Newington) – In his third year in the Newington First XV and the second for Australian Schools.  He played at outside centre last year and on the wing in 2013, yet 2015 was no different for the nuggety, versatile player: regardless of position, he was equally adept at breaking tackles as avoiding them. *
* These players, in particular, can be noticed in the video of of the Game of the Year below.
---
Most Valuable Player
Fergus Bragg was chosen by the selectors because his absence would have affected the performance of Shore more than the absence of any other lad would have affected the performance of his team. We thought Bragg represented the concept of player value better than anybody else.
Although Shore did not win a game during the season it was no fault of their passionate and hard-working skipper. He inspired his men and played in four different positions in the pack as injuries occurred—and they did occur.
Honourable mention also to Dylan Pietsch (Kings)
---
Rising Star
Luke Edwards was another Shore Boy to earn further honours. This award was for a player who is returning to school in 2016 and was not chosen for major representative teams this year.
The tight head prop's future will be defined by his scrummaging ability and tight work but the big unit has deft hands for no-look passes and had a delicate side-step, just quietly.
Honourable mention also to Charlie Rorke (Riverview) a 15-year-old backrower with a McMahon-like engine
---
Try of the season
 James Doyle (Shore) – Kings v Shore, Rd. 1
In the video below Shore was playing at Kings in the first match of the season. Things did not go well in the game for them but they put on the best GPS try of the year.
Worthy lock Rory Suttor picks and goes 65 metres out, is tackled, and scrummie Will Haskins passes to flyhalf Ollie Cowley, who kicks through. Charging fullback Luke Rixon takes the bouncing ball above his head and swerves inside threatened by Kings' fullback Rhys Millar.
Rixon fires a long Harbour Bridge delivery to hooker Jake Hedge, who passes inside to 12 Nathan Corbett, but team mate no.8 James Doyle intercepts and travels over the Kings' 22. When stopped he smuggles the ball to Corbett, who pops it to Suttor when tackled. He dishes to Doyle, who had stayed on his feet and … Doyle scores in traffic. Wonderful.
Click on these links to see two other great GPS tries:
Nick Shannon – Scots v Shore – Round 8
Chris Scott – Scots v Riverview – Round 4
---
Game of the season
Newington v Riverview – Round 10   (by "Byron Williamson")

The best was last.
With the premiership on the line, Newington were looking to claim a potential outright championship with a win, and for Riverview, a sense of pride and an upset was sought after several narrow losses. "Back to Newington Day" brought a huge gathering to the college from both schools, and the game lived up to the hype.
The first half went back and forth after View drew first blood, with the half-time score in Newington's favour at 25-21. In the early part of the second half, Newington pulled away with some great running rugby, at one point leading by eleven, 37-26. But View was gritty and struck back with two quick tries in the corner, with one conversion successful, View ahead by one point: 38-37.
Bruising and powerful attack by Newington followed, but the View pack stood strong until what turned out to be the last play.  A Newington pick and drive went over and mayhem ensued with the entire school flooding onto the field.
Final score, 42-38. It was heartbreak for Riverview yet again, and Newington celebrated with a joint premiership.
Video of tries scored in Newington v Riverview – courtesy of "sidesteppa"
Many thanks to "sidesteppa" for providing weekly videos.
---
The Fab Fifteen
Here is a gallery of the players selected in the GPS Team of the Year
All photos by Lee Grant
The main 2015 GPS Wrap-up by Richard Edwards is here
.