Last years winners, Scots, were tied with Newington, going into the last round of of the GPS competition.
Both were favoured to win but if one team lost the other would likely get the chokkies. Would this happen or would the Championship be a tie between these two recent powerhouses of GPS rugby—as happened in 2013??
We'll save those games for later, but meantime Shore would meet an ailing Joey's team at Northbridge in the other match.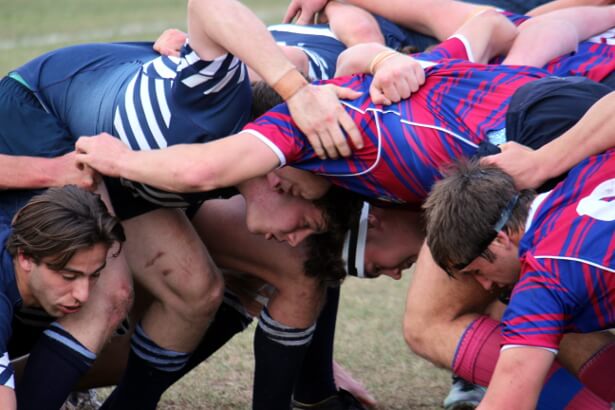 Shore v Joeys

    by "Gary Owen III"
 The final round at Northbridge was blessed with wonderful conditions for what would be many boys last game of schoolboy rugby.
A big crowd was on show with the Joeys travelling caravan adding to the Shore faithful making a full Hawker Stand a sight to behold. The G&G drums have obviously had their effect as the line at the canteen was 20 deep, all seeking pies. Our own Lee Grant was spotted trying out some of Northbridge's finest.
The early games were both entertaining with Joeys running away with the results to secure premierships in both the seconds and the thirds.
Shore did manage to win the U14A's and also took the 1st XI premiership in the round ball code. Then all eyes turned to the main game. A reversal in the injury stakes saw Shore have a couple of players returning whilst Joeys were missing a couple.
The "captains curse" at Joeys saw Clements become their fourth captain this season.
First half
The game began and it was evident that the Shore boys were up for the clash. Both teams were testing the line and yielding no quarter in defence, which lead to a very tight first half.
Shore scored first with halfback Oscar Lane darting over off the fringe of the ruck  five minutes in, before Joeys repeated the dose with a similar effort by Will Wennerbom at the other end. Joeys converted and led 7-5 after 15 minutes.
Shore countered and were making some good breaks particularly through Lachie Patrick. They could easily have regained the lead from one such attack but for some good clean-up work by Nathan Gittoes covering at fullback.
Soon after Jake Hedge ran like a man possessed to break the line and offload to support players down the right before Oscar Lane was cut down just metres from the chalk.
Near half-time Shore were launching another attack just inside Joeys half when a kick was charged down by Nick Wilkinson who ran all the way to score under the posts.
We were watching a much improved performance from Shore and they were well in the contest. The first half was tough and not without its casualties too. Joeys lost winger Ben Williams to concussion and he was replaced by James Ramm after only eight minutes.
Half-time score: Joeys 14 – Shore 5
Second half
It was Shore's turn to have a good breeze at their backs—and it was the wind which undid them soon after the break. Instead of clearing the ball Shore tried to run it inside their 22 and a long pass drifted on the breeze resulting in a knock-on. Joeys had early field position and almost blew it with a knock-on of their own at the base of the scrum.
But a tight head to Joeys saw them recycle the ball left and flanker Angus Vivers scored out wide on debut.  When Wennerbom added the extras with a fine kick, Joeys led 21-5 Joeys four minutes into the half.
Shore bounced back and continued asking questions of the Joeys defence. Jake Hedge was noticeable in moving to a first receiver role for a lot of the Shore attacking moves. Big charges from Suttor, Edwards and Bragg were creating space and Shore looked dominant at times but the Joeys defence held.
Then came one of the stranger moments of the game. Shore were on attack down the left wing and the ball was kicked high by winger Ed Gregory to chase as the ball rolled into the in goal and was grounded by a Joeys lad. Gregory was taken out in a late tackle off the ball as he chased and I was expecting the play to come back for a penalty to Shore.
Thus I didn't see Joeys take a quick 22 metre restart which ended up in the arms of Yirrbi Jaffer-Williams who streaked away to score under the posts with 13 minutes remaining. The extras by Wennerbom took the score to 28-5 for Joeys.
The Shore boys didn't drop their heads and had the final say in the game as Jake Hedge burst through to score under the posts with ten minutes remaining, and Sinclair added the extras.
The game was much closer than this score line would reflect and was played in a great spirit by both teams. Whilst Joeys took the chocolates the Shore boys can be very proud of their efforts after what has been a tough season for them.
Final score: Joeys 28 – Shore 12.
The players
Joeys
3 points – 5 Nathan Gittoes, was strong in his running and excellent in cover.
2 points – 10 Nick Wilkinson, lead the team well around the park and scored a decisive try just on halftime
1 point – 15 Tim Clements, a captains knock, looked sharp in attack and defence.
Honourable mention to 12 Joe Schwager who had his best game of the year – and also threw the ball to the lineout !!!
Shore
3 points – 2 Jake Hedge, made a heap of breaks and was highly involved all game
2 points – 13 Sam Allen stiffened up the Shore defence out wide and made a few key tackles whilst also having a good game in attack.
1 point each – because I cannot split them for having super games 1 Luke Edwards, 5 Rory Suttor, 8 Fergus Bragg and 15 Lachie Patrick.
Congratulations on a fine season gentlemen, a great way to finish. We are all proud of your efforts and good luck next year for those returning or moving onto colts.
Scoring
Joeys 28 (W. Wennerbom, N. Wilkinson, 6, A. Vivers, Y. Jaffer-Williams tries; Wennerbom 4 cons) def. Shore 12 (9. O. Lane, J. Hedge tries; 12. M. Sinclair goal).
Other scores
2nd XV: Joeys 26 – Shore 7 *
3rd XV: Joeys 41 – 5 **
16As: Joeys 48 – Shore 3 **
* Winners of competition
** Winners and won every game
Photos by Lee Grant
Click on Page 2 below for a report of Newington v Riverview by "Tahspark"