Round 8 of the GPS was not expected to present too many surprises. Riverview would surely prove too strong for Kings who were monstered by Newington last week, and Scots should account for Shore who had not won a game yet.
But Joeys played well losing at Scots in Round 7 and could threaten undefeated Newington if they could play at the same level. They went down by three points in Round 3 in soft conditions at Stanmore but would have felt more confident of bothering New on a hard track.
Scots fans would have been making calls to friends at Hunters Hill; should Joeys win, their team would be on level terms with Newington with two rounds remaining.
Joeys v Newington
Hot, firm conditions would suit Joeys' up-tempo game and Newington's big pack would not be able to impose their slower style on them—or so the Joe Boys fondly hoped.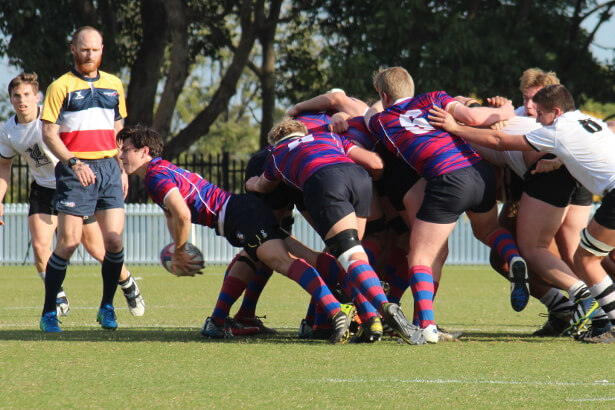 First half
Joeys started well and spent a lot of time in the New half but poor handling cost them.
Then Newington got on a roll and 14 Bailey Simmonson smoked some defenders before passing to 11 Tyrone Taukamo. The big bopper did an in-and-away to beat the last tackler before rounding to make it easier to convert his own try.
Newington led 7-0 after twelve minutes. It was an impressive long range try but the defence of Joeys was sloppy..
After 15 Tim Clements and 14 Yirrbi Jaffer-Williams combined on a dangerous move for Joeys, Newington lost a player for cynical goal line defence.  Clements stepped inside from a lineout and charged to the line, but scrummie Will Wennerbom got the bum-pats for grounding the ball. He converted his try to tie the game up 7-7 after 17 minutes.
The Joe Boys looked in again soon afterwards but a timely defensive intercept by Simonsson stopped the move.
The home team had other chances that were spoilt by poor ball work and, as though in sympathy, Newington started handling poorly also. The random dropsies that resulted offered sudden chances to the other team but none were taken.
There was no more scoring in the half though Simonsson went close when he lost the ball over the line in traffic just before the break.
Newington were missing Kennewell and Kuenzle but looked anything but Championship leaders anyway. Apart from their handling and crabbing, Joeys were more impressive, though they were without Wright and Barnes.
Half-time score: 7-7.
Second half
Three minutes in Joeys dropped the ball again and THP Opeti Helu advanced it and dished it SBW-style for New. Then 12 Cam Murray hypnotised defenders and scored 30 meters later, untouched.  The easy conversion missed but Newington led 12-7.
The teams exchanged turnovers and 7 Lachlan Simpson hacked a Newington dropped ball ahead twice for Joeys, and Jaffer-Williams was too fast and grounded the ball for five points.  After a wide conversion by Wennerbom Joeys led for the first time, at nine minutes, 14-12.
Joeys went back to wasting attacking chances, including when Clements broke through brilliantly and passed for a try—but 9 Matthew Long got the second key defensive Newington intercept of the day.
About this time you noticed that Newington weren't doing a lot except reacting to what Joeys were doing; that was their theme for most of the half.
If the Joe Boys could play more accurately they could beat the competition leaders. The dominant Newington scrum evident in Round 3 was absent, and their big boys were playing only in spurts. Not for the first time this year, they were tiring early.
After New took a turn at ruining a try opportunity Joeys stuttered into another attack.  It was  disrupted by Helu and hooker Teu Atiola  but Joeys' 6 Dom McGrath slipped the ball to 8 Tom Leaver deep in his own half.  He was stopped following a long run near touch after beating two backs, but THP Tom Horton came flying onto ruck ball and had nothing but grass in front of him.
It was a well-taken long range try to the posts and Joeys were ahead 21-12 with eleven minutes left.
Joeys were nearly in again twice before the end after Ed King went close on a weaving run, but was pinged for holding on—and when Jaffer-Williams was scragged into touch near the Newington corner post.
With the game well-won Joeys were content to run down the clock with two penalty goals.
Final score: Joeys 27 – Newington 12.
The players
Newington
3 points – Winger Bailey Simonsson was a handful in the first half, and nearly scored a try as well.
2 points – 12 Cameron Murray. Class player; had to be watched every time he touched the ball.
1 point –  7 Campbell Clifford came off the tackle line quickly to force errors.
Joeys
3 points – 15 Tim Clements featured in several Joeys attacks and set up the first try.
2 points – 9 Will Wennerbom kicked well for the posts, released the ball quickly and sparked the team.
1 point – 8 Tom Leaver set up the match-winning try for the second time in three weeks.
The wrap-up
Newington was like a heavyweight boxer who didn't throw too many punches; Joeys was a lightweight who threw a lot of them, missed with too many, but won on points.
With two games remaining Newington are now even with Scots. They both have to play Riverview, but Newington plays Shore in the other game and Scots plays Kings.
Newington had better pull their socks up.
Scoring
Joeys 27 (W. Wennerbom, Y. Jaffer-Williams, T. Horton tries, Wennerbom 3 cons, 2 pens)  def. Newington 12 (T. Taukamo, C. Murray tries; Taukamo con)
Other scores
2nd XV:  Joeys 34 – Newington 10
3rd XV: Joeys 52 – Newington 3
16As:  Joeys 41 – Newington 0

Photos of Joeys v Newington by "Lee Grant"
Video of the five tries, courtesy of "sidesteppa" – Thank you.

Click on Page 2 below for report on Scots v Shore by "Rich_E"