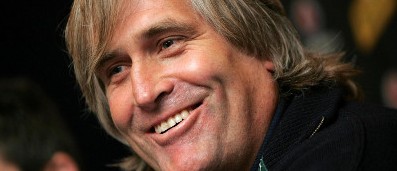 Scotland have announced today that former Australia, Wales and USA Eagles coach Scott Johnson will leave the Ospreys franchise in Wales to become the national team's 'Senior Assistant Coach'.
He is a man with international ambitions and someone who has overseen a Magners league [now the RaboDirect Pro12] triumph with Ospreys as well as having heavily contributed to Wales' grand slam win in 2005's 6 Nations.  He is well known in the Northern hemisphere, but has been exiled since leaving the Wallabies following the 2007 World Cup where he was an assistant to John Connolly.
He steps into the breach at a time when Scotland are trying to shake things up. The kids are coming through, but further augmentation is needed. No one would be bold enough to say that things are taking a backward step but it has been heavily hinted by Head Coach Andy Robinson that more 'project players' are to be brought in from foreign lands. Scotland, as a rugby nation, is one generous in giving room and board. If you have the right credentials we will give sanctuary. We have a history of snapping up 'kilted Kiwis', Saffas with ancestral claims and Aussies willing to wait for their clearance.
In recent years the Scottish Rugby Union have been trying to encourage the development of young Scottish players. Why wouldn't they?  Giving the promising players more time in a professional environment could only help bring us on as a nation and maybe, just maybe, we could start playing some exciting rugby again rather than embarking on campaigns of stuffy defence and heroic losses. A new generation of skilled Scots would be great.
There was definitely a need for this. The issue was one often spoken about but just as often dismissed when no shocking proof was presented. Then in 2006 a Scotland Under19 team played an Australian U19 team with the likes of David Pocock, Lachie Turner and the Fainga'a twins in it. It was a massacre. Scotland shipped 70-odd points and Australia barely broke sweat. The next day the SRU's CEO at the time, Gordon McKie, felt it necessary to publicly apologise on behalf of Scottish rugby.
Since then there have been attempts to increase investment in youth schemes and institutions. There has been an increase in the intake of youngsters at the pro teams Glasgow and Edinburgh. More kids have been sent abroad to experience different coaching methods. There could even be a lot of new faces in the 6 Nations squad this coming February. Now Johnson is coming in with his Australian approach to skills and he is told that he will be within a set-up prepared to look beyond its own borders for talent.
The top try scorer in the Pro12 is an Edinburgh winger, Tim Visser, who is tall, athletic, fast, strong and currently unstoppable near the try line. He is also Dutch. This June he qualifies to play and will likely go on the tour to Australia alongside Johnson. With Visser becoming the first new 'project player' of the Andy Robinson era and with this new potential link with Australia being forged as Johnson comes in will we see similar 'project players' arriving from down under?
The two contemporary Australians in and around the Scotland set-up were British Lions second-row Nathan Hines and contact-shy fly-half Dan Parks. They were both part of an Australian contingent alongside Scotland's first ever foreign coach, Matt Williams (2003-05). Now, though, Hines has retired from international rugby this year whilst Parks is said to be slowing up the Cardiff Blues backline in Wales, constantly kicking the ball away and not feeding rugged runners like Jamie Roberts and Dan Warburton. It is likely that he will be replaced in Scotland's 6N squad with one of three young Scottish stand-offs: Ruaridh Jackson or Duncan Weir of Glasgow or Greig Laidlaw of Edinburgh.
So if these two Aussie Scots are out but the gate is left open for someone to come in under a project banner would any Australians be remotely interested? If they are Scotland could indeed grow that little bit stronger and banish that last miserable World Cup campaign. Of course with the turnover of young Australian players right now perhaps few of any quality would look to apply for fear of missing out at home.