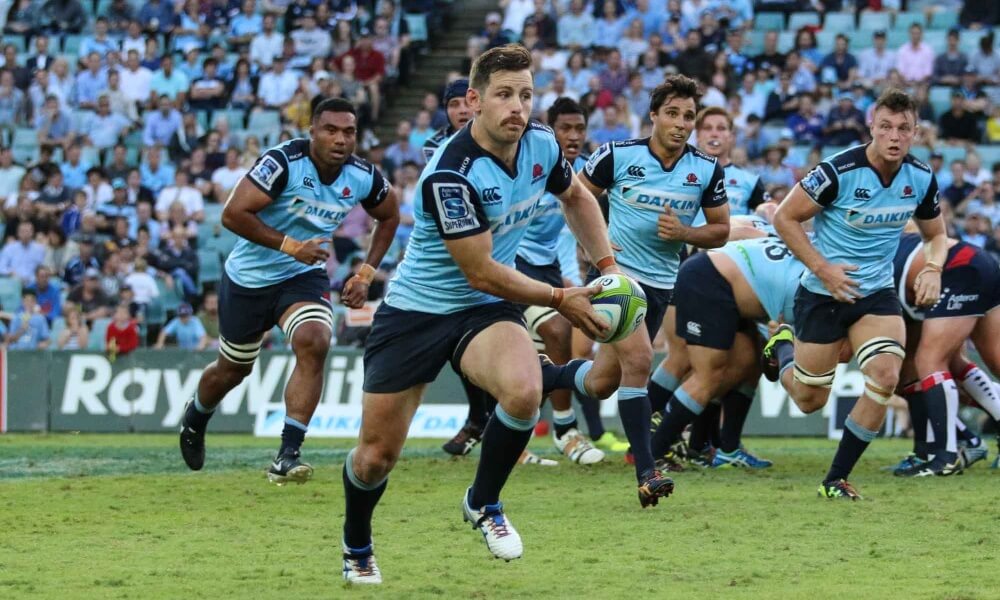 In my first article I said that provincial Kiwi forwards look like veritable gods compared to their Wallabies counterparts, simply because they have mastered the draw and pass. Hyperbole aside, Saturday's game between the NSW Waratahs and the Sunwolves provides a great example of how even the highest-paid player in Australia is inferior to amateur rugby players on the other side of the ditch in this regard.
Israel Folau scored two tries in the surprisingly tight match which came down to a missed drop goal, but this glosses over his attacking positional failures. His strengths in making solo linebreaks aside, when the break is not on for him he often makes life harder for the players outside of him. Let's look at three examples from the Sunwolves game.
First example
The Waratahs have an attacking scrum in the 19th minute about 30 metres out from the Sunwolves line. It collapses (I look forward to reading Christian Tedge's next analysis article as it seemed to me that Australia's most-capped prop was consistently being monstered at scrum time) and Jake Gordon spots Folau and Newsome in a 2 on 2 situation with over 20m of space. He takes the quick tap and passes the ball to Folau, who is running sideways before he even receives it (below).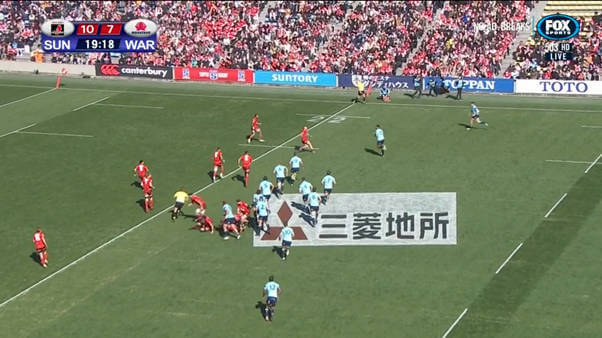 Folau takes the ball on the 15m line (above) and immediately sets about running at an almost 45-degree angle for the sideline, finally handing the ball to his winger on the 5m line (below).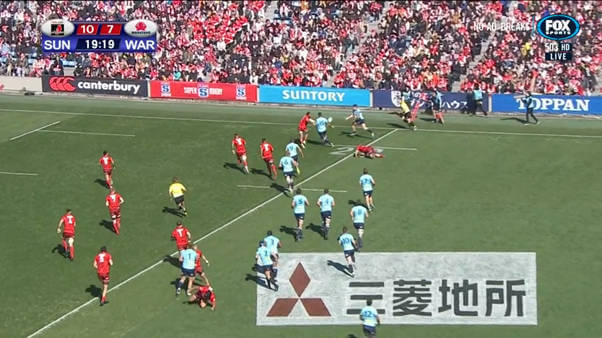 Folau has managed to discard the first tackler and create a 2 on 1, but he doesn't draw the last defender before passing – largely because there is no room left. The sideline becomes an additional defender and Semisi Masirewa tackles Newsome (below), who throws a wild pass to keep the ball in play which creates a mess that culminates in a scrum.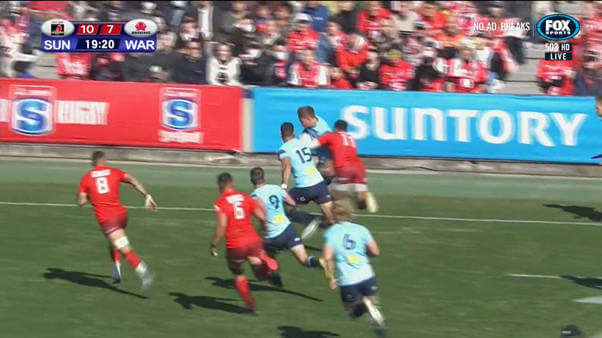 Second example
Another opportunity appears four minutes later (below). Alex Newsome and Karmichael Hunt are out wide (not pictured in this image), and there is no defender inside the 15m channel.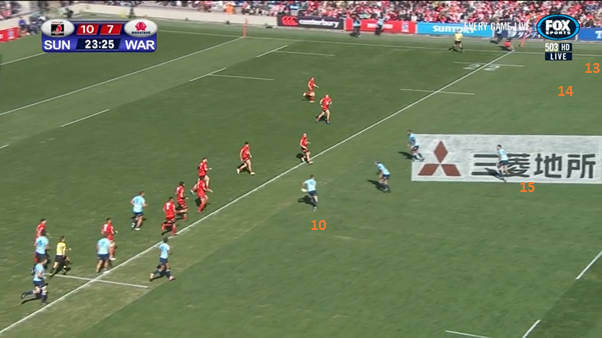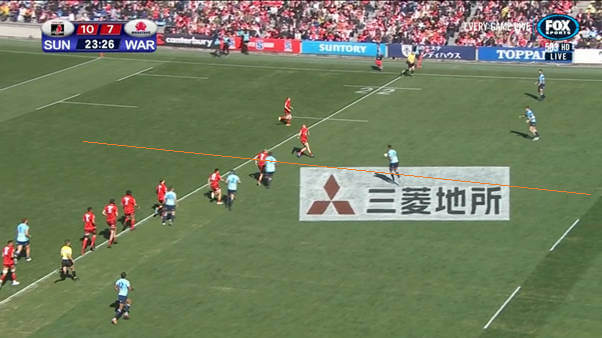 Folau takes the ball about 20m out with a 3 on 2 situation (above). The defence is sweeping over but it is still a 3 on 2 without taking into account potential offloads or tackle breaks.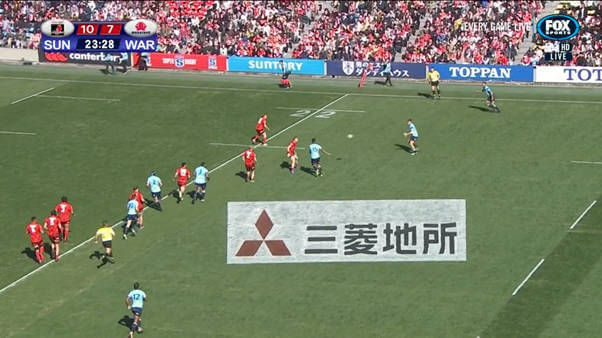 Unfortunately, Folau doesn't commit the defender before passing and drifts further sideways than forwards, allowing the same man to tackle Newsome (below). Hunt is accounted for by the outside defender.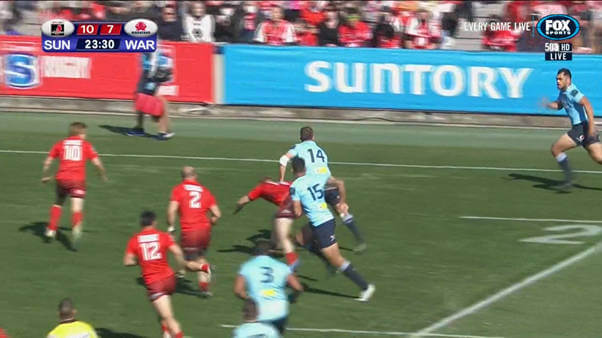 A try is still scored because of Hunt managing to slip the tackle of Parker (number 10) and making a good offload when taken by the cover defence (number 2), but the issue is the failure of Israel Folau to run straight and commit defenders before shifting the ball. He is effectively shutting down opportunities that should be available to the outside backs.
Third example
The most obvious example occurred in the 25th minute. Curtis Rona's head can just be seen at the bottom of the screen, indicating that there are 2 Waratahs and only 1 Sunwolf in the left half of the field. A clear overlap has been created by pressure on the right side of the field caused by a Hunt linebreak, and Kurtley Beale tosses Folau the ball almost in the lateral centre of the field (below).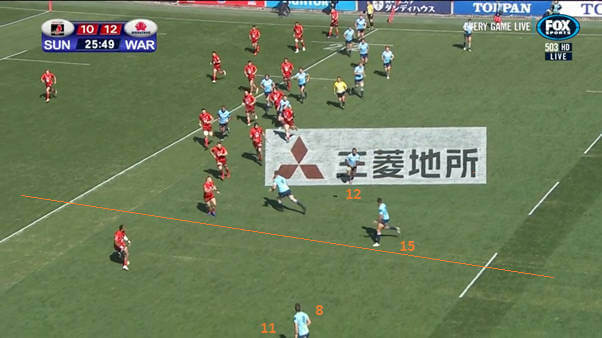 All Folau needs to do here is draw the man directly in front of him and then pass it to Dempsey, who will have a 2 on 1 situation with Rona against Masirewa. Instead, Folau runs sideways until he's about 12m from the sidelines. Dempsey wasn't expecting him to run sideways with such a clear overlap and ends up directly behind Folau (below). Despite this, Folau has drawn Masirewa and left Rona open in the 5m channel. If Folau were to pass to Rona, a try is almost guaranteed (unless Rona drops the ball over the tryline again).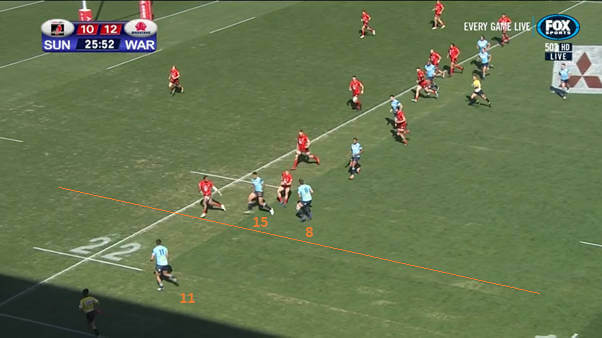 Instead, Folau tries some sort of unplanned switch play. He passes the ball back on the inside to Dempsey, who is taken easily by two Sunwolves tacklers. The unmarked Rona throws his arms up in disgust.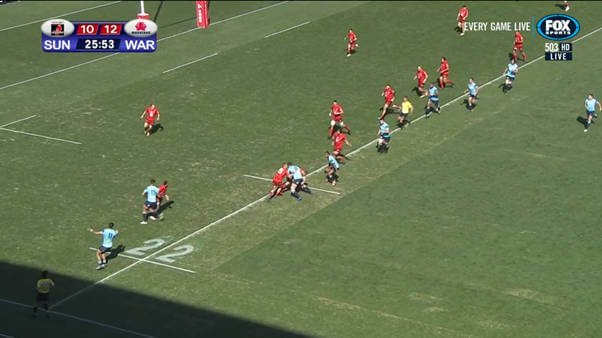 The rest of the game passes by without Folau receiving the ball in any similar situations. Often, he is cut out by Beale. He manages to score a fantastic try three minutes later after receiving a flat inside ball from Hunt, and there is no doubt that he is an incredible athlete, but as a fullback he is commonly positioned among the inside backs on attack and needs to be able to run straight and commit defenders to unlock his wingers.
It's a bit cruel to pick on Folau as there are many Wallabies who suffer from the same affliction, and sometimes he receives the ball from Beale who has begun by running sideways himself. However he is the highest-paid player in Australia – possibly the world – and regardless of whether he earns his pay by taking high balls and leaving tacklers in the dust, his performance on Saturday is indicative of a problem in Australian rugby as a whole.