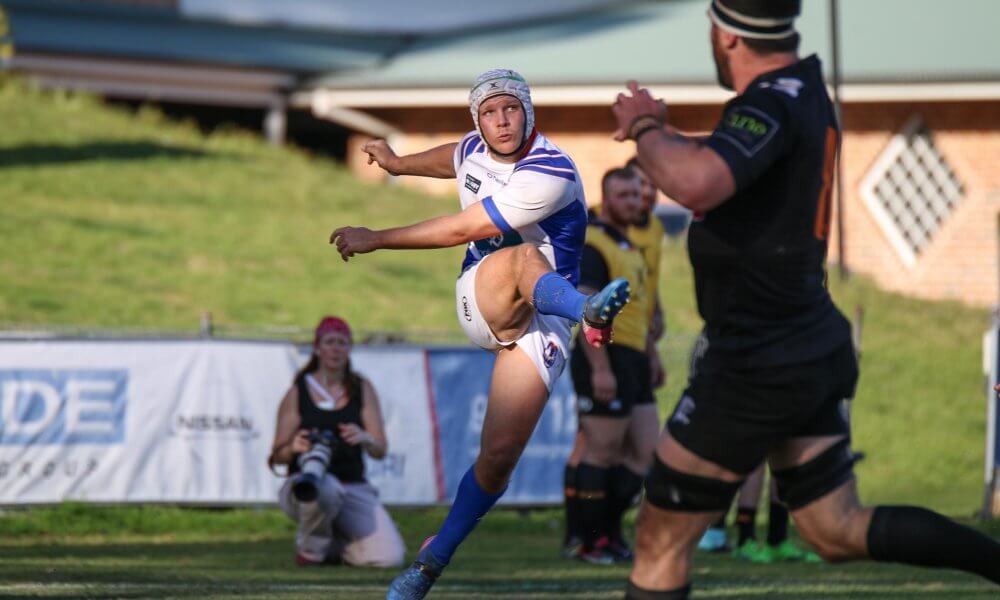 Everyone knows that the flyhalf is the most important – nay, the only important position on a rugby pitch. When they manage to pack a scrum without collapsing we sometimes tell the forwards that they can also be important, but mostly it's just the flyhalves. By far the most common sequence of play on a rugby field involves the ball emerging from the base of a ruck/maul/scrum/lineout, the scrumhalf tossing it to the flyhalf, and then the flyhalf working his magic. It's no coincidence that the best plays tend to be those where the flyhalf makes his pass and then wraps around to receive the ball a second time and make yet another pass.
Of course, the problem is that no one in Australia can manage this, which has led to the oft-discussed dual playmaker system. This typically involves Foley chucking the ball in Beale's general direction and then Beale pretending that he's the flyhalf getting a second touch. The only real difference is that there is no wrap around, which means that no overlap has been created. This sort of ruins the whole point of the play, but it still works sometimes because Beale is pretty good at putting guys into gaps.
But what happens once Beale starts showing his age? At 30 years old, this is almost certainly his last Rugby World Cup and Foley is only 9 months older than Beale. Even now, Beale has had a very slow start to the season which we can only pray is out of laziness rather than senility.
This is where succession planning comes in – or at least, where it should come in if it existed in the first place. While New Zealand has managed to churn out the likes of Beauden Barrett, Aaron Cruden, Richie Mo'unga, Lima Sopoaga, and Damian McKenzie to take the reins following the departure of Dan Carter, Australia has been using Foley and Beale for what feels like a bloody long time. Since the retirement of Stephen Larkham in 2007, Australia quickly lost the likes of Matt Giteau, Berrick Barnes, and James O'Connor to overseas clubs. Since 2013, only the occasional selection of Quade Cooper has managed to dislodge the Foley-Beale combination that has been imported from the Waratahs (though Matt Toomua had a few cracks at it last year).
So let's talk about the successor portion of the succession planning. Between 2010 and 2017, almost no Australian under-20 flyhalves have been retained through Super Rugby. This is despite the fact that no less than 16 players wore the green and gold at that level in those 8 years.
Ben Volavola ended up playing for Fiji and James Ambrosini is considered an Italian prospect.
Kyle Godwin was utilised predominantly at centre before moving to Ireland, much like Reece Hodge who has only started one Wallabies game at flyhalf despite having the most successful first-class career in this list.
UJ Seuteni is in France, and Andrew Deegan was in Ireland but is now in Perth (which may as well be Ireland) with Nick Jooste and Jack McGregor (yes – three u20s flyhalves still play in Australia but are ineligible for Wallabies selection because the Force is no longer in Super Rugby).
Jake McIntyre played 24 games for the Reds before being recruited to play in France.
David Horwitz and Mack Mason were both picked up by the Waratahs but sat on the sidelines for years – Horwitz eventually getting 16 starts before moving to Ireland and Mason managing only a handful of brief appearances (until this weekend).
James Dalgleish hasn't managed to step above the NRC level, while Jordan Jackson-Hope has come off the bench for the Brumbies twice this year but only in the back 3.
Jono Lance managed just over 50 Super Rugby starts across 3 teams in 8 years before taking up an offer in the English Premiership.
Hamish Stewart and Jack Debreczeni have been given the best chance out of all of these, with Stewart being bred to be the next Reds flyhalf whether it suits him or not and Debreczeni being the main Rebels flyhalf from 2015 until 2018. Sadly, Debreczeni was displaced at the Rebels this year and now plies his trade for the Chiefs (he had a very impressive season with their feeder club Northland last year in the Mitre 10 Championship).
It is due to this total and utter failing on the part of Australian rugby to develop any young playmaking talent that could eventually oust Foley and Cooper that I watched this weekend's Super Rugby games with interest. Mack Mason was thrown into the Super Rugby furnace without so much as a sun umbrella, while Hamish Stewart was pitted against an in-form Quade Cooper. Unfortunately, Stewart was played at fullback which dashes any chance for a fair comparison. As a result, I will be looking at how Mason did against experienced ex-Highlander flyhalf Hayden Parker.
Mason's performance has already been discussed thoroughly despite the recency of the game, with the general consensus seeming to be that he was flustered by the standard of play but that he can't really be blamed for it when he hasn't been properly exposed to top tier rugby before. To be precise, Mason has played only 20 minutes of Super Rugby since July 2017. Many also feel that no one in the Waratahs backline lifted so much as their little finger to help him out despite 4/6 of the other backs being Wallabies. I have watched this game 3 times now and have formed a slightly different opinion. Let's take a closer look:
Only 38 seconds in (above), Mason shoots a great ball in front of Damien Fitzpatrick who charges on an angle through a half-gap and makes the offload to Beale. Unfortunately, he follows this up with a Foley-style aimless kick which is redeemed by being returned even more poorly.
In the 8th minute (below), Mason makes a similar pass to put Alex Newsome into a half-gap but unfortunately the winger can't hold onto the ball. It's hard to say which player's fault this is, most likely it's just a result of poor timing between players who've never really been on a rugby pitch at the same time.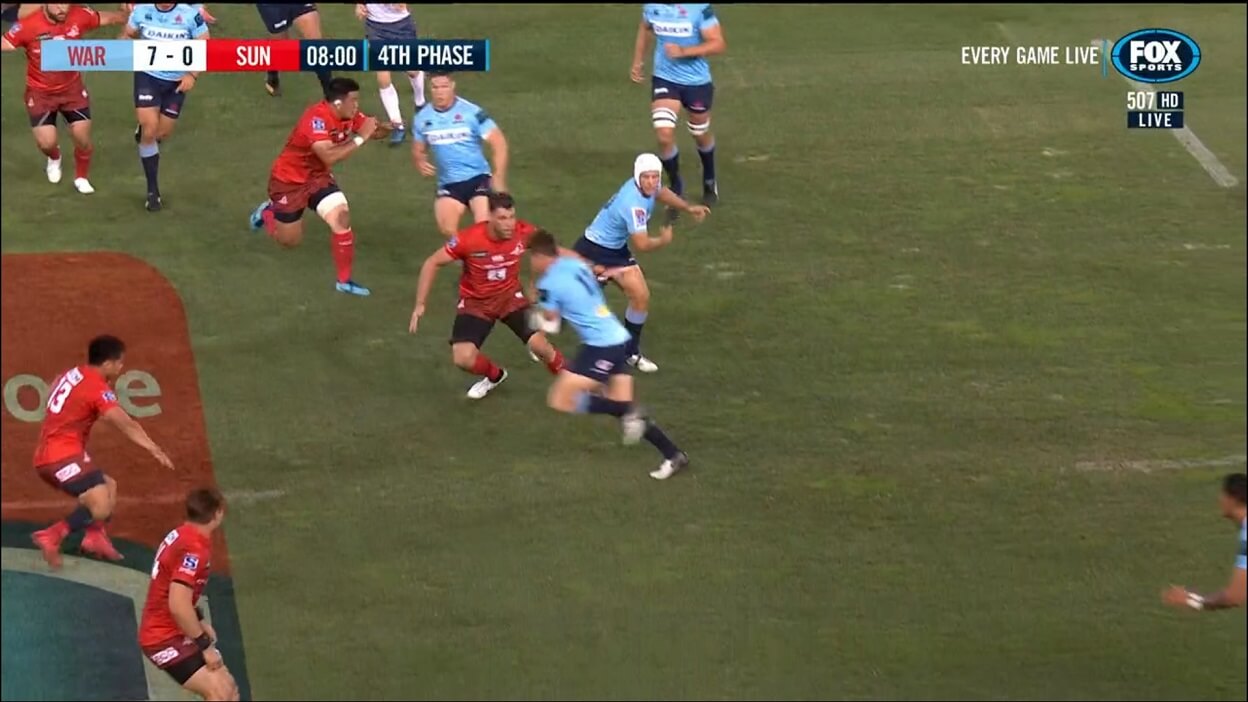 Five minutes later (below), Mason fires a pinpoint pass to Israel Folau. It needs to be pinpoint because there are two Sunwolves players rushing up for the intercept, but due to its accuracy and timing the man marking Folau is caught out and Folau makes a good 15 metres before being tackled by the cover defence.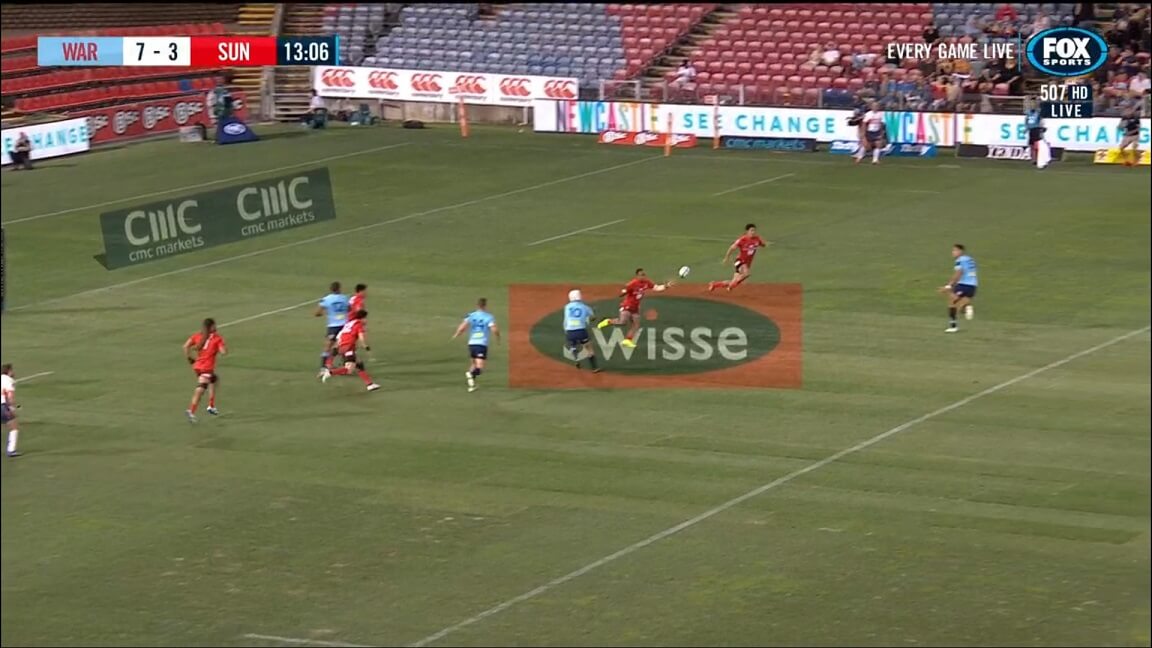 Mason also manages to shift the ball very quickly in the face of a belligerent rush defence for Cameron Clark's try in the 14th minute.
In the 21st minute, Mason receives a long kick and immediately gives it to Folau. It's good to see Mason backing Folau up here, leading to a 30-metre break when Mason receives the pass. Unfortunately, he passes it to Clark without properly drawing the defender (below) which allows Gerhard van den Heever to cover both of them and end the promising play. This is by no means a fault unique to Mason, and I would like to see this skill improved across the board.
Mason also gets one up on his experienced opposite number Hayden Parker by charging down his clearing kick, unfortunately the ensuing grubber leaves the ball awkwardly too far from the try line to dive on it and too short to kick. Even though this does not result in a try, Mason deserves some recognition for creating this opportunity.
Something that may have gone unseen or even counted against him in many pundits' books occurs in the 26th minute, when Mason manages to put himself into a gap (below). Unfortunately, the pass from Kepu is too high and the chance is lost.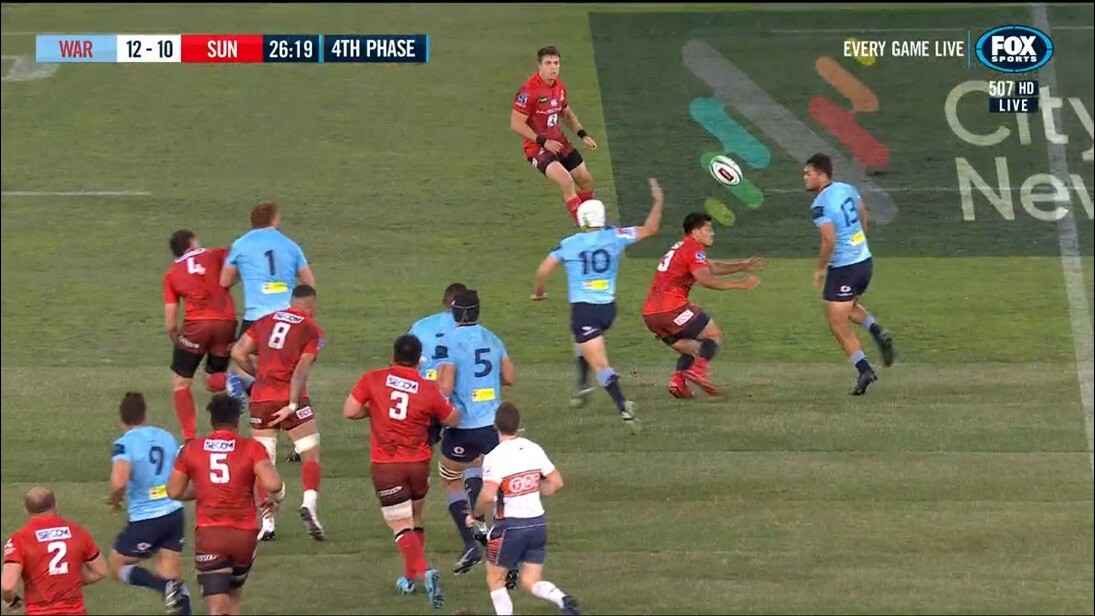 Mason puts a kick out on the full a moment later.
He manages the vaunted 2 touches in one phase in the 37th minute and the trick gains the Waratahs a few metres. Unfortunately, he drops a pass from Beale cold a few seconds after this due to the pressure from the rush defence.
The key incident for which his participation will be remembered occurs in the 51st minute (below), when his pass goes in front of Beale and is recovered by Semi Masirewa for a Sunwolves try. I have watched this pass dozens of times to determine if it comes off the hand of Harumichi Tatekawa, but the wide angle makes it impossible to be sure and my best guess is that it doesn't, though it is possible that Tatekawa's tackle changes the ball's trajectory.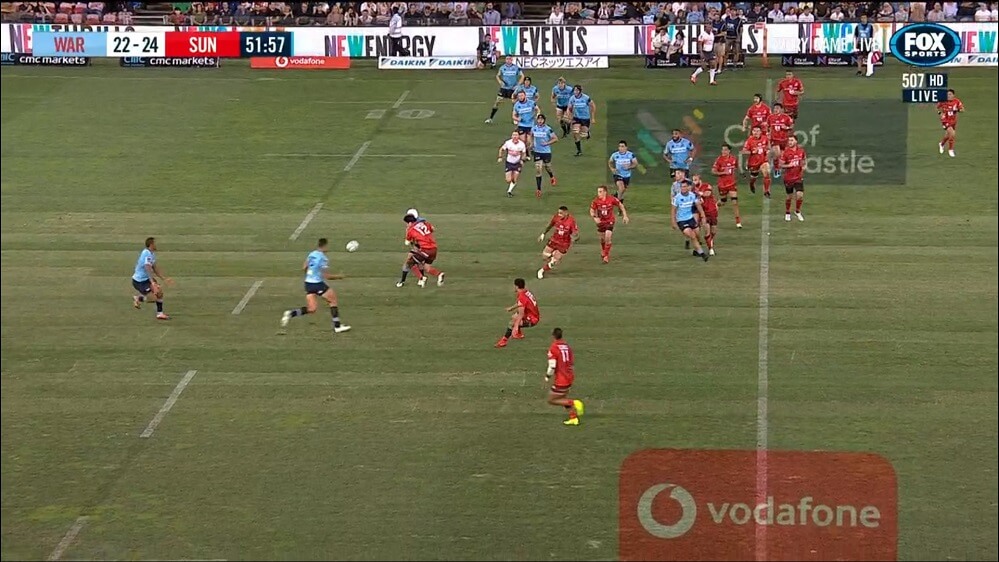 Even if Tatekawa had zero impact on the play, I would not say that this is solely Mason's fault. The Waratahs have run this play before and Beale is standing closer to Mason than is typical – in fact, when Mason throws the pass Beale is almost directly behind him. The sole tolerable Fox Sports commentator Rod Kafer appears to support this by saying that Beale is "too narrow". The take away message from this play is that if Beale had been wider, then the pass would likely have connected. Ideally Mason would have adjusted his pass to Beale's actual position, but under pressure from Tatekawa's rush defence and with only a handful of Super Rugby minutes under his belt he probably just threw the ball where they'd practised during training. In my opinion, it is very harsh to pin all the blame on Mason for this try.
Unfortunately, this incident crushes his confidence and he drops the ball cold in the 53rd minute leading to his substitution shortly thereafter.
The above is a list of all negative or otherwise major involvements that Mason had in the game. In addition to them, Mason also provided:
Good backfield coverage;
A strong kicking game with 14 kicks (only one above went out on the full);
Crisp ball distribution including 21 passes;
A 75% (3 from 4) goal-kicking rate; and
A perfect defensive score, making all 4 of his tackles (and all 8 tackles this year) as well as 3 of his 4 kicks at goal.
By way of comparison, in the same game Kurtley Beale (who functioned as a second playmaker for 54 minutes and then as flyhalf) made 5 of his 7 tackles. In the previous game he made only 3 from 7 while incumbent Bernard Foley made 9 from 13. One of Beale's missed tackles was directly responsible for a try. In fact, on review I think it is fair to say that Mason had a better game than Beale.
Despite the commentary to the contrary as well as two and a half years spent running water from the sidelines, Mason still managed to deploy an effective passing game and showed better tackle technique than any incumbent Wallabies playmaker. He struggled in attack when put under pressure, but I think there was enough promise shown to hope that he will begin to cope with the benefit of future experience.
Even those detractors who are good-natured enough to offset Mason's mistakes with contextual information tend to overlook a lot of good things he offered during the game. Mason's greatest asset at the junior level was his passing game, and from the evidence at hand it seems that he is merely rusty. Above all else I would like to see him become a regular emplacement on the bench with perhaps one more shot at the starting jersey this year. He needs to be given the chance to play and learn and make mistakes without feeling like he's cost his team the game. Otherwise, Mason might just end up as another name on that list of u20s flyhalves who never got a fair chance in Super Rugby.