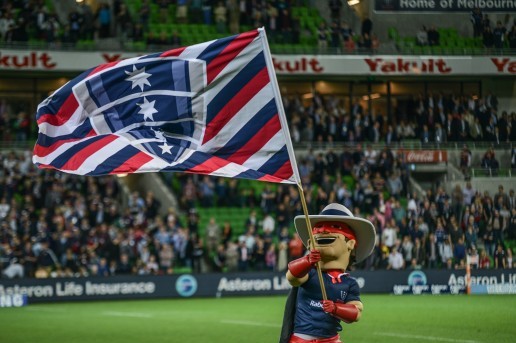 Super Rugby is over for another year, but there's been plenty of talking points for Rebels fans.  So, how do you rate the 2018 season?
This year, we thought we'd try something different.   We've asked all the Melbourne Rebels writers, referred to by Dave Wessels and the "GAGR Melbourne Mafia", for their view on season 2018.  I'm joined by Go Melbourne Rebels (GMR), Mr Wobbly, Scooter, and 22 Metri (22M).
Season Rating:
GMR: B Considering the 2017 season, that is a respectable rating, maybe I am allowing too much for that. Based on expectations at the beginning of the season, it perhaps should be lower, but the signs are good, if the Rebels can iron out the wrinkles.
Scooter: B-  After a 2017 season where the Rebels won just one match and had a draw, a season where the team had 7 wins, and to get within points difference of what would have been a first finals berth, is a significant improvement.
Although a significant improvement was expected given the number and quality of the players recruited from the Western Force plus recruits such as Will Genia and Geoff Parling. The disappointment was a lack of composure in closing out games and the fact that there were opportunities to wrap up a finals berth in the last matches of the season, which temper the positives to an extent.
Plenty to celebrate for Rebels fans this year
Mr Wobbly: C Generally a pretty good year for the Rebels, especially on the back of the 2017 season. The expectations at the beginning of the season were for a much-improved performance and we obviously got that and should feel somewhat satisfied. However, the mid-season slump and losing three consecutive games at the end of a season when a finals berth was there for the taking meant the season ended on a rather disappointing note.
OzT: B- 2017 wasn't a good year for the club, and anything would be an improvement. With our futures intact, and a flood of new recruits, season 2018 looked bright. The first half of the season was excellent; big victories, a committed team, and a finals campaign in sight. Fast forward to the last round; despite a valiant effort against the Highlanders, the Rebels were pipped at the post.
That match is an excellent metaphor for our season; flashes of brilliance, and even domination, but we missed glory by THAT much.
But to put this is all into context, we need to reflect on our past. We must consider that months before the opener, we existed as two separate teams. The new coaching team had the unenviable task to mould two teams into a cohesive unit, united under a single culture, within the space of a few months.
Anyone who has endured organisational change will know, it's not easy. To simply win just a few games would be a great achievement, to make the finals would be amazing. Sure, we didn't make it this time, but I know we're building towards something special. I'm proud of the progress the club made, the stars we've uncovered, and what the Rebels have done in 2019.
As an aside, my score would have been an A if we made the finals.
Season Low Point:
GMR: The loss to the Tahs in Sydney after having a good lead showed the weakness in game management and poise. This was also evident in the last three games of the season, which could have all been won and seen the Rebels play finals at home. The off-field incidents post-season were also very unwelcome and hopefully not a sign of internal issues at play.
Scooter: On the field, the low point of the year was the numerous occasions where the Rebels moved out to healthy leads before being overrun in the second half. This occurred v Waratahs twice, Jaguares and Highlanders. In matches against the Hurricanes and Reds, the Rebels also had good leads midway through the first half before late surges from the Canes and the Reds saw the Rebels give up their lead before halftime.
Off the field, the two alleged assaults within seven or eight days of the Rebels' season-ending left a sour taste on what was mostly a positive vibe around the 2018 Rebels, especially when for the second half of the season the Rebels had #NoToViolence on the back of their jersey.
Amanaki Mafi – did a lot of good, but damaged the club.
Mr Wobbly: The season's low point was everything that followed the test break. Losing three winnable games to miss the finals and then the bad press following the well reported, alleged assaults have left a sour taste.
OzT: The lowest point was the three losses following the test break. Despite missing key personnel, they were all winnable. At key moments we lost our composure, and it cost us dearly in points.
Special mention to the loss against the Jaguares at home. I 100% back the call that Adam made to scrum under the sticks, but doesn't stop me thinking "what if?"
I'm sure he's taken a lot from that call and would have learned a lot.
Season High Point:
GMR: The win away in Canberra over the Brumbies showed what can be done when their minds are on the job. Coming from behind and stealing the win against a quality side is promising for the future. The win in Auckland against the Blues also gets a nod. True, this was a very poor Kiwi side, but still, to get the W at Eden park gave much to smile about.
The Rebels celebrate the first win at Eden Park.
Scooter: The start of the season where the Rebels won four of their first five matches, recording wins against the Reds, Sunwolves, Brumbies and Sharks. This gave the Rebels' season a wonderful kick start, particularly after last season.
Mr Wobbly: For me, there were three significant high points: the first was when the announcement was finally made that the Rebels had survived the Rugby Australia's "Shrink to Greatness" policy. The second was seeing my mighty Rebels at the top of the Super Rugby table, no matter how short-lived. And the third was the signing of a major sponsorship partner in the Legacy Property and Investment Group.
OzT: A few come to mind:
We returned to AAMI Park in 2018.
The record-breaking win against the Sharks at home. Everything about that match was pure class. Every move clinical, every point celebrated by the adoring crowd. I think there would be a few sore heads the morning after.
The drought-breaking win against the Blues. Sure, it wasn't a flashy game, but the significance of beating a kiwi side at Eden Park.
Player of the year
GMR: Will Genia. While injury only saw him play half the games this season when he did play there was a lot more composure to the team. In a "sliding doors" situation where he played all the games, it would be interesting to see if we won more games. I wager we did.
Scooter: There is an argument for Amanaki Mafi to go back to back in the player of the year. In 2018 he had the most carries in the competition, by a far margin and was 4th in the competition for metres carried. Although given the alleged assault the night the Rebels were knocked out of the competition and the subsequent reports of an incident on the South African tour I can't bring myself to anoint him player of the year. Unlike, 2017 Mafi was not a clear standout. So I will award player of the year to a player who I was impressed with his running game and who was a key for the Rebels at lineout time, and that is one of the ex-Western Force players Matt Philip.
Mr Wobbly: Will Genia – Although he only managed eight games for the season, Genia's presence made a massive difference to the overall performance of the whole team. Through his leadership and the clear direction, he made the players around him better. There is no doubt he was the Rebels' most important player in 2018.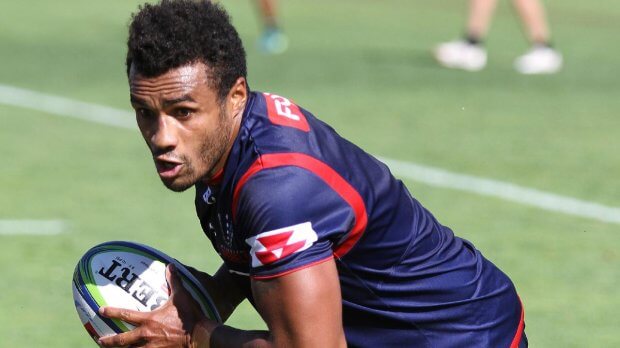 Will Genia – what a player!
OzT: Will Genia. When playing, our team was unstoppable.
22M: Adam Coleman / Will Genia
Best back:
GMR: Billy Meaks. He took a while to get going, but after a great turn against the Sharks, he really stepped it up. More of the same in 2019, please.
Scooter: There were three or four backs who could have won this award. Will Genia and Dane Haylett-Petty played pivotal roles for the Rebels but had their seasons severely interrupted by injury. The other consistent performers in the backs were Jack Maddocks, Billy Meakes and Reece Hodge. Because of his contribution in both attack and defence, I will nominate Billy Meakes as the back of the year.
Mr Wobbly: Jack Maddocks – Despite a mid-season form slump, Maddocks finished among the top ten players in Super Rugby for clean breaks, trys scored and metres carried. Impressive stats for anyone, let alone a second-year player. Special mention to Tom English. English was a solid performer all season, scored four trys, gave a couple of others away, and finished up captaining the side.
OzT: It's a toss-up between Jack Maddocks and Reece Hodge. Maddocks for his devastating runs and wild haircuts; Hodge for stepping into the flyhalf role and having a good crack at it. I'll go with Jack Maddocks for this year.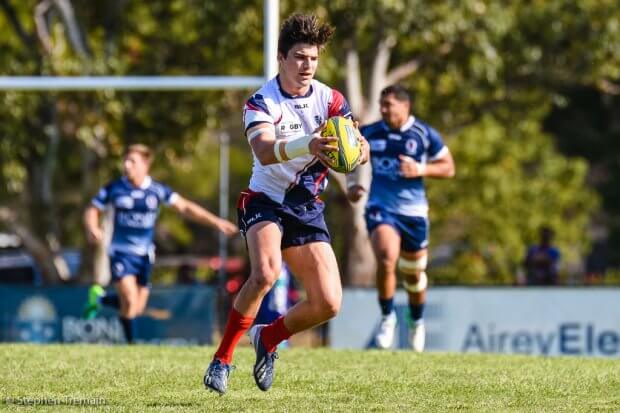 Jack Maddocks popular amongst the writers this season.
22M: Billy Meakes
Best forward
GMR: Anaru Rangi. He took his chances when he got them. With an injury to Jordan Uelese, Anaru jumped in and made the No. 2 jersey his own. I thought "Beast Mode" was already taken. Looks like Anaru Rangi has stolen the crown.
Scooter: Someone who when he arrived in Melbourne for pre-season training had no guarantees and no contract, ended up playing 14 games for the Rebels. The hardworking back rower Angus Cottrell (another former Force player) provided his all to the team throughout the season and earnt himself a contract extension.
Mr Wobbly: Adam Coleman – Coleman is a quality player that brings aggression and starch to the forward pack. He was sorely missed at the end of the season.
OzT: Adam Coleman. He's the perfect lock and the strong leader that the Rebels need. He's the classic lead-by-example player who inspires players around him. The added leadership duties didn't deter his game.
22M: Adam Coleman
Most improved:
GMR: Matt Philip. It's hard to judge over one season with the Rebels, but in the second half of the season and with an injury to Adam Coleman, Matt showed great improvement and reason for being starting lock.
Scooter: After playing 6 games without a try in 2017 Jack Maddocks make his mark on the 2018 Super Rugby season equalling Reece Hodge's Rebels record of nine tries in a season. Maddocks took a liking to the Sunwolves scoring five of those tries in two matches against the Japanese team. Maddocks has the speed to burn as evidenced by his try in round 18 against the Reds at Suncorp and that all-important x-factor. Maddocks was named in the extended Wallabies squad for the June internationals and whilst yet to make his test debut he cannot be far away.
Mr Wobbly: Fereti Sa'aga – From basically being an injury call-up in 2017, Sa'aga finished the season as the preferred starting loosehead prop. His scrummaging and work around the park have improved immensely over the course of the season.
OzT: Anaru Rangi. From starting on a training contract to starting Rebels hooker for most of 2018, Anaru made the most of his opportunities. While his set-piece work is solid, I really like his ball carrying in open play, and his ability to regularly break the line. At one point, before the return of TPN, he was even talked about in Wallaby circles. Who knows what 2019 will hold for Anaru?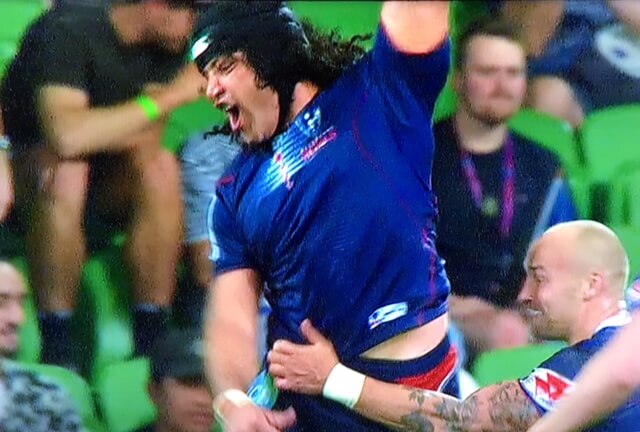 Anaru Rangi – fantastic season
22M: Jack Maddocks
Rookie of the year:
GMR: Though technically not a rookie this season, Jack Maddocks played his first full season and while he still needs a fair bit of polish (kicking, especially), his re-signing this year was for good reason. This kid's got a bright future.
Scooter: This is a difficult award to decide. The Rebels had 20 players play their first match for in Rebels colours in 2018. However, fifteen of those players had previously played Super Rugby and Geoff Parling had previously played 29 tests for England and 3 tests for the British and Irish Lions.
Of the four remaining debutantes Tayler Adams played approximately 15 minutes across two games, Pone Fa'amausili played 1 game for 11 minutes, Sama Malolo played 4 minutes in 1 game and Mahe Vailanu played 22 minutes across two games. Given the limited game time of these players, I am going to make what might be a controversial decision and I am not going to award a rookie of the year.
Mr Wobbly: N/A
OzT: Hard to pick a rookie from the squad this year, so I'll pass.
22M: Pone Fa'amausili
What do you want to see more of in 2019:
GMR: Wins, obviously, but the ability to control games when leading. Know when to take risks and when to treasure the pill.
Scooter: In 2018, there was a vast improvement in 2017 and I would hope that there would be continual improvement in 2019. The game plan adopted by the Rebels was much more attacking than in 2017 and was exciting to watch. Dave Wessels is a relatively young coach but shows a lot of promise and will no doubt have continued to grow as a coach in 2018 and this should also be on display in 2019.
Personally, I would also like to see one of our local Victorian talents Sione Tuipulotu given some opportunities during 2019. After playing 10 matches across 2016 and 2017 Tuipulotu was unable to break into the 2018 matchday squad, which was significantly strengthened from the prior year with the recruitment.
Mr Wobbly: Wins! Mostly just that – wins.
OzT: More wins in New Zealand, and at least one in South Africa.
What needs to be fixed in 2019:
GMR: Game management. Keeping cool heads this season would have seen us in the finals.
Scooter: Hopefully the Rebels will display a greater level of composure particularly towards the end of matches. This was a disturbing trend in 2018. Also, one position that the Rebels did not obviously improve with their recruiting for 2018 was fly-half. One of the exciting arrivals noted below will help improve flyhalf but this won't be until late in 2019.
Mr Wobbly: Two areas need drastic and immediate improvement: discipline and tackle success. The Rebels had the worst record of any team in Super Rugby in both of these important facets of the game. The third, and perhaps most difficult to quantify, an area that needs to be fixed is the Rebels ability to stay in games longer. On too many occasions this year the team seemed to lose focus and cohesion when things didn't go their way.
OzT: Two things:
A recognised fly-half. I said in the season preview that we may be a little green at fly-half, and I was right. Reece did a great job there, but he is best playing in the midfield. Thankfully, we've signed Melbourne boy Matt Toomua on a 2.5-year deal. We may not see much of him in 2019, so we will need a plan b.
Composure. In a few matches, and at critical point, the lack of cool heads made us do dumb things, and we paid for it on the scoreboard. It did play a role in slipping down the ladder and missing out on finals. Despite this, I know all the players/coaches will learn from these key moment, and use it to build more resilience in our team.
Exciting arrival for 2019:
GMR: Matt Toomua is a player I have always enjoyed watching and felt he is very under-rated. I think he will fit in nicely in Melbourne and he is also a funny bugger! Still, we won't see much of him in 2019 if the Tigers make the Premiership finals, so my pick for next year is Isi Naisarani. I am always impressed with his ball-running and think he has more tricks up his sleeve than Amanaki Mafi. Not getting Isi Naisarani from the Force for me was disappointing, so to have him come south (which was probably planned from the beginning) is a big plus.
Scooter:  Matt Toomua is an exciting arrival with 33 tests for the Wallabies and 88 Super Rugby appearances. However, given he is playing one more season for Leicester Tigers and won't arrive until late in the 2019 season he is essentially an exciting arrival for 2020. Therefore, my 2019 exciting arrival is Isi Naisarani, who is a dynamic number 8. I have been a big fan of Naisarani since his performances with Brisbane City in the 2016 NRC and he didn't disappoint in his first two Super Rugby seasons with the Western Force and the Brumbies.
Matt Toomua – the flyhalf fixer?
Mr Wobbly: Isi Naisarani is a powerful Number Eight whose inclusion will go a long way towards filling the obvious void that will be left by the departure of Amanaki Mafi. Naisarani may well provide a better balance to the team than Mafi. If any of the rumours turn out to be true, I'm also excited at the prospect of a former Rebel lock/backrower returning in 2019.
OzT: Matt Toomua. Our biggest problem has been the flyhalf role, and he's just the man to solve our problems. It will free up Reece to return back to the midfield, or just create another selection headache for Dave. As we don't get Matt until the end of 2019, Reece might have to wear the 10 for a few more matches.
Who we will miss in 2019:
GMR: Colby Fainga'a. No question about it. A great (hugely under-rated) player, the favourite Fainga'a son (according to Colby) and a great guy. Special shout-out to Sam K Jeffries. Some may say the class clown, but he will be missed in Melbourne.
Scooter: Colby Fainga'a has been a leader within the Rebels forward pack for five seasons. His main impact came at the breakdown creating numerous turnovers. His experience of 101 Super Rugby matches, 66 of which have been in the Rebels jersey, will be sorely missed. The Rebels loss is Connacht's gain.
Also reading between the lines of Will Genia's Instagram post of 17 July he may also be leaving the Rebels (and if so likely to be heading back to Queensland). It is unusual to say the Rebels will miss someone who only played 8 games (if he was to leave) but he provided some composure and creativity for the Rebels. His effort to set up a try for Dane Haylett-Petty against the Jaguares was a highlight of his creativity but also a lowlight because he injured himself in the same passage of play.
Mr Wobbly: Colby Fainga'a is a quality player and a fan favourite. His presence at the breakdown and leadership will definitely be missed. Best of luck to him and his family with his new club, Connacht. There will no doubt be some other departures announced in the coming months; I'm hoping that none of them will be as important to the team as Colby has been.
Colby Fainga'a – great player, even better human.
OzT: Colby Fainga'a. Not only a top-class flanker, but a really nice guy. His presence will be missed around the club. Good luck to him and his family as they venture over to Ireland.