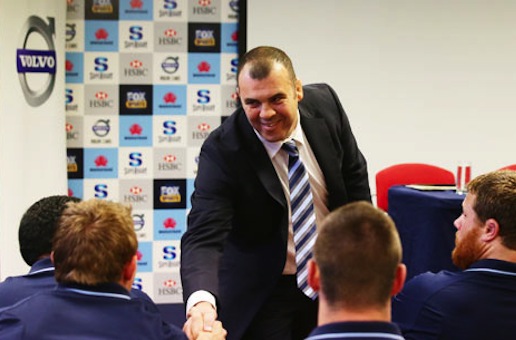 The management of the Waratahs franchise today announced Michael Cheika's appointment as coach for the 2013 season. Although the term was not disclosed in the press release, it is believed that it will be for three years.
Cheika said today that
…the opportunity to coach the Super Rugby team of my home state and the responsibility to make all our supporters and all people from NSW proud of their team is one that motivates me immensely.

I am really looking forward to being part of this new era in NSW rugby and will bring all the passion and professionalism I have to make this team one everyone will be proud of.

My immediate goal is to establish our identity loud and clear, inside and outside of the team; who we are, how we are going to play the game and what we are prepared to do to earn the respect of our team mates, our supporters and our competitors, as individuals and as a team.
Cheika's coaching career spans 13 years, and includes experience in the Shute Shield coaching Randwick, in Italy with Padova, in Ireland with Leinster for five years and in France coaching Stade Français for the last two.
His time with Leinster was his most successful coaching period to date, culminating with Leinster winning the Heineken (European) Cup in 2009 while winning two Celtic leagues on the way. He was known during that time as coach who had transformed a side that used to be known for its inability to rise to the occasion to winners, in part by injecting some badly needed steel into the Leinster squad.
His time at Stade Français was less successful, with off-field trauma and mediocre on-field results making his life very difficult, and culminating in his sacking.
Before the announcement, former Wallabies captain Simon Poidevin described Cheika as
…the game changer that this organisation needs to sort out their culture, their leadership and their direction. He's got an excellent track record, both with results and ability to manage players. The culture he built at Leinster, from an organisation that was in the backwaters to what it is now, it is a great case study to what can be done. Guys like [Brian] O'Driscoll loved playing under Michael's leadership. I don't think you can get a better statement or acknowledgement of what he did there.
Let's hope he gets the time and the support to accomplish the same reforms at the Waratahs.