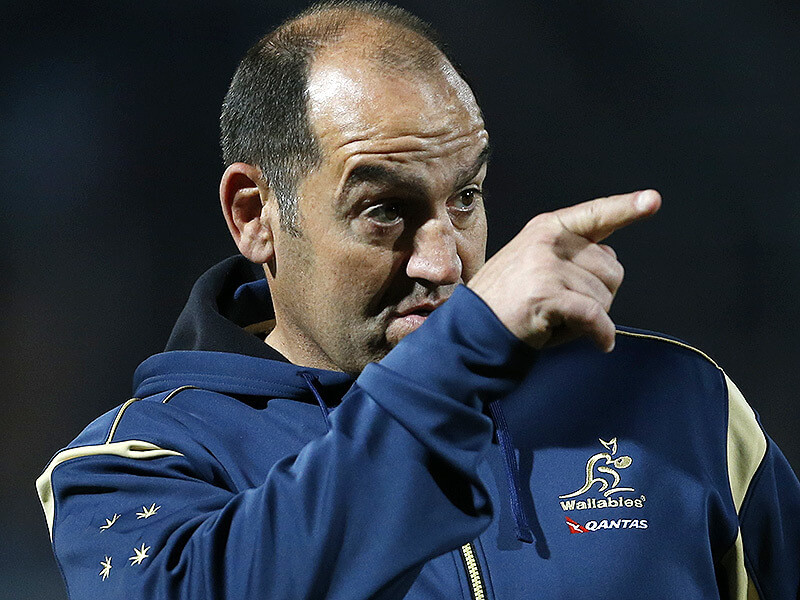 Monday's Rugby News has a departing plumber, Reece Hodge not taking compliments well, yet another new idea to run rugby, and Cheika looking forward to Brissyslo3
---
Mario Doing One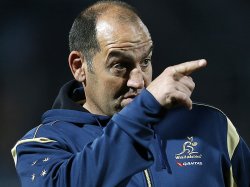 Wallabies scrum coach Mario Ledesma will be the Wallabies scrum coach for not much longer, after Michael Cheika announced that the Argentine is heading home to coach the Jaguares next year.
Cheika announced after the Pumas game that Ledesma will leave the Wallabies setup after the third Bledisloe in Brisbane, on 21 October.
Coaching the Jags could potentially lead Ledesma to being involved big-time in the Argentina setup, with rumour swirling that current boss Daniel Hourcade will get the chop after winning nada this year so far.
However, Cheika isn't concerned that Mario will give away secrets, or indeed disappear down pipes in order to fight a mutated turtle for the affections of a princess.
"Mario is not going to go there and say 'They use these lineout calls', that's not him as a person, just the same as I've never asked Mick [Byrne] what those chaps [the All Black] do, never," Cheika said, according to Fox Sports.
"Because it's about respecting them, and people might say that's naive to think but it's not, because we're still working on the old school premise of trust.
"He's stepping up now, he thinks his time is right to be a head coach and I agree with that. And also the opportunity to come home — it wouldn't be happening if he was going to France or England.
"That guy has committed every inch of himself to the Wallabies, and I was pretty devastated when he told me, but then I understood exactly what the story was. I want him to succeed and do very well."
With Ledesma leaving, there's been some chatter about who will replace him. Some say Lord Laurie, some say Nick Stiles. Cheika says:
"I'll appoint someone temporarily just to come on the spring tour, because Mario will do Bledisloe and that will be the end,' Cheika replied when asked.
"They'll come on spring tour and then we'll appoint someone after that. I've spoken to a few people, I don't want to talk about who for their own privacy, and it's probably more about logistics.
"There's one person in particular I've got my head on but it's probably just about logistics right now, because other people have other commitments.
"It's not a given what I'll do there but over the next week we'll try to finalise who'll come on the tour with us. I'll probably take a more active role in the forwards' work over the tour in particular, because I don't want to rush into appointing someone and I didn't want to start the process of looking and talking about it until it became official."
Something About Hodge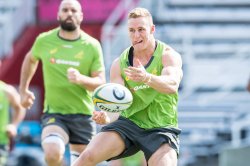 Reece Hodge was awarded the Giant Watch after playing really really well against Argentina, but the man himself reckons he didn't really get ticking.
"I guess it was good to get involved a little bit more," Hodge said post-match (via rugby.com.au).
"There are still – I'm still a bit filthy with myself with a few errors that I did make – I missed a couple of tackles as well.
"It definitely wasn't a complete performance and there was plenty to improve on before the Bledisloe."
Hodge, who's like a fullback or a flyhalf or a centre or something, played with #11 on his back on Saturday, a shirt he's worn for a couple of games. Hodge does a lot of things, except kicking for goal when Foley's already missed like 7 attempts, and one of those things he does is run into space and/or defenders.
"I think it's the forwards' carries that allows me to do that," Hodge said.
"If we aren't getting that quick ball and good carries up the middle I have to stay on the outside and make sure I'm holding their defence.
"Whereas when we get those quick rucks and our forwards are making metres through the middle, it allows me to get out, work around the corner and work hard so I can be an extra option for the first and second receiver."
Talking about Bledisloe, Hodge is keen keen keen to get back into it and give those New Zealanders with the really shitty online fans (except you Kiwi Rugby Lover) a good go.
"Obviously it's going to be a tough assignment but we get a week off now, a down week and then we will get into our normal preparation on the Gold Coast for the game," Hodge said
"I think time together helps, our combinations are slowly building and things like ruck speed, our tackling, not going to ground before the opposition and finishing on top – that's slowly improving.
"There is still a bit to work on there but we know if we keep our shape we can attack really well and it's about the same thing in defence.
"It's all about getting that consistency and making sure we keep building, making sure we don't go backwards in any area each week."
World Series Rugby?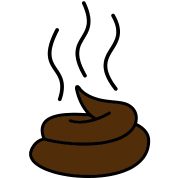 Another bunch of blokes who reckon they could run the game better the ARU have popped up again, and it appears these fellas have been here before.
The One Percenters column, a part of rugby.com.au that just has all the small news story things, is reporting that Geoffrey Levy and David Shein have written a letter to Sanzaar proposing a new rugby comp.
Levy and Shein were associated with World Rugby Corporation which, the article says, tried to do a World Series thing to rugby in 1995 but failed, although it did have a hand in making rugby go professional that year.
"Geoffrey Levy and David Shein have written a letter to SANZAAR CEO Andy Marinos proposing a world-wide league that splits teams into geographical regions, with a world championship on offer," says the article.
"They proposed conferences of 10 teams, split by time zones, with a conference finals system seeing the winners taking each other on in the bid for that international prize.
"The pair have also created a Facebook page, 'Save Rugby Union'. which has garnered 161 likes at the time of writing, with a survey for fans to give their input on what they'd like to see in an international competition."
(For reference, GAGR's Facebook page has 27,000 likes. We successful)
Rugby.com.au has a part of the letter which reads,  "Tinkering around the edges won't cut it.  Without fans the game cannot remain meaningful or relevant.
"So now, twenty years later, if rugby is going to get it right, it is time for SANZAAR (which was born as a result of the changes forced by the WRC) to revisit the principles and competition structure that the WRC proposed. What was true then is still highly relevant today and as new, bold people take over, hopefully things can be viewed with an open mind."
Blurgh.
Brissyslo3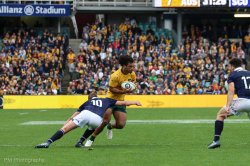 Michael Cheika is looking forward to the Bledisloe in Brisbane, or as he likes to call it Brissyslo3.
"It should be a really good match because we're going to have to step up to the plate and perform better," Cheika said, according to Stuff.
"The dips aren't as big in our game as they maybe were in the first half in that first game [in Sydney]. Since that first half the championship has been really good. We've got to finish more things obviously but good is not enough.
"It's a great challenge always to play the Kiwis. They're the world's best and we want to step up to the plate and give the people in Brisbane something to cheer about."
The Brissyslo3 might feature the return of Karmichael Hunt, which will give Cheika a headache as Cheika would hate to randomly change a winning team in a Bledisloe game.
With no one injured after Argentina, that will give Cheika some things to think about.
Michael Hooper also threw his two cents in, adding: "I can't wait to play them. Who gets the privilege to play that game in two weeks will have to do a job. I'm excited to turn up for that week in the Gold Coast and face these guys on the Saturday in Brisbane."