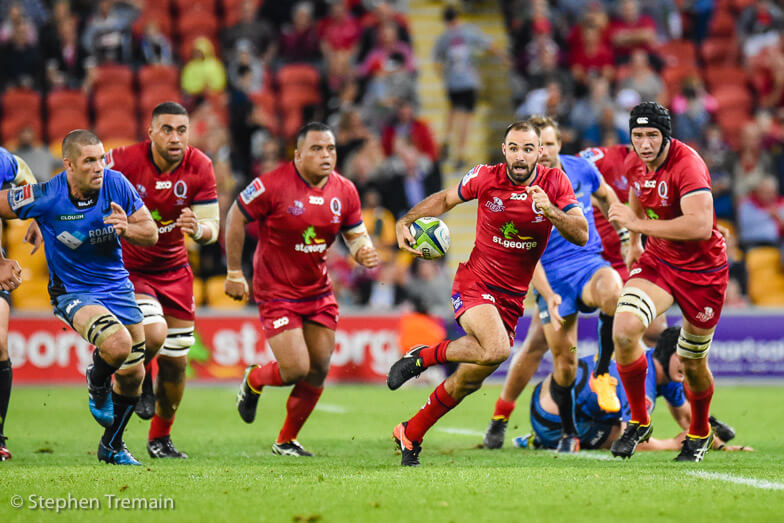 Monday's Rugby News sees the first Super Rugby results, the Waratahs hoping to win back fans, Coleman aiming to be honest, and some new rules from Rugby Australia.
---
The Rugby Is Back
God, it feels good to write that! Yep, Super Rugby is indeed back, kicking off over in South Africa with two cracking games.
Starting in Cape Town, the Stormers got off to winning ways with a scrappy win over the Jaguares, 28-20.
In what was a really seesawing affair, the Stormers got off to a flyer with tries to Raymond Rhule, Damian de Allende and loose-forward Siya Kolisi. The Argentineans were struggling, with Joaquin Tuculet being sent to the sin bin for a professional foul.
However, the Jaguares woke up in the final 20 minutes, coming from 22-6 down to score though a penalty try and a second meat pie to Emiliano Boffelli. It proved to be too little too late, with the Stormers surviving to get the win.
While the Cape Town match was a rusty affair, the Lions-Sharks derby in Jo'Berg was something else entirely.
Both outfits looked slick and ready from the get-go. The Sharks took a surprise lead through a try to Robert du Preez. The Lions however recovered through set piece dominance, and led 14-7 at the break.
Both sides traded two tries a piece after halftime, and the match turned into a full-on arm wrestle. In the end, the Lions were able to repel a final wave of Sharks attack to win, 26-19.
"I'm happy with the result, but not so much our performance," said Lions captain Warren Whiteley. "We lost a lot of ball in contact and made it difficult for ourselves. We just couldn't finish.
"We know we need to up our performance if we are to get to the business end of this competition."
For the Fans
The Waratahs have had a couple of rubbish seasons, and it's fair that many longtime fans have been turned off going to games since their premiership win back in 2014.
But at least the Tahs recognise one thing, that to get people to come back, they have to start playing better rugby. With their season opening on Saturday night against the Stormers (a team that won't exactly get people coming through the gates like a Reds, Brumbies or Crusaders outfit), the Tahs aim to set a standard for their season.
The stars are lining up for them to do well on paper, with Michael Hooper, Nick Phipps, Bernard Foley, Kurtley Beale and Israel Folau all retained in the squad. The squad has also picked up a bunch of players after the removal of the Force last year, which will add much to player depth.
But, according to the Sydney Morning Herald, it all counts for nought if a team with this much potential don't turn up.
This year sees the first time that a finals series could be free of Australian teams. That is, if the Sunwolves REALLY turn it on. The Brumbies are seen by many as the team to beat this season, even despite them having a new Super Rugby coach. With big changes going on the Rebels and Reds, it's a real case of now or never for Daryl Gibson's men.
After averaging only 14,500 per season last year, a crowd of a similar size is predicted to make it to the Tah's Saturday night game. If the Tahs do get off to a flyer with a win, and back it up with solid tour of South Africa and Argentina, then hopefully it'll encourage people to turn up for their round four clash at home against the Rebels.
That is, if they play well.
Honesty is Key
Down in Melbourne, GAGR Favourite Dave Wessels has been putting the final touches to the Rebels preparation for their opening match against the Reds. However, his biggest preparation plan has been focused heavily around his captain, Adam Coleman.
The pair have been working with each other for several years in the WA system, and had really begun to take the Force places until the ARU unceremoniously pulled the rug out from under their feet.
But, with Wessels landing the Rebels gig and Coleman joining him, it presents a new opportunity for both coach and captain. And for Wessels, it comes down to Coleman being honest with himself.
I think he is a good leader already. He leads through his physical presence on the field and he's a real 'follow me' captain," he said to rugby.com.au.
"I think he gets that he doesn't have to be somebody he's not. All I want from him is the same Adam, just with the same intensity that he's always brought.
"I think if he can do that, he keeps being honest with me, I think we're going to have a good relationship.
"I'm probably more honest with him than anybody else in the team and I have been for a long time but that's because my expectations of Adam are higher than other people on the team.
"He's very honest with me, he's prepared to tell me exactly what he thinks and I probably tell him a fair amount of exactly what I think as well."
It's clear that 'Blood' has already rubbed off on Coleman, particularly when both had to go through the removal of the Force last year.
"I really enjoy playing rugby, I enjoy the physicality and I just see myself being the same player to be honest and just enjoying my football," said Coleman.
"When we're doing that, it goes a long way.
"It can be a good thing, leading by example but I suppose making smart decisions on and off the field, I think I've come a long way in that area."
"He has turned down some very lucrative opportunities to go overseas to stay here in Australia and commit himself not only to Melbourne but also to wider Australian rugby," Wessels added.
"I think people should recognise the personal sacrifices that he's made to be here and I think what it also gives him is a real purpose.
"It's a relationship of mutual respect but we push each other but that's why I picked him.
"If I reflect on what we did as a group [at the Force], I think we fought much harder than people anticipated us to. On the field, off the field, in the media, in the courtrooms.
"We did everything we could to try and save the team. For me personally I feel very proud of those efforts. For me, it'll always be part of our identity."
New age-weight dispensation rules introduced
Finally, last Friday Rugby Australia announced some major changes to the junior rugby system in 2018, with new age-weight dispensation rules set to be introduced.
Previously, kids could be just moved up and down two age groups, and there was no standard methods or qualifications to determine how this would be measured.
Junior players who are between the age of 10-15 and who fall outside the weight and height bracket will now be independently assessed to determine what age group they should play in.
The aim is, according to Rugby Australia head of rugby services Lachlan Clark, to encourage junior players to keep playing the game by putting them in the right environment.
"The changes we have made with our size and age guidelines are aimed at making the game safer and more enjoyable for all participants, while staying true to the value that Rugby is a game for people of all shapes and sizes," he said to rugby.com.au.
"In every age group, there are exceptional cases where a junior player might be better suited to playing up or down a grade, and we now have a structured process to ensure those players are playing at a level that best suits their physical and personal development.
"This is the culmination of a review which has been two years in the making and is backed by an extensive research project, which we believe puts Australia at the forefront of world rugby in this area."
On top of this, Rugby Australia will also expand the 'Blue Card' concussion system that was trialled in the NRC last year, with all junior teams now using the same system.
"The Blue Card system will be in place across all Rugby nationally from under 13 to NRC level, enhancing Rugby's commitment to protecting players from the rare occurrence of concussion," Clark said.
"There will be ongoing structured education of match officials, medical attendants, coaches and  team managers in the signs and symptoms and management of concussion.
"Our commitment to protect players from head injuries is reinforced with strict high tackle laws with the understanding that the head is sacred across all levels of the game.
"The blue card system reinforces that player safety is paramount in our game."