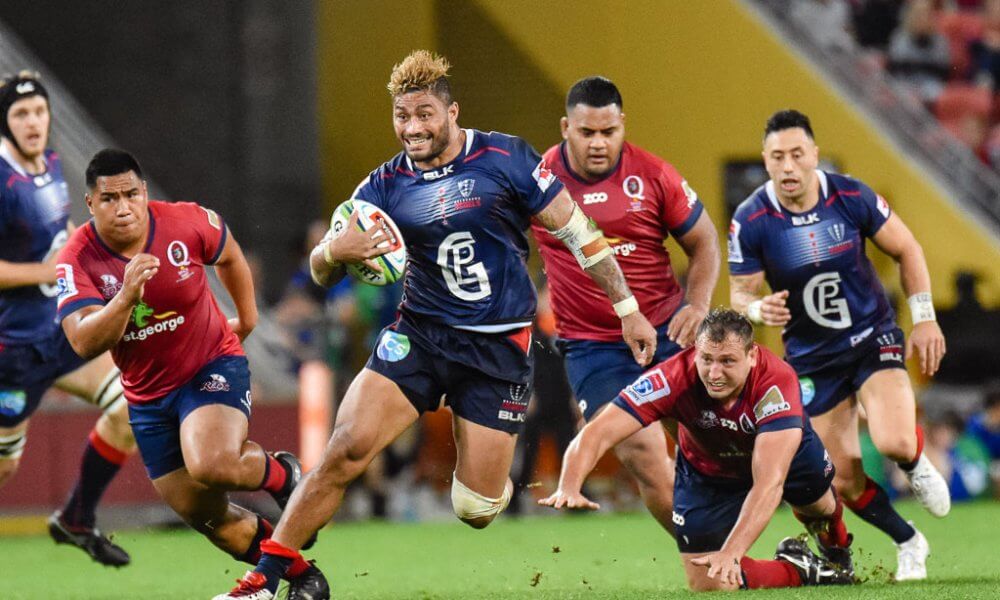 Monday's Rugby News sees Rebels fighting fit, Israel Folau contract news, 7's World Cup lead up and Australian Schools squad announced.
---
FIGHTING FIT
Amanaki Mafi has continued to barnstorm his way through opposition defences this season and now through his own teammates, after the Rebels star was arrested for allegedly assaulting teammate Lopeti Timani during the early hours of a chilly Dunedin morning.

Rumours had been swirling that Mafi was going to return to the Rebels next year despite his two year marquee spot finishing up but surely after this there is no return for the Cherry Blossoms number 8.

Both Rugby Australia and the Melbourne Rebels confirmed that Mafi is in police custody after a supposed "altercation" between he and 12-cap Wallaby Timani.

(As a quick side note, a fight between these two behemoths would be great to watch)

The Rebels played as Highlanders earlier on the Saturday night but their loss, combined with a victory for the Sharks, saw the club miss out on its first ever finals appearance.

It is understood that Dunedin Police have kept Mafi on Sunday morning prior to the Rebels flying back.

A police statement which was given to FoxSports said Mafi would face court in New Zealand on Monday, after being arrested and charged for alleged assault.

Timani reportedly received only "moderate injuries" but did not require hospitalisation.

It's a terrible look for the game (although I'm of the believe that maybe they were fighting because they couldn't get the physicality from their actual match) and one which puts a black mark on the end of the Super Rugby campaign.

Both Rugby Australia and the Rebels issued a joint statement on Sunday, saying they were conscious of the incident and that no other players were involved.

Rebels chief executive Baden Stephenson expressed his anger and disappointment in a brief statement, saying: "I am bitterly disappointed that an incident has occurred at the end of a season where we have taken pride in our on and off-field behaviour.

"We will respect the process and won't be making further comments until all investigations have taken place."

A NZ spokeswoman confirmed an incident had happened in South Dunedin.

"The alleged victim … received moderate injuries following the incident,' she told FoxSports.

"He did not require hospitalisation. The pair were known to each other.

"As the matter is now before the court Police are not in a position to comment further."
7's HEAVEN
Our Olympic champions (let's not forget that) are hatching a new plan of attack to take down their New Zealand counterparts, should both of them make the final of the World Cup.

The cross Tasman rivalry has kicked up a couple of gears this year after the two sides met in 3 of the 5 World Series deciders so far and have only missed the podium once between the two sides.

Australia started this year like a house on fire, taking out two straight undefeated tournaments but since then it's been the Kiwis who have taken control, defeating our women in both Langford and Paris by a combined total of 72 points.

Ouchy.

The Australian coaching staff has targeted the breakdown as a major weakness of our gameplay, turning the ball over in vital areas and moments.

This tournament will see the return of star trio Ellia Green (human destroyer), Alicia Quirk (team glue) and Sharni Williams (breakdown specialist) and co-captian Shannon Parry believes the last three weeks have the Aussies primed and ready to bounce back and take out the World Cup.

"Against New Zealand it's obviously crucial at the breakdown – they get a lot of turnovers there," Parry said to rugby.com.au.

"For us, it's about being able to control the ball in attack and being more connected in defence so their steppers can't really step and get around us.

"We've changed a few things up and had a solid three weeks at home which has been really good for us.

"Johnny has been able to implement change which has been positive and all the girls have grasped that."

"We're looking forward to putting that in place at the World Cup."

Go girls.

The Aussie men also have a key trio returning to the fold with Jesse Parahi, Henry Hutchinson and John Porch all coming back into the side which has had a few disappointing tournaments as of late.

"If you look at the last couple of tournaments that we did play we had a stacked side," Parahi said.

"We had a really, really good side that we sent over there and on paper we looked good but when you look at it a little bit deeper, we had a lot of guys coming off long term injuries."

"Often it takes a couple of tournaments to get your groove back, get your combinations and get your rhythm back."

"Now that we've got that and the guys that have had that blowout, the guys will be ready for this one."

Uppem boys.
IZZY COMING HOME?
Reds coach and absolute Kiwi nutcase Brad Thorn is dreaming of better days, particularly ones where Israel Folau heads north to join Queensland in Super Rugby next season.

Again, this rumour has been going around for a while now and it's starting to get louder, with many believing that a Reds jersey will be part of his new contract which ties him to the Wallabies for the Rugby World Cup and beyond.

It is being said that the move will be announced in the gap between whenever the Waratahs finish their Super season and before we kick of the Rugby Championship.

Thorn spoke to Rugby.com.au last week and expressed a sort of weird, dreamy desire to spend some time with Israel.

"I guess it's one of those things where you have those dreams at night and some people see sheep jumping, I see Izzy in a Queensland jersey," Thorn said

"Izzy is playing his footy and his manager is running that stuff and we aren't hassling him or anything."

"If we heard he was interested in coming here that would be exciting and you imagine those (cross-field kicks)."

"He's a real talent and I'm sure NSW and all other clubs feel the same way."

"Along that process you're getting positions filled and getting into that next season."

I'm not sure he swings that way Brad but he would be a much needed boost for the game in Queensland.

There is more upheaval in his squad with Andrew Ready and Sef Faagase confirming their depature late last week along with Kane Douglas, George Smith, Nick Frisby, Jono Lance and Eto Nabuli all having their departures confirmed.

The Red also have Karmichael Hunt, Quade Cooper and James Slipper on contract for at least another season.

The young talent time in Queensland continued with young giant Angus Blyth making his debut on Friday night and a whole heap of young guns expected to take part in the NRC for Queensland Country and Brisbane City this season.

If a move for Folau does materialize, the Tahs are said to be targeting exciting young outside back Izaia Perese, despite him having a contract for 2019 (If that actually means anything these days).
BACK TO SCHOOL
The Australian Schools championship wrapped up last week, with winning side NSW 1 dominating a 42 man Schools squad named at the conclusion of the event on Saturday.

Fifteen players from the NSW 1's championship winning side made the squad, along with 12 QLD 1, 3 from the ACT and 1 from Victoria.

The squad makes up both the Australian Schools and the Australian Schools Barbarians teams which take on New Zealand and Tonga later this year in October.

Australian Schoolboy coach Andrew Moloney highlighted the overall quality of the tournament as really positive sign for Australian Rugby

Moloney was quoted on RedsRugby website saying:

"It's been a really good week. We've been really impressed with the attacking mindset of everyone and were saw some fantastic tries throughout the championship,"

"The big thing for us was the physicality particularly in the contact areas. That was a fantastic final and the physicality was great.

"The attitude of the boys really stood up on the last day; we're very excited about the squad we have.

"The Tri Nations Series is something we are really looking forward to. It's a great tournament to play in and we're really excited by that."

The Australian Schools extended squad:

Daniel Ala, Lachlan Albert, Angus Bell, Angus Bell, Will Chaffey, John Connolly, Vincent Creagh, Zac Crothers, John Downes, Lachlan Dring, Apinesa Driti, Matthew Dutallis, Tane Edmed, Haloti Fonua, Harry Fox, Donny Freeman,Carter Gordon, Will Harris, Zane Hogan, Lachlan Ilias, Spencer Jeans, Brendan Jimenez, Aiden Kelso, Tyrell Kopua, Thomas Lambert, Luca Moretti, Zane Nongorr, Reesjan Pasitoa, Billy Pollard, Luke Reimer, Will Roach, Seb Strang, Bailey Tautau, David Tejcek, Fred Tricks, Tom van der Schyff, Harry Vella, Dennis Waight, Joey Walton, Jeremy  Williams- Jack Winchester