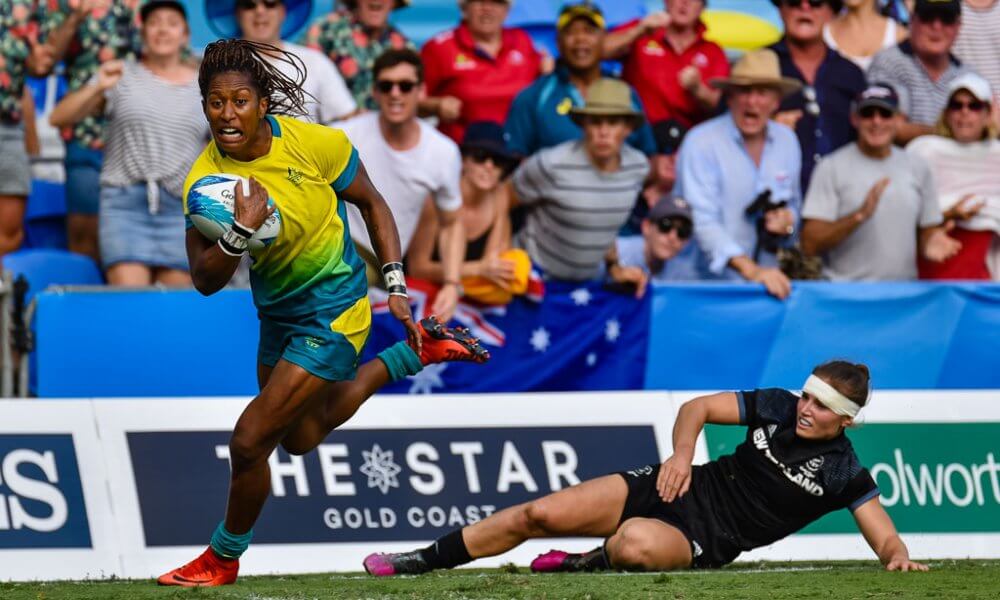 Monday's Rugby News sees more issues with Amanaki Mafi, the Brumbies hopeful of retaining Christian Lealiifano, an early knockout for the Men's 7's and a Bronze medal for the Women. 
---
Mafi Mayhem
More news of the Amanaki Mafi case has come to light after night fresh allegations about his assault on teammate Lopeti Timani.

Timani claims Mafi and his brother engaged in a vicious assault in two different locations before pushing him into a car in a suburb in Dunedin. He told the Sydney Morning Herald he fled on foot when the car stopped at traffic lights, then hid in a bush until he was sure they had left the area.

Timani told the SMH he believed he was going to die during the assault.

"His brother tried to hold me as 'Naki' [Mafi] started punching me in the face," Timani recollected.

"I said, 'Mate, why are you doing this to me, I thought you were my teammate, I know your family, are you punching me because you're angry because I said something offensive to your family?'

"He was just punching me and he said 'because I'm telling you now I'm the man, I'm the man'. I thought they were going to kill me. I thought I was going to die."

The more we hear about the incident, the more severe the Mafi issues are, with this not being his first tiff with another player.

It also makes the $15,000 fine handed out to him by the Rebels a slap on the hand for a major incident.

Mafi's professional rugby career however is under serious doubt.

Mafi was in meetings all Saturday with his Japanese employers, NTT Shining Arcs, after arriving back in Japan on Friday, according to a spokeswoman from Japan's Rugby Football Union.

The club are seeking serious answers, with criminal convictions heavily frowned upon in the conflict and controversy averse Top League.

Not too long ago veteran George Smith found himself in serious strife with Suntory Sungoliath after the expert flanker spent just under 3 weeks in police custody after supposedly punching a cab driver right in the shnoz.

He was let go without charges being laid but the negative publicity was perceived to bring shame on the club and his longstanding relationship with the Japanese club was brought to an abrupt end.

As one of the top players in the Japanese national team, Mafi's standing in Japan is huge and an incident like this could even jeopardise his place in next year's World Cup, despite him playing a starring role in both 2015 and the recent June Test series against Italy.

On July 16th the JFRU released a statement in regard to the incident.

"Japan Rugby Football Union sincerely apologize for causing trouble and concern for all the rugby fans and others," it reads.

"We, as a governing body of the game in our country, have been working on educating and communicating [with] all people involved [in] the game of rugby in our jurisdiction to ensure compliance and integrity. We will do our best to prevent [a] recurrence [of] such incidents and pursue thorough[ly] the integrity policy continuously."

No immediate decision about his playing future has been made until the proceedings of the criminal case in New Zealand is completed.

The case will return to court on August 3.
Loyal Lealiifano
The Brumbies are hoping to finalise a deal early this week to keep club man Christian Lealiifano in Canberra as well as setting it's sights on a particular flick passing, Queensland fan favourite, Quade Cooper.

It's fair to say the Brumbies lacked attacking spark this season and they have set their sights on bringing in X factor to the roster for 2019.

However it remains unlikely that Cooper will be willing to join Lealiifano unless the enigmatic playmaker changes his decision to fight it out in Brisbane's Club Rugby scene.

Dan McKellar has a handful of roster spots to fill despite the squad sizes dropping from 39 to 36 and may not have time to wait around for a Cooper.

Crusaders back-rower and 3 Test Wallaby legend Pete Samu is the only confirmed recruit, replacing  Isi Naisarani but it's understood the Brumbies are on the lookout for two extra backs as well as upgrading some of their home grown talent.

Hooker Connal McInerney is hoping to secure his first full-time contract after taking his chances within the wider squad and Wallabies under-20s prop Tom Ross is expected to be added to the wider training group.

Lealiifano is looking for a contract extension to play one final season in Super Rugby, making him eligible for the Wallabies before most likely leaving for Europe the following season in 2020.

The cool headed playmaker is considered a vital piece (and has been for years) in the hopes of building upon their late season surge despite 10 players already departing from the club.

Coach Dan McKellar spoke to The Canberra Times and had this to say on recruitment and retention.

"Talks are well underway. We're well aware we've got to add some players to our group to get the full squad and to go forward next year," McKellar said.

"From a coaching point of view, we have to make sure we're adding the right type of players who will allow us to improve."

The Brumbies had a strong finish to their campaign and co-captain Sam Carter was optimistic about what might lie ahead for them in 2019.

"We've got to have a good, solid review of the season and working out what was good and what were the negatives," Carter said.

"Putting too much pressure on ourselves definitely didn't work. We were worried about the result early in the season and we just didn't play, we tensed up.

"This year some young guys showed they can cope at this level and they got more experience at this level. That's something we need to build on. We've got some stability next year, but we are losing some key players as well.

"We've had players move on over the past couple of years and we've always rebounded and rebuilt ourselves in a new way, so that will be no different next year.

"I hope [Lealiifano] is back out there again next year because we've seen what he can do when he's fit and healthy."
Walsh's Woes
The honeymoon period for new men's sevens coach Tim Walsh is well and truly dead in the water after his side exited at the very beginning of the World Cup tournament.

In San Francisco at AT & T Park, Australia fell at their very first hurdle on Saturday morning, going down to France 22-17 in an upset loss.

The Australian team will be forever haunted by the very French looking (cough cough) Tavite Turaganibuli Veredamu, who starred for the opposition, scoring twice in the upset victory.

Things looked good when Lachie Anderson ran onto a grubber for the game's first try.

But a follow-up five-pointer went begging and the game turned, and not in our favour, from that point on.

France replied and then went ahead with the final play of half-time when Terry Bouhraoua dashing from inside his own half for a 12-10 lead at the half time interval.

Poor defence once again hurt this young Australian side in the second half but they still had opportunities to win it, down by five with ball in hand after the hooter.

A knock-on however snuffed out the fairy tale finish and any chance of a World Cup crown in what has been a frustrating season for Walsh's men.

"Everyone's hurting immensely; but you can't win games when you let through that many breaks, missed tackles and at the end there, we've got control of the game, got the ball and we turned it over," Walsh told the SMH.

"We're disappointed because that wasn't our best and errors there that cost us."

Former women's coach Walsh took over from Andy Friend after April's Commonwealth Games and started with a bang, with the men having won the Sydney Sevens tournament earlier in the year.

Hamstrung by constant injuries, they've thrown up mixed results all year but entered the World Cup with a healthy squad and a bag full of confidence that a shot at the title was well and truly possible.

Instead they beat Canada, forcing themselves into the Challenge Trophy final, an award we would rather not have.

"It sucks, it's horrendous," Walsh said.

"You work so hard and you want to get out there and perform for family, friends and country … you give it everything and don't get the result, it hurts."

Meanwhile defending champions New Zealand defeated Fiji in the final 22-12 to claim the World Cup.
World Cup Bronze
It wasn't their ideal finish, (or ours either) but the Aussie Women's Sevens team have ended their season with a bronze medal after downing hosts USA 24-14 at the World Cup in San Francisco.

From devastation of not making the final to the elation of claiming a bronze medal, Aussie Sevens co-captain Shannon Parry is proud of the way her side recovered from their setbacks and focused on the task at hand against the USA.

The USA side were no easy beats and the Aussies were forced to work overtime to take it out 24-14 against the hosts, in what was without a doubt their best performance of the tournament.

All the key areas that they had focused on pre-tournament, the breakdown, scramble defence and attacking direction all vastly improved to keep the hometown heroes to just two tries.

While they would have preferred to be taking on champions New Zealand in the final match of the weekend (and what would clearly be a grudge match), Parry was proud of her team in the post match interview with rugby.com.au.

"It's obviously not the game we wanted to be playing in – we wanted to be in the next game – but credit to the girls," she said.

"We're proud of the effort, to come away with the bronze after that hiccup against France we really wanted to put on a good performance and I think we did that.

"It is definitely a true test of character when you do lose and you have a key moment and a key match like that.

"To bounce back the way we did – it was very tight through the first half but to then extend our lead in the second half was very pleasing."

Parry pointed to the motivation of friends and family as a major player in not dropping their heads despite not quite living up to their expectations and qualifying for the final.

"There was a lot on the line in that game and I think a lot of the girls have a lot of family and friends here," she said.

"We really wanted to put in a good performance and that told the tale in the end.

"Obviously we didn't hit our marks – we wanted to be in that final and play for gold – but to come away with a medal is a very pleasing result for this squad.

"It's the end of the season now and it's time to rest, recover and look forward to the Olympic qualifying year, next year."