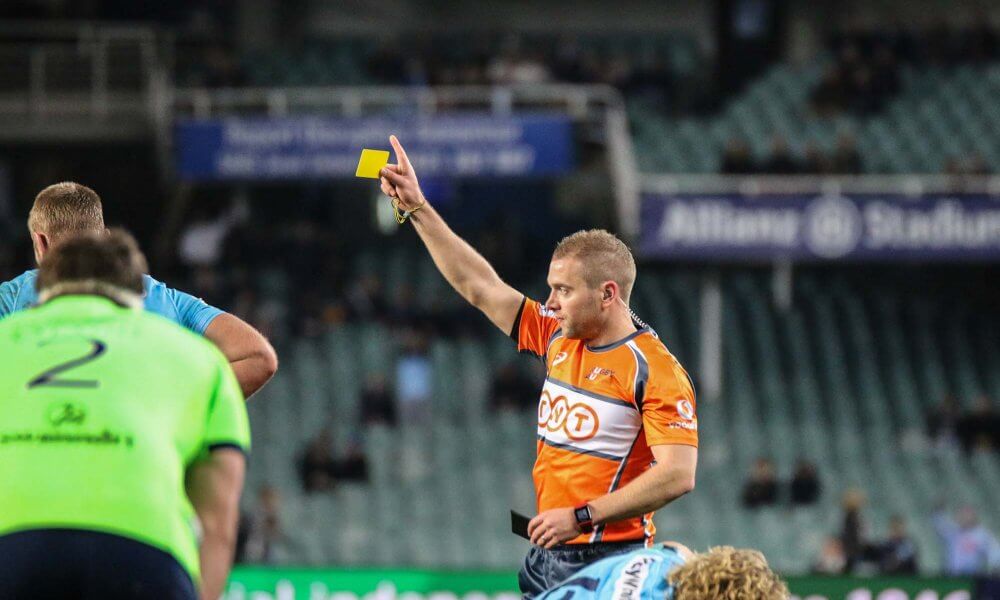 Monday's Rugby News sees two Aussies make the Super Final, the Waratahs size issues, the Sio siblings and a new Aussie 7's player from an unlikely place.
---
Referee in the Spotlight
It's only taken almost every game of the season, but Angus Gardner has finally cracked the code.

That we all want to be able to remember a game of rugby for what it is, a game of rugby. (And to not notice that there was even a referee there at all).

Along with the G.O.A.T Pete Samu (The legendary Wallabies flanker), our Aussie representation will be sadly be a team of two for the Crusaders v Lions decider in Christchurch.

With 15 Tests under his whistle, Gardner has progressed past his former status as rising star of the officiating ranks and now is one of the finest in the world.

The last Aussie to handle the Super Rugby decider was Wayne Erickson in the competition's inaugural season of 1996, when the Blues beat the Sharks.

SANZAR's use of neutral referees clearly has worked against more Aussies having blown the whistle in Super Finals, but since 2008 it's been a merit based system and there still hasn't been any representation.

"To do these games is a massive honour really," Gardner told NEWS.com.au.

"You just pinch yourself and think wow, I am involved at the important part of the tournament with great players and it's just a massive honour really. It's very humbling.

Gardner, like us all, had a bit of a tough time in June and came under the spotlight for issuing a red card to Frenchman Benjamin Fall in the second test. A decision that World Rugby then deemed "wrong".

"I think when people are aware we are independent of each other and we do different jobs, it makes it easier to put in perspective," Gardner said of the controversial incident.

"We have to make a decision out there with five or six camera angles, in the heat of the moment, and the judiciary have 30-plus camera angles in a completely different environment to review it.

"To be fair, the challenge in the air in that Test match, it's an area of the game that is so dynamic and there are so many factors and mitigating factors that go into those things.

"Sometimes as referees we just have to make a call on the field with what we see and we can't worry about if the judiciary will have a different opinion."

With further issues surrounding the excessive use of TMO, Gardner's management-like style allows him to keep the game free flowing, something that has been a clear frustration for many fans.

SANZAAR boss Andy Marinos issued a release saying the TMO protocol was "clearly not working" and in need of official change by World Rugby.

Gardner says referees were pleased to get the public support of SANZAAR that the TMO should be only called upon "for the big ticket items".

"The influence of the TMOs, it is kind of driven on a case-by-case basis, and it is really the responsibility of the on-field referee to lead in terms of the referral process and what we actually want to have a look at," he said.

"It was good having SANZAAR come out and support that we are really only looking for the big ticket items. To be fair, at finals time the fans and people watching the game, we don't want the game slowed down.

"They have come to see a flowing game and I suppose that's where us as referees want to fit in, really; making sure we are getting the things that matter in the game and not bogging the game down unneccesarily for minor things that happen as part of the game, and that people accept as part of the game."

Facilitate is a key word for Gardner, and all referees for that matter as they try to keep the game fair to allow both the players and the fans to enjoy it instead of searching for a level of perfection that doesn't exist.

"People are coming to see the players and to see the teams play. I suppose you see your role as a facilitator and hopefully the teams play in a manner that enables you to do just do that," Gardner said.

"Obviously, there are games and have been games in the past where the teams haven't necessarily come to play so you do have to get in there and make some calls.

"But mate, for me to not be in the spotlight at all and no-one mention my name, that'd be ideal."

Congratulations Angus and well done.
Super-size Me
Former Wallaby and long time opinion giver Rod Kafer thinks that the Waratahs should head to the golden arches in search of some burgers, particularly beef ones, in order for them to go out a pants size and be a chance for next seasons Super Rugby silverware.

NSW were the big movers in 2018 but in their semi-final clash against the Lions they were out muscled in the 44-26 loss at Johannesburg's Ellis Park.

2017 represented a dismal campaign and Daryl Gibson only just kept his job by the skin of his teeth with the Tahs finishing with a 4-11 record and 16th of 18 sides.

This year however they have re-emerged as one super rugby's most dangerous sides with a mobile forward pack playing a up-tempo, width based game.

Saturday's final features both the Lions and the Crusaders though, two forward packs who's 8 forwards, particularly their tight 5's, are features of their games.

NSW's only Super Rugby title came back in 2014, and featured some crazy forward dominance with the likes of mad man Jacques Potgieter, giant Will Skelton, Tatafu Polota-Nau and Kane Douglas dominating the physical war.

Fox Sports' Nick McArdle asked Kafer if it was possible to win a championship with a lightweight pack.

"The answer to that is typically no," Kafer said.

"Look at the teams who are dominating now — it's the teams who have got that hard working, big forward pack that just dominates at the set piece.

"That's what you need and the Waratahs will look at how they recruit now and look at the players that they might need to put into the mix.

"But they're a good side, a massively improved side.

"Given where they were last year, the changes that they've made, the way that they've developed as a team — I know they've just lost but this team has massively improved from where they were.

"It sets a great platform for them to continue to build and grow going into next year."

With great weight comes great respoinsibility and Drew Mitchell warned that the Tahs didn't want to cancel out all the good work they have done this year by getting 'too big'.

"I thought they did tremendously well with the team they've got," Mitchell said.

"I think you've got to have a balance — you don't want a pack of eight big, bullocking ball runners.

"I like the hard work, the width, the speed at which the Waratahs forward pack can play with.

"Having that balance of guys who you know are going to get you over the advantage line and set piece is almost a lock every time.

"I think it's more about getting that balance right."

Gibson is off contract at the end of this season but is almost certain to sign a new deal and stay on for looks like another 2 seasons.

Mitchell said the Waratahs were now getting reward for the faith shown in Gibson by NSW chief executive Andrew Hore.

"It takes a number of seasons to instil the direction you want to take your team and have them buy into it, have that trust between player and coach," Mitchell said.

"It takes a period of time and I think they're starting to benefit from that, this year and if Daryl stays on."

Stephen Hoiles also chirped in with a few cheeky comments.

"The Tahs can be really proud of how far they've come — from 16th, almost last, last year — to top four this year," Hoiles said.

"Their shape looks very good, their attack is very threatening and they're not going to lose many players next year.

"So I think it's positive signs."
Sibling rivalry reignited
An old school rivalry will be resumed this Friday night when the Wallabies take on a Super Rugby XV team at Leichardt Oval.

The sibling rivalry of the Sio's will come to the fore.

Pat Sio, younger brother of Wallaby prop Scott Sio, is set to line up for the Super XV in the backrow according to rugby.com.au.

The 24-year-old no.8 is back in Australia after spending a few years in France, drinking wine, eating cheese and oh, he also played a match or two for Stade Francais.

Sio will be one of a few Eastwood call-ups named when the Super squad is finalised on Monday afternoon after medicals.

The team, which will be coached by John Manenti and Tim Walsh, was put together by Rugby Australia's high performance department, with input from Wallabies coach Michael Cheika.

The team is aimed to be as strong as possible to provide meaningful opposition and is likely to feature players from all over the country.

Pat Sio is a no-brainer, in his mind.

The former Aussie under 20s backrower was a star for Eastwood and the Rams as a young pup but was never given the opportunity to be part of a Super Rugby franchise.

Instead, the 108kg wrecking ball was poached by Stade Francais instead and many good judges deemed him 'the one that got away'.

Now he's back and ready to rumble with the big fellas.

"He is the closest thing to Cliffy Palu we've got," Manenti said in 2015.

"He was player of the year in the team that won the grand final, but obviously other people aren't seeing what I am seeing."

Sio will play for Sydney in this year's NRC, and while there has been some Super interest, Friday night will be a great chance for him to put himself back in the shop window for any interested buyers.

The Sios themselves are without a doubt, an incredible rugby family.

Father David Sio played for Samoa, Scott is already a 76-Test Wallaby and daughters Ana-Lise and Tina both play for NSW in the Super W.

Talk about handy genetics.
Sevens signature
Now here's one for us.

Manly and Sydney Rays dancing winger Josh Turner has come across from the Dutch (all be it a while ago) and has signed for our Aussie Sevens program, rugby.com.au reports.

Turner, a former New Zealand Heartland U19s captain, was last week signed by Tim Walsh for the Aussie men's Sevens program.

Anyone who has seen Turner's form and speed in the Shute Shield and NRC will know why Walsh has picked a guy who has only been involved with the 7's pathway for 10 months.

Rugby.com.au asked how his family home might take to the idea of him in the glowing green and gold of Australia.

"They'll be super proud," Turner said.

Will they Josh? Will they?

"It's all good. The family don't care. It is funny, because as a kid growing up in NZ that's just how NZ works. You want to be an All Black.

"So if someone said it when you're younger that'd you end up playing for Australia, you'd laugh.

"But I am loving it, it's a great opportunity. It's awesome. I am living in Australia now and I am stoked to represent the country."

Turner moved to Australia to play for Manly in 2015 and was spotted by Walsh at an NRC game last year and invited to trial for the Aussie sevens program.

He will be eligible via residency.