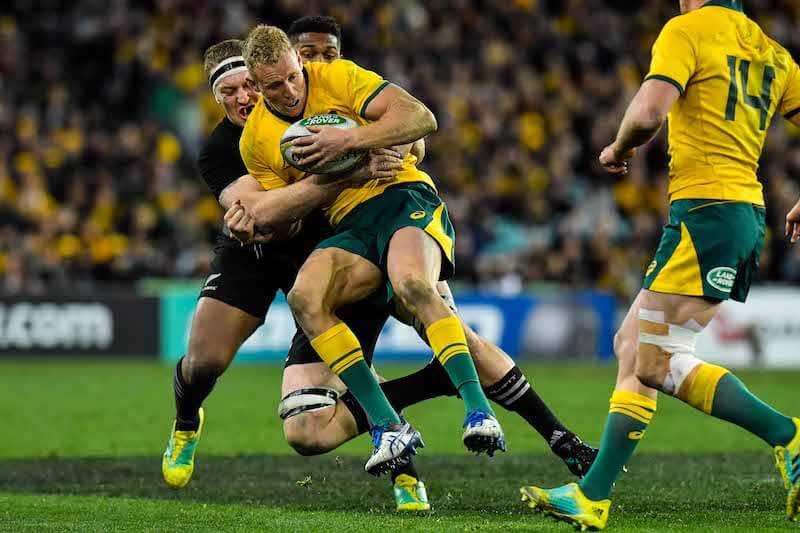 Monday's Rugby News sees a quick recap of the Wallabies, some rugby news from an unexpected place, GPS finally ending their drought and Shute Shield race continues.
---
Wallabies Recap
Well as we all know the Wallabies went down 38-13 to the All Blacks on Saturday night in what was a depressing 50 minutes for all Australian fans. (and any non-New Zealand fans)

The Wallabies started like a house on fire and brought that same offensive-defence mindset which brought them success in the first test of the Ireland series, but failed to capitalize on their dominance.

In fact, the Wallabies really rattled the All Blacks who made a fair few fundamental errors early on.

Yet the Wobs lacked composure and basic skill execution when it mattered and blew several opportunities.

Set piece is a cause for concern and the sooner we can get Scott Sio and Taniela Tupou (my idol) back onto the field the better, purely for the sake of their scrum work.

Kepu looked off pace and was targeted by a strong All Blacks scrum.

I also wouldn't be surprised to see Simmons brought in for his lineout ability seeing as we couldn't win one to save our life.

Added to these issues was a level of fitness.

Michael Hooper, AKA the $6 million dollar man, struggled for the back 25 at least to keep up with the pace of the game and surely Pete Samu should've started.

In general a fair few players looked gassed, although probably less so than in previous years, if that pleases anyone?

Cheika was visibly deflated and had this to say to the SMH about the Wallabies performance.

"There was too much ball given back to the opposition, both from set-pieces and general play," "

"We've got to stay at it. When things don't go your way or don't happen like you want them to, you've just got to keep coming and see where it goes from there."

"Even when we made some really good attacking raids in the second half, we tossed the ball away. We should have kept doing what we need to do."

Any solutions GAGR's?
Namibia Qualify
Now for some rugby news from an unexpected place, Namibia have qualified for 2019's Rugby World Cup.

The boys in blue will add some more African flavour to the tournament after defeating Kenya 53-28 in Windhoek to win the Rugby Africa Gold Cup on Saturday.

Namibia join world champions New Zealand, South Africa, Italy and the Repechage winner in Pool B for what will be their sixth-successive tournament.

Kenya's dream of qualifying for their first shot at the big dance is not finished, but they now face the prospect of taking on Canada, Hong Kong and Germany in November's round-robin Repechage competition in Marseille for the final place, a much harder challenge.

World Rugby Chairman Bill Beaumont spoke to RugbyPass, saying: "Congratulations to Namibia on winning the Rugby Africa Gold Cup to secure a place at Rugby World Cup 2019. They were impressive throughout the competition and are deserved champions.

"We look forward to welcoming the Namibia team and their fans to Japan for what promises to be a very special and ground-breaking Rugby World Cup – the first in Asia.

"The qualification process is almost over, but Kenya's journey continues as they deservedly secure a place in November's Repechage in Marseille, and I would like to wish them, Canada, Hong Kong and Germany all the best for what promises to be an exciting tournament."
Galloping Home
GPS Rugby club have finally broken their premiership drought after a win of University at Ballymore.

The 22 year wait has now been erased, with a tight 23-16 win bringing their fans running from the hill.

Inspirational skipper Michael Richards led the way for the side, bruising inside centre Alfonso Horomia and astute game management from Reds halfback James Tuttle, the Gallopers played with a gale force wind at their backs in the first half and established a 17-6 half time lead.

It was a lead that proved unassailable despite an promising late University surge which had the strong Ballymore crowd on the edge of their seats.

Having Ruan Smith in the front row, along with several seasoned first graders, GPS dominated their big name rivals in Angus Scott-Young, Harry Hockings and Adam Korczyk by using their scrum as a weapon, piling pressure on from the outset.

UQ seemed insistent on running the ball out of their 22 however both Tate McDermott and James Dalgleish struggled to find the find of form that had made them premiership favourites, with Dalgleish having his worst performance on the biggest stage.

The biggest moment of the game fell just before half time with a controversial decision from the officials.

As Jeeps pushed for their second try on the right wing Scott Gale stretched an arm out in an attempt to intercept, knocking the ball down and subsequently denying an unmarked Horomia.

Referee Nic Berry, assisted by Damon Murphy, deemed the swipe a yellow card and penalty try offence, sending the Gallopers into the sheds with a 17-6 lead and a one man advantage when play resumed.

It was too much in the end for University, who put together a spirited comeback only to fall agonisingly short.

But that would be all she wrote, the Gallopers charging to a well deserved Queensland Premier Rugby crown.

After so much emotion, RedsRugby spoke to Richards, who had this to say.

"All that we spoke about out on the field was just working hard," Richards said.

"We defended really well and everyone was putting in effort for one another."

"I'm super proud of the boys and their willingness to work for one another."

"Their work rate was unreal and we defended our way to victory."

"I'm so proud that after 22 years we finally get to bring the cup home to Yoku Road."
Shute Shield Finals
Warringah, Sydney Uni and Norths all won hard fought matches to keep their hopes alive, while the coastal boys Manly scrapped through after surviving on other results, according to RugbyNews.

Warringah kept their premiership defence alive with a close 34-28 win over an understrength Manly side in front of another huge crowd on the Northern Beaches.

The game was a battle of the big men at Rat park, with Rory O'Connor crossing for Warringah's first before Manly prop turned winger Charlie Abel leaped from a lineout, intercepting a pass and scoring from 5 out.

Flying Warringah winger Esera Chee Kam finished off tries on either side of the half time break to give the Rats a 17-7 lead.

Manly never stopped in their pursuit, with Sam Shires finding plenty of space through the middle of the Warringah ruck to score, followed by Josh Turner intercept, giving the Marlins a lead 21-17.

Warringah hit back through centre Sailosi and then charged further ahead after forwards Manny Meafou and Mahe Veii combined nicely for the Rats fifth try.

Manly kept fighting late in the match and crossed through reserve fullback James Ohmsen yet it wasn't enough to secure a late win.

The students defeated a close victory over a much improved Eastern Suburbs side at Campbell town as well.

Playing for their finals hopes, the Easts' forwards stood up and continued to match the star studded Uni pack (the same in both Queensland and New South Wales). Led by Waratah Tom Staniforth, the Beasties refused step down and scored midway through the second half through young gun Cody Walker to reduce the deficit to one point.

With five minutes remaining, Easts' cracked and Wallaby Jake Gordon charged through a gaping hole in the defensive line and slammed the ball down next to the posts to score the match sealing try.

Finally, Northern Suburbs defeated Eastwood 16-10 on a windy day at North Sydney Oval, setting up their grand final rematch against Warringah.

Irae Simone threw a good old bounce pass to Lochie Creagh to set up Norths first try.

Can never go past a bounce pass.

The Woodies opened their account with a penalty goal, before Pat Sio (a very talented individual) barged over on the back of a dominant Eastwood scrum to reduce the deficit to three points.

But that's as close as the 2014 and 2015 premiers would get, finishing the game 6 points short.

Norths will host Warringah in a grand final rematch next weekend, while Sydney Uni play Manly.