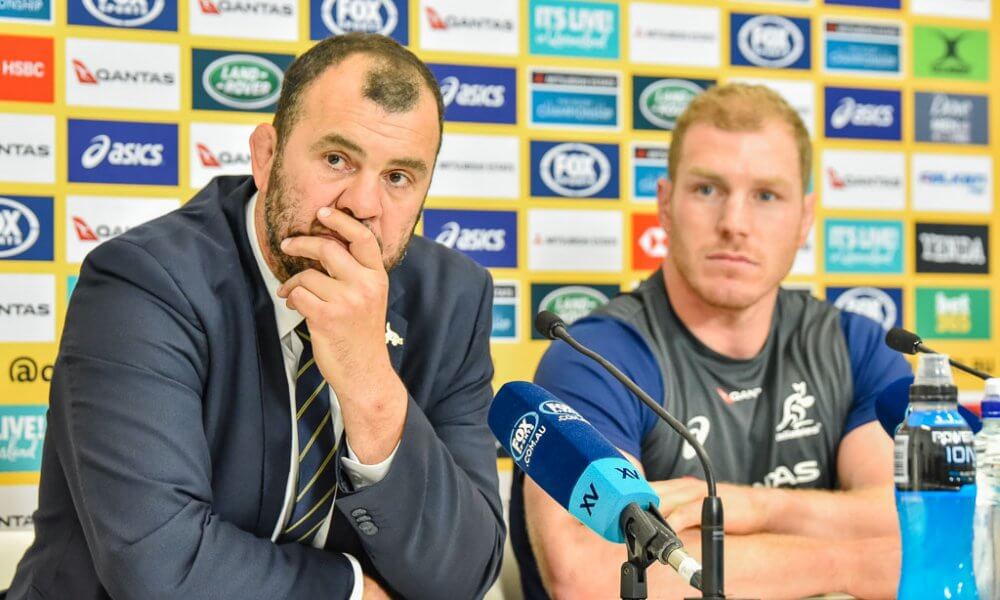 Monday's Rugby News delves into some more about the Tui incident, the Quade Cooper show, a quick wrap-up of the weekend's results.
---
Cooper Sage Continues

You'd be pressed to fine a more polarising player in Australia than Quade Cooper.

For better or worse, he seems to attract attention wherever he goes.

The media scrum that surrounds him might be on the move to Melbourne as the out of favour Queenslander looks to remove any spectre of "what if" when he finally hangs up his boots. (or gives them away, I can't find it now, but wasn't he doing that for a while?  Giving his boots to kids and/or charities??)

Cooper spoke about his future after the NRC match on the weekend and while he didn't specifically mention moving to the Rebels he did touch on his motivation to finish his career with no regrets, "When it comes to that point if you can look back and enjoy that time rather than go 'what if?' or anything like that, then no one can take anything away from you".

However, in the same interview spoke of "bring present" and it could be interpreted that he's content enjoying his time playing rugby for Souths and living in the greatest capital city in Australia, "I think being present is a great mentality to have in any walk of life and I think if you can take that approach to day-to-day life, enjoy your time when you're at home with your family, enjoy that time when you're on the training paddock with your team, enjoy that time when you're out on the field playing games, because we can't play this beautiful game forever".

The comments need to taken in context with what Wallabies coach Cheika said earlier this year when he put his foot down and all but told Cooper to find a new Super franchise if he wanted to get back in the Green and Gold. "If he hadn't had the opportunity to go and play Super Rugby I would say yes because fair enough, it's not his fault, but he's being offered opportunities and I think he should take them".

Although technically on the outer with the national side too, the star flyhalf hasn't been fully ignored, with Cheika reportedly saying, "We've seen some good things, seen some other things that you'd like improved. The games have been pretty high scoring, so it's been pretty much focused on attack".

Questions hang over just how all over the financials will get sorted out, just to make things even more complicated.  Cooper is sitting pretty on more than half a mill a year playing club footy in Brissy and is contracted with the Reds until the end of next year and all Australian Super rugby clubs need to fall back under the salary cap next year as the concessions granted after the Force were booted will come to an end.
NRC Round 3

The National Rugby Championship continued to hum along this weekend with some interesting match-ups bound to yield both some good viewing and a better look at how the season is shaping up.

Saturday saw the Drua travel to Mackay to take on Queensland Country, a match that would reduce the number of undefeated teams from three to two, except in the case of a draw, which didn't happen, so let's not worry about it.

Anyway, it was the boys from the bush who came away victors putting together a 28-point lead by halftime and extending it in the second half to win 52-22.

Our very own Sucker For Red has put together a comprehensive match review for your pleasure.

Meanwhile, the Eagles played host to Rising in Mudgee.  In a bit of a reversal of the other 1pm match, this game would see one of the teams pick up their first win of the season, and it was the Rising that rose to the occasion and inflicted more damage on NSW Country than the drought as they ran in 10 tries to 1 with Tom English bagging 5 of his own.

Dylan's report has gone into a lot more detail for you to read on the train home this evening.

The news just got worse for teams south of the Tweed but north of Murray as The Rays went down to Brisbane City in a high-scoring affair.

The Rays scored 40 points in their loss, only 8 points short of the cumulative score of the rest of the weekend's losers.  Whether that reflects well on the Rays' attack on poorly on City's defence is open for debate, but Nathan's take on the contest might skew your perception one way or t'other.

The last match of the weekend was between the pre-season hot tip, the Force and the Vikings.

The affair was a tight tussle with the Vikings even taking a kick at goal from a penalty in the first half, the first one this season.

After trailing at oranges the boys from capital pulled away in the second half, keeping their opponents scoreless to win 29-19 and inflict the Force's first defeat of the year.

Canberra local Steve had this to say about the match.

The wash up from the weekend leave QLD country as the only undefeated team while the two NSW-based teams are languishing without a win between them.  They face off this coming Wednesday evening at Leichhardt oval in what's sure to be a passionate clash.
Tui Trigger

You'd be doing well to have missed the altercation that furthered soured the Wallabies' night out on the Gold Coast over the weekend.

After a disappointing loss to Argentina, their first loss to that opposition in Australia for 35 years, some fans were irate with their team with many taking to social media and no doubt to their mates at the pub to voice their opinions.

At the game though, an as-yet unnamed fan and members of the Wallabies squad could be seen arguing and had to separated as tempers flared.

One of the squad members involved was the still injured centre, Samu Kerevi, who has taken to Instagram to throw his support behind his provincial and national teammate.

In the Instagram story (which has limited life-span but I've taken a screenshot for posterity) Kerevi outlines his take on the events saying, "Lukhan came in to help out because that guy was swearing around his family".

And then honed in the trigger, "That altercation only happened because the drunk fan told Lukhan to 'play with some heart'".

A sentiment seemingly echoed by Wallaby head coach who came out after the match saying, "We lacked enthusiasm at the key moments often and that let us down".

It's gets murkier still, as Kerevi's account contradicts what Michael Cheika said in the post-match interview where he pointed to Tui's younger sister being pushed as the reason behind the escalation.

Whatever transpired, it wasn't a good look for the game that's battling internal and external detractors.

 
Antipodean Results

Whilst spring has sprung in the southern hemisphere things up north are starting to cool down, or heat up, in the case of Gallagher Premiership.

With 3 rounds of competition completed the cream is starting to rise to the top and, ahhh, I guess the tealeaves that get thrown on the garden are sinking to the bottom?

Exeter and Saracens are sitting on 3 from 3 and remain the only two undefeated teams in the competition.

We'll start with the aforementioned Exeter.  The club that expats Nic White and Greg Holmes call home these days got the choccies over second-last placed Sale 35 points to 18.  Chiefs' Director of rugby praised his team's ability to respond to games day changes, singling out Aussie Dave Dennis for his efforts, "To lose Matt Kvesic and Sam Simmonds literally this morning, that's take a fair bit of shifting around. Dave Dennis got involved without thinking he was any part of the match-day 23 for quite a while."

Across town (England's tiny, and as far as I'm concerned there's one town, London) Saracens knocked off Northampton 38-27, Northampton's Chris Boyd summed up his feelings after his team gave up the lead late in the match, "It's an awful lot of blood, sweat and tears to come away with nothing from an outcome point of view. We were in with a chance with 15 minutes to go, but we didn't quite get it right at the end there."

Elsewhere, Gloucester were too good, running in 5 tries to 1 against new kids on the block, Bristol.  Newcastle overcame two yellow cards and Worcester in a manner that a better writer could weave a sauce-related joke into and Bath just hung on over Harlequins in an 85-minute classic that went down to the wire (and 5 minutes more) thanks a try in the 78th minute to the Quins.  And in the final match of the round Wasps won the black and gold battle 41-35 over Leicester and move into the top four.