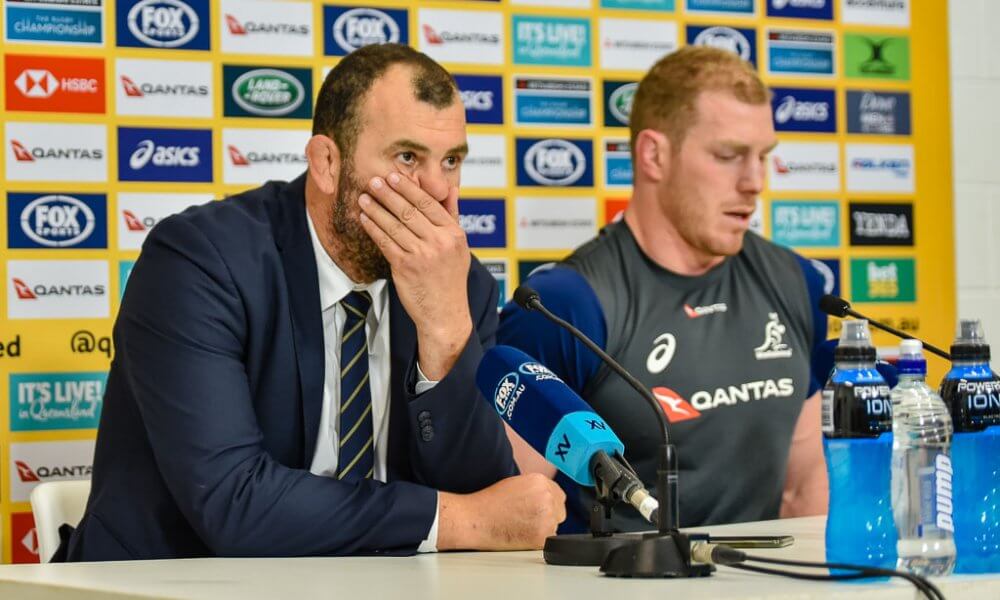 Monday's Rugby News sees us lose… again, the NRC Grand Final results, us apparently now having a plan and more on the shove incident.
---
*Bangs head against keyboard*
Well folks, here we are again. Another week, another Wallabies loss.
Granted, most of us thought it was coming, but the fact that the 20-37 loss to the All Blacks had moments where we could've turned the tide of the game was even more disappointing. It's the literal engagement for Aussie fans right now: there's so much potential, an occasional flash of brilliance, and the rest of the time it's crap.
It's clear this fact is not lost on Michael Cheika, who cut a dejected figure in the press conference after the game on the weekend.

"I think that's why we are very flat," Cheika said.
"There is a lot of stuff to work with there I suppose.
"Just too many turnovers in key moments and too many turnovers in general.
"I think it's a bit of a reason why we are feeling like that.
"But there are some things we can work with for sure going forward."
The game did have it's positives, with David Pocock and company creating more turnovers. Attack wise, the team looked a lot more threatening than throughout the entire Rugby Championship. But then they'd force passes, and the Kiwis would counteract. FFS, the PTSD is kicking in again, let's move on.
"Through the middle we were quite good there," captain Michael Hooper said.
"Our forwards were working really hard and our eight forwards through the middle were getting some nice movement.
"There were three turnovers out wide when we finally made the decision to go out wide.
"You look at the game at 17-7 turnovers and that's a heap of ball you are giving to New Zealand.
"We all see what they can do with that."
It was especially disappointing for Sekope Kepu, who notched up his 100th Wallaby cap.
"I've got a new additon to the family and having them (the kids) here with my wife makes it extra special," Kepu said to rugby.com.au.
"Obviously we played New Zealand tonight, though it was a loss, we'll have a learnt a lot from this whole week a year out from the World Cup.
"I'm disappointed for the result but we've got to move on to next week. It's cliched but we keep working.
"Off the field I've got the kids and family so it's not all rugby… they are the ones – regardless of how you feel or a disappointing result – they'll be there."
The less said about this result, the better. I'm pretty numb to it now, and I can only take so much. If you want more match details I defer to more experienced heads, Sully's match report from the weekend, as well as Brian Smith's ever poignant in-depth analysis. 
Stupid Sh*t
Once again, the topic of the TMO and the influence on the game came into question, and this time it revolved around the fact that it took the match official over five minutes to come to a decision after a blatant push to the face. As Mr. Cavill so eloquently tweeted, you could hear the TVs turning off around the nation. 
All Blacks coach Steve Hansen is not a popular figure with anyone outside of NZ. Neither is Michael Cheika outside of Australia, (although that's becoming increasingly debatable) but against the odds, on Saturday night, they did something incredible. They actually agreed on something the ref did.
What about? The fact that Tolu Latu's decision to overreact and palm someone in the face was stupid, and the fact it took so long to arrive at a conclusion that stupid.
"You aren't allowed to strike someone in the face so it was pretty clear wasn't it," he said, as reported in rugby.com.au. 
"You do dumb things you get dumb reactions and the ref had no other option.
"If he hadn't done it he probably would have been hearing from his bosses.
"He did what he should do and give the guy 10 minutes
"Sport brings out moments where you overreact and their young hooker overreacted to something Codie did.
"It was a whole lot about nothing really."
"He shouldn't do it," Cheika admitted further.
"You know that if they push us and he pushes back he should know that it is going to come back and get us.
"That's the nature of where we are at at the moment.
"It's pretty simple but at the same time as a footballer you don't want to get pushed.
"I don't think the referee was going to do anything about it as he kept coming towards him.
"Maybe that's the expectation on us. He definitely shouldn't do it.
"I understand that he wants to stand up for himself and look after himself and that's part of the game.
"But not in that manner because it cost us 10 minutes and didn't achieve anything anyway."
Latu was also sin-binned the previous game against the Pumas for elbowing an opposition player in the face. Again, literal engagement for Aussie fans right now: the bloke has clearly got loads of talent and potential, but low and behold, he goes and does stupid shit again.
Spin Doctor
Low and behold, straight after the loss, Will Genia appears, cap-in-hand, with another statement to attempt to get fans excited for the international tour.
In all honesty, I can't be too critical of Genia. The bloke honestly tries in a team that is low in confidence and not heading in the right direction. But, interestingly, his statement admitted that the squad had thrown out the playbook that they attempted to use this year to beat the Irish, instead opting to try and play a new style.
You know what they've resorted to? You'll never guess! It's going to blow your mind. They've decided to instead start going back to what had previously been working.
Yep. It took them eight f*#king matches to realise that the strategy that clearly wasn't working wasn't working.
"It's no secret that we changed the way we played a lot in the June series against Ireland," Genia said to Fox Sports. 
"We played with width from the get go.
"Off set piece, always going with width off unstructured play.
"And then it's probably just adjusting back to how we played before, which has always been playing through the middle, getting the forwards going through the middle and then playing off the back of that.
"It probably took us a little time to adjust, but we are here now and the boys are doing it well."
The Wallabies (at least attack wise), did look improved over the weekend, and the decision to play a more direct up-the-middle approach was made by both the playing group and the coaching staff. It took them eight matches, but they got there. Eventually.
"Guys like Bernard (Foley), Kurtley (Beale) and the leaders in terms of the strategy part of the game (led the decision to revert back to how they attacked in years gone by," Genia said.
"Then the coaches as well.
"We want to get the best out of the best players we have and our tight forwards in particular — that's our biggest strength."
Genia also argued that defensively, things looked a lot better too.
"I thought defensively we were really good, particularly in that first half," Genia said.
"There were a couple of opportunities where they scored off the intercept and I missed Rieko on the short side, but you take those 14 points out of it and I thought we defended really well.
"The scoreboard doesn't reflect that, but guys were getting up out of the line and putting shots on.
"I definitely think that was a huge area of growth for us."
Bula! Bula!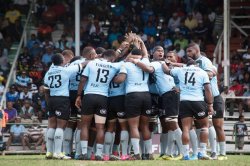 Long rant coming up…
If I could have filled up this news segment with NRC news and the amazing match that took place on the weekend, I would've have. Alas, the Wallabies were playing and I have to talk about them, which was a real dampener on the weekend's rugby.
But if you haven't seen this game this weekend, do yourself a favour. Here's the link to the Fox Sports Live Stream of the NRC.  It's there. It's downloadable. It's completely free. If any of you guys didn't watch this match, for the love of god, plan an night to sit down and watch this.
In an amazing display, the Fijian Drua finally shook a monkey off their back, defeating Queensland Country for the first time ever to claim their first ever national rugby championship title.
Conditions made the first half an old-school grind, but (in front of a capacity crowd and probably what looked like is the largest crowd in NRC history) the Drua clicked into  gear in the second half to win 36-26, and scored some disgustingly good tries.
For a more detail description, check out our review of the final here. 
It is the first time a team has ever finished with both the Horan-Little Shield and the Toast Rack in their possession, and with the passion around the team it just goes to show what an absolute shot in the arm the Drua have been for this competition, and how good it is for them to have won it.
But not just that. Australian rugby has much to benefit from having a team like this in our third-tier competition, a fact not lost on QLD Country coach Rod Seib. 
"Today's match was always going to be tough in the wet and, with their sizeable forward pack, the Drua played to the conditions and came out on top," Seib said to Fox Sports.
"Momentum shifted throughout the match and our boys were in the contest for the full 80 minutes, but credit to the Fijians — they fed off their home crowd and played a great game.
"I'm really proud of the way our team has performed throughout the season.
"Today, they showed a lot of character to stay in the match until the very end.
"They've shown a lot of maturity and progression throughout the season, and were deserving of a place in the grand final.
"We have a lot of young talent within this side, which will bode well for Queensland rugby moving forward.
"We have players who will be heading into their first and second seasons of Super Rugby with the Reds, who will have benefited from being part of our campaign in 2018."
Rugby Australia high performance general manager Ben Whitaker was also present, and congratulated the Drua on their victory.
"Over the course of the NRC season, the Drua played enterprising, exciting rugby that enthralled and entertained fans in Fiji, around Australia and across the world.
"We offer our commiserations to Queensland Country who fought hard today.
"They have a very young, talented squad and it will be exciting to see how these players develop over the coming years.
"Their consistency over the past two seasons in reaching back to back NRC finals will no doubt positively impact the Queensland Reds and Wallabies over the next few years."
But in my opinion, the best comments came from the Drua coach Senirusi Seruvakula. With so many young faces in the crowd, Seruvakula added that this famous win for Fiji will live long in the memory of many on the Island nation.
"It's been massive, it's been an enjoyable competition and we are lucky the Australian Rugby Union have given us this opportunity to play in this level so that our local players can showcase their talent," he said.
"Full credit to Australian rugby for allowing us and if we were not allowed, we would keep on playing our domestic rugby and these guys will be shocked to go into international rugby to play rugby.
"[For the kids], these guys playing for the Drua will be their heroes.
"Everyone who will be playing from primary school to secondary school, they want to represent the Drua.
"The Drua we bring in a different kind of rugby – entertainment and full of skill they have to be very good and that's what's going to be going into everyone, going into the competition next year domestically they have to showcase their talent if they want to be playing in the NRC and especially defending the trophy next year."
Drua captain Moses Voka was visibly emotional at the awards ceremony.
"I can't express it in words, it's a great privilege winning this," he said.
"I think it's a big trophy… I don't know how to express myself, but I'm really happy for the boys."
The worst part is we now have to wait a year before this great little comp comes round again. Shit.