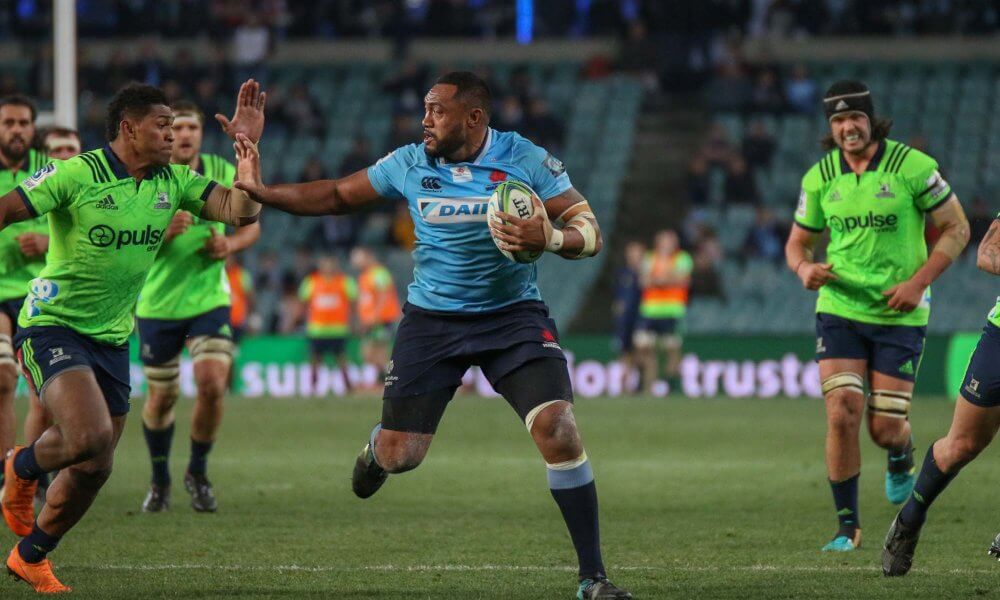 Monday's rugby news will try to bring you up to speed on local Super Rugby team ins and outs, the latest round of 6 Nations and takes a closer look at the MND/rugby rumours hitting the press.
---
Waratah Woes
With Waratah props falling faster than the papier-mâché trees during my grade seven end of year Henry Lawson performance, one could almost feel sorry for the mob from Sydney.

Paddy Ryan left the club last year to join the other Paddy Ryan in the USA's major league rugby, Wallaby-squad member Tom Robertson busted his ACL in Argentina and now our f(r)iends in blue have lost Shambeckler Vui.

The 21-year-old Bankstown product has succumbed to a rather unique injury- a Lisfranc fracture; which is more commonly associated with sports like snow-boarding due to its odd underlying mechanism, and it looks like the engine room duties will now be shared between Harry Johnson-Holmes and Chris Talaka, oh, and of course, stalwart Sekope Kepu.

If 'Tah forwards coach Simon Cron was worried, he wasn't letting on, talking up both props, "Harry Johnson-Holmes at 21 will have to step up. He had exposure with us last year and now this is his chance.

"Chris is a great fella, and he has a pre-existing relationship with Tolu (Waratah hooker Tolu Latu) obviously from Sydney University," he said.

It's not all bad news, word 'round the campfire is that ticket sales for Friday's opening clash are going well and the club are hoping they'll sell out Brookvale as they set off on a bit of a tour de force this year while their home ground is rebuilt.

Lastly, while the front row is being depleted, the back three are coming up the goods with triple code hopping, try-scoring machine, Israel Folau signing on for another 4 years of the real stuff.

Perhaps Folau could step up and help out his buddies at scrum time?

Methinks not but it felt like my article was fading out…
Reece Unlikely for the Rebels
Injury concerns mare the lead in to the season for the other "team from down south who wear predominately blue" with Reece Hodge looking unlikely to suit up on Friday night.

The back, capable of covering a number of positions, was injured during last year's Bledisloe campaign, missing the third game in Yokohama.

The Rebels fell agonising short of a finals appearance last year but it seems they're taking no risks.

Hodge is nearing full-strength, but not there just yet and the talk is he may sit out the first game, biding his time until March for their round 3 clash.  (Melbourne sit out round 2 with the bye)

Speaking of the injury and his recovery, Hodge hinted they would be approaching the situation from a safety-first angle,

"I'm back into doing most things at 90-100 per cent, so I can't say for sure if I will be playing on Friday. Everything would need to go at 100 per cent right for me to play.

"The safer option is to say round three, given we have a bye in round two, but there is still a chance I get up for Friday."

The Rebels have turned things around in the last few years with coaching and playing personnel changes attracting deserved attention as things ramp up for another year.

Be it round 1 or round 3, Hodge took advantage of his time away from the game to reset,

"I'm feeling really refreshed now and right for the season"

The Rebels travel to Canberra to take on the Brumbies on 15th February, GAGR will of course be there in some capacity and somebody might be able to pen some sort of wrap up for your reading pleasure.
Six Nations Round 2
The six nations circus rolled on over the weekend.

Scotland hosted Ireland, Italy greeted Wales and the Dodgers welcomed France.

No doubt stinging from their first loss at home in forever, Ireland made no mistake in dispatching the Scots, outscoring them 3 tries to 1 to take the points, 22-13 and deny Scotland a losing bonus point in the process.

There may be a further post-script to this match with Scottish scrum-half Greig Laidlaw singling out referee Romain Poite after the game stating, "He doesn't seem to like us, Romain" although added, "We're not going to blame him"

Over to Rome, and it was again the visitors getting the chocolates with the Welsh proving too strong for the Azzuri racking up 26 points to 15 to equal the nation's longest ever winning streak in test football.  GAGR's Diego has put together his take on what went down.

The win saw Wales (temporarily) leading overall but they face England at home in two weeks' time and their coach Warren Gatland is looking for big improvements,

"There are lots of things we need to improve for England," he said. "The line-out was a bit concerning, we didn't have enough tempo. We kept having to step away and Italy closed down that space pretty quickly.

"We all need to improve in lots of areas to beat England, they are a pretty good side at the moment."

It was a timely advice too, as England took the field this morning and blew France away, scoring within 70 seconds and continuing to pile the points on, taking the tie 44-8.

The win propels the Poms into top spot on the ladder.  Their perfect 10 points see them sit 2 points clear of Wales.
Suggested Contact Sport/MND Link
I read with interest an article about motor neurone disease and a potential link to rugby.

Motor neurone disease, amyotrophic lateral sclerosis or Lou Gehrig's disease is a degenerative disease resulting in progressive loss of voluntary muscle innervation, it caused the death of Springbok Joost van der Westhuizen in 2017.

I'm sure you'll all happen across it or be emailed it at some point this week so let's take a closer look.

Firstly, please go and read the original peer-reviewed article as it appears in Global Spine Journal, you can access it here – https://journals.sagepub.com/doi/full/10.1177/2192568218813916

And then secondly, please pay particular attention to the end of the third last sentence in the discussion, "this review would seem to invite a more formal evaluation of professional sports exposing its players to repetitive blunt head and neck trauma, such as professional American football, Rugby Union, soccer and ice hockey, possibly also motor racing sports with repetitive impact potential" (Blecher et al. 2019) (emphasis added by author)

The above mention of rugby is one of only a handful of passing references throughout the review and in fact, none of the studies included specifically looked at gentlemen acting like thugs.

One of the article's authors, Mike Hutton, offered up some suggestions as to why the link seemed to exist, 'There may be other factors. A certain body mass index or muscularity, which makes people more likely to play top level sports of this kind. We don't have that detail, but no one has done this kind of investigation and the findings point to a need for a greater understanding.'

For more information or to donate to the cause (without the associated bucket of iced water) visit https://m.mndaust.asn.au/Home.aspx.