Monday's Rugby News wraps up all the rugby across all the major competitions, weeps the heartbreak from the Under 20's World Champs, looks at the carousel of Australian coaches, discusses the Wallaroos squad for their historic series and recaps award season for Super Rugby clubs.
*NOTE: This is an extended version as it has been a huge 2-3 days of news in rugby union that has been overshadowed by every man and their dog (including myself) talking about the fundraising efforts of a former multi-millionaire player.
---
Heartbreaking
The Junior Wallabies have suffered an agonising loss to France 24-23 in the final of the Under 20 Championships in Rosairo.
Despite scoring more tries than their opponents, the Aussies were wayward with the boot, with halves Will Harrison and Michael McDonald combining to be 3/7 from the tee.
This was compounded by Toulan and France fly-half Louis Carbonel, who contributed 16 points to secure back to back championships for the Junior Les Bleus.
The Junior Wallabies got off to the perfect start when Mark Nawaqanitawase crossed for the opening try after just 50 minutes after a lovely break from Reds fullback Isaac Lucas.
Both teams would trade leads throughout the first half, with tries to front-rowers Theo Lachaud and Alex Burin putting France ahead 18-13 at half time.
The Junior Wallabies would strike back right after the break, with Harry Wilson squeezing over the line from a line-out to give the Aussies a 20-18 lead heading into the last 30 minutes.
However, ill-discipline would ultimately be the downfall of Australia, gifting penalties inside the French half to allow Carbonel the opportunity to regain momentum and the lead for Les Blues.
The Junior Wallabies would have one final shot at goal to secure the win, however, McDonald would push the penalty kick wide to ensure back to back championships for France, making them just the third team to complete the honour.
Coach Jason Gilmore was proud of the effort from his boys, praising their ability to fight back from adversity throughout the tournament.
"It was a tough loss to cop," Junior Wallabies coach Jason Gilmore said. "Our boys showed plenty of courage but unfortunately just fell short. The period before half time swung momentum to France and they capitalised."
"Full credit to them on their victory. I am really proud of this playing group, they have faced plenty of adversity and fronted up every time. They are a tight group and no doubt we will see them in the future in Super Rugby and the Wallabies."
Result
France 24
Tries: Lachaud, Burin
Cons: Carbonel
Pens: Carbonel 4
Junior Wallabies 23
Tries: Nawaqanitawase, Lonergan, Wilson
Cons: Harrison
Pens: Harrison 2
Super Rugby finals begin
The finals series of the 2019 Super Rugby season has begun with four thrilling quarterfinals that have thrown up some dramatic contests.
The first quarter-final took us to Christchurch, where the Crusaders opened the finals hosting a Highlanders side full of confidence after their dominating performance over the Waratahs. The first half was tightly contested between the New Zealand rivals, with the home side holding on to a slender 17-14 lead as they went into the break.
The contest was then thrown wide open five minutes after the restart after Highlanders loose forward Liam Squire was yellow carded for a late hit on Whetukamokamo Douglas. This allowed the Crusaders to dominate the proceedings, with tries to Michael Alaalatoa and a second try for Richie Mo'unga securing the 38-14 victory and their place in the final four for the 16th time in 17 years.
Their opponent would be determined on the following day when the scrappy Bulls travelled to Wellington to face the red hot Hurricanes. The Hurricanes showed why many consider them to be the team most likely to knock off the Crusaders, running in three quick tries to lead 24-7 before half time.
However, the Bulls showed their trademark fight, with a double to Cornal Hendricks and a penalty try reducing the margin to 32-28. The Hurricanes would end up holding on for a 35-28 victory after a Jordie Barrett penalty sealed the win and an opportunity to get revenge against the Crusaders for their semi-final exit in 2018.
The hosting rights for the second semi-final were determined early Saturday morning when the Jaguares clinched a hard-fought 21-16 victory over the Chiefs. The men from Waikato looked to have caused a momentous upset when they raced to a 16-8 point lead.
However, the home side was buoyed by their passionate fans and they were rewarded through a try to Matias Moroni and a Joaquin Diaz Bonilla penalty to secure the win and their first finals victory.
The final position in the semi-finals was secured on a cold Saturday night in Canberra, where the Brumbies dominated the Sharks 38-13 to book their flights to Buenos Aires for the semi final. The side was boosted by a double to flanker Pete Samu and tries to Henry Speight, Joe Powell and Matt Lucas to secure their first semi-final since 2014. However, their trip to Argentina was made tougher with quarter final hero Samu ruled out with a hamstring injury.
With the quarterfinals completed, this is how the semi-finals shape up:
Semi-Final 1: Saturday 29 June
Jaguares [2] v Brumbies [3] @ Jose Amalfitani Stadium, Buenos Aires 9:05am (AEDT)
Semi-Final 2: Saturday 29 June
Crusaders [1] v Hurricanes [4] @ Orangetheory Stadium (Formerly known as Christchurch Stadium), Christchurch 5:35pm (AEDT)

Rugby 'round the country
We start this week in Perth where the Western Force have claimed the Pacific crown with a 45-24 victory over Fiji Latui.
The Force maintained their flawless campaign, running in seven tries to rewarded their loyal fans who turned out in droves (over 13,000) to celebrate the successful first season of the Global Rapid Rugby series.
The Force were rampant from the start, with tries to Davies, Deegan and Bardoul giving them a commanding 19-3 lead after 25 minutes.
However, Fiji refused to give in, with a power try to Stewart and Lagi reducing the margin back to just two points.
The Force would end up showing their class, running in three unanswered tries to secure the win and the Pacific crown.
Whilst in Perth, round 12 of the Forescue Premier saw Nedlands overcome Wanneroo 27-8, Cottlesloe hold off UWA 13-10 in a thriller, Wests account for Southern Lions 27-5, Palmyra defeat Coastal Cavaliers 21-3, ARK dominate Curtin Uni 50-13, Associates conquer Bayswater 20-7 and Joondalup upset Kalamunda 30-12.
In South Australia, the Coopers Premier saw Burnside dominate Woodville 84-14, Adelaide Uni outgun Elizabeth 69-31, Southern Surburbs hold off a valiant Onkaparinga 33-27, Brighton crush Port Adelaide 70-10 and Old Collegians mollywhop Barossa 130-0.
The Shute Shield in NSW had Manly upset Norths 40-31, Randwick run away from West Harbour 50-21, Warringah pull off a statement win over Easts 36-19, Souths get revenge over Western Sydney 47-10 and Sydney Uni beat Eastwood in a slobber-knocker 24-11 (click link for my recap/commentary of the contest)
The John I Dent in ACT threw up some thrillers with Vikings scraping home agaisnt Queanbeyan 37-28, Wests compounded Easts misery with a 33-20 loss and Royals maintained top spot with a 40-21 win over Uni-Norths.
In the 8th round of the Dewer Shield, Endeavour cause a boilover against Harlequins 7-0, Box Hill accounted for Powerhours 31-12, Melbourne maintained their unbeaten run by defeating Moorabbin 39-20 and Melbourne Uni crushed Footscray 74-0.
Finally in Queensland, Jacobus van Eeden broke the hearts of Wests fans with a late try to secure a 21-14 win for Queensland Uni, Souths hold off GPS 29-28 in a thiller to win the Torkington Daley Cup, Bond Uni overcame Easts 18-17 and in the match of the round Brothers came back from 26-0 down to defeat Norths 42-26.
Gibson feels the Berne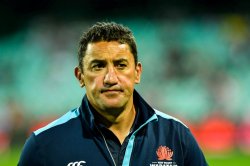 The crazy carousel of Australian coaching was in full force over the past couple of days, with Daryl Gibson stepping down as the Waratahs coach.
Gibson has stepped down from the role with a year to go on his contract, stating that it was the right time to move on with the significant player upheaval that faces the club in the next 12-24 months.
"We've got some absolute gold nuggets here that are going to filter through our system over the next three to four years and it's time for another coach to take them on that journey and really own that process," he said.
"Having been here for seven years, it's time for a new voice, a new direction, a new game style as new players come into the team."
Gibson finishes his seven-year-long tenure at the Waratahs with a 44% win record, with his shining moment coming with the side's run to the semi-final in 2018.
The decision to step down led many to believe that he would reunite with Wallabies coach Michael Cheika as the attacking coach, however, these rumours were shut down minutes later with the appointment of Rebels attacking coach Shaun Berne to the role at the national level.
Berne fills the vacant role that has not been filled since the departure of Stephen Larkham (who last week confirmed his move to Munster), and he emphasised the importance of shoring up their skills ahead of their taxing journey to Japan.
"This is a huge opportunity for me personally but more importantly, I want to do whatever I can to make the Wallabies successful this year," Berne said. "I want to contribute to the team by focusing on the things that will serve us best when we are under pressure, like passing, catching, alignment, running lines and deception — on and off the ball."
"I just want to add wherever I can to the coaching team around me.It sounds simple, but simple things done really well, all the time, will get us to where Cheik wants us to be as a team."

Grace standing, falling for something
Wallaroos second-rower Grace Hamilton has been appointed captain as the side was announced for their historic four test series against Japan and New Zealand.
Hamilton was shocked by the honour, having just joined the extended squad two years earlier, with the appointment by coach Dwayne Nestor bringing her to tears.
"[Dwayne] rang me, I was doing my last assignment for my masters, I sat in my room alone basically crying for half an hour before I called my dad," she said. "I was pretty overwhelmed. I don't know how I completed my last assignment but got through."
"I was pretty shocked. In 2016 I didn't make a squad of 63 people so to be standing here, I'm just completely honoured and humbled to be in this situation. It's all hard work and that's testament to every girl in the squad representing Australia. They are all working hard and women's rugby is growing, the support has been amazing."
Nestor was full of praise for his new leader, noting that her spirit and effort embodied what he wanted and expected out of his captain.
"Humble and hardworking, she (Hamilton) embodies what we want this to team to be about and I know she will be supported by a strong leadership team," Nestor said.
Nestor has named a 29 women squad for their historic two test series against Japan in Newcastle (July 13) and North Sydney (July 19) before they take on the Black Ferns as part of the Bledisloe series in August.
The squad includes former captain Liz Patu, who was infamously charged with biting during the Super W, along with 11 potential debutants.
The squad is as followed:
Forwards: Millie Boyle (Queensland), Emily Chancellor (NSW Waratahs), Rebecca Clough (Rugby WA), Grace Hamilton (NSW Waratahs), Alisha Hewett (Queensland), Evelyn Horomia (NSW Waratahs), Asoiva (Eva) Karpani* (NSW Waratahs Women), Michaela Leonard* (Brumbies), Kiri Lingman (Queensland), Ashley Marsters (Melbourne Rebels), Shannon Mato*(Queensland), Averyl Mitchell* (Queensland), Sera Naiqama*, (NSW Waratahs), Liz Patu (Queensland), Emily Robinson (NSW Waratahs) Christina Sekona* (Queensland)
Backs: Mhicca Carter (Rugby WA), Georgia Cormick* (Melbourne Rebels), Lori Cramer* (Queensland), Ariana Hira-Herangi* (Rugby WA), Chloe Leaupepe (NSW Waratahs), Alysia Lefau-Fakaosilea* (Queensland), Cobie-Jane Morgan(Queensland), Arabella McKenzie* (NSW Waratahs), Mahalia Murphy (NSW Waratahs), Asako Ono*, (Queensland), Trilleen Pomare (Rugby WA), Sarah Riordan (Queensland), Samantha Treherne, (Queensland)
*Denotes Uncapped
Wallabies rewarded
Two of the eliminated teams from the Australian Conference have finalised their season with the awarding of end of season awards to a pair of Wallabies.
The Reds have honoured departing captain Samu Kerevi with his second Pilecki Medal after being deemed player's player for 2019.
Kerevi polled 301 votes across 15 games edging out young flanker Liam Wright (228 votes) and fellow Wallaby Lukhan Salakaia-Loto (200 votes) in third.
The honour was well deserved by the outside centre, who ended the competition as the leading player in terms of carries (220) and defenders beaten (71), along with being 4th in line breaks (26) and 8th for most metres carried (861).
Reds coach Brad Thorn was full of praise for his captain, stating his admiration for his leadership and communication with their staff and fellow players.
"To be voted as the best player and acknowledged by your teammates is the greatest honour a player can have," Thorn said. "He took on the captaincy this year and thrived in the role. He has grown as a man both on-and-off the field…His presence and communication with players and staff has been something to admire."
Thorn also rewarded rookie Jock Campbell with Rookie of the Year for his stellar season, along with Teti Tela with the spirit of the Reds award.
"We were really impressed with Jock Campbell this year," Thorn said. "Jock played the remaining nine games for us and grew in confidence each match. As a group, we congratulate Jock on this achievement."
"(Tela) sat on the bench and prepared with the team on game-day but unfortunately didn't play any minutes this season. He carried himself well during those challenging times…He put the team first and pushed others around him to be their best. The Spirit of the Reds acknowledges someone who displays these characteristics in our team and Teti did that this season."
Meanwhile, in Melbourne, back-rower Isi Naisarani has been awarded the Rebels Players' Player award after his dominate initial season with the club.
Naisarani was rewarded for his strong performances that have pretty much cemented him the number eight jersey for the Wallabies, leading the side in metres gained and tackles.
"I am incredibly honoured and privileged to have been named the Players' Player," Naisarani said. "I would like to thank my family in Fiji and Brisbane for all of their support. They are my inspiration and have been with me every step of the way on my rugby journey."
Prop Matt Gibbon won the Spirit of Weary Dunlop award in his breakthrough season after playing every game for the club despite arriving in Melbourne in November without a contract.