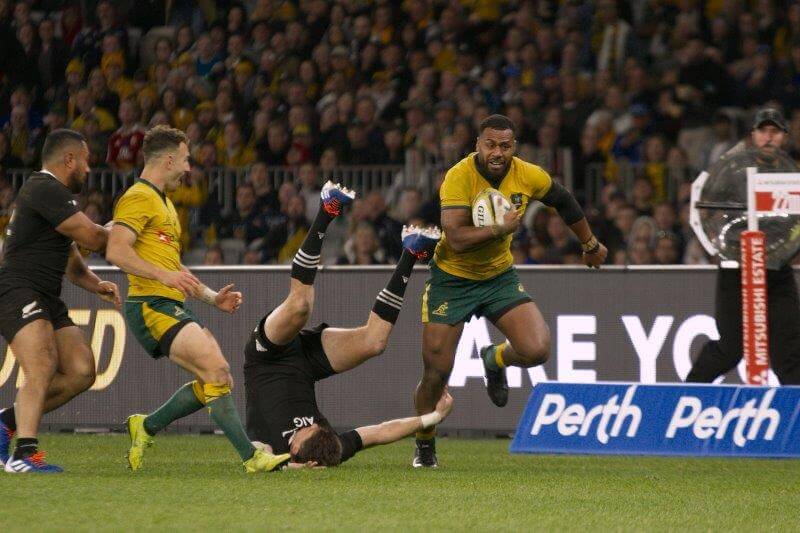 Monday's Rugby News is hyped up about the Wallabies win, marvelling at the class of the Black Ferns, breaking down the contentious red carding of Scott Barrett and looking at rugby around the country (and pacific) as it reaches finals time.
---
What A Performance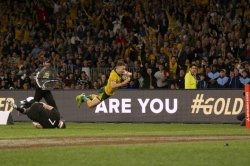 The Wallabies have produced one of the best performances in recent memories, defeating the All Blacks 47-26 in a match that I'm still trying to figure out whether I dreamt it.
They would run in six tries to four to record their largest win in Bledisloe history and the highest points scored against the All Blacks in their 116-year existence.
The All Blacks would be left licking their wounds after losing Scott Barrett right before halftime after he was red-carded (we'll get to that) followed by brother Beauden, who's still lodged in the surface of Optus Stadium after being Lomu'd by Samu Kerevi.
The win will ensure a new number one with Pool brothers Wales leapfrogging the Kiwis into first place for the first time in the nation's history, which lasted a solid 28 hour period before they were thumped by England 33-19.
For a more in-depth discussion, check out Brendon's review of the game along with Nick's player ratings for the first game (Credit for showing restraint and not giving everyone 10, because that's what I would've done)
Whilst fans and writers alike are currently pumping the tyres of the squad after the win, coach Michael Cheika looked to keep lids on the celebrations, reaffirming that all it did was get them to Fortess Eden with the series still alive.
"A few things went our way but I was really pleased for the lads," Cheika said in the post-match press conference.
"They have been working really hard.
"I know we are all pumped and everything like that but all we have done is bought a ticket to Auckland.
"That's what we did. Great atmosphere and great for the players to get a win but in the bigger scheme of things, we have got ourselves a ticket to go there and take the opportunity that is going to be given to us."
The win gives the Wallabies second place in the Rugby Championship after the Springboks pumped Argentina 46-13 in Buenos Aires.
Handre Polland was a one-man wrecking machine, scoring 31 points in the win to give them their first championship since 2009, back when it was in it's old Tri-Nations format.
Too Good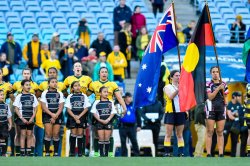 The Black Ferns have shown why they are the premier team in women's rugby, dominating the Wallaroos 47-10 at Optus Stadium.
The contest would break the record for the highest attended match for women's rugby, with 30,142 turning up for the occassion.
They would get out to an electric start, scoring four answered tries to kick away to a 22-0 lead at halftime, leaving the Aussies shell-shocked.
The Wallaroos would eventually find some composure and fight back, with a double to flyer Lori Cramer getting them back into the game.
However, the Black Ferns would ultimately be too strong, recording two more tries in the closing moments to seal their 18th consecutive win over the Wallaroos.
Coach Daniel Nestor was disappointed with the effort put in by his side, critical of their inability to tackle and maintain possession.
"I think we allowed ourselves to get bullied [in the] the tackle contest. We had way too many balls stripped from us. We didn't nail our tackles, we spoke about sticking our tackles and it just didn't happen," Nestor said.
"One-on-one, it's a contact sport. You've got to go and whack someone and we didn't do that."
Captain Grace Hamilton echoed Nestor's thoughts, believing that the performance would act as the perfect motivator for next week's rematch at Eden Park.
"It's disappointing but for us I think the biggest thing is we learn from this and we fire into next week," Hamilton said.
"Defensively we didn't value the ball enough when we had it and we turned it over easily. That is something we need to work on. We need to value that ball because that is the way we get momentum. We played into their hands."
Barrett Banished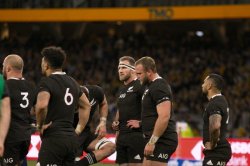 The main talking point from the game on Saturday night was the red card of lock Scott Barrett.
Barrett was sent off by French referee Jerome Garces after making contact with the head of Michael Hooper with his shoulder as the All Blacks were defending their line.
All Blacks coach Steve Hansen refused to comment on the incident after the game, believing that the All Blacks lack of composure after being reduced to 14 men was the ultimate difference.
"Regardless of whether I was happy (with the explanation) or not, it was his decision to make and he made it and now we go to a process and we will have to live with it. We have to go away and have a good look at the video," Hansen said.
"Our discipline was poor. We missed 20 tackles out of 90 in the first half. We didn't get ourselves away to a good start. We double piggy-backed them into the red card and we were offside when we didn't need to be. They're all things we have to go away and fix up.
Brother Beauden looked to defend him after the game, stating that he's not a dirty player despite the ugly hit.
"Obviously he's really disappointed and he's carrying a lot of responsibility on his shoulders at the moment," B Barrett said.
"But these things happen so we've just got to get around him.
"I reminded him that he's not a dirty player and he realises that, too.
"He's just disappointed in himself and he's taking responsibility but these things can happen especially when you're defending close to the line and players do get in a low position."
The younger Barrett found an unlikely ally in Wallabies coach Michael Cheika, who was disappointed in the decision to send him off.
"I love to play the game tough, right," Cheika said when asked for his thoughts on the red.
"It's disappointing, for me, that a player gets sent off like that but referees have been given guidelines.
"He went through the guidelines exactly how he needed to and he made the decision that he was required to make.
"So I'm sort of torn, both sides.
"They went through the regulations and got what should have happened, but I feel for the opposition player as well."
Rugby Wrap-up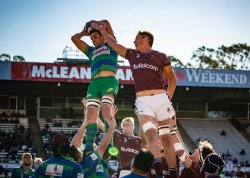 We start in the Pacific for the final round of the Pacific Nations Cup, where World Cup host Japan clinched the title with a 34-20 win over the United States. Japan was led from the front by captain Michael Leitch, who scored a double to secure the title for the cherry blossoms for the 3rd time and first since 2014.
In other results from the Nations Cup, Fiji held off rivals Samoa 10-3 thanks to a Vereniki Goneva try whilst Tonga posted their first win of the tournament with a 33-22 win over Canada.
Back to clubland, the first week of the Shute Shield finals saw Sydney Uni gain revenge over Manly with a 47-31, Eastwood reversed last week's fortunes with a 24-21 win over Easts and Warringah overcame Norths 24-7 in a rematch of the 2017 Grand Final.
In the Hospital Challenge Cup in Brisbane, Queensland Uni secured their spot in the Grand Final for the fourth straight time with a 34-14 win over reigning premiers GPS, gaining revenge from last year's final. They will face minor premiers Brothers at Ballymore next week.
In the nation's capital, the Vikings held off a gallant Uni-Norths 34-31, with the minor premiers set to meet Canberra Royals in the final with vengeance on their mind after their semi final loss last week.
Moving down to Victoria, the first week of the Dewar Shield finals saw Melbourne move into the Grand Final with a 12-0 over Harlequins, who will play Box Hill in the preliminary semi after they eliminated Melbourne Uni 28-15.
In the Coopers Premier, Burnside held off Souths 24-12, Port Adelaide outgunned Onkaparinga 36-33, Elizabeth finally got rid of their duck egg with a 57-25 win over Barossa, Adelaide Uni held off Woodville 29-20 and Brighton and Old Collegians could not be split, drawing 27-all in a top of the table thriller.
After that weekend we have, it would be wrong of me not the remind you of the tantalising opportunity that is coming up next week to pick the brains of the Director of Rugby, Scott Johnson. Johnson will talk at Rugby 1st 'Currency of Rugby' event, which will be held at the City Tattersalls Club, Sydney on Monday 19th August.
This will be a perfect opportunity to ask questions about how the Wallabies are progressing and hopefully, he will give money can't buy insights regarding how the Bledisloe Cup was re-gained and the curse of Eden Park was broken (a man can dream, let me have it).
For more details about the event and the wonderful work that Rugby 1st does, read my story from last week and please check out the link