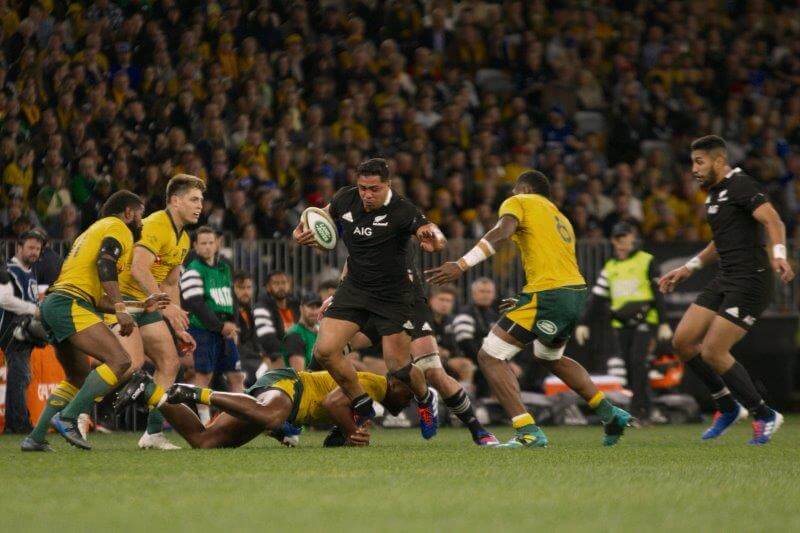 Monday's Rugby News picks up the scraps from disappointing losses for both national teams, looks at two key re-signings for the Reds and recaps a new world number 1 and a pair of club rugby grand finals in the rugby wrap.
---
Black Out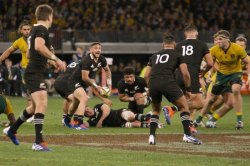 'The fact that the All Blacks have had three sub-par games has me waiting for that big statement performance and with the Bledisloe Cup in danger, this seems like the perfect stage for it'
I wrote this in the preview for the second Bledisloe match and they certainly delivered this in spades.
The All Blacks reminded everyone why they are the defending World Cup champions, mauling the Wallabies 36-0 at Eden Park.
The Wallabies were wasteful in attack during the first half with two missed penalty kicks and a dropped ball by Reece Hodge allowing Richie Mo'unga and the All Blacks to race out to a 10-0 lead after 30 minutes.
From this moment they wouldn't look back, racing in four more tries to retain the Bledisloe Cup for the 17th straight time.
For a full recap of the game, check out Ben's excellent review of the game.
Wallabies coach Michael Cheika was disappointed by the performance put in by his side, however, he was still positive about the side's progress over the past 12 months.
"Confidence won't be dented but disappointment is there," he said.
"But regardless, we've improved a lot since '18 – on the field and off the field – and we have to take it on the chin.
"If you'd asked me how I was feeling yesterday or before the game, I was feeling really good about the improvements we'd made.
"And as terribly disappointed as I am about the game, I'm not going to throw them away, I'm going to put them into context."
All Blacks coach Steve Hansen showed his respect for the Wallabies after the series, revealing them to be his pick to win the World Cup if the All Blacks can't complete the three-peat.
"Both teams are very talented teams and both teams will go to the World Cup with big chances of winning it, I think," Hansen said.
"Whilst we have some fierce battles and so forth, we do enjoy them, they're good men and they're very similar to ourselves.
"So if we can't win it we'd like them to."
(O')Reilly, Reilly Good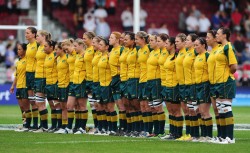 The Black Ferns have completed the clean sweep over the Wallaroos with a 37-8 win to secure the Laurie O'Reilly Memorial Trophy.
They would run in five tries to one to maintain their perfect record over the Australians to further cement their claim as one of the best teams in international sport.
Black Ferns flyhalf Ruahei Demant went over virtually untouched after four minutes to open the scoring, leaving many Wallaroos fans to fear a repeat of last week.
Despite immense pressure on their line, the Aussies would hang tough, with a brilliant run from Mahalia Murphy putting the game on near-even terms.
Lock Eloise Blackwell would extend the lead for the Black Ferns, however, Lori Cramer would keep the Aussies in touch with a penalty goal reducing the margin to just nine at halftime.
After the break, it was all New Zealand, with tries to Carla Hohepa and a pair of Charmaine's (McMenamin and Smith) securing the result.
Despite the drubbing, coach Daniel Nestor was proud of the intensity and fight that his side showed to limit the result.
"I'm actually pretty proud of the girls because we didn't get bullied this week, there's probably just some one-percenters that we've got to get better at and we've got the opportunity to work on that next year," Nestor said.
He believes that the added test program next year will allow the side to continue to grow their skills and confidence.
"The good thing is that we get to play them twice a year (again) next year and that's a great opportunity to play the best," he explained.
"If we want to be up there with the best we've got to play the best.
"The Test match program for next year looks great for us, it's going to give us the opportunity to play the top-five team in the world, so that's where we want to be.
"There's some talent there that's pretty untapped and it's our job as coaches to make sure we get the best out of that talent."
Young Reds (Mc)re-sign
The Reds have continued their quest to tie down their young talent, announcing the re-signing of halfback Tate McDermott and flanker Fraser McReight.
McDermott was one of the shining lights of the Reds season, with many positioning him as a World Cup bolter before we realised how good Nic White was.
"I'm excited to sign for another four years with Queensland — a team I've not only grown up watching but supported my whole life," McDermott said.
"With Brad (Thorn) and his coaching team, we are starting to build something incredibly special, attempting to not only restore the pride but continue the legacy associated with the maroon jersey.
"A big part is repaying the faith that the Reds have shown in me and being part of something enjoyable that is building for big things."
McReight only recently made his debut for his home state this year against the Brumbies in round six, before going on to captain the Junior Wallabies to the Under 20 World Championship grand final, narrowly losing to France.
"I am very excited to have inked a new deal with the Reds that will see me at Ballymore until the end of 2023," McReight said.
"What made this decision very easy for me was we've got a fantastic playing group right now and it will only get better, as each player pushes each other to achieve their best results.
"Having the ability to grow and keep developing with this squad was a huge factor in signing this deal and I can't wait to get stuck in and deliver some great results over the next four years."
Their re-signings were announced on Friday, two days before the pair would line up in the Hospital Challenge Cup (We'll get to that later) for Queensland Uni (McDermott) and Brothers (McReight), with both competitors ready to put state loyalties behind them.
"As soon as we see Fraser anywhere near the ball, all the alarm bells go off," McDermott said about the flanker.
"I think Fraser will be pretty sore if he's anywhere near the ball on Sunday."
"It'd be funny seeing Tate clean out anyone," McReight replied.
"I'd just say everyone expects to be sore after a full-on grand final and a few beers afterwards."
Rugby Wrap
We start the wrap for this week crowning a new number one ranked side with Pool D rivals Wales defeating the old enemy England 13-6 to knock New Zealand off the top spot (despite the fact they haven't beat the All Blacks since 1953).
Winger George North's 34th-minute try secured the win for Wales in the low-scoring contest, marking the first time that they have been at the top of the rankings since the system was introduced in 2003.
Back in Australia, we start in Queensland with the final of the Hospital Challenge Cup, where Queensland Uni claimed their second title in three years with a nail-biting 31-26 victory over minor premiers Brothers at Ballymore. Tate McDermott celebrated his new contract with two tries whilst lock Harry Hockings was named man of the match after his barnstorming performance.
In Canberra for the John I Dent Cup, Canberra Royals narrowly claimed victory over the Tuggeranong Vikings in a thrilling 32-31 win. The Royals were left to sweat it out in the final minute when Joe Langtry was put through a hole and looked certain to score, but the play was called back for a forward pass.
The Shute Shield semi-finals saw a doubleheader at North Sydney Oval where Warringah secured their spot in the grand final for the third straight year with a 22-15 win over Eastwood. They will be gearing up for revenge next week when they take on Sydney Uni in a rematch of last year's decider after they dominated Norths 40-7 at their home ground.
In the Dewar Shield, Box Hill managed to upset Harlequins 23-15 to book their place in the grand final. They will look to secure their first title since 2001 when they take on the minor premiers and reigning champions Melbourne Unicorns next week.
Down in Adelaide, Barossa outgunned Port Adelaide 47-46, Adelaide Uni overcome Elizabeth 35-24, Old Collegians thumped Southern Suburbs 69-14, Brighton secured the minor premiership with a 27-23 over Burnside and Onkaparinga destroyed Woodville 68-0.
Finally, in Perth, the semi-finals of the Premiership Division saw Nedlands hold off UWA 18-10 and Cottesloe defeat Wests 32-25 whilst in the Championship division, Kalamunda outclassed Associates 33-27 and Palmyra shut-out Wanneroo 28-0.