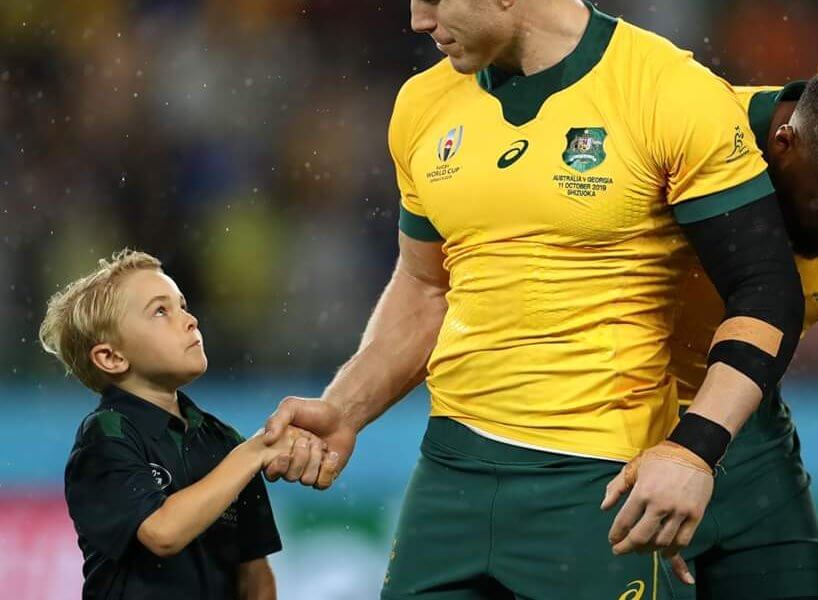 Monday's Rugby News looks at the Wallabies win, the first shots fired by Michael Cheika along with a wrap of the latest rounds of the NRC and Women's Sevens
---
Wallabies inflict Lelos on Georgia
The Wallabies have secured their place in the quarter-finals with a 27-8 win over Georgia.
Both teams struggled in the testing conditions at Shizuoka Stadium, however, it would be the Aussies that crossed first, with halfback Nic White darting over after 25 minutes.
From here, the game would turn into a grinding affair, with the Wallabies choosing Isi Naisarani to give away their customary yellow card for high contact just before the break.
However, they would kick clear in the final 20 minutes, with tries to Korobiete, Dempsey and Genia securing the bonus point victory.
Coach Michael Cheika praised his forward pack after the contest, believing that the way they matched the physicality of the Georgian forwards was positive heading into the knockout stages.
"I thought it was a good challenge and I thought our forwards stepped right up to it to be honest," he said.
"We know how effective the Georgian scrum can be and we handled that pretty well.
"We scored a maul try probably could've done a little bit better on those with a bit more discipline,
"It was always going to be one of those types of nights with he conditions. It was a good hit-out for the forwards, they got a good shift in."
The main concern for the Aussies heading into their likely quarter-final clash against England is the fitness of fullback Kurtley Beale, who was forced off after 15 minutes due to a head injury.
Beale was forced from the field in the first half after Georgia centre Davit Kacharava collected the Australian with his forearm as he was entering the ruck.
Coach Cheika was confident that he could recover in time for next Saturday's match, revealing that he wasn't feeling any side effects of the injury in the dressing room after the match.
"We'll go through the return to play protocols, we've got an eight-day turnaround so plenty of time for all that," Cheika said regarding his fitness.
"He's feeling good in the dressing room right now so that's good, we'll just take it as it comes."
Cheika fires first shot
With the pool stages over, Michael Cheika has turned his attention to his next opponent, England, led by former Randwick teammate and Australian coach Eddie Jones.
England has cruised through the tournament, seemingly unchallenged throughout the first three games before their match against France was called off due to the typhoon.
The cancellation means that England will have had a two week break between games heading into the Australia clash, which Jones believes has provided them with the perfect preparation.
"Of course, everyone is disappointed not to play against France. We put a lot of work, tactical, physical and emotional work, into it," Jones told a news conference.
"We are disappointed, but the situation is a situation that we don't control. World Rugby has made a decision, so we have just got to get on with it now.
"We're not concerned at all, we're excited, absolutely excited. [It's a] great opportunity. Who would have thought we'd have had two relatively easy games, one tough game and then two weeks to prepare for a quarter-final, so someone is smiling on us.
"The typhoon gods, maybe."
These comments haven't escaped his old sparring partner Cheika, who believes that this makes them near morals to win.
"I saw he was saying that that would be an advantage and that the typhoon gods were smiling on them so I suppose they better win," Cheika said post-match.
"They've had the best preparation according to the coach so they better go out there and win if that's the best possible preparation.
"We'll see how we go."
He also rejected any talk about England's recent dominance over Australia, which now stretches to 6 straight wins, believing that it means nothing when it comes to Saturday.
"Well, mate, I don't know what relevance it'll have," he said.
"I don't know if it'll have any, don't really care to be honest if it's got any relevance, because the only relevance is Saturday so that's pretty much about it.
"Doesn't matter all the different things, who's had a week off, who's had a week on, who's been resting, who hasn't.
"It'll all come down to what happens on kick-off."
Sydney Uni thrive in Adelaide
Sydney University has defeated Queensland Uni 19-5 at Graduates Oval in Adelaide to claim round three of the 2019 Aon University Sevens Series.
Sydney Uni left the round one champions scoreless in the first half, crossing twice with Wallaroos Iliseva Batibasaga and Emily Chancellor giving their Sydney side a 14-0 lead.
However, Pleuni Kievit struck first in the second half for Queensland Uni seeing them back in the game before Jakiya Whitfeld broke through the Queensland defence to secure Sydney's victory.
Griffith University claimed the bronze medal following their 17-14 victory of the University of Canberra, capitalising on two yellow cards after losing both Rachel Crothers and Skye Churchill late in the second half.
In a round of tight finishes, Adelaide Uni also defeated the University of Technology Sydney (UTS) 24-21 in one of the days closest matches while a try was the only difference between Bond University and Western Australia Uni in their 24-19 win during the seventh play playoff.
"We are happy for the girls, they worked really hard to get to this point, and they deserved the win," Sydney Uni coach Manuel Posades said post-match.
"Sevens is a game that you never know, we have been in similar positions in previous rounds, and we've lost games by two points and been out of the finals.
"Heading into Canberra we won't be preparing anything new. Instead, we will look for consistency from the girls, and play our style of footy each match."
Sydney Uni captain Olivia White was proud of the effort that the team put in, with the win marking their first series victory in the three-year history of the sevens series.
"We went through undefeated which I think speaks to the quality and depth of our team," White said.
"We've got some fantastic skill with Jakiya Whitfield, one of our young, up and coming talents, we've got some Wallaroos players, which we're very lucky to have.
"But I think those young girls that don't really have a name to them stood up and played a pivotal role in our team. We're a team of 12."
NRC Wrap
The final round of the regular season for the NRC has finished up, throwing up some incredible last-minute thrillers.
We start in Canberra where the Vikings secured a home-final with a narrow 27-19 win over NSW Country.
The Vikings dominated the opening half, racing out to a 27-7 lead thanks to tries from a pair of axed Wallabies in Tom Banks and Pete Samu.
Whilst the Eagles would put a spirited fight up in the second half, the Vikings would hold on to the win to secure second place on the ladder.
This was followed by a trip up the Hume where the Western Force secured top spot after a 57-33 victory over Sydney.
The Force controlled the contest, with doubles to Pama Fou and Byron Ralston securing the convincing win and the minor premiership for the first time in the franchise's history.
The action then headed overseas where the Fijian Drua kept their hopes of back-to-back titles alive with a heart-stopping 26-24 win over Queensland Country.
Country looked certain to win where they were awarded a penalty try after it was deemed that a high tackle on halfback Tate McDermott prevented a certain try.
However, Fiji would score an unbelievable 80th minute try to steal victory and cement their place in the finals.
The regular season was wrapped up with a trip to Brisbane where City held off a rapidly finishing Melbourne Rising 24-21.
Brisbane City looked certain to secure a spot in the finals, marching out to a 24-0 lead after 39 minutes.
However, the Rising would peg back City's lead but the Brisbane boys stood firm, helped by three yellow cards to Brisbane, however they were unable to break the line when it mattered, with a late Hunter Paisami try-saving tackle icing the game.
The crazy finish to the NRC has ensured two tantalising semi-finals next week, with all four teams capable of winning the tournament if they play their best football.
They are as followed:
Saturday 19 October: Western Force v Brisbane City, UWA Rugby Park, Perth, 12.00pm (local time)
Sunday 20 October: Canberra Vikings v Fijian Drua, Viking Park, Canberra, 3.00pm (local time)