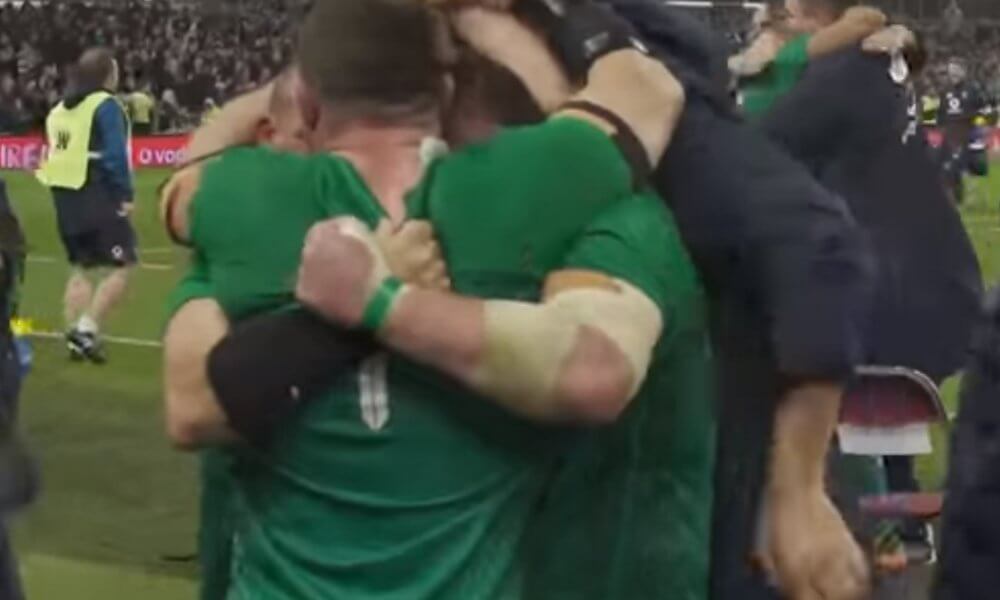 The Wallabies won and the All Blacks lost. Usually it'd be quite a good weekend for a Wallabies supporter, but that Italian match didn't raise any spirits.
Of course GAGR's covered it, in much detail. Here's the match report written by Steve, here's the Italian view, and here's Tuesday's Top 5.
Oh, and Matt and Jamie got together and did a podcast on the topic –
But this column is not really about the Wallabies – or any weird backlines – it's about all the other games going on in November. Without further ado:
Games Last Weekend
Ireland 16 New Zealand 9
What a game! Well, I still haven't watched it but it was great to see Ireland beat the Kiwis again. Will this mean there's a good chance the Kiwis won't kill international rugby dead winning three RWCs in a row?
Post-match, Steve Hansen was quite quick to fake-compliment Ireland calling them the best team in the world. It's funny that this has really thrown a spanner into the works of New Zealand rugby. They've already started blaming the Wallabies.
Here is the flaw with the ABs "dual playmaker" system. Barrett and Mo'unga doing the same job. pic.twitter.com/oaH6MYcZka

— Paul Cully (@paulcullystuff) November 20, 2018
Some of the saner Kiwi talk has been about Beauden Barrett, Richie Mo'unga, and dual playmakers. Paul Cully makes the case for Mo'unga – who's far more of a traditional 10 than Barrett – to start against Italy. Which is sort of what I was thinking watching the England – NZ game – Barrett is a great player but not a great flyhalf.
Other Games
South Africa beat Scotland 26-20 and Argentina were smashed 28-13 by France, in the only other two Tier 1 matches last weekend. It's really hard to track the progress of either team at the moment, but it's safe to say South Africa will be a real threat again next year.
England almost embarrassed themselves against Japan, going into halftime 15-10 behind. A kick up the arse saw them come around as 25-15 winners. Wales meanwhile thumped Tonga 74 – yep that's 10 tries – to 24. Wales put on 50 points in the 2nd half.
Georgia came back from their Italy defeat by overcoming Samoa in Tbilisi, 27-19. Fiji also saw off Uruguay in stunning fashion, beating them 68-7 in some town in Gloucestershire.
Our old pals the Maori All Blacks had a fine old time on their holiday, spending 80 minutes putting 73 points on Chile with no reply.
World Cup Qualifying
Canada's all but confirmed their place at next year's World Cup after beating Germany 29-10, with an bonus point. Hong Kong saw off Kenya 42-17. With Canada on 10 points, both Kenya and Germany are eliminated from qualifying.
Games This Weekend
England vs Australia – Game O' The Week
Cheika, my son, you must be England to keep your job. You have lost to them 5 times in a row. What will you do? Will you a) set up and choose a team that will play a cohesive, smart style of rugby that won't play into the hands of the English or b) will you just keep doing what you've always been doing and lose against the biggest rivals in the stupidest way possible?
He's gonna choose b) isn't he?
Wales vs South Africa
Wales finally get to play a tough opponent in South Africa this weekend. It'll be a test match that will test if either side can match it with the elite two or Ireland and New Zealand. Both sides – throw in England too – have been the biggest improves this year. Funny how in a space of two years that this can be the worst fixture between Tier 1 sides to one of the most interesting.
Other Big Games
Italy will play New Zealand, and Scotland will play Argentina this weekend as well.
France is playing Fiji while Georgia will try to double-down on its credentials as best of the rest against Tonga. Ireland will be playing against the fake Irish, the United States. Bit of a comedown from last week hey.
For some reason Japan is playing Russia in Gloucestershire, and Samoa will be catching the train to Spain. The result of that could be interesting to catch up on as Spain has been rapidly improving its rugby, beating World Cup qualifiers Namibia last weekend.
World Cup Qualifying
Canada is playing Honkers for a place in the RWC. To qualify, Canada just has to not lose and give Hong Kong a try bonus point. Which means that Hong Kong has to basically do everything to qualify. Kenya and Germany meanwhile will play out for pride.
The winner will get to play with New Zealand, South Africa, Italy and Namibia.
Interesting Other Stuff
Gold Medal-winning former Fiji coach Ben Ryan had a rather interesting interview in the Guardian, to discuss his thoughts on the decline of World Rugby. Roughly, in his view, World Rugby isn't really doing enough to spread the love and money around the smaller nations.
"Central to it all, he believes, is the selfish decision-making of certain stakeholders which is steering the global game into deeply worrying territory," writes the Guardian's Robert Kitson. Hmm sounds awfully familiar.
Vice-president of World Rugby and rugby revolutionist Agustin Pichot posted a provocative tweet yesterday, showing percentages of foreign-born players playing for each rugby team. Argentina and South Africa are at the bottom with 0%, while Scotland and Japan are at the top with 46.3% and 37.1% respectively.
It's easy to see what angle Pichot is getting at, but this tweet is too simplistic to really say anything. In fact it's so open, one could easily conclude that no one wants to immigrate to Argentina or South Africa because they're crime-infested corrupt sh*tholes.
Here's the tweet:
Jugadores No nacidos en sus paises/ Foreign-born players en Noviembre

46.3%

37.1%

29.7%

29.4%

27.7%

☘ 26.1%

24.3%

12.9%

12.5%

& 0%

— agustin pichot (@AP9_) November 20, 2018
Annnnnd to round things off, here's a classic All Blacks invisibility cloak moment. No penalty nor card was issued. Take a look –
Just a penalty says Barnes.#IREvNZL pic.twitter.com/GoK9MjMQ6T

— rugby (@theblitzdefence) November 17, 2018
Main Fixtures
NSW/Vic/ACT/Tas
SA
Qld
NT
WA
Georgia
Tonga
1am
1230am
12am
1130pm
10pm
Italy
New Zealand
1am
1230am
12am
1130pm
10pm
Scotland
Argentina
130am
1am
1230am
12am
1030pm
Spain
Samoa
145am
115am
1245am
1215am
1045pm
England
Australia
2am
130am
1am
1230am
11am
Wales
South Africa
420am
350am
320am
250am
120am
Ireland
USA
530am
5am
430am
4am
230am
France
Fiji
7am
630am
6am
530am
4am