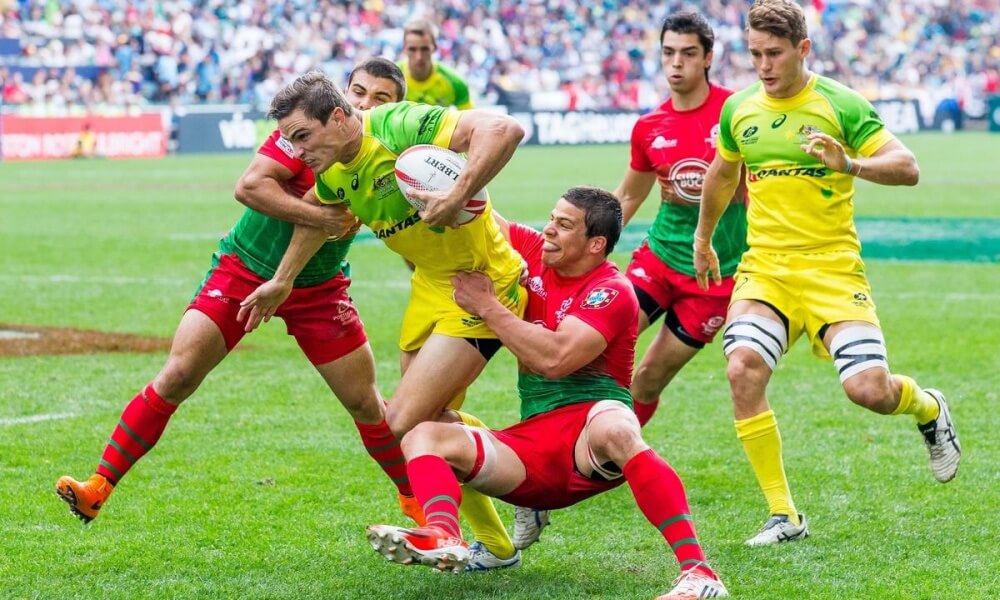 The third leg of the HSBC World Rugby Sevens Series kicks off this weekend, almost seven weeks since the last event wrapped up in Cape Town. The extended break over Christmas has enabled some teams to review and refresh before the hectic run home. For our struggling men's team, this approach was necessary yet we can expect a torrid time in Wellington this weekend.
Season so far:
South Africa lead the way so far in season 2016/17 having finished runners up to Fiji last year. They took home the chocolates in the opening tournament of the year in Dubai, before falling to a much improved England in their home tournament final at Cape Town. The traditional powerhouses of Fiji and New Zealand are both finding their way with new coaches following the respective departures of iconic leads Ben Ryan and Sir Gordon Tietjens. Fiji still managed to finish runners up in Round 1, while New Zealand currently sits below the surprise packets of Scotland, who are in 4th place.
As for the Aussies, they are down in 7th despite an encouraging first tournament in Dubai where they finished 5th. There they topped their pool and defeated both New Zealand and Scotland after they got knocked out of the Cup tournament. They were not able to back up in Cape Town however where they finished third in their pool, unable to cope with the USA and South Africa before they were knocked out by Argentina in the Semi-Finals of the Challenge trophy.
Our Squad:
1. Henry Hutchison, Club: Randwick NSW
2. Tom Kingston, Club: Sydney University NSW
3. Sam Myers, Club: North Sydney NSW
4. Alex Gibbon, Club: Souths QLD
5. James Stannard, Club: Souths QLD
6. Tate McDermott*, Club: University of Queensland QLD
7. Boyd Killingworth, Club: Warringah NSW
8. Dylan Pietsch*, Club: Randwick NSW
9. Tim Anstee, Club: Eastwood NSW
10. Michael Adams, Club: Warringah NSW
11. Charlie Taylor, Club: Warringah NSW
12. Conor Mitchell, Club: University of Queensland QLD
13th man – Simon Kennewell, Club: Randwick NSW
*denotes uncapped
The Australian team has been struck a significant blow with the unavailability of key players Ed Jenkins and Jesse Parahi. The physicality of these player, a cornerstone on which the men's team play their game, is a cruel blow to this struggling team.
The squad for Wellington includes two debutants in the form of teenage schoolboy prodigies Pietsch and McDermott. It's a massive ask for the rookies to expect them to help turn the tide of this Australian 7s season, but what an opportunity it is for these two exciting talents.  Pietsch is a skillfull and speedy backrower from the NSW schoolboy system while McDermott is a smart and nippy scrumhalf from the Sunshine Coast of Queensland.  Like every star schoolboy these days, there's high quality youtube 'career' highlights readily available.
Who to watch?
Sam Myers is in career best form this year and has been an attacking force for the Aussies so far. His leadership is crucial given the losses of Jenkins and Parahi on top of Lewis Holland earlier in the season. Henry Hutchison remains a dynamic presence on the park despite seemingly being used closer to the action while Alex Gibbon provides another dose of much needed pace in the green and gold jersey.
Our Pool:
I reckon we can safely use the 'cliche du jour' with this one. This is a definite 'Pool of Death', although it must be acknowledged that the tournament's continued development means the competition in most pools is increasing in difficulty. Regardless, facing the Olympic and World Champions, together with the series leaders is pretty tough. Throw in Japan who were fantastic in Rio, and this is a big ask for the inexperienced Aussies.
Saturday 28 January games:
Australia v Fiji, Pool B, 9.46am AEDT
Australia v South Africa, Pool B, 1.33pm AEDT
Australia v Japan, Pool B, 4.52pm AEDT
Our chances:
I don't want to be too harsh, but it's hard to see us getting out of our pool and into the Cup Qualifiers. The chance to claim the 5th placed trophy is perhaps still a stretch but should be the target assuming the matches go as expected on the first day.