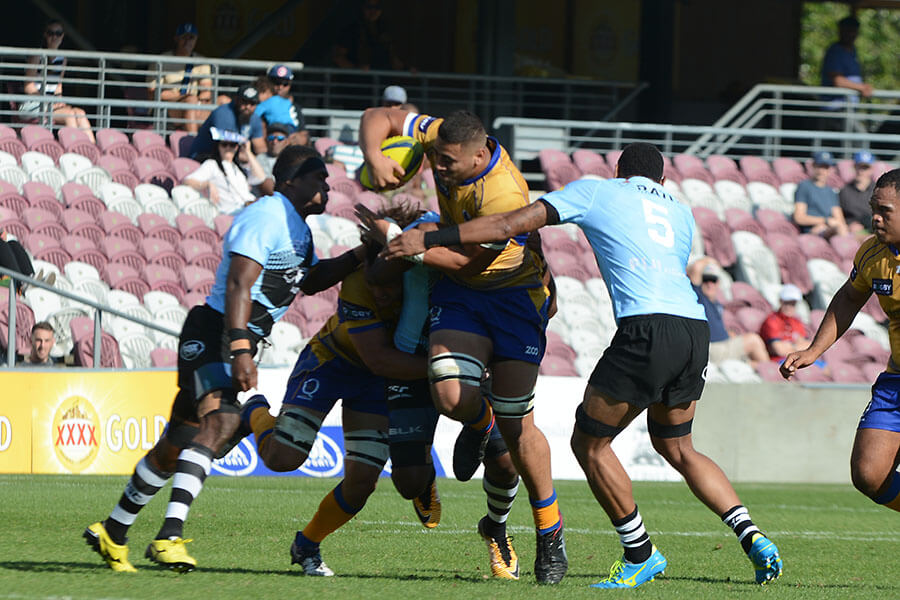 NRC Round 1 had it all. A new Fijian team; a 20 week suspension; upset wins; trophies changing hands; Club players starring; test players starring; 47 tries and, would you believe, five penalty goals!
Round 2 provides the NSW Country Eagles a bye and a chance to lick their wounds following an upset loss to the Greater Sydney Rams. It was all very reminiscent to the loss they inflicted on Brisbane City in the first round last year. Another Sydney team, the Rays, will make their debut following a first round bye and host a mega day of rugby out at Macquarie University. With a local derby up in Queensland and the Spirit flying cross country to take on Canberra, there's plenty to look forward in Round 2, so let's take a look.
Queensland Country v Brisbane City (Streamed via foxsports.com.au/live)
Saturday 9 September at Noosa Rugby Club (Noosa). Kick-off 1:00pm (local time)
Reasons not the miss the match:
Noosa Rugby Club is one of the stand out regional rugby clubs in Queensland and a NRC match at their ground is long overdue. The Dolphins have hosted All Blacks and British and Irish Lions training as well as the awesome annual Noosa International 7s. Fresh off the back of a massive crowd at their Grand Final last weekend, the Dolphins can run a rugby event so anyone in the vicinity should be sure they get themselves to the game on Saturday.
Junior Laloifi became the Brisbane City darling (aka Ballymore Kid; aka Fresh Prince of Ballymore) after some electric performances over the last few NRC seasons. We haven't sighted Junior yet, but there may well be a new Prince in town. Ed Fiddow made his debut last weekend against Fiji and lit up Ballymore with three brilliant tries. Unfortunately for Australian Rugby, Fiddow is linked to Samoa via Sevens, but it won't stop us loving his work.
The consistent message we have been told about Brad Thorn and his coaching approach are his high expectations around performance. Well this match should show us how he handled another disappointing loss for Country last weekend. The boys in blue were overrun by the Vikings in Canberra after looking a good bet to close out the match. While big bad Brad won't be satisfied with the loss he can at least take some pleasure in his team's defensive effectiveness where QLD Country topped the tackle completion stats.
Queensland Country:
1 Sef Fa'agase, 2 Alex Mafi, 3 Taniela Tupou, 4 Izack Rodda, 5 Harry Hockings, 6 Angus Scott-Young, 7 Liam Wright, 8 Caleb Timu, 9 James Tuttle, 10 Hamish Stewart, 11 Eto Nabuli, 12 Duncan Paia'aua [C], 13 Chris Feauai-Sautia, 14 Izaia Perese, 15 Patrick James
16 Alex Casey, 17 Richie Asiata, 18 Fred Burke , 19 Angus Blyth, 20 Tai Ford, 21 Tate McDermott, 22 Teti Tela, 23 Jock Campbell
Brisbane City:
1 Laione Mulikihaamea, 2 Andrew Ready [C], 3 Sam Talakai, 4 Dan Gorman, 5 Lukhan Tui, 6 Radike Samo, 7 Michael Gunn, 8 Reece Hewat, 9 Moses Sorovi, 10 Alex Horan, 11 Ed Fidow, 12 AJ Alatimu, 13 Maaloga Konelio, 14 Chris Kuridrani, 15 Jayden Ngamanu
16 Maile Ngauamo, 17 Markus Vanzati, 18 Feao Fotuaika, 19 Michael Richards, 20 Adam Korcyzk, 21 Pat Morrey, 22 Issak Fines-Leleiwasa, 23 Henry Taefu
Tip: I'm tipping the upset here and QLD Country to win their first Andy Purcell Cup. Country by 6
Melbourne Rising v Fiji Drua (Live on Fox Sports)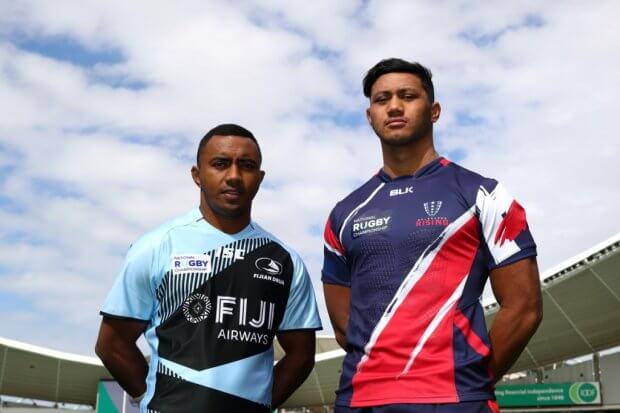 Saturday 9 September at Harlequin Oval (Melbourne). Kick-off 3:00pm (local time)
Reasons not the miss the match:
Fiji confirmed last weekend at Ballymore that their introduction to the NRC is brilliant for the competition. Perhaps we've come to be complacent around the style of rugby that Fijian teams play but it was a wonderful reminder of the skill and speed they play the game with. The biting incident aside, their on-field showing was full of potential. Off the field the Fijians brought just as much. Their fans are true fans of the game. Passionate supporters, the Drua are a rare opportunity for the Aussie based ex-pats to support their nation in Australia.
While the Perth Spirit made a fairly strong statement with an excellent first half of rugby with their Super Rugby quality team last weekend, the Melbourne Rising made perhaps a more subtle statement. For the Melbournians it was a bunch of 'no-name' kids who stood up in the second half and put a scare through the Perth team. Lead by the 'veteran' Sione Tuipulotu alongside the Jacks McGregor and Maddocks in the backline, and a monster pack of physical and skilful youngsters, this Melbourne team has plenty of hope around it for the rest of the NRC – and for Super Rugby next year.
Drua fullback Peceli Nacebe made a fairly strong statement of his abilities, to an unknowing crowd, early on in last week's debut encounter with Brisbane City. Two run away tries were enough to showcase his lightning speed and wonderful support lines as the Drua put Brisbane under early pressure, This week Nacebe has been moved into flyhalf meaning that his space will be less but his opportunities should be more. Keep an eye out Rising!
Melbourne Rising:
Rory O'Connor, 2. James Hanson, 3. Toby Smith, 4. Steve Cummins, 5. Emmanuel Latu-Meafou, 6. Ikapote Tapai, 7. Mahe Vailanu, 8. Sione Taufa, 9. Nic Stirzaker, 10. Jack McGregor, 11. Semisi Tupou, 12. Sione Tuipulotu, 13. Hunter Paisami, 14. Kitione Ratu, 15. Jack Maddocks
16. Siliva Siliva, 17. Tom Moloney, 18. Fereti Sa'aga, 19. Esei Haangana, 20. Lloyd Johansson, 21. Harrison Goddard, 22. Simei Kolio, 23. Angelo Leaupepe
Fiji Drua:
1. Joeli Veitayaki Jnr, 2. Ratu Naisa Nauma, 3. Kalivati Tawake, 4. Peni Naulago, 5. Apisai Tauyavuca, 6. Samu Saqiwa, 7. Mosese Voka, 8. Peni Raidre, 9. Frank Lomani, 10. Peceli Nacebe, 11. Apete Daveta, 12. Eroni Vasiteri, 13. Ifereimi Tovilevu, 14. Eroni Sau, 15. John Stewart [c]
16. Osea Naganilau, 17. Eroni Mawi, 18. Mosese Ducivaki, 19. Sakiusa Nadruku, 20. Filimoni Seru, 21. Seru Cavuilati, 22. Kini Douglas, 23. Cyril Reece
Tip: I think Fiji's first win will come at home with Melbourne taking heart from their efforts last round. Rising by 3
Canberra Vikings v Perth Spirit (Streamed via foxsports.com.au/live)
Sunday 10 September at Viking Park (Canberra). Kick-off 1:00pm (local time)
Reasons not the miss the match:
It's been a massive week for Western Australian Rugby. The glow of an excellent Perth Spirit win on Sunday was soon dulled by the further machinations of ARU v Western Force battles in the courts. Tuesday's announcement in the NSW Supreme Court no doubt shocked the players in an already emotional season. It would seem, as you'd expect, Tuesday night was a rather 'large' night for the team to blow out some frustration. It will be interesting to see whether such a 'bonding exercise' can have the QLD Origin team effect of further bringing them closer against the common enemy, or whether it has the NSW Origin effect of derailing a positive team performance.
On the back of a brilliant 2016 NRC season for QLD Country, Tom Banks picked up some sort of training contract with the Queensland Reds. Soon enough though, the Brumbies swooped and offered him a more permanent squad spot. Soon enough he was starting and it was like the NRC all over again as his Latham-esque play has some suggesting Wallaby selection was imminent. Last week it was just more of the same as his former team struggled to contain him as Banks proved a constant thread on the kick return.
Scrumhalf Michael Ruru has made every post a winner this season. While Ryan Louwrens earned early raves for his play and talk of a Wallaby call up, a season ending injury opened the door for Ruru. The Force never missed a beat and Ruru's form earned similar praise to his predecessor. Having been named captain of the Spirit, Ruru's play was inspired as always last week in Perth as he orchestrated a dominant first half outing against the Rising. His ability to marshal his team equally as effectively this week on a tough road trip will an important development stepping stone.
Canberra Vikings:
1. Harry Lloyd 2. Robbie Abel 3. Les Leuluailii-Makin 4. Blake Enever 5. Sam Carter 6. Ben Hyne 7. Tom Cusack [c] 8. Rob Valetini 9. Pedro Rolando 10. Wharenui Hawera 11. Ben Johnston 12. James Dargaville 13. Andrew Robinson 14. Andrew Muirhead 15. Tom Banks
16. Folau Faingaa 17. Faalelei Sione 18. Joel Penders 19. Angus Allen 20. Lolo Fakaosilea 21. Ryan Lonergan 22. Liam Moseley 23. Len Ikitau
Perth Spirit:
1. Pek Cowan, 2. Anaru Rangi, 3. Baxter King, 4. Richard Arnold, 5. Matt Philip, 6. Onehunga Havili, 7. Kane Koteka, 8. Isi Naisarani, 9. Michael Ruru [c], 10. Jono Lance, 11. Chance Peni, 12. Sheldon Tarawa, 13. Marcel Brache, 14. James Verity-Amm, 15. Brendan Owen
16. Sama Malolo, 17. Mees Erasmus, 18. Beau King, 19. Ben Grant, 20. Tevin Ferris, 21. Michael McDonald, 22. Ian Prior, 23. Clay Uyen
Tip: I'm tipping an inspired Spirit performance – spirited you could say. Perth by 8
Sydney Rays v Greater Sydney Rams (Live on Fox Sports)
Sunday 10 September at Macquarie University (Sydney). Kick-off 3:00pm (local time)
Reasons not the miss the match:
It's going to be a whopping couple of days of rugby at Macquarie University this weekend. Firstly we have the second round of the AON Uni 7s kicking off on Saturday, before it culminates on Sunday with the finals series finishing just prior to the Rays v Rams match. The first round of the 7s produced some wonderful rugby a couple of weeks ago, and more can be expected this weekend. Follow that up with a game between the Rays, who were such an impressive unit last year, and the first round winners, the Rams, and it's enough to make even the most passive fan excited.
This will be the first time this season we get to look at the Sydney Rays. They finished 2016 in second spot but succumbed to a red hot Perth team in the semi final. Like many of the NSW teams, there's been a few changes this season but Hugh Sinclair, from Norths, is back again.  The burly backrower only played two NRC games last year, but stepped up when called up by the Melbourne Rebels this year through injury. A handful of appearances were enough to prove he had potential at that level, and it is now up to him to show that potential even moreso in the NRC.
At a time when Australian Rugby is on the hunt for a composed playmaking flyhalf with a good boot, Mack Mason's performance last weekend was well timed. The young 10 was a significant factor in his team's strong win over the NSW Country Eagles. It's fair to say that Mason benefited from having the experienced head of Josh Holmes inside of him, so Holmes' injury-enforced absence from this week's side will be a challenge for Mason. Will he, with new halves partner Matt Gonzales, be able to be as controlling in his play as last week? It will be a fair judge of his character if he can.
Sydney Rays:                                                 
1. Sio Tatola, 2. Damien Fitzpatrick [c], 3. David Lolohea, 4. Angus Ryan, 5. Dave McDuling, 6. Conor Vest, 7. Tom Connor, 8. Hugh Sinclair, 9. Nick Duffy, 10. Sam Lane, 11. Latu Latunipulu, 12. Rohan Saifoloi, 13. Apo Latunipulu, 14. Paula Belekana, 15. Josh Turner
16. James Hilterbrand, 17. Richie Vaihu, 18. Sonny Satuala, 19. Alex Perez, 20. Bruce Kaino, 21. Jack Grant, 22. Angus Sinclair, 23. Harry Burey
Greater Sydney Rams:
1 Jed Gillespie, 2 Hugh Roach, 3 Rob Lagudi, 4 Adrian Hall, 5 Albert Tuisue, 6 Katoni Ale, 7 David Hickey, 8 Jed Holloway [c], 9 Matt Gonzalez, 10 Mack Mason, 11 Taqele Naiyaravoro, 12 Kevin Fuavao, 13 Denis Piligateau, 14 John Grant, 15 Stu Dunbar
16 Mokani Fuavao, 17 Andrew Tuala, 18 Conor Young, 19 Fergus Lee-Warner, 20 Tevita Piukala, 21 Daniel Calavassy, 22 Jai Ayoub, 23 Ben Cotton
Tip: I think the Rams will continue on their winning way in another local derby. Rams by 10