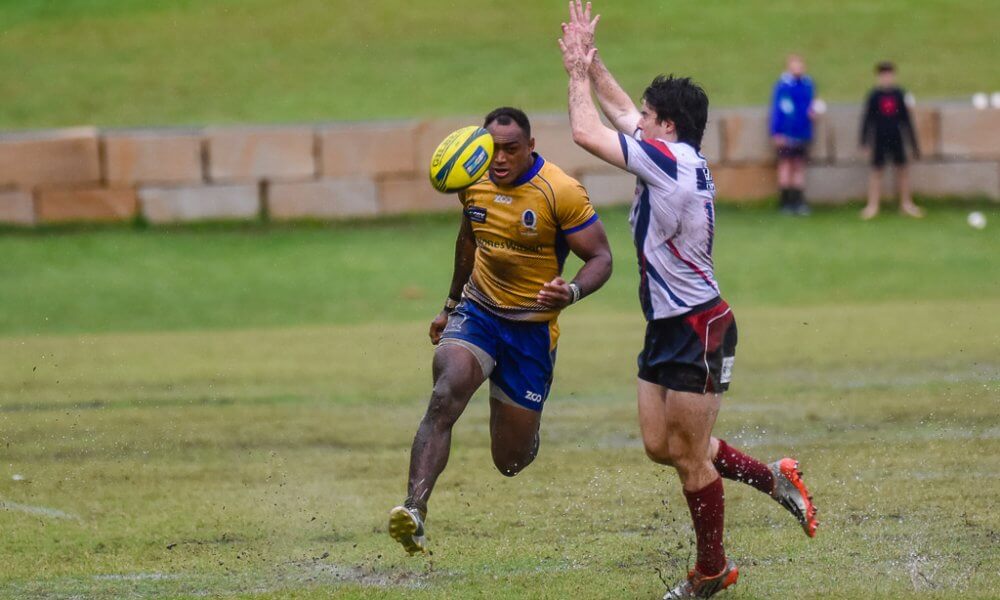 Two rounds to go in the NRC so we are very much at the business end of the season. It's fair to say things are still very much up in the air on any number of levels.  The whole important #1 and #2 spots are still up for someone to claim and is a pretty significant consideration when you think about the travel to and from Fiji.  For others there is still a battle just the make the top four with Brisbane, Perth and the Eagles battling it out for just the one spot.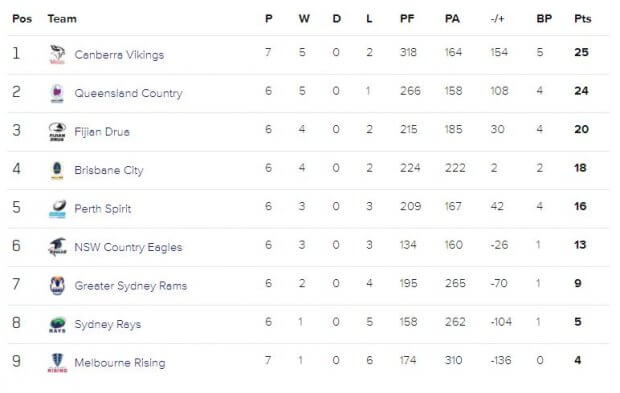 With the Vikings having the draw this weekend all eyes will be in Suva where the Drua host QLD Country.  There are plenty of machinations elsewhere in the round which I try to capture below.  Be aware of the slight change in the usual routine with three games on Saturday and just the one on Sunday.
Finally a recommendation to double check your guides on the kick off times. I'm dealing with far too many time zones to be 100% convinced I've got them right below.
Fiji Drua v Queensland Country (Live on Fox Sports)
Saturday 21 October at ANZ National Stadium (Suva). Kick-off 2:00pm (local time)
Reasons not the miss the match:
The ladder leading Canberra Vikings have the bye this weekend and will surely cosy on down in our nation's capital to watch with interest this battle of 2 v 3. The Drua will be favourites, given their home town strength, but if there's any team that can beat them on the road it would seem to be QLD Country.  If Country do get it, it will be a monumental achievement and give them a huge leg up at the top of the ladder with one round to play.  If the Drua get up it will make the machinations come the last round even more intriguing.
QLD Country have ridden this season on the back of two key men. Brad Thorn as coach and Duncan Paia'aua as captain. There is no doubt that Thorn has been able to bring some excellent rugby out of his young side with Wallabies and club players alike playing fantastic rugby. But at the forefront of it all has been probably the NRC player of the year, Paia'aua. The outstanding inside back has spent the week in Wallaby camp on the Gold Coast and will miss his first Country match of the season making Thorn's role just a little bit tougher. Interestingly the Drua have picked their rampaging winger Apete Daveta at 12 this weekend, perhaps to take advantage of the QLD Country combination in that channel. It will be a true test of QLD's abilities as to how they cover Paia'aua's impact on their performances.
Fiji have proven tough to beat all season (except if you are the Vikings) but they've lifted a level in their two home games. They get to play at Suva again this weekend and the QLD Country team will have their toughest outing in 2017 because of it. Once we get through this weekend the Drua then host the lowly Sydney Rays in the last round which even the most generous punter would concede should be a bonus point win. With the Vikings to play the Rams in the last round and Country taking on a Barbarians depleted Perth Spirit, this game becomes critical as to who will host finals (and who avoids having to travel to Fiji to play them).
Form:
Drua: L – W -W – W – L – W – B
QLD Country:  L – W – B – W – W  – W – W
Fiji Drua:
1. Joeli Veitayaki Jnr, 2. Ratunaisa Nauma, 3. Moese Duckvaki, 4. Mataiasi Ucutabua, 5. Peni Naulago, 6. Filimoni Seru, 7. Mosese Voka, 8. Peni Raidre, 9. Frank Lomani, 10. Alvereti Veitakano , 11. Kitione Taliga, 12. Apete Daveta, 13. John Stewart [c], 14. Eroni Sau, 15. Apisalome Waqatabu
16. Samuela Newa, 17. Eroni Mawi, 18. Moses Gavidi, 19.Apisai Tauyavuca, 20. Vasikali Mudu, 21. Sakiusa Gavidi, 22. Kini Douglas, 23. Cyril Reece
Queensland Country:
1 Sef Fa'agase, 2 Alex Casey, 3, Taniela Tupou 4 Phil Potgieter, 5 Harry Hockings, 6 Angus Scott-Young, 7 Liam Wright [c], 8 Caleb Timu, 9 James Tuttle, 10 Teti Tela, 11 Eto Nabuli, 12 Hamish Stewart, 13 Chris Feauia-Sautia, 14 Filipo Daugunu, 15 Patrick James
16, Richie Asiata 17 James Slipper, 18 Kirwan Sanday, 19, Ted Postal 20 Tai Ford, 21 Tate McDermott, 22 Tony Hunt, 23 Jock Campbell
Tip: I can't tip parochially on this one. Fiji at home should be too strong. Drua by 7
---
Brisbane City v Greater Sydney Rams (Streamed via foxsports.com.au/live)
Saturday 21 October at Ballymore (Brisbane). Kick-off 2:00pm (local time)
Reasons not the miss the match:
Brisbane made a huge statement on the season last weekend with an amazing wet weather performance to thrash the Melbourne Rising. It means the Slickers are in the top 4 with just the two rounds to go and looking at a pretty handy draw where they play two NSW teams outside the top 5 these last two rounds. This week will be critical for the home team, playing back at the spiritual home of Queensland Rugby, as they will be without Quade Cooper and Andrew Ready next week due to Barbarian commitments. With Perth Spirit hot on their heels, City need to pull out another strong win against the Rams to secure their finals position.
Opposing wingers Ed Fidow and Taqele Naiyaravoro currently are sitting two and three on the top run metres list of this year's NERC (behind the outstanding Jack Maddocks from the Rising). It makes for a mouth-watering encounter especially when you consider all the other attacking stats they boast. 1st (Taqele) and 2nd in clean breaks. Fidow is second on the try scorers list. Taqele leads defenders beaten and number of offloads. Whether they face up against each other is yet to be seen, but regardless we are going to see plenty of action on the flank regardless.
It is a fascinating time for Australian Rugby hookers at the moment. With Stephen Moore retiring from the international game this year and still questions around the future of Tatafu Polota-Nau, coach Cheika is looking for the new breed. Tolu Latu is injured so rookies Jordan Uelese and Folau Faingaa have both had Wallaby squad time despite bugger all Super Rugby experience. Where does it leave the more experienced 'young' hookers such as Andrew Ready? Ready's form is slowly getting back to where it was last year, which is perhaps a couple of months later than preferred, but still a good sign. You can be sure he'll be right in the mix of it all this weekend because that's just the way he plays…but also because you just never know how close you are to a Wallaby call up these days.
Form:
Brisbane: W – L- W – B – L – W – W
Rams: W – W – L  – L – B – L – L
Brisbane City:
1 Feao Fotuaika, 2 Andrew Ready [c], 3 Sam Talakai, 4 Dan Gorman, 5 Kane Douglas, 6 Jeremiah Lynch, 7 Michael Gunn, 8 Michael Richards, 9 Nick Frisby, 10 Quade Cooper, 11 Ed Fidow, 12 Karmichael Hunt, 13 Dylan Riley, 14 Chris Kuridrani, 15 Jake Strachan
16 Ryan Freney, 17 Markus Vanzati, 18 Salesi Manu 19 Tevita Ratuva, 20 Pat Morrey, 21 Jack de Guinand, 22 Moses Sorovi, 23 Jayden Ngamanu
Greater Sydney Rams:
1 Jed Gillespie, 2 Andrew Tuala, 3 Rob Lagudi, 4 Albert Tuisue, 5 Adrian Hall, 6 Kelly Meafu, 7 David Hickey, 8 Jed Holloway [c], 9 Dione Spice, 10 Mack Mason, 11 Taqele Naiyaravoro, 12 Kevin Fuavao, 13 Denis Piligateau, 14 Ben Cotton, 15 Cameron Bailey
16 Ed Craig, 17 TBC, 18 Conor Young, 19 Kotoni Ale, 20 Fergus Lee-Warner, 21 Daniel Calavassy, 22 Jai Ayoub, 23 Stuart Dunbar
Tip: Brisbane City to secure edge closer to that finals spot with a win over the Rams by 14. 
---
Perth Spirit v Sydney Rays (Streamed via foxsports.com.au/live)
Sunday 21 October at McGillivray Oval (Perth). Kick-off 2:00pm (local time)
Reasons not the miss the match:
There's no getting around the fact that this has been a very disappointing season for the Rays and their fans after what was a memorable 2016 campaign. They finished the regular season last year in second spot with just the one loss. So far in 2017 they've managed to win just the one game, back in Round 3 against the Rising. Obviously the Rays of this year bare little similarities to the 2016 iteration, both on the coaching and playing roster, while the later finish to the Shute Shield season may have been a factor as well. They were embarrassed last weekend as the Vikings put 70 on them and they run the risk of the same happening again in the next couple of weeks against other one team towns the Perth Spirit and the Fiji Drua. Can they play finals spoilers? It'd take a massive turnaround in performance but stranger things have happened on the rugby field.
The Spirit have had the advantage of allowing their big name players the luxury of playing at home while resting them on the away trips. It's been evident in that Perth are undefeated at home, yet winless away. Without Meakes and Rona this weekend, but welcoming back Ben McCalman, can they continue to thrill the hill at McGillivray Oval? A reshuffle in the backline may cause some concern particularly as the Rays have strengthened their three-quarter line.
Shambeckler Vui to me is one of the most important signings yet to be announced in Australian Rugby. A superb Tight Head Prop prospect, Vui has developed significantly as a player since his time in Perth. Having moved west to seek opportunities, given the Queensland Reds' contracting of Taniela Tupou, it now seems that Vui will need to move again. There seems plenty of props at the Brumbies and Rebels, while Sekope Kepu and Tom Robertson would limit his opportunities at the Tahs. The Reds themselves have lost Sam Talakai but it's tough to see Vui coming back to compete with Tupou. Which leaves overseas? He seems the type of player that a French club would open the check books at if it wasn't for the fact he actually has a contract here until 2019. Hopefully it all resolves itself soon and Sham can move into 2018 secure in his future and ready to solidify himself as a Super Rugby player.
Form:
Perth Spirit – W – L – W – L – W – B – L
Rays:  B – L -W – L – L  – L – L
Rising:  L – L – L – W – L  – L
Perth Spirit:
1. Pek Cowan, 2. Anaru Rangi, 3. Shambeckler Vui, 4.Richie Arnold, 5. Matt Philip, 6. Isi Naisarani, 7. Kane Koteka, 8.Ben McCalman, 9. Michael Ruru [c], 10.Peter Grant, 11. Clay Uyen, 12. Marcel Brache, 13. James Verity-Amm, 14. Chance Peni, 15. Nick Jooste
16. Logan Ede, 17. Baxter King, 18. Kaisa Reidy, 19. Onehunga Havili, 20. Tevin Ferris, 21. Ian Prior, 22. Brendan Owen, 23. Jordan Luke
Sydney Rays:                                              
1. David Lolohea, 2. Damien Fitzpatrick, 3. Alex Westgarth, 4. Connor Vest, 5. Dave McDuling, 6. Alex Perez, 7. Tom Connor, 8. James Brown, 9. Harry Nucifora, 10. Bryce Heagarty, 11. Josh Turner 12. Irae Simone, 13. Apo Latunipulu, 14. Rob Buaserau, 15. Harry Burey
16. Sam Kitchen, 17. Richie Vaihu, 18. Wayne Borsak, 19. Kawaa Leaumu, 20. Angus Ryan, 21.Nick Duffy, 22. Rohan Saifoloi , 23. Kepu Lokotui
Tip: Perth Spirit will continue their home ground run and take it by 22.   
---
Melbourne Rising v NSW Country Eagles (Live on Fox Sports)
Sunday 22 October at Harlequin Oval (Melbourne). Kick-off 2:30pm (local time)
Reasons not the miss the match:
Expect the Rising to go out with a bang this weekend. Having been scheduled the bye in the last round, this will be the last time Melbourne play this season and it probably couldn't come quick enough. They currently sit on the bottom of the ladder but are a chance to get away from there with a win this weekend against the Eagles. With their only wooden spoon 'rivals' the Ray finishing the season with a couple of finals contenders, the Rising can finish on a high and creep their way off the bottom spot with a win this weekend.
Can the Eagles make a late charge to the finals? It seems 'mathematically possible' with a few other results needing to go their way. In the end though the Eagles need to make sure they win both their remaining matches. They'll be quietly confident this weekend with the Rising licking their wounds following their loss to Brisbane City last weekend. After that it's the Eagles' turn to take on Brisbane at 'home' in Orange. Without getting ahead of ourselves, that Brisbane team will be sans Quade and Ready who will be with the Barbarians, as well as quite possibly the likes of Karmichael Hunt, Adam Korczyk, Lukhan Tui and Samu Kerevi in whatever form the Wallabies take that weekend. It's winnable for the Eagles, but again their focus will immediately be on the Rising this weekend.
While the Rising having achieved what they would have wanted as a team this season, there have been a few standout individuals who must give their beleaguered fans some hope. One of the stars in recent weeks has been their powerful backrower Rob Leota.  While the likes of Isi Naisirani, Rob Valetini, Sam Ward and Caleb Timu have perhaps dominated the media and blog chat, Leota has been somewhat overlooked. With some fairly hefty talent in the Melbourne backrow pool next year, and perhaps more to come, Leota may have limited opportunities in Super Rugby. It's a shame because he's shown in this NRC that he has the goods that deserves consideration at a higher level and has definitely compared favourably with the likes of Wallaby Lopeti Timani.
Form:
Rising:  L – L – L – W – L  – L – L
NSW Country: L – B- L – W – W – L – W
Melbourne Rising:
1 Rory O'Connor, 2. Siliva Siliva, 3. Fereti Sa'aga, 4. Alex Toolis, 5. Emmanuael Latu-Meafou, 6. Sione Taufa, 7. Ikapote Tapai, 8. Rob Leota, 9. Nic Stirzaker, 10. Jack McGregor, 11. Henry Hutchison, 12. Lloyd Johansson, 13. Sione Tuipulotu, 14. Kitione Ratu, 15. Jack Maddocks
16. Cameron Mapusua, 17. Tom Moloney, 18. Pone Fa'amausili, 19. Jason Havea, 20. Mahe Vailanu, 21. Harrison Goddard, 22. Hunter Paisami, 23. Angelo Leaupepe
NSW Country Eagles:
1. Paddy Ryan [c], 2. Brandon Paenga-Amosa, 3. Sam Needs, 4. Tom Staniforth, 5. Ryan McCauley, 6. Rohan O'Regan, 7. Maclean Jones, 8. Sam Ward, 9. Jake Gordon, 10. Tayler Adams, 11. Alex Gibbon, 12. Kyle Godwin, 13. Alex Newsome, 14. Seb Wileman, 15. Andrew Kellaway
16. Connal McInerney, 17. Matt Gibbon, 18. Harry Johnson-Holmes, 19. Tim Buchanan, 20. Pat McCutcheon, 21. Rowan Perry, 22. Tom Hill, 23. Henry Clunies-Ross
Tip: The Eagles have more to play for and I suspect Melbourne may have already checked out. Eagles by 6.