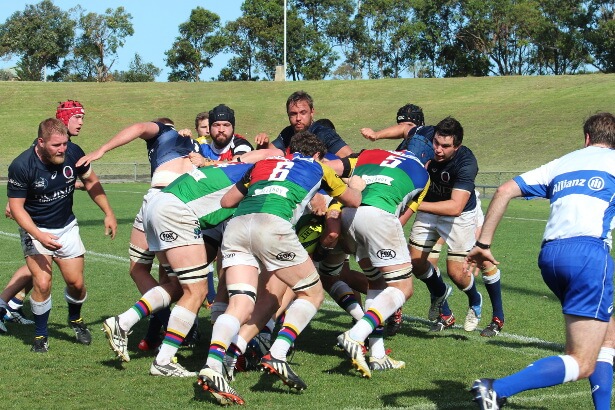 GAGR's Dave Beat went down to Pittwater Rugby park to watch his beloved Rays take on Queensland Country. Here's his review of the NRC match.
---
In what was billed as a psuedo State of Origin of uncontracted players, with neither team fielding a starting Super player, both teams battled it out for the first 10 minutes with plenty of ball movement and some solid hits. After repeated penalties whilst they camped on the Rays line it was Queensland Country that crossed first with Sef Faágase scoring under a pile of bodies off a rolling maul of a line out.
The club combos of the Rays started to gel with the Rats quintet of the Holmes Brothers, Killingworth, Hamish, and Mike Adams playing their up tempo game off broken play. Josh Holmes taking a quick tap on the half way and spinning it wide for Mike Adams to cross for the first of his 2 meat pies
Both teams played great rugby – Queensland Country opting for more a more structured game with their big centre pairing crashing the gain line and being frequently met by the Rays loosies, they picked up two tries by capitalising on the opportunity. The Rays played their up tempo game, giving the ball width with good support with the Holmes brothers picking up a try each and it was a conversion separating the 2 teams at oranges.
After the break they traded tries and the game turned with a strong Rays scrum deep in their own territory earning the penalty, Reece Hodge penalty kick carried the Rays back into Queensland Countrys half were they earned another penalty and then a 40m banana kick by Reece had a Rays lineout 5 meters out, a lovely worked maul and Luke Holmes was over for his second, and the Rays hit the lead for the first time in the match.
Another defensive scrum from the Rays 5 meters out after Queensland Country number 8 James Turner gets held up over the line – replacement prop Rory O'Connor gets one up on tyring Taniela Tupou and earns the penalty and Reece send the ball 40 meters down field. Another infringement and Reece Hodge nails another kick from 50 out for another 5 meter lineout which they didn't convert into points.
Geoff Townsend called the changes with 10 to go, and with Dennis Pili-Gaitau came spark and confidence as he made a number incisive runs. One of them came from a counter attack from their own 40 as he raced down the left flank fending off a number of defenders and throwing a beautiful pass and the ball went through 4 sets of hands with Mike Adams juggling the ball over the line for his second and Hamish converts putting the game out of reach.
Playing with possession and confidence had the Rays backs enjoying the game and Sam Lane putting a cheeky kick through with 5 to go scoring the last meat pay of the next level.

Game changer
The back to back penalties early in the 2nd half which ultimately resulted in Luke Holmes crossing for his second try and giving the Rays the lead for the first time in the match. QLD Country just never came back.

The GAGR MOTM
Harry Bergelin – the rugged backrower was just everywhere – making tackles and supporting his ball runners. Wonderful effort.

OZ Baabaa watch
Basically everyone was a potential Australian Barbarian. Once again the Holmes brothers were outstanding as was the MOM Bergelin. Former Australian Schoolboy backrower and now playing in the centres, Lagi Setu, had a prominent game for Country with a couple of bell ringers in defense.

---
NH Rays: 50

Tries: 7
J. Holmes (2) 15', 21'
L. Holmes (2) 40', 57'
M. Adams (2) 51', 73'
S. Lane 76'

Conv: 5
H. Angus (5/7) 16', 22', 57', 74', 77'

Cards:
n/a


Qld Country: 32

Tries: 4
S. Fa'agase 12'
P. Potgieter 19'
J. Tuttle 36'
C. Magnay 50'

Conv: 4
S. Greene (4/4) 12', 20', 37', 51'

Cards:
n/a

Referee: Ed Martin

Attendance: 800 (approx.)

North Harbour Rays: 1. Mitch Lewis, 2. Luke Holmes (c), 3. Lawrance Hunting, 4. Ruairidh Wilson, 5. Ryan Melrose, 6. Harry Bergelin, 7. Boyd Killingworth. 8. Harry Rorke; 9. Josh Holmes, 10. Sam Lane, 11. John Porch, 12. Reece Hodge, 13. Michael Adams, 14. Tom Hill, 15. Hamish Angus. Reserves: 16. Vance Elliott, 17. Rory O'Connor, 18. Alex Holmes, 19. Cameron Treloar, 20. Mitch Daniel, 21. Tim Donlan, 22. Dennis Pili-Gaitau, 23. Sione Ala. Coach: Geoff Townsend.

Queensland Country: 1. Sef Fa'agase, 2. Alex Mafi, 3. Taniela Tupou, 4. Tyrell Barker, 5. Phil Potgieter, 6. Maclean Jones, 7. Conor Mitchell, 8. James Turner; 9. James Tuttle (c), 10. Dion Taumata, 11. Pierce Fitzgerald, 12. Lagi Setu, 13. Campbell Magnay, 14. Tom Banks, 15. Sam Greene. Reserves: 16. Campbell Wakely, 17. Haydn Hirsimaki, 18. Rueben Leilua, 19. Milton Sikuea, 20. Jack Cornelsen, 21. Harry Nucifora, 22. Mack Mason, 23. Tyrone Lefau. Coach: Jason Gilmore.

---
Photos by Lee Grant