A big stadium, a big crowd and a big game to follow. However that wasn't to detract from the NRC game on show for us today. Canberra Vikings are on the back end of their NRC season which to some has been a little disappointing considering the strength of their roster.
Four regular Brumbies players on the pitch every week and in key positions along with a healthy stud of fringe Brumbies players loading the rest of the team. They just haven't managed to get those W's to see them through to the finals. Brisbane City however started somewhat slowly at the beginning of this tournament only to get stronger as the weeks rolled on. Demolishing teams along the way with a recent victory of over 50.
Returning Reds players and some of the younger players developing quite nicely with some higher level minutes under their belts. This week they would have to make do without Quade Cooper but have enough qualified troops to make amends. Canberra have a solid forward pack and didn't even have room this week for a standout back rower with Tim Cree. A local Brisbane product who would have loved the opportunity to show certain locals that his decision to move south to get his rugby chance proved fruitful with an strong victory over Brisbane.
The first 15 minutes of this game showed how rugby should be played. Fast, open and with stinging defence shutting down promising plays one after the other. However Brisbane is clearly showing their skill and higher intensity. 6 capped Reds players on display are leading the charge and just 15 minutes in, the teams Mr Fixit Jack Mullins earns a try in his first start of the NRC as he takes the ball about 3 metres from the line but is absolutely belted by Sellala Lam who has a reputation in the league for crunching blows in defence.
However Mullins gets over the line and try is neatly converted for an 8 nil lead just 15 minutes in. Jack has played in 5 different backline positions this season so far. Primarily at half back and now starting at inside centre shows some true promise for higher level honours. Just a couple short minutes later some fancy back line moves flowed nicely with some solid platform works by the forwards sees Jake McIntyre go over the line for another 5 pointer. The try goes unconverted and takes Brisbane to a 13 to nil lead just 22 minutes in.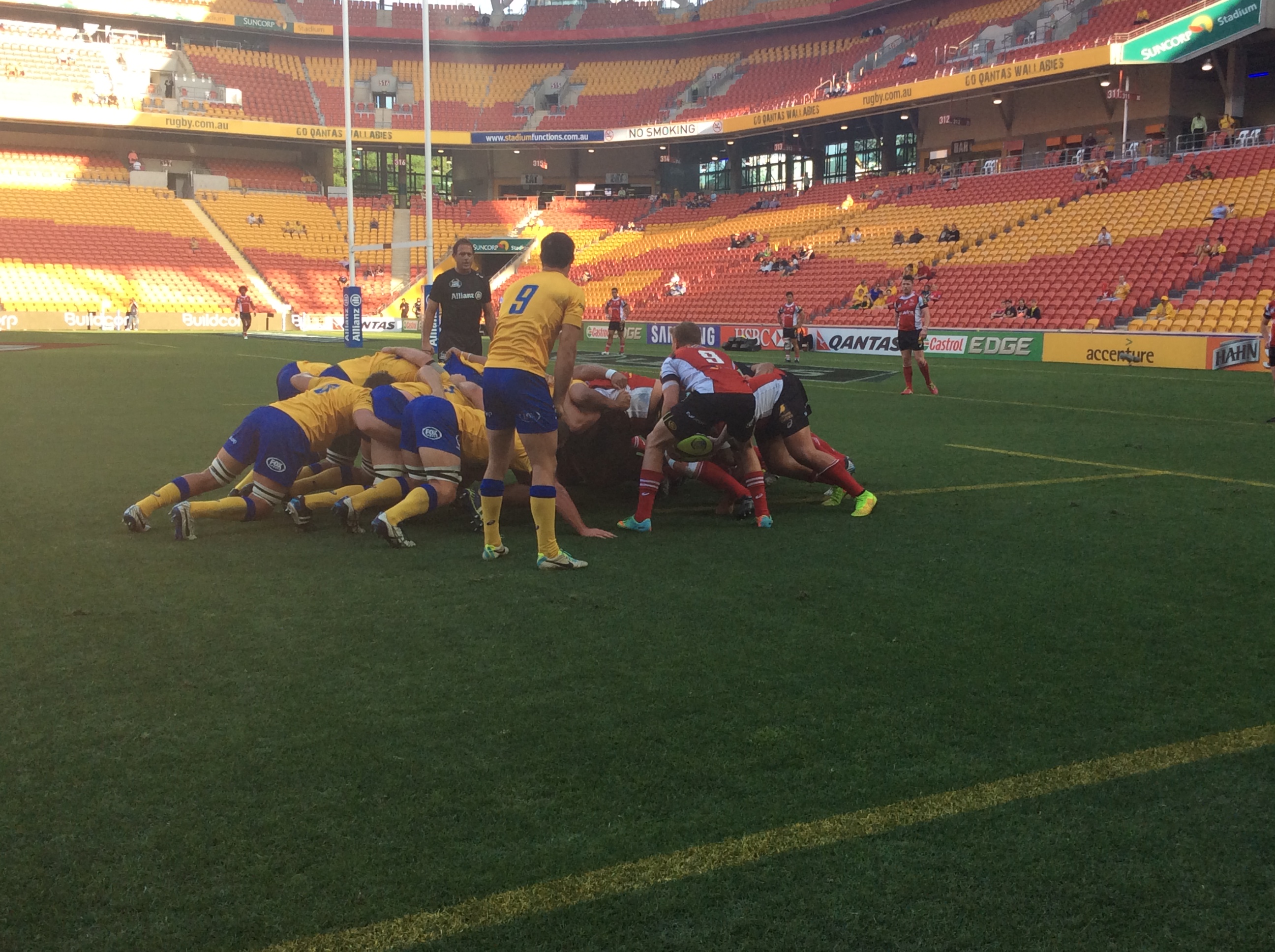 The rest of the half plays out as an arm wrestle with promising phase after phase work from both teams is snuffed out just short of results. The pace has been frenetic and some players walking past me to the change rooms are blowing hard.
Brisbane are first of the change rooms and straight away the change the crowd has been waiting for has happened. Genia on for Frisby at 9. Now not to take away from what Frisby has done this NRC as he has been a key leader and catalyst for what they have achieved but Genia just has something that I can't quite pinpoint.
Players just seem to lift when he comes on and want that short ball or drift just enough to be hit flush on the chest trying to get outside their man. However, his influence for the next 10 is mute as clearly a half time revving from the coach of the Vikings shows a determined Jarrad Butler, a Brisbane product from Easts which we will gladly claim, goes over for a hard working forwards try at the 47th minute mark. That goes converted with Brisbane leading 13 to 8.
Brisbane City now start to lift with Jake Shatz back from Wallabies duty for this one starts dominating with bruising runs and fancy footwork I have not seen from the big man. He rolls over close to the posts for another 5 points to Brisbane at the 54 minute mark and smartly converted to take it to 21 to 8 with just 25 to go.

Canberra really start to show some promise as their forwards begin to take some ascendancy and give a clean platform for Coleman to work some runners two and three wide. Yet, the Brisbane defence which has clearly been watching some game film shuts down this options early leaving Canberra with some head scratching and resulting in some deep kicking for the next few minutes.
Sensing somewhat of an opportunity to close this game out the ball neatly comes the way of Shatz a few phases later again shows that footwork to beat 3 defenders and scores untouched under the posts. Canberra start running at all costs and pack the kicking boots away which results in a neatly worked try for the replacement prop Allan Alaalatoa offering the supporters and staff for Canberra a hint at a comeback. The conversion taking the score to 29 to 18 with just 10 to go.
To no avail as Brisbane roll down the field and with some nicely worked plays the man of the hour, Will Genia strolls over the line in the 79th minute to close out the game for the Brisbane team with the finals clearly in their sites. Brisbane might find it difficult though in the coming finals as its highly likely they will lose Genia, Shatz, Hanson and potentially even Lachie Turner with his return to fitness and form to a travelling Wallabies side bound for the UK this Friday.
Its clear though as the weeks have rolled on that Melbourne Rising are the clear frontrunners for this year's competition. However, with that said, I feel great rugby will be on display and the talent to shine.