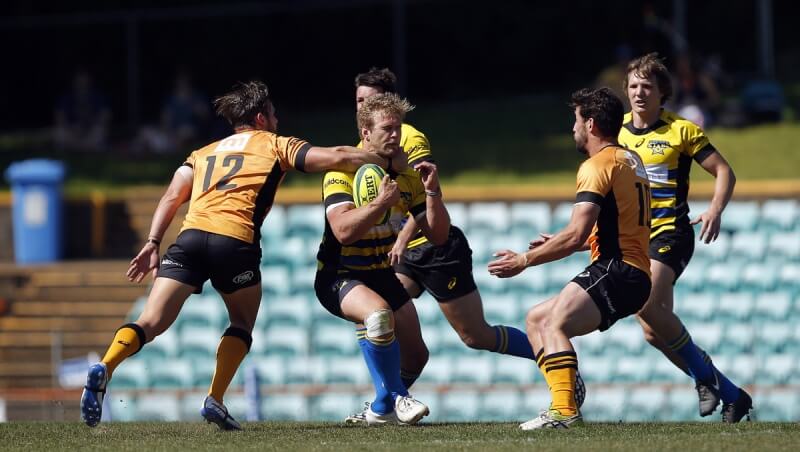 Ross Briggs went along to Chillingworth Oval in Tamworth to see if the NSW Country Eagles could put a stop to the Sydney Stars' impressive early season winning streak. Here is his notes on this NRC Round 4 encounter.
---
In what seemed to be much hotter than the stated 23 degrees Tamworth was given the opportunity to watch a cracking match between the Charles Sturt University NSW County Eagles and the Sydney Stars.
The game started with plenty of possession to the stars. Their scrum was dominant and they put plenty of pressure on the eagles for the first 15 until Jono Lance opened the scoring a try with a dash close to the line. A yellow card to Mitch Whiteley of the Stars gave the Eagles number 13 Charlie Clifton the opportunity to add to the score running off a Lance pop ball. Lance kicked both conversions to stamp his impact on the game early.
The Stars responded with tries to Halfback Jake Gordon and number 8 Whiteley, who scored just before the halftime siren. Score 16-13.
The second half opened with some individual brilliance from Lance with a chip, juggle and regather three quarter length of the field try. Clifton scored his second off a great pass from Eagles number 5 Sam Lousi.
Shortly after, Stars captain Dave Hickey was laid out cold after a meeting with Eagles number 3 Dashville Kuate.
Two quick tries in succession from stars winger Harry Jones narrowed the gap to 29-26.
Hard working Eagles number 8 Sam Figg scored with 9 minutes to go and the score was 37-26. Local boy Andrew Collins was shown a yellow card for a suspected shoulder charge with two minutes thirty to play. He was given a very vocal send off by the crowd…
The Stars used the numbers to put number 8 Whitley in for his second try with a minute and a half to go.
The Eagles held on to beat the visitors 37-31.
Glad I was in the shade watching and having a beer instead of out on the field. Way too hot and the pace was super fast.
The Game Changer
Whilst the Eagles lead for most of the match, the Stars pretty much always stayed within scoring distance. In the end it was the try to Figg with less than 10 minutes to go that provided the home team the gap they needed to feel a little more confident.
The G&GR MOTM
Jono Lance scored two vital tries, including the outstanding individual one early in the 2nd half, and once again kicked very well. It would seem that Jono is finally playing the position he most enjoys and it's showing in his form.
Oz Baabaa watch
Picks for Oz babas would be Mark Baldwin and Sam Figg for the Eagles and Harry Jones for the Stars.
---
The Details
Score & Scorers
NSW Country Eagles 37
Tries: Jono Lance 2, Charlie Clifton 2, Sam Figg
Conversions: Jono Lance 4
Sydney Stars 31
Tries: Jake Gordon, Mitchell Whiteley 2, Harry Jones 2
Conversions: Angus Roberts 2
MATCH HIGHLIGHTS COURTESY OF NRC EXTRA TIME ON FOX SPORTS: