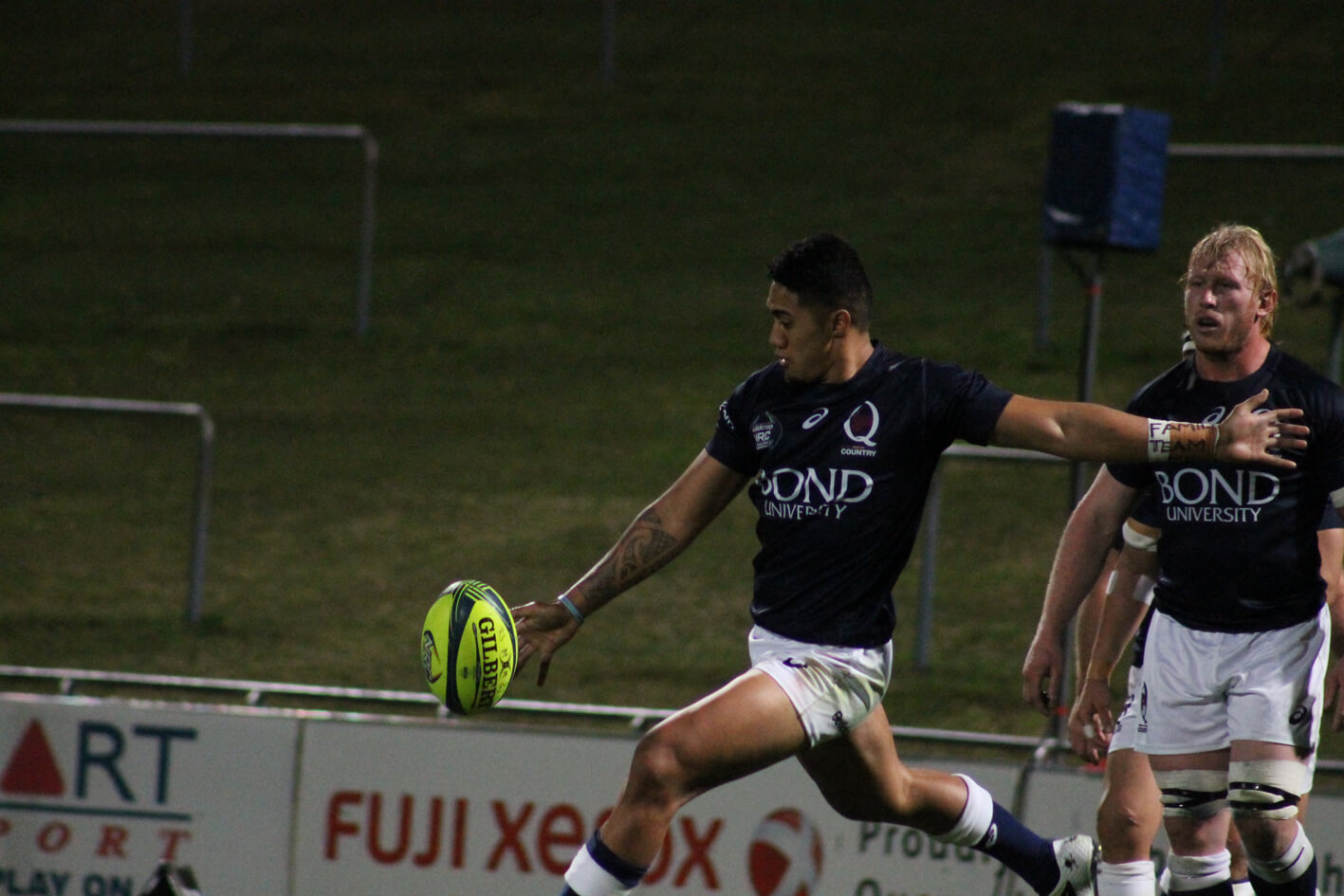 By Patrick
I'm not the first to wonder how to review a Rising match! But as was noted in the comments to the preview, at least with Melbourne you have an Australian team that consistently wins and that shed itself of Beale long ago!
The Match
There were plenty of good passages of play, albeit they were generally short, and some moments of skill, but overall the Rising were never in doubt and there were plenty of moments of park-intensity footy too.
QLD Country ran a good line-out, made some solid defensive hits and had some real spark both through No 9 Sam Harris and No 15 JJT combining down 14 Tom Pincus' wing. They actually looked quite good when they played a conservative game plan based around making metres in tight and then using the width, but inevitably there would be a scrum or a good ruck turnover as some of the Rising outer backs (and big LJ in particular) did some pretty good impressions of George Smith over the ball.
The Rising on the other hand seemed to play a little sporadically, relying on their overwhelming one-on-one advantages to generate momentum and rarely (to my recollection) getting past about five phases. I would really like to see them have started with a few more fringe players on the field and the established players on the bench, and try and generate a bit higher stakes that might have seen a bit more intensity in support running, in particular.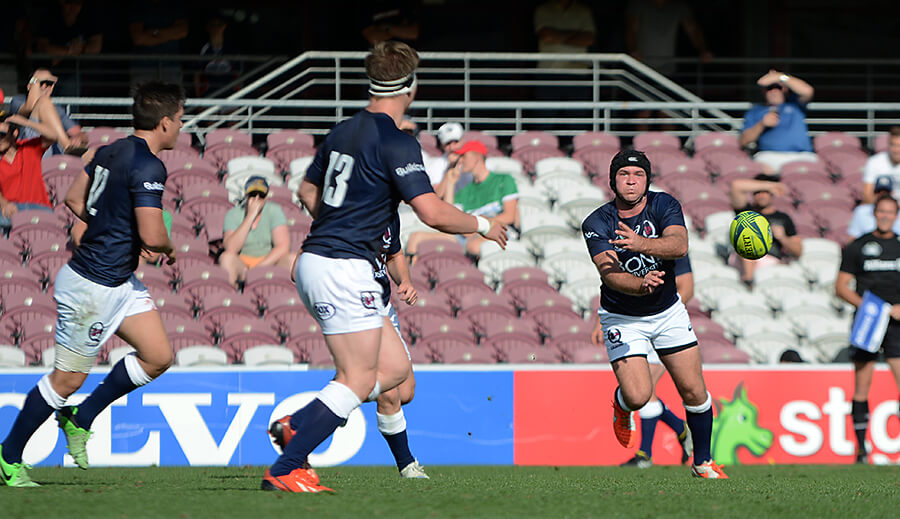 The game started somewhat tentatively, Country had prepped for the Melbourne scrum with an ambitious low-set strategy – too ambitious, and they collapsed, but no-one was really putting together enough continuous play. It was a bit of a drop in energy from the Fiji sevens finals played out earlier which felt like a let down.
I liked the Rising players wearing their Dewar Shield socks, it was really good to see the familiar colours on most of them and maybe they should do that at all home games. If nothing else it helps distinguish them from the other 29 guys running around in dark blue, once again the teams in almost identical strips.
The highlight of the early stages was Rising No 11 Kamana making a good break and offload, which was the start for him a good game, and his opposite number for QLD Pinson doing the same, although he initially appeared more surprised than anything else to find himself receiving the ball in space. Toby Smith (or perhaps Caderyn Neville) driving through almost unopposed in each scrum. The downside was that the scrums were also taking about 90 seconds each to set, or so it seemed – at least with a smidge under 2000 in attendance that was time enough for a dash to the bar!
Melbourne's scrum dominance would have got them over the tryline in these stages except for some strong hits from Country in the midfield and Melbourne runners, like Johannson, making a break and getting isolated, Wallaby-style, regrettably characteristic of Melbourne's relatively sluggish support once the ball went wide all game.
Melbourne finally started to break through with the Stirzaker show, picking up an offload around the Country 10 yards before slipping an un-Wallaby like well-weighted grubber behind the Country defense and following through to be johnny-on-the-spot as his outside backs swarmed over JJT and popped the ball up to him to run over.
The next highlight was a bullet pass to the head by (I think) Melbourne 10 Debreczeni to perhaps Johannson. He (Debreczeni) made good though shortly afterwards by simply slicing through the Country line (I thought this was Rising's second try in a row off a playmaker's second touch, someone check Bob's pulse!). The game looked like breaking open here, but didn't. Melbourne tightened up a bit, with Sean McMahon showing his usual leg drive and core strength, but I was struggling for highlights until, somewhat unexpectedly, Country no 8 and captain Ben Adams scored by running good support off a good break straight through Melbourne's three-quarters. Placid nearly charged down the conversion and probably takes some credit for it missing (he did this all day but the Country kicker adjusted after this one).
Melbourne were finally penalised for pretty lazy breakdowns (Stirzaker sunk into some pretty lamentable meerkating here) and Country 9 Sam Grasso caught them napping. He had a classic half-back's game, a bit like last year's Nick Phibbs but a slower more accurate pass, but just unable to keep up with Stirzaker. Country should have scored but Melbourne turned them over, if you run straight into Johannson he can do a very good George Smith impression it seems. Melbourne then smartened up and some clever play from a set piece saw Debreczeni put Inman in a gap, Timani on hand to charge over from the breakdown and Melbourne led 18-5. Country should have narrowed the gap in the closing minutes when their (ex-Victorian) flanker Guingard found himself deep in the 22, but the first five players in support were all from Melbourne, and that was basically oranges.
The second half Melbourne came out at higher intensity and their first try of the half was an exhibition of running styles: Kamana's pumping leg drive, Caderyn's loping and Debreczeni's gliding. But it was again Stirzaker who scored, Phibbs clearly watching as he did almost the same thing barely an hour later.
McMahon then got sin-binned for (I think) cynical play at the breakdown in his defensive 22, and Country were good enough to capitalise almost immediately with no 10 Brandon stepping straight through the Rising defensive line to score.
This was then Country's turn to show a bit of pride and lift their general intensity in attack (to their credit they had been pretty dogged in defence all day). The tighter more conservative game plan suited them and they looked for 10 minutes the better drilled team. It was here that young No 13 Campbell Magnay had a few good strong runs, no mean feat against a centre pairing like Inman and Johannson. But it probably helped that the game was even more over than it had been at kick-off and McMahon was polishing his boots. Almost as soon as he came back, Magnay got his turn to reflect on life and with an extra man and the subs streaming on Melbourne were much stronger, Burgess largely playing the same game as Stirzaker and the scrums largely unchanged for having about 8 new players in them.
Jones was one of them and got within inches of scoring, looking much like a big version of a no 13, which for some reason he seemed to be wearing on his back. Maybe Johannson didn't fit in it?? Instead Placid showed some good balance to get over out wide and Melbourne had reached Pedro's predicted 30 point margin, or thereabouts. Debreczeni then saw yellow too for a pretty poor knock-down and JJT exploited a gap to score, before McMahon got his reward for a busy game and kept the gap open. Tom Pincus who I thought had been good all day then dotted down and that was the game, Melbourne strong winners and looking forward to hosting the Spirit at 15:30 next Saturday at AAMI. If the Spirit keep to their tradition of not flying their Super Rugby players over it will probably be just as one-sided, and one hopes they will make an exception for the finals – especially since these guys are otherwise unlikely to get a real run for 5 months.
---
The Game Changer
The first scrum. In any game of rugby the odds are long against you if your scrum can only hold its own ball 50% of the time.
The G&GR MOTM
I should probably say Toby Smith because I think he was the most dominant scrummager, but Caderyn probably deserves some credit for that too, and the substitutions on both sides didn't really change the dynamic in the scrums. So the gong goes to Nic Stirzaker who was the most committed Rising player in his time on the field I thought, and looked almost a class above at times, especially when he supported his own pretty good chip ahead (and off a second touch!) to be on hand to grab a neat try.
Players to watch
As usual, Nic Stirzaker and Sean McMahon for the Rising were really good. Jack Debreczeni and Jonah Placid were classy both handling and taking on the line. Club rugby no 11 Joe Kamane showed some good leg drive and the potential to step up. PAE and Toby Smith were all over their opposition in the scrums and took a few hit-ups as well.
QLD had a lot less chances to shine but Campbell Magnay at 13, a St Joseph's Nudgee product and I believe the youngest player on the field at 17 played quite well with some strong running despite lining up against Mitch Inman. I thought he stood out in their backline and showed that he is able to make the step up to adult rugby, with a full year in the Reds development squad (where I assume he will be) he will be quite strong.
---
The Details
Score & Scorers
Rising: 47
Tries: Stirzaker (2), Debreczeni, Timani, Jeffries, Placid, McMahon
Conversions: Debreczeni (4)
Penalties: Nil
QLD Country: 26
Tries: Adams, Brandon, Taulagi, Pincus
Conversions: Brandon, Pincus
Penalties: Nil
Cards & citings
None