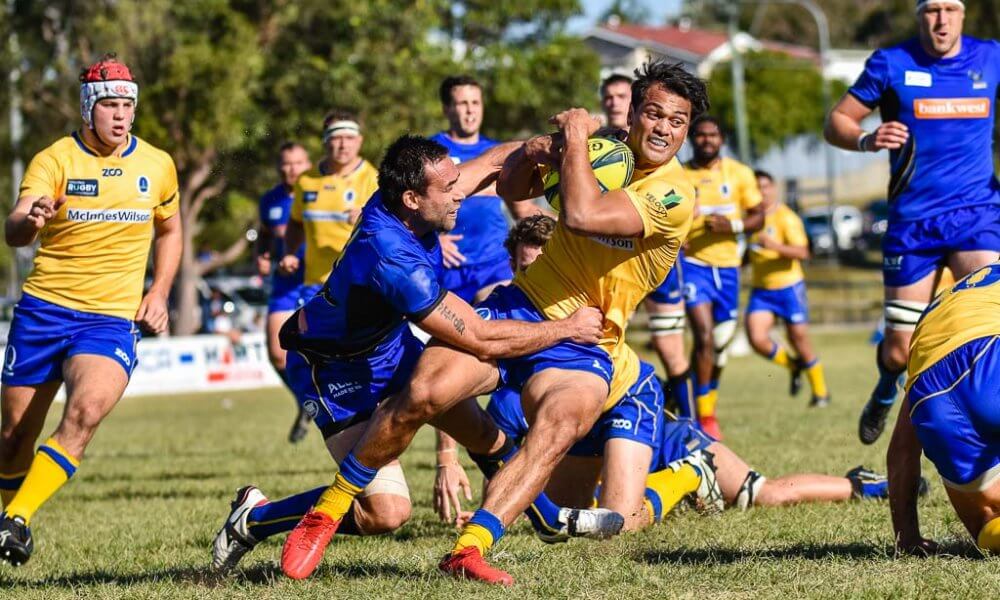 The first weekend of the 2018 iteration of NRC was a cracker. We saw the Drua turn on the pizzazz to run away from a Rising team who clung on for the first half. Then last year's Grand Finalists put on another show in our nation's capital with QLD Country coming away with the goods once again. And finally the Western Force made a little statement of their own with a big win against Brisbane in Brisbane, despite a healthy sprinkling of Quade magic.
What to expect from Round 2? Well hopefully more of the same.  Especially the crowds with the Fiji and Brisbane games in particular drawing wonderful considerable interest.  What we can be sure of this week is that we will get our first taste of what the streamlined NSW teams bring to the party as both the Rays and Eagles make their season debut.  Further west, GAGR's own Horan-Little Shield also makes its first appearance of the season as the Force fight off a challenge from NSW Country.
FIJI DRUA v BRISBANE CITY (LIVE STREAMED ON FOX SPORTS)
SATURDAY 8 SEPTEMBER AT CHURCHILL PARK (LAUTOKA). KICK-OFF 3:00PM (LOCAL TIME – 1PM AEST)
REASONS NOT TO MISS THE MATCH:
I copped a bit of flack for not picking Quade at 10 in my Team of the Week for Round 1. Instead I opted for the Drua flyhalf, Alivereti Veitokani. Well, guess what? This week we get to see them face off directly. This should be an absolute blast. Cooper was up to his old tricks against the Force and there's probably not another player in Australia who can put a player through a gap as he does. Veitokani is an absolute live wire who plays across the park and loves to get involved.  It should be an epic contest, the winner of which may well be influenced by the next point.
The Brisbane starting front row dominated the Western Force last week with the Smith twins and Brandon Paenga-Amosa running the visitor's scrum ragged, while on the field together. The Drua have obviously made note of this and have promoted their international front row of Joeli Veitayaki, Ratunaisa Navuma and Mosese Ducivaki. The side plot will obviously be how the respective bench front rows go, with Brisbane City in particular being a drop in quality.
Unheralded Brisbane fullback put in an eye-catching performance last week despite his team's loss to the Force. The former Southland ITM player caught the eye for GPS in their premiership run this season and was rewarded with a late call up to the Brisbane City squad. With no fullback currently contracted to the Reds next year (as far as we know) if Thomspon can continue on his recent form then anything can happen.
FIJI DRUA:
1. Joeli Veitayaki, 2. Ratunaisa Navuma, 3. Mosese Ducivaki, 4. Peni Naulago, 5. Albert Tuisue, 6. Peni Raidre, 7. Mosese Voka (c), 8. Eremasi Radradro, 9. Frank Lomani, 10. Alivereti Veitokani, 11. Levani Kurumudu, 12. Cyril Reece, 13. Poasa Waqanibau, 14. Avete Daveta, 15. Apisalome Waqatubu
Replacements: 16. Veremalua Vugakoto, 17. Eroni Mawi, 18. Luke Tagi, 19. Tevita Naqali, 20. Johnny Dyer, 21. Seru Vularika, 22. Enele Malele, 23. Jona Sawailau
Form:
W
BRISBANE CITY:
1. JP Smith, 2. Brandon Paenga-Amosa, 3. Ruan Smith, 4. Adam Korczyk (C), 5. Nathan Den Hoedt, 6. Pat Morrey, 7. Fraser McReight, 8. Matt Gicquel, 9. Moses Sorovi, 10. Quade Cooper, 11. Emori Waqavulagi, 12. Con Foley, 13. Karmichael Hunt, 14. Jayden Ngamanu, 15. Jaye Thompson
Replacements: 16. Moli Sooaemalelagi, 17. Josh Nasser, 18. Feao Fotuaika, 19. Jeremiah Lynch, 20. Tuaina Tualima, 21. Sam Wallis, 22. Phoenix Hunt, 23. Matt Gordon
Form:
L
TIP: I reckon the Drua will keep their home roll going this week despite some better combinations forming for Brisbane. Fiji by 6.
---
SYDNEY RAYS v CANBERRA VIKINGS (LIVE ON FOX SPORTS)
SATURDAY 8 SEPTEMBER AT CONCORD OVAL (SYDNEY). KICK-OFF 3:00PM (LOCAL TIME)
REASONS NOT TO MISS THE MATCH:
Putting aside the poor spectator numbers in Canberra which had locals dealing with sub-zero temperatures, the crowd stats were very positive in Week 1. As they were for the Shute Shield Grand Final the same weekend. Is there any chance at all for people from Sydney to show an interest in this competition? Despite closer alignment to NSW Rugby and even a bit of Sydney Rugby buy-in, it still feels as if there's a disconnect with the punters. Hopefully I'm proven wrong on Saturday.
The Vikings were standouts in 2017 finishing minor premiers and runners up and producing probably the single best performance in the history of the NRC when they trounced Fiji Drua by almost 60 points. The standard of their clash with QLD Country last week was extremely high, yet they won't take any solace from that given the result. To make the challenge tougher they've lost five Wallabies including three try hero, Folau Fainga'a and the electric Tom Banks. No one wants to start this short season 0 and 2 so it's all or nothing very quickly for this Vikings outfit.
Can this Rays team make a statement about their quality first up? The team has been, frankly, underachievers for the duration of the comp with the exception with the blip that was 2016 when they finished 2nd (and then lost their home semi final). Former Wallaby Chris Whitaker has been thrown the reigns with very little time nor genuine knowledge of the players he has to work with. If he can get them to hit the ground running, they will be on their way to a rare finals appearance.
CANBERRA VIKINGS:
1. Sione Taula, 2. Connal McInerney, 3. Leslie Leuluaialii-Makin, 4. Blake Enever, 5. Darcy Swain, 6. BJ Edwards, 7.Michael Oakman-Hunt, 8. Ben Hyne (c), 9. Ryan Lonergan, 10. Wharenui Hawera, 11. Lausii Taliauli, 12. Jordan Jackson-Hope, 13. Len Ikitau, 14. Chance Peni, 15. Andy Muirhead
Replacements: 16. TP Luteru, 17. Vunipola Fifita, 18. Tom Ross, 19. Luke Kimber, 20. Brodie Leber, 21. Jacob Abel, 22. Irae Simone, 23. Mac Hansen
Form:
L
SYDNEY RAYS:
1. Matt Sandell, 2. Damien Fitzpatrick (c), 3. Shambeckler Vui, 4. Rob Simmons, 5. Ryan McCauley, 6. Lachlan Swinton, 7. Jack Hayson, 8. Pat Sio, 9. Mitch Short, 10. Will Harrison, 11. John Folau, 12. Harry Burey, 13. Curtis Rona, 14. Latu Latunipulu, 15. Tim Clements
Replacements: 16. JP Sauni, 17. Rory O'Connor, 18. Dean Doumbos, 19. Nick Palmer, 20. Josh Kemeny, 21. Nick Duffy, 22. Enoka Muliufi, 23. Tyson Davis
Form:
Nil
TIP: This Rays should be much improved on previous years, but the turnaround for them seems too quick. Vikings  by 4.
---
QUEENSLAND COUNTRY v MELBOURNE RISING (LIVE ON FOX SPORTS)
SUNDAY 9 SEPTEMBER AT MIKE CARNEY PARK (TOWNSVILLE). KICK-OFF 3:00PM (LOCAL TIME)
REASONS NOT TO MISS THE MATCH:
QLD Country have developed into one of the most enjoyable teams to watch in this NRC. While most teams have embraced the more free-flowing style of play this competition was sold on, the youthful exuberance of the reigning premiers make it particularly delightful to watch. So much so it deserves a very good crowd of locals there to enjoy it. Hopefully the bit of extra promotion the team and the QRU have undertaken is enough to convince the rugby faithful up there to attend.  QLD Country do, after all, have a 100% record in the 'Ville having spanked the Sydney Stars there in 2014 as a young James Tuttle scored his first NRC try from the bench.
The Rising have without doubt the toughest schedule of the NRC, some of it being their own doing. However to face a fired up Fiji Drua first up in front of their vocal home supporters and then to follow it up with another away game ALMOST as far away is rough. On paper this Rising looks as good as their 2014 team which ran through the preliminaries undefeated.  They can't achieve that now but the pressure is undoubtedly on to bounce back and show they're better than what was on display last week.
Check out the future of Australian locking stocks in this game. One the Country side we have two beanpole athletes in Angus Blythe and Harry Hockings. Both 2m plus (by some margin) yet still superbly skilled.  Then you have the two Rising lads, Esei Haangana and Trevor Hosea. While Hosea sneaks over the two metre mark, Ha'angana is just under. But the two are absolute man mountains and know how to use every kg and cm of their body to great effect around the park.
QLD COUNTRY:
1. Harry Hoopert, 2. Alex Casey, 3. James Slipper, 4. Harry Hockings, 5. Angus Blyth, 6. Angus Scott-Young, 7. Liam Wright, 8. Tai Ford, 9. James Tuttle, 10. Hamish Stewart, 11. Joey Fittock, 12. Duncan Paia'aua ©, 13. Jordan Petaia, 14. Jock Campbell, 15. Tom Lucas
Replacements: 16. Effi Ma'afu, 17. Richie Asiata, 18. Jake Simeon, 19. MIchael Wood, 20. Harry Wilson, 21 Tate McDermott., 22. Tony Hunt, 23. Patrick James
Form:
W
MELBOURNE RISING:
1. Fereti Sa'aga, 2. Anaru Rangi, 3. Jermaine Ainsley, 4. Esei Haangana, 5. Trevor Hosea, 6. Angus Cotrell, 7. Richard Hardwick, 8. Isi Naisarani, 9. Michael Ruru, 10. Archie King, 11. Tom English, 12. Billy Meakes, 13. Sione Tuipulotu, 14. Sefa Naivalu, 15. Kiti Ratu
Replacements: 16. Andrew Tuala, 17. Tetera Faulkner, 18. Pone Fa'amausili, 19. Robert Leota, 20. Ikapote Tupai, 21. Harrison Goddard, 22. Kemu Valetini, 23.Fabian Goodall
Form:
L
TIP: It'll be all too much for the Rising as QLD Country turn it on for their regional fans. QC by 12.
---
 WESTERN FORCE v NSW COUNTRY EAGLES (LIVE STREAMED ON FOX SPORTS)
SUNDAY 9 SEPTEMBER AT UWA Sports Park (PERTH). KICK-OFF 1:00PM (LOCAL TIME)
REASONS NOT TO MISS THE MATCH:
Yeah, ok, I recognise I am again asking a question about the crowd, but it's justifiable. The Force had some fantastic crowds throughout their World Series Rugby campaign and Twiggy and his team have provided them more profile, locally, than any other Australian Super Rugby team (let alone NRC team) could dream of. But how will it translate to the NRC? One would hope the Sea of Blue continue to flock to watch their beloved Force despite the change of competition and venue.  The match will be free of charge which takes away any hurdles while the Force organisation have organised plenty of entertainment in and around the game. Of course it will also be a Horan-Little Challenge match as the Perth Spirit won the Shield in the last game of last year. The Eagles were the holders of the Shield at the start of last year and will be determined to claim it back this season.
Unlike the Rays, the Eagles have been strong contributors to the NRC since inception. They've never finished below 5th, featuring in the finals twice and winning the Minor Premiership in 2016. If the culling of the Rams (and the Stars before that) was to strengthen the NSW teams than the Eagles should be considering themselves as Premiership contenders this year.  And if they do consider themselves legitimate challengers then there is no better team to test yourself against than the favourites, the Western Force.
Rugby Australia have implemented a weekly Rising Star award to recognise and celebrate the stars of tomorrow. To be eligible the player must have played less than three Super Rugby games (or three tests for the Drua players). The first round winner was Force flyhalf Andrew Deegan. Deegan continued on his WSR form that saw him selected to play against the Wallabies in the Pre-Bledisloe Trial a few weeks ago. It seems only fitting then that he will face off with the Eagles this weekend for whom he played 10 back in 2016 when they made it all the way through to hosting the Grand Final. Only to lose to a very strong Perth Spirit side featuring his captain and halves partner, Ian Prior, at flyhalf.
WESTERN FORCE:
1. Harry Lloyd, 2. Harry Scoble, 3. Kieran Longbottom, 4. Fergus Lee-Warner, 5. Jeremy Thrush, 6. Tevin Ferris, 7. Chris Alcock, 8. Brynard Stander, 9. Ian Prior (C), 10. Andrew Deegan, 11. Rod Davies, 12. Henry Taefu, 13. Marcel Brache, 14. Masivesi Dakuwaga, 15. Jack McGregor
Replacements: 16. Heath Tessmann, 17. Cameron Orr, 18. Chris Heiberg, 19. Leon Power, 20. Harrison Orr, 21. Issak Fines-Leleiwasa, 22. Rodney Iona, 23. Peter Grant
Form:
W
NSW COUNTRY EAGLES:
1. Paddy Ryan (c), 2. Tom Horton, 3. Harry Johnson-Holmes, 4. Jed Holloway, 5. Tom Staniforth, 6. Alex Humfrey, 7. Will Miller, 8. Sam Ward, 9. Jake Gordon, 10. Mack Mason, 11. Alex Gibbon, 12. William McDonnell, 13. Apolosi Latunipulu, 14.Jaline Graham, 15. Alex Newsome
Replacements: 16. Mahe Vailanu, 17. Matt Gibbon, 18. Rob Lagudi, 19. Emmanuel Meafou, 20. Patrick Tafa, 21. Mick Snowden, 22. Rohan Saifoloi, 23. Harry Potter
Form:
Nil
TIP: The Force will give their loyal fans another treat in a high scoring match. Force by 8.