Last weekend pretty much went to plan with just the one upset when Brisbane City got the best of their QLD Country rivals (hey, but I picked it!).  It does mean a fair bit of a shake up of the ladder with QLD Country and the Western Force basically swapping positions. Despite their being just two rounds to go I'm not convinced all is settled for the top four. In fact I reckon it's only the Drua who are sure things for the finals, but mathematically even that is no sure thing. There are lots of ifs and buts that can play out over the next fortnight but for the time being let's just focus on this round.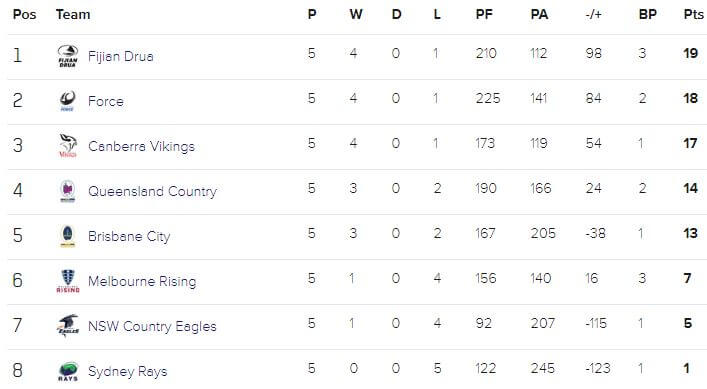 FIJI DRUA v CANBERRA VIKINGS (LIVE STREAMED ON FOX SPORTS)
SATURDAY 6 OCTOBER AT CHURCHILL PARK, (LAUTOKA). KICK-OFF 3:00PM LOCAL TIME (1PM ECET)
REASONS NOT TO MISS THE MATCH:
This is the Drua's last home game of the regular season and a good win on Saturday can see them wrap up the Minor Premiership. It's a vital result because the Drua have struggled on the road during their short history in the competition. They've lost one on the road this year, and came from down late in the game to win their second. Last year they only won two from five in Australia including losing their semi final to Queensland Country.
The Vikings have won their last four games but, it must be said, have never looked completely in control of the outcome for most of that time (well, except the thrashing of the Sydney Rays in Round 2). They seem to be playing within themselves somewhat and grinding opposition with a fairly clinical and controlled game plan. It could be just the approach needed to spring an upset this weekend. They smashed the Drua last year in almost freezing conditions in Canberra, and won't have that 'luxury' this year. If the Vikings do win, expect it to be a close one.
To suggest Canberra have been clinical is not to suggest they have been conservative. Their outside backs, in particular Andy Muirhead and Lausii Taliauli, have been dangerous all season. In fact, they sit at equal fourth to round out the NRC 'Most Metres' top five so far this season with 332 metres. Unfortunately the top three are all Drua players – Alivereti Veitokani (569m), Levani Kurumudu (492m) and Avete Daveta (368) make up the top three.
FIJI DRUA:
1. Joeli Veitayaki, 2. Mesulame Dolokoto, 3. Alifereti Rabukawaga, 4. Peni Naulago, 5. Albert Tuisue, 6. Mosese Voka (c), 7. Jone Navori, 8. Eremasi Radradro, 9. Frank Lomani, 10. Alivereti Veitokani, 11. Aporosa Tabulawaki, 12. Cyril Reece, 13. Avete Daveta, 14. Levani Kurumudu, 15. Apisalome Waqatubu
Replacements: 16. Veremalua Vugakoto, 17. Eroni Mawi, 18. Luke Tagi, 19. Tevita Naqali, 20. Johnny Dyer, 21. Serupepeli Vularika, 22. Enele Malele, 23. Peni Raidre
Form:
W W L W W
CANBERRA VIKINGS:
1.Vunipola Fifita, 2. Josh Mann-Rea, 3. Tom Ross, 4. BJ Edwards, 5. Darcy Swain, 6. Rob Valetini, 7. Brodie Leber, 8. Ben Hyne (c), 9. Joe Powell, 10. Wharenui Hawera, 11. Chance Peni, 12. Jordan Jackson-Hope, 13. Len Ikitau , 14. Lausii Taliauli, 15. Andy Muirhead
Replacements: 16. Connal McInerney, 17. George Francis, 18. Max Bode, 19. Blake Enever, 20. Mitch Tye, 21. Ryan Lonergan, 22. Irae Simone, 23. Mac Hansen
Form:
L W W W W
TIP: I really wouldn't be surprised if the Vikings get up but the result should by Drua by 4.
---
QUEENSLAND COUNTRY v SYDNEY RAYS (LIVE ON FOX SPORTS)
SATURDAY 6 OCTOBER AT BOND UNIVERSITY (GOLD COAST). KICK-OFF 3:00PM LOCAL TIME
REASONS NOT TO MISS THE MATCH:
This should be a done deal. Right? Reigning champions up against the winless Rays. Sydney can't be in with a shot, surely? Well, they shouldn't be but it's been a tough couple of weeks for QLD Country. They haven't had two losses in succession since September 2016. They've missed the impact of the likes of Caleb Timu, Taniela Tupou and Liam Wright this season with their pack struggling to match in with their last two opponents. There is no doubt they should win but there is also no doubt they will be feeling the pressure to win as well. The absence of James Slippper for this week will make the task even tougher.
As mentioned above, the lack of Wright and Timu in the backrow for QLD Country have seen them struggle to dominate their opponents as they did last year. The Sydney Rays may well back themselves to restrict this dominance once again, with their own quality back three. Jack Dempsey is still finding his feet but is showing his quality. Maclean Jones has just come back into the side and provides another experienced head to the Rays. While Hugh Sinclair has been one of his team's best players this season despite his irregular appearances. As a unit they have the opportunity to get their side on the front foot and we can only see what happens next.
If the Rays can't get on the front foot then there is one man who will take full advantage – Filipo Daugunu. Daugunu was a late starter this NRC season and has simply continued on the brilliant form we saw from him last year. While the tries haven't flowed as such, he's looked consistently dangerous and played a key role in many of QLD Country's recent tries scored. Remembering the corresponding game last year was the first we saw him at this level and he scored two on debut, including an absolutely cracker from a kick-off.
QLD COUNTRY:
1. Richie Asiata, 2. Effi Ma'afu, 3. Jake Simeon, 4. Harry Hockings, 5. Angus Blyth, 6. Angus Scott-Young, 7. Tom Kibble, 8. Harry Wilson, 9. Tate McDermott, 10. Hamish Stewart, 11. Chris Feauai-Sautia, 12. Duncan Paia'aua ©, 13. Jordan Petaia, 14. Filipo Daugunu, 15. Jock Campbell
Replacements: 16. Alex Casey, 17. Harry Hoopert, 18. Kirwan Sanday, 19. Rob Puli'uvea, 20. Michael Wood, 21. Harry Nucifora, 22. Tom Lucas, 23. Patrick James
Form:
W W W L L
SYDNEY RAYS:
1. Matt Sandell, 2. JP Sauni, 3. Shambeckler Vui, 4. Connor Vest, 5. Angus Ryab, 6. Jack Dempsey (c), 7. Maclean Jones, 8. Hugh Sinclair, 9. Mitch Short, 10. Will Harrison, 11. Pama Fou, 12. Harry Burey, 13. Guy Porter, 14. Latu Latunipulu, 15. Tyson Davis
Replacements: 16. David Vea, 17. Kiernan Rabie, 18. Dean Doumbos, 19. Jack Hayson, 20. Josh Kemeny, 21. Nick Duffy, 22. Connor O'Shea, 23. Tim Clements
Form:
L L L L L
TIP: QLD Country should do this easy but I fear they've started to go through the motions. QLD C by 14
---
NSW COUNTRY EAGLES v BRISBANE CITY (LIVE STREAMED ON FOX SPORTS)
SUNDAY 7 OCTOBER AT CAMDEN RUGBY PARK (CAMDEN). KICK-OFF 3:00PM LOCAL TIME (2PM QLD TIME)
REASONS NOT TO MISS THE MATCH:
Brisbane City are on a run of three successive wins and while they still sit outside the top four, you can bet the teams in those four spots are all looking over their shoulders at the NRC's only two-time champions. They do need to get a big win this weekend, though, to justify the concerns. In fact a big win, and if one or two of the other results go their way, then Brisbane could finish the weekend in that top four position.
The Eagles had no answer for the Fiji Drua attack last week despite the wet conditions in Suva. It was the pace and skill at which the Drua played the game, and with the constant threat of the miracle off-load, that seemed to give NSW Country the most headaches.  Let's hope they pack their panadol because, with Quade running into fine form, they can expect more of the same this Sunday. Quade's combinations with Karmichael Hunt and Tautalatasi Tasi have resulted in some very special tries of late so the Eagles will need to be on high alert to prevent another big score like last week.
One area NSW Country showed dominance last week, at least for a little while, was at the scrum.  It was Harry Johnson-Holmes, Tolu Latu  and Chris Talakai who were at the forefront until Talakai was replaced after about half an hour.  If they can sustain the dominance a little longer, with Paddy Ryan returning to start and with Ruan Smith out injured, then NSW Country could nullify one of Brisbane's strong attacking launch pads so far this season.
NSW COUNTRY EAGLES:
1.Harry Johnson-Holmes, 2. Tom Horton, 3. Paddy Ryan, 4. Sam Thomson, 5. Emmanuel Meafou, 6. Sam Figg, 7. Will Miller (c), 8. Jed Holloway, 9. Jack Grant, 10. Rohan Saifoloi, 11. Alex Gibbon, 12. Apo Latunipulu, 13. Seb Wileman, 14. Jaline Graham, 15. Alex Newsome
Replacements: 16. Mahe Vailanu, 17. Matt Gibbon, 18. Rob Lagudi, 19. Patrick Tafa, 20. Rory Suttor, 21. Will McDonnell, 22. Dewet Roos, 23. Denny Godinet
Form:
L L W L L
BRISBANE CITY:
1. JP Smith, 2. Moli Sooaemalelagi, 3. Feo Fotuaika, 4. Zach Moimoi, 5. Nathan Den Hoedt, 6. Adam Korczyk (C), 7. Matt Gicquel, 8. Sam Wallis, 9. Moses Sorovi, 10. Quade Cooper, 11. Emori Waqavulagi, 12. Matt Gordon, 13. Tautalatasi Tasi, 14. Con Foley, 15. Karmichael Hunt
Replacements: 16. David Paice, 17. Misioka Timotea, 18. Josh Nasser, 19. Tuaina Tualima, 20. Pat Morrey, 21. Scott Gale, 22. James Dalgleish, 23. Jaye Thompson
Form:
L L W W W
TIP: Smith is a blow but Brisbane should have enough to do the Eagles by a bit. Brisbane by 18.
---
MELBOURNE RISING v WESTERN FORCE (LIVE ON FOX SPORTS)
SUNDAY 7 OCTOBER AT GMHBA STADIUM (GEELONG). KICK-OFF 2:30PM LOCAL TIME (12:30PM WA TIME)
REASONS NOT TO MISS THE MATCH:
Can I Grand Final be played this early? I mean it's clearly not a Grand Final but it's an important bloody match. At least for the Force. If they slip up on the road this week, and assume both QLD teams have their expected wins, then the Force need to beat the Drua in the last week to ensure they make the finals. No easy task despite the Drua's shaking away record. How and this is also a Horan-Little Challenge match, so silverware is also on the cards which adds to the spice as well.
As we've come to expect there's always a lot of cross pollination when it comes to these teams (and by extension the Melbourne Rebels). Of course there's the likes of Anaru Rangi, Jermaine Ainsley, Matt Philip, Richard Hardwick, Isi Naisarani and Michael Ruru who are former Force-ites now in Melbourne, but it cuts both ways. Force fullback Jack McGregor left Melbourne for a chance to get more rugby under his belt out west. So far it's proved a fruitful move with McGregor getting plenty of minutes and playing some very good footy from fullback.
If you're heading down to Geelong this weekend to watch this match, try to get a seat close to the field.  For the above reasons, expect it to be a fairly high intensity match but I reckon some of the clashes could be particularly noteworthy.  The battle of the two Number 8s should provide a few hits big enough to be felt from the sideline.  Isi Naisirani has been the dominant forward in NRC for the last couple of years. Despite not being quite as prominent this year, he's a force to be reckoned with no doubt. Opposing is arguably the forward of the tournament this year, Byrnard Stander. This guys has been epic for the Force, filling the talisman role vacated by Matt Hodgson. He'll back himself to nullify big Isi which should be worth the entry fee alone.
MELBOURNE RISING:
1. Mees Erasmus, 2. Andrew Tuala, 3. Jermaine Ainsley, 4. Esei Haangana, 5. Rob Leota, 6. Ikapote Tupai, 7. Richard Hardwick, 8. Isi Naisarani, 9. Harrison Goddard, 10. Archie King, 11. Tom English ©, 12. Kemu Valetini, 13. Sione Tuipulotu, 14. Angelo Leaupepe, 15. Justin Marsters
Replacements: 16. Anaru Rangi , 17. Fereti Sa'aga , 18. Pone Fa'amausili, 19. Will Clift, 20. Kojiro Yoshida, 21. Michael Ruru , 22. Sione Tui , 23. Fabain Goodsall
Form:
L L W L L
WESTERN FORCE:
1. Harry Lloyd, 2. Heath Tessmann, 3. Kieran Longbottom, 4. Fergus Lee-Warner, 5. Jeremy Thrush, 6. Harrison Orr, 7. Tevin Ferris, 8. Brynard Stander, 9. Ian Prior (C), 10. Andrew Deegan, 11. Rod Davies, 12. Rodney Iona, 13. Brad Lacey, 14. Clay Uyen, 15. Jack McGregor
Replacements: 16. Harry Scoble, 17. Markus Vanzati, 18. Chris Heiberg, 19. Leon Power, 20. Henry Stowers, 21. Issak Fines-Leleiwasa, 22. Peter Grant, 23. Masivesi Dakuwaga
Form:
W W L W W
TIP: A stronger Melbourne team may have been able of pulling of the upset but too many good players are hot. Force by 8.