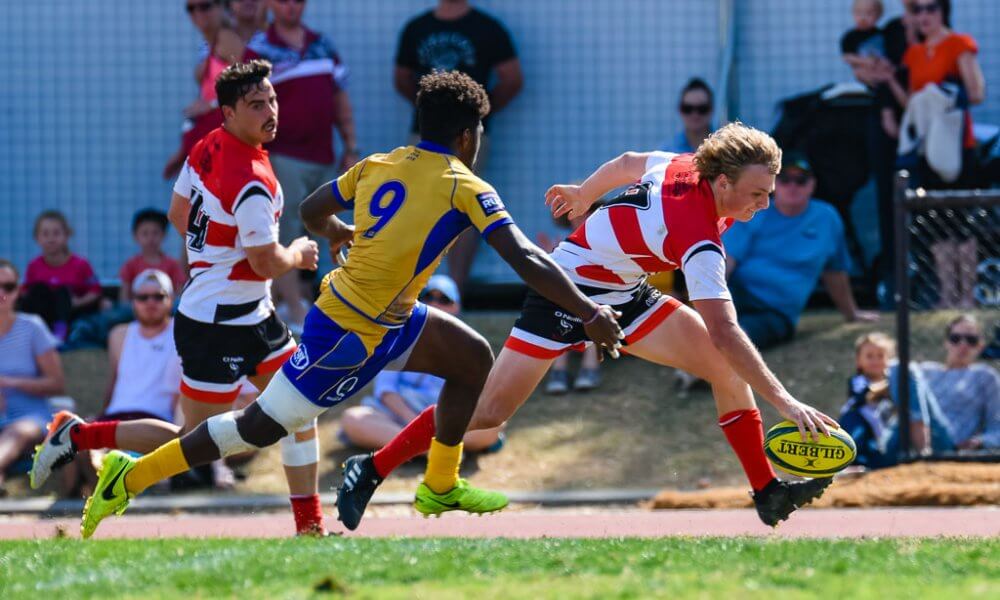 Here we go. It's all our nothing this weekend. The final round of the this lighting NRC season is upon us and it's as if things were scripted by Steven Spielberg with three of the four games set to have a significant impact on next week's finals. So take a glance at the table as it stands now and let's get stuck into this last round of what has arguably been the best NRC season to date.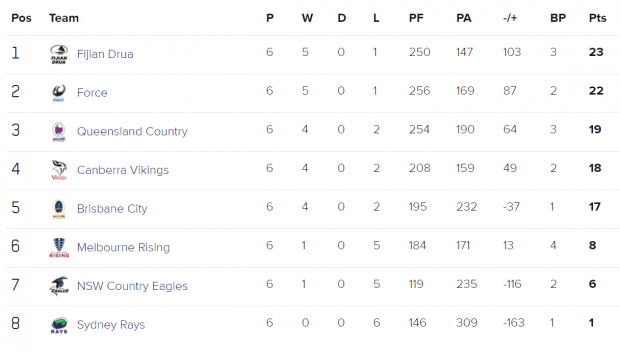 NSW COUNTRY EAGLES v QUEENSLAND COUNTRY (LIVE STREAMED ON FOX SPORTS)
SATURDAY 13 OCTOBER AT SCULLY PARK, (TAMWORTH). KICK-OFF 4:00PM LOCAL TIME
REASONS NOT TO MISS THE MATCH:
Let's make this clear. Queensland Country can not afford to drop this match. In fact there is heaps to play for and they should be looking to run up a big bonus point win. Currently sitting in third spot a bonus point victory (with a bit of back up support from a big points differential boost) could see them jump into second spot on the ladder, depending on how the Force v Drua. A home semi-final, given the quality of this competition, could be the difference between another Grand Final appearance and crashing out a week early.
It's great to see the Wallabies have got behind this game by allowing two of it's squad members, in Tolu Latu and Jake Gordon, to play. Both will be a huge boost for the Eagles and could have been enough to make QLD Country nervous. That's if the Waratahs hadn't then decided to pull their players from the squad to rest them for next year's Super Rugby tournament.  Will Will Miller and Jed Holloway unavailable the Eagles have had to call on their hooker Mahe Vailanu to pack down on the side of the scrum.
There are probably a half dozen Wallaby tourist candidates in this Country side, but three in particular that will be pushing their cause this match and beyond. James Slipper returns from injury and must be close to securing his ticket on the plane north. Caleb Timu should be there but needs some game minutes to prove he's more than an unused bench option. Further out, the boom boy Jordan Petaia is becoming harder and harder to ignore as a call-up option, particularly with Tevita Kuridrani and Samu Kerevi still under injury clouds.
NSW COUNTRY EAGLES:
1.Matt Gibbon, 2. Tolu Latu, 3. Paddy Ryan (c), 4. Sam Ward, 5. Emmanuel Meafou, 6. Nick Champion DeCrespigny, 7. Mahe Vailanu, 8. Sam Figg, 9. Jake Gordon, 10. Rohan Saifoloi, 11. Alex Gibbon, 12. Apo Latunipulu, 13. William McDonell, 14. Denny Godinet, 15. Jaline Graham
Replacements: 16. Charlie Abel, 17. Cody Walker, 18. Chris Talakai, 19. Patrick Tafa, 20. Alex Humfrey, 21. Rory Suttor, 22. Mick Snowden, 23. Afa Pakalani
FORM:
L L W L L L
QLD COUNTRY:
1. Richie Asiata, 2. Effi Ma'afu, 3. James Slipper, 4. Harry Hockings, 5. Angus Blyth, 6. Angus Scott-Young, 7. Tom Kibble, 8. Caleb Timu, 9. James Tuttle, 10. Hamish Stewart, 11. Chris Feauai-Sautia, 12. Duncan Paia'aua (c), 13. Jordan Petaia, 14. Filipo Daugunu, 15. Jock Campbell
Replacements: 16. Alex Casey, 17. Harry Hoopert, 18. Kirwan Sanday, 19. Rob Puli'uvea, 20. Harry Wilson, 21. Tate McDermott, 22. Tom Lucas, 23. Patrick James
FORM:
W W W L L W
TIP: The Eagles got their shizzle together a little last weekend so could have threatened with more of their Tahs, but QLD have upped their game too. With more to play for, QLD by 20.
---
WESTERN FORCE v FIJI DRUA (LIVE ON FOX SPORTS)
SATURDAY 13 OCTOBER AT USW SPorts Park (PERTH). KICK-OFF 3:00PM LOCAL TIME
REASONS NOT TO MISS THE MATCH:
Clearly this is a big one. The two top teams of the tournament. Both teams with only one loss (coincidently both coming in their Round 3 games (Fiji away to QLD Country and the Force away to Canberra).  Both teams were tapped early as the favorities for the title so it's fitting that they play off in the last round for the Minor Premiership as well as the Horan-Little Shield. Can the Force be the first team to hold the Horan-Little Shield for the entire year? With their only challenges, so far, coming from the bottom three teams this will be their first real test to do so.
Can the Drua break their away game hoodoo? As a team predominantly made up of local players, it's understandable that the travel demands and distractions are a huge learning outcome of this tournament.  They've only won three of their seven games in Australia over the last two seasons, and only one this year.  Meanwhile the Force, over the same period, have dropped just the one home game and have racked up an average of almost 55 points scored in those six home games . If the Drua can claim this important away win, it's going to take an almighty performance to do so.
I was going to pinpoint the backrow battle between Brynard Stander and Mosese Voka here, but with Chris Alcock back as well for the Force, let's bring him into the mix.  These three battle hardened veterans have been simply exceptional for their respective teams never shying from the hard work be it in attack or defence. Heck, let's throw in the young Jone Navori who has been a revelation on the side for the Drua in the last couple of games and what a battle we have in the backrow without even getting to Tevin Ferris and Eremasi Radradro.
WESTERN FORCE:
1. Harry Lloyd, 2. Heath Tessmann, 3. Kieran Longbottom, 4. Fergus Lee-Warner, 5. Jeremy Thrush, 6. Tevin Ferris, 7. Chris Alcock, 8. Brynard Stander, 9. Ian Prior (C), 10. Andrew Deegan, 11. Rod Davies, 12. Rodney Iona, 13. Henry Teafu, 14. Brad Lacey, 15. Jack McGregor
Replacements: 16. Feleti Kaitu'u, 17. Cameron Orr, 18. Chris Heiberg, 19. Leon Power, 20. Henry Stowers, 21. Issak Fines-Leleiwasa, 22. AJ Alatimu, 23. Clay Uyen
FORM:
W W L W W W
FIJI DRUA:
1. Joeli Veitayaki, 2. Ratunasisa Navuma, 3. Benji Makutu, 4. Peni Naulago, 5. Albert Tuisue, 6. Mosese Voka (c), 7. Jone Navori, 8. Eremasi Radradro, 9. Frank Lomani, 10. Alivereti Veitokani, 11. Levani Kurumudu, 12. Cyril Reece, 13. Apisalome Vota, 14. Aporosa Tabulawaki, 15. Enele Malele
Replacements: 16. Mesulame Dolokoto, 17. Eroni Mawi, 18. Luke Tagi, 19. Tevita Naqali, 20. Johnny Dyer, 21. Seru Vularika, 22. Apisalome Waqatubu, 23. Lepani Raiyala
FORM:
W W L W W W
TIP: If it clicks for Fiji no one can stop them. But it's too hard to pick them away from home with the Force so strong in Perth so the Force by  4.
---
MELBOURNE RISING v SYDNEY RAYS (LIVE STREAMED ON FOX SPORTS)
SUNDAY 14 OCTOBER AT St Patricks school (ballarat). KICK-OFF 2:00PM LOCAL TIME
REASONS NOT TO MISS THE MATCH:
Could the Rays be the very first team to have a completely winless season? We've had some fairly poor seasons by some teams but each of our wooden spooners (the Stars in 2014, the Rams in 2015, QLD Country in 2016 and the Rising last year) all managed at least one win. The Rays are still sitting on a big goose egg with a fairly hefty points differential against them too. Unfortunately there's not a lot of reason to believe they will be able to turn it all around on Sunday.
The positive for the Rays is that they too have some Wallabies back to call on this weekend. Lock Rob Simmons and scrumhalf Nick Phipps get the chance to pull on the famous Sydney jersey and run the cobwebs out of their legs after the extensive travel schedule they've had over recent weeks. Phipp's battle with Michael Ruru will be fun to watch while Simmons' presence can give Sydney a strong edge at lineout time.
The Rising currently sit in third last spot (ahead of the two NSW teams) with just the one win. But are they a better team than that? Well they should be, given their roster.  Other than their first round humbling at the hands of the Drua, they've been close every week.  Their biggest loss has been to the Vikings by 10 points with the other margins being one (to QLD Country), five (Brisbane City) and just three to the Force last week.  So it's definitely a case of so near yet so far. Given the quality of their team though, it shows how tough this NRC competition is to make your mark.
MELBOURNE RISING:
1.Fereti Sa'aga, 2. Anaru Rangi, 3. Jermaine Ainsley, 4. Esei Haangana, 5. Angus Cottrell ©, 6. Rob Leota, 7. Richard Hardwick, 8. Isi Naisarani, 9. Michael Ruru, 10. Archie King, 11. Tom English ©, 12. Kemu Valetini, 13. Sione Tuipulotu, 14. Sefa Naivalu, 15. Justin Marsters
Replacements: 16. Fetu Luamanu, 17. Mees Erasmus, 18. Pone Fa'amausili, 19. Ikapote Tupai, 20. Kojiro Yoshida, 21. Harrison Goddard, 22. Sione Tui , 23. Angelo Leupepe
FORM:
L L W L L L
SYDNEY RAYS:
1. Matt Sandell, 2. JP Sauni, 3. Shambeckler Vui, 4. Ryan McCauley, 5. Rob Simmons, 6. Jack Dempsey (c), 7. Maclean Jones, 8. Hugh Sinclair, 9. Nick Phipps, 10. Will Harrison, 11. John Folau, 12. Harry Burey, 13. Curtis Rona, 14. Guy Porter, 15. Tyson Davis
Replacements: 16. David Vea, 17. Kiernan Rabie, 18. Dean Doumbos, 19. Connor Vest, 20. Jack Hayson, 21. Mitch Short, 22. Connor O'Shea, 23. Latu Latunipulu
FORM:
L L L L L L
TIP: Melbourne should be good enough to do this but the Wallaby influence in the Rays could be enough to spur them on. Nah, Rising by 12.
---
BRISBANE CITY v CANBERRA VIKINGS (LIVE ON FOX SPORTS)
SUNDAY 14 OCTOBER AT Easts rugby union club (brisbane). KICK-OFF 3:00PM LOCAL TIME
REASONS NOT TO MISS THE MATCH:
While the Force v Drua match is of note because of the impact at the top of the table, the sudden death nature of this clash makes it the match of the round without doubt. It's finals rugby one week early and with wet weather expected all weekend in Brisbane, plus the addition of some key players, the intrique levels on this game is sky high. Put simply, whoever wins is through and whoever loses is gone!
Wet weather footy and big match intensity – so who better to bring back then a couple of big name players in Tom Banks and Rory Arnold. Both have a habit of really stepping up in these NRC encounters, particularly when facing up against a QLD team for some reason. Arnold's bulk and hard running will be a valuable weapon for the Vikings. While Banks' experience and elusiveness from the back should help blunt an expect Quade Cooper kicking strategy.
The name Tautalatasi Tasi has flown somewhat under the radar this NRC.  It is somewhat understandable given the big names around him and because, after losing their first two games, Brisbane City have done pretty similar.  Interestingly, Tasi's elevation to the Brisbane 13 jersey has seen a run of four undefeated games which now sees them on the cusp of the finals. His form at outside 13 has been outstanding and his linking with Cooper, as well as the likes of Karmichael Hunt, Matt Gordon and Con Foley have been central to Brisbane's run home.  Is he a chance of higher honours? The more opportunity he get's in games like this, and potentially finals footy, will assist his cause.
BRISBANE CITY:
1. JP Smith, 2. Brandon Paenga-Amosa, 3. Ruan Smith, 4. Zach Moimoi, 5. Nathan Den Hoedt, 6. Adam Korczyk (C), 7. Pat Morrey, 8. Sam Wallis, 9. Scott Gale, 10. Quade Cooper, 11. Jayden Ngamanu, 12. Matt Gordon, 13. Tautalatasi Tasi, 14. Con Foley, 15. Lawson Creighton
Replacements: 16. David Paice, 17. Misioka Timotea, 18. Feo Fotuaika, 19. Tuaina Tualima, 20. Fraser McReight, 21. Moses Sorovi, 22. James Dalgleish, 23. Jaye Thompson
FORM:
L L W W W W
CANBERRA VIKINGS:
1.Vunipola Fifita, 2. Josh Mann-Rea, 3. Tom Ross, 4. Rory Arnold, 5. Darcy Swain, 6. Rob Valetini, 7. BJ Edwards, 8. Ben Hyne (c), 9. Ryan Lonergan, 10. Wharenui Hawera, 11. Andy Muirhead, 12. Jordan Jackson-Hope, 13. Len Ikitau , 14. Lausii Taliauli, 15. Tom Banks
Replacements: 16. Connal McInerney, 17. Sione Taula, 18. Max Bode, 19. Blake Enever, 20. Brodie Leber, 21. Joe Powell, 22. Noah Lolesio, 23. Irae Simone
FORM:
L W W W W L
TIP: My heart says Brisbane City but my head says Vikings.  Get stuffed head!! Brisbane by 1.