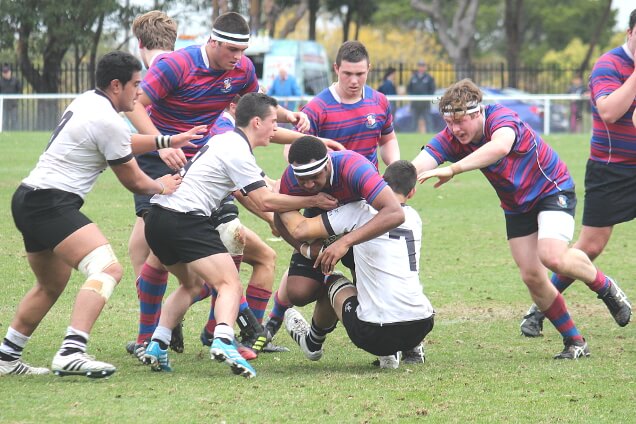 The last round ot the GPS was full of interest even though Scots couldn't be over-taken as the winner of the First XV Championship.
Riverview, the runners-up, wanted to spoil the Scots end-of-season party by denying them a perfect season in front of Scots' home crowd.
At the other end of the scale, wooden-spooners, Kings, was desperate to get their second win of the season, against Shore, who had to beat Kings to have a chance to get a creditable fourth placing.
In between, Newington and Joeys would play for the bronze medal.
Joeys v. Newington
by "Lee Grant"
Joeys beat Newington 28 out of 30 from 1980 to 2009, after which Newington beat Joeys six games in a row. It was a miraculous turnaround from the Stanmore school.
Joeys had played some fine games during the season and wanted to change this trend.  At their home ground at Hunters Hill, the best ground in the GPS in wet weather, they expected to have an edge on the huge Newington pack which reveled in tight rugby on slow surfaces.
Newington were missing 12 Latu Latunipulu but welcomed back their star THP Vunipola Fifita, who missed nearly all of the season—and played him at no. 8. Nevertheless it was good to see that the big fellow would be fit enough to play for Australian Schools in a few weeks' time.
First half
Joeys, who were missing 6 Thomas Leaver, one of their most consistent forwards, before the match, also lost 13 Tim McCutcheon in the second minute of play.
Newington looked like bullies at the start of the game and it was all going to plan. Even when they they threw not-straight to an attacking five-metre lineout Joeys dropped their scrum ball and after a few pick and goes 8 Vuni Fifita barged over for Newington. 15 Bailey Simonsson converted for New to lead 7-0 at 14 minutes.
However Joeys perked up and it was New's turn to turn over their own scrum ball.  Joeys threw the spilled pill wide and the irrepressible 15 Thomas Wright ran around defenders to score in the corner. O'Shea converted from touch and the scores were tied up midway through the half.
In the second quarter of the match Newington hissed and roared in the forwards, and the backs made half breaks and looked good individually; then the penny dropped and you realised they couldn't work as a team as well as Joeys could.
After Joeys scared Newington with a crowd try 8 Vuni Fifita passed poorly from a scrum and Joeys were onto the ball like a drovers' dog an a dropped chop.
8. Koim Wingti, 6 Matt Psaltis and 2 James Margan took the ball up near the Newington line and 14. Edward King burst through two weak tackles to score. O'Shea converted again for Joeys to take the lead 14-7 ten minutes before the break.
They hadn't finished: these big blokes from Newington were just big blokes. From a lineout close in Joeys did more of the same in pick and goes against the big blokes.
Wingti was knocked on his backside but the ball was trucked up again. After the collision a Joeys' player scored with five defenders around him. It was Wingti—he had picked himself up and sprinted into position to make himself available.
The Joeys' skipper was having a cracking game and Joeys led 21-7 six minutes before oranges.
Newington got into the act after the restart and attacked the Joeys line just before the break, but poor handling let them down.
Half-time score: Joeys 21 – Newington 7.
Second half
You'd wonder if the 14-point lead of Joeys was enough running into the wind now, especially as it became clear that Newington had been given the mother of all rev-ups at half-time.
Newington started playing well and after 10 Cameron Murray ran deep into the Joeys' half they started using the ball like Joeys had: sucking defenders in up the middle and then going wide to score. 15 Bailey Simonsson went over but missed the conversion. Joeys 21 -12 three minutes after the break.
Newington looked ominous. Joeys fans felt like they were watching a horror movie and were waiting for the really scary part. But it never happened because the home team gave as good as they got for the rest of the third quarter of the game. O'Shea was peppering kicks to the corner, which asked to be cleared, and Wright and others were running the pill back if it was.
After one O'Shea kick-through, his Joey's mates held up the would-be kicker in a maul. From the scrum  O'Shea, King and 8. Lachlan Simpson attracted defenders with 9. Nicholas Duffy the ringmaster. His last pass was to Margan who scored.
O'Shea slotted a tricky conversion across the wind for Joeys to lead 28-12 with twelve minutes remaining.
Newington woke up and went on a number of raids with 12 Simon Kennewell, 13 Sepesa Loga-Tarogi and Simonsson featuring. From a lineout close to the Joey's line they spun the ball wide and 1 Melie Laimani crashed over, handy. When Simonsson converted, Joeys led 28-19 and there were only four minutes left for New to score ten points to win.
They didn't score any, but Joeys did. First O'Shea kicked a penalty goal to wind down the clock. Then after the restart Newington dropped the ball in their 22 playing hot potato rugby which they didn't know much about. With Duffy running the show again with the turnover ball Psaltis scored on the bell.
Skipper Wingti got the honour of slotting the last conversion and Joeys won 38-19.
The players
Joeys
3. Koim Wingti (4) – The skipper had a rousing game with his improved work-rate. He also kicked a conversion !!
2. Nick Duffy (9) – Was always at the ruck and passed from the ground often too quickly for New to react properly.
1. Edward King (14) – Moved to outside centre after McCutcheon went off early and had his best game in the Ones.
Honourable mentions to Connor O'Shea and James Margan, who played as usual.
Newington
3. Vuni Fifita (8) – had problems picking up the ball at the back of the scrum as you would when you are a tight-head prop, but otherwise had an impact in the tight and doing no.8 stuff away from it.
2. Matthew Serhon (2) – Good leader and involved in all things; but needed more guys to follow him.
1. Sepesa Loga-Tarogi (13) – Stopped several attacks on defence; made some half breaks as outside centre these days but lacked credible support.
Honourable mentions to Cameron Murray (10) who is not a natural ball player but had a couple of influential runs and made several last-ditch tackles. Also no. 22 who sparked the side when he came off the bench.
The Teams
Joeys were at the top of their game for a majority of the match. The forwards did better than they did on the heavier Newington ground earlier in the season and the backs beat the visitors with their handling and running after receiving quick ball.
Following their big first half lead playing with the wind they were able to counter Newington's long clearances in the second, and caused their own damage with shorter kicks when inside New's half
Newington showed what they were capable of when they scored their three tries after brief periods of dominance but there weren't enough of them.  They had some sharp individual runs from their name players but could not match the ensemble rugby that Joeys dished up.
The wrap-up
Joeys had some indifferent displays earlier in the competition but finished the season well. They were worthy "bronze medallists" once they shored up their defence.
Newington, the joint-premiers last year, had a few good wins but got beaten by 100+ points by Scots and lost to the wooden-spooners, Kings. With the players they had available during the season they should have done better.
The scoring
Joeys 38 (T. Wright, E. King, J. Margan, M. Psaltis tries; K. Wingti try, con; C. O'Shea 4 cons, pen) def. Newington 19 (V. Fifita, M. Laimani tries; B. Simonsson try, 2 cons)
Other Scores
2nd XV — Joeys 50 – Newington 14
3rd XV — Joeys 69 – Newington 0
Dr. Charles Abercrombie
After 32 years of service, yesterday was the last time that the St. Joseph's College doctor, Dr. Charles Abercrombie, acted as ground doctor for Joeys' and visiting players.
The Headmaster of the College, Mr Ross Tarlinton, thanked Dr. Abercrombie for his years of service and made a presentation to him before the First XV match.
The boys in the stand gave the good doctor a rousing school cheer, and we do this also in cyberspace.  Well done Doc.
Photos – Joeys v. Newington by "Lee Grant"
Video highlights
[youtube id="xnDLbPhAcqM" width="600″ height="350″]
See next page for report on Scots v. Riverview