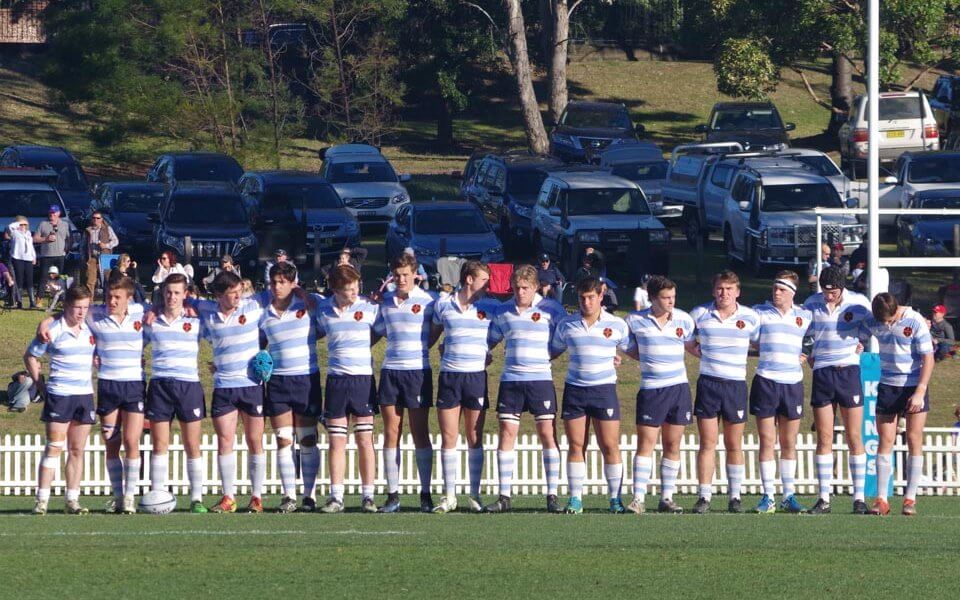 Kings and Scots remain undefeated after two rounds of the AAGPS competition.
Kings claimed a hard-fought win over Joeys 22 – 18 at North Parramatta, while Scots ran in 11 tries to rack-up a 71 – 20 victory over Riverview at Bellevue Hill. Newington were just too good for Shore, winning the Northbridge clash 51 – 28.
---
By "Armchair Selector"
JS White field was in pristine condition for this highly anticipated encounter between Kings and Joeys.
First half
Joeys opened scoring courtesy of a Jack Quinn (8) penalty goal 2 minutes in. The Kings defence was penalised for no arms in a tackle. Joeys 3 Kings 0.
In 2017, opposition teams have been able to capitalise on loose passes in the Joeys back line and it has cost the Cerise and Blue dearly.
Five minutes in, Kings Matt Minogue (10) intercepted a Joeys pass wide of the ruck near the Joeys 22. With no Joeys defensive line set, he crossed untouched and converted his own try. Kings 7 Joeys 3.
For the next 20 minutes, a midfield arm-wrestle developed. In defence, both teams were willing and eagerly looking to capitalise on their opponents mistakes. And there were plenty; dropped ball, turnover ball, lineouts not straight, tight heads, from both squads.
In a repeat offence, Kings were penalised again for no arms in a tackle. In easy kicking range, Quinn added the points. Kings 7 Joeys 6.

From the kick off return, Joeys were on attack midfield. Vincent Creagh (10) found space, drawing three defenders and was able to pass out wide to Liam Scolari (11), who surprised the Kings outside backs with his pace to score out in the corner. Conversion unsuccessful. Joeys 11 Kings 7.
Kings were undaunted by the games momentum shift and remained willing to test the Joeys defensive line. Five minutes before half-time, Kings declined a relatively easy penalty kick, opting to kick for the line out.
A penalty advantage to Kings from the lineout maul for Joeys collapsing the maul was escalated to a penalty try to Kings. Kings 14 Joeys 11.
The pendulum of attack was now with Kings and Joeys were forced to doggedly defend their line. Credit to Joeys, they held Kings out. The last passage of play was 20 + phases of pick and drive by Kings on the Joeys line.
Kings had spent the majority of the half in Joeys territory, but had been unable to capitalise on the territorial advantage. Joeys had looked to counterattack off Kings mistakes.
The game was there for the winning. The team that could make the least mistakes was looking most likely to win.
Half-time score: Kings 14 – 11 Joeys
Second half
Three minutes into the second half, yet another ruck infringement by Joeys, this time for sealing the ball off, had Minogue extend Kings lead. Kings 17 Joeys 11.
A very shallow kick off was regathered by the Joeys forwards. A line break, by James Bouchier (2), set a platform for the Joeys backs. A cut pass out wide to Joseph Kandalaft (14) and he was over in the corner. Quinn's conversion was perfect. Joeys into the lead 18 to 17.

Neither team could string together sufficient phase ball to gain an advantage. Both teams were plagued by handling errors and ruck infringements.
Loose ball at the back of the Joeys ruck was pilfered opportunistically by Kings Ben Stewart (11) on the Joeys 10 meter line. With open space and pace to burn, he had a clear run to the try line. Try unconverted.
For the last 15 minutes, Joeys tried but couldn't assert any advantage.
For Kings, a tough match rewarded with a win. For Joeys, a match that was winnable but got away.
Full-time score: Kings 22 – 18 Joeys
THE PLAYERS
Best for Kings: Matt Minogue (10) and Jonathan Papantoniou (3)
Best for Joeys: Xavier Ryan (13) and Paddy Dalton (7)
SCORING DETAILS
Kings 22 (Minogue, Stewart tries; Penalty Try; Minogue pen; Minogue con) def. Joeys 18 (Scolari, Kandalaft tries; Quinn 2 pen; Quinn con)
By "Crackerjack"
With veritably a whole new backline configuration to Round 1, Scots expected to be tested at home by the visiting Blue & White. Tested they were, but the young men in Gold were more than up for it.
First half
The early 'feeling out' period established that Scots' scrum was the dominant force on the field, and their lineout was clinical.
It still took nearly 10 minutes for a clear break when Scots' twin-tower locks, Jeremy Williams (4) and Nelson Bours (5), combined to link with a flying Wilson Dulieu (9) to open the scoring. (See link to video of try below, coutesy of 'sidesteppa")
That advantage was wiped out almost immediately following Scots' failure to secure the ball at the kick-off, giving View prime field position, and Ignacio Bonsembiante (14) crossed out wide.

At 7 – 5 to Scots at the 20 minute mark, the tightening tussle was broken open by 'Johnny on the Spot' Williams (4) securing a missed clearing kick from the View custodian, resulting in Max Robson (11) crossing the stripe out wide.
Scots' mid-field attack, with eye-catching, barnstorming runs by Brett Wellington (6) standing off, and their D led by No.8, Will Harris, was nullifying Riverview.
A yellow card left the Blue & White a man down in the 3/4 channel, and Scots took full advantage with tries to Williams (4), Max Robson (11) and Tom Yassmin (14) to close out the half. Robson (11) was also making merry with his kicking boots firmly on.
Half-time score: Scots 33 – 5 Riverview
HIGHLIGHTS – FIRST SCOTS TRY
Second half
Riverview pressed hard at the start of the second half, and with sustained possession and field position, got rewarded when Charlie Rorke (8) crossed after eight minutes.
But overcoming the big halftime deficit was always a tall order, made more so when Yassmin, with plenty of help from his Gold-clad teammates inside, turned the next period into a personal floor show, scoring three times in the next 15 minutes.
As is the nature of 1stXV Rugby though, View didn't give up, scoring through OC, Angus Bell (13) and THP, William McLennan (3). Despite those best efforts, the result was well and truly dusted by the time both coaches started bringing on subs for the last 10 minutes.
With time nearly up, Scots continued to be patient at the death, with called-up left wing, Max Robson (11) going over to end the day's scoring.
Full-time score: Scots 71 – 20 Riverivew
THE WRAP
Scots turned up today, and gave a whole-hearted, hard at the ball, whole of team performance. Despite significant changes in personnel, there were few weaknesses on display. The Riverview boys will be disappointed in themselves, and undoubtedly, will channel that into their next fixture at home against another season front-runner, Kings.
FULL MATCH VIDEO
Courtesy of "sidesteppa"
THE PLAYERS
Best for Scots: Wilson Dulieu (9) – welcome back Wilson! Everyready bunny who gave his teammates superb, accurate service all day. Jeremy Williams (4) – dominated across the mid-field; some inspiring breaks. Ben Joseph (2) – first-rate passages; played like an extra loosie. Max Robson (11) – a 31pt 'haul' on the day.
Best for Riverview: William Grant (9) – best afield for Blue & White. Charles Rorke (8) – View's best forward in an outplayed pack. Vaotangi Mafi (1) – stood out with his mid-field work.
SCORING DETAILS
Scots 71 (Yassmin 4, Robson 3, Dulieu 2, Williams, O'Beirne tries; Robson 8 con) def. Riverview 20 (Bonsembiante, Rorke, Bell, McLennan tries)
---
By "Quick Hands"
It was a dusty Northbridge A which greeted the teams for round 2 of the season.
First half
The game started as it continued with both sides moving the ball and the game going from end to end.
The first try went to Newington when they finished off a series of pick and go to score in the pie shop corner.

Shortly after, Newington 10 make a long break and from the enuing play New 14 finished off a backline movement to score in the corner.
Not long after, Shore 11 showed considerable speed and agility to weave his way through most of the Newington defenders and score under the posts. Try converted for 10 – 7.
New 14 then finished off another slick backline movement to score in the corner. Shortly after, Newington 1 finished off a try which came after a length of the field passing movement.
Half-time score: Newington 20 – 7 Shore
Second half
Shore 15 scored straight after half-time after a well-worked backline movement which took the score to 20 -14 and it looked like the predicted close match was going to eventuate.
Newington then were able to maintain possession and work the ball down the field where 14 dived over in the grandstand corner.
Not long after, the Newington forwards scored from a maul. Shore then went on to the attack and were pressing hard when New 10 took an intercept and ran 90 metres to score under the posts, which took the score to 37 – 14.
As we've come to expect, Shore never give up and 10 scored a nice try with a hard straight run after some nice forward play.
There followed an exchange of tries. New 6 made a break and offloaded to 1 who ran 15 metres to score under the posts. Shore 9 then darted over and New hit back with a forwards based try, before Shore 15 finished the day showing Usain Bolt like speed to run untouched 80 metres down the grandstand sideline.
Full-time score: Newington 51 – 28 Shore
THE PLAYERS
Best for Newington: 10, 1 and 14
Best for Shore: 10, 11 and 5
SCORING DETAILS
Newington 51 (Afeaki 3, Bell 2, Kearns, Eruni-Bennett, Haldane, Lewis tries; Morgan 3 con) def. Shore 28 (Kendrick-Little, Sinclair, Doyle, Rixon tries; Sinclair 4 con)