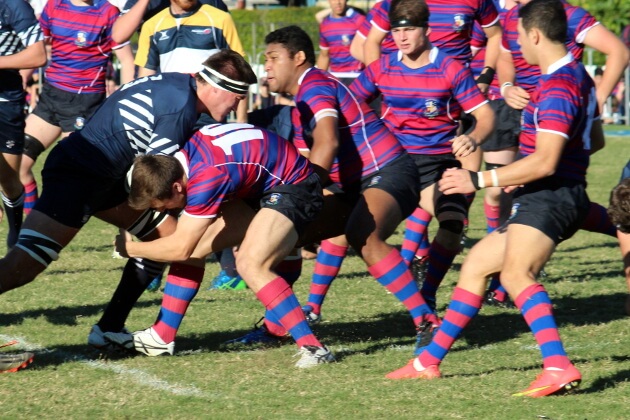 Round 3 of the GPS Rugby comp presents some tantalising tussles that are sure to have a big impact on the ladder.
After two massive rounds of GPS ruggers, Kings and View top the table with consecutive hard-fought victories. New and Shore have played some good footy but are yet to register a win. And Scots and Joeys sit in the middle of the pack with a 50% win-loss ratio.
Three more games that are guaranteed to entertain await us this Saturday. Shore take on View at Lane Cove, Kings host Joeys at North Parramatta and New travel to Bellevue Hill to play Scots.
For your reading pleasure, "Crackerjack" and "Gary Owen III" provide the low-down on this week's show-downs and they've promised to keep the drivel to a minimum.
If you missed what happened in Round 2, check out the match reviews, as well as "sidesteppas" highlights video of the New v View Ist XV clash.
Kings v Joeys
by "Crackerjack"
Kings opened Season 2016 with two quality wins and Joeys bounced back last week with a backline performance that has "Premiership" written all over it. This will indeed be a clash worthy of the price of admission plus two Foot-longers from the Kings BBQ.
Even with the possibility of injury replacements coming into the Joeys' pack this week, I'm expecting the piggies, and especially the tight fives, to pound each other to a standstill, and the game will be won or lost in the back row and back three. (Yes Azzuri, the prancing ponies will occasionally have their day in the spotlight and I expect this Saturday will be one of them!)
For the loosies battle, Dylan Pietsch (8) is an X-factor for the Kingsmen and he will test the Cerise & Blue in both attack and defence. Joeys big No.8 Miti Tuinakauvadra will have his work cut out holding Pietsch to anything 'sub-par' and for Pietsch, his 'par' typically is everyone else's 'outstanding'.

In the battle of the breakdown, I was expecting an honourable 'draw' between the two excitable 'Blind Joes' – Joey Skelly (6) at blind-side flanker for Kings and Joseph Feltis (6) for Joeys. But Feltis's unfortunate hip injury, that ended last week's game against Shore, probably means 'advantage' Kings going up against whoever gets the No.6 jersey at Joeys. (And all good wishes go out to young Feltis for a speedy and complete recovery. Look forward to seeing you back on the paddock.)
The battle of the halves should be terrific. At the time of writing, I'm not sure if Kings will run out with Charlie Steele-Park (10), who has been doing the job as their starting 10, or bring up Jack Mann from the seconds. My guess is that without injuries, Kings will stick with CS-P at the open. But either way, marking up against Joeys' chief playmaker in Wilkinson (10) is going to be a contest within a contest.
And the battle of the three-quarters is worthy of a full attendance by all GPS selectors, with Kings' Matt Orpen (12) and Rhys Millar (13) up against Tristan Reilly (12) and Yirrbri Jaffer-Williams (13). How on earth do you split those two pairings in some lousy match preview?! Aaaahhh, toss a coin?? Reckon we'll be far better to just sit back and enjoy it unfold!

Same for the opposing wing contest between Kings' left-wing Will Douglass (11) and Joeys zip-zip man down the right, Adam Tse (14). Blazing speed both, with some crazy stepping abilities. Spectators will be the winners, for sure.
So it could well all come down to the quality of the respective kicking games, and there, I'm giving the edge to Kings' custodian, Luke Osborne (15), who's been in majestic form in the opening rounds. As good as McTaggart (15) is down back for Joeys, he'll need to be even sharper with his kicking accuracy to keep the pill the heck away from the big fella down back for Kings, and watch for some of those trademark, big-stepping, run-backs.
CJ predicts
In what should be an absolute treat for all viewers, I am certain that GPS Schoolboy Rugby will be the biggest winner on the day. But for those looking ahead at the Premiership table, I'm going to give it to the Kingsmen at home by a solitary point.
Riverview v Shore

by "Gary Owen III"
The next battle in the epic quest for the Holy Grail takes us to the low-lying fields of Riverview, adjacent to the Lane Cove river. This be the stronghold of the Catholic armies of St Ignatius (Iggies), whom have not had their Castle under siege since the war of 2015.
The Pope had sent an emissary to bless their 2016 campaign and it would seem the holy blessing had done the trick when their armies marched upon the far flung fields of Hunters Hill and Stanmore. Both resulted in victories, although it was acknowledged that the high "points against" at Stanmore was a concern for their Generals.
The North Sydney regiment of the Anglican armies of the Church of England (Shore) had sent word of a declaration of war. They were determined they would meet Iggies on their home soil in a battle for the valuable GPS competition points. While Shore had suffered recent defeats and casualties after being attacked by the Scots and those "other" Catholics, a new battle now looms with contests all over the field likely to decide the outcome.
Heavy Armoured Division – Iggies are well served up front by Lieutenant Cutler in his second campaign. Opposing him will be Sargent Edwards from Shore. Both are well built for battle and will be taking many hits up on the front line. But don't forget the shorter men up front whom will be very important. An army always needs good hookers.
Paratroopers – Corporals Silk and Peterson have had specially built "Nike Commandos" made for the aerial battle against the juggernaut of Brigadier Suttor and Commander Salter. Think "Top Gun".
Fast Attack Vehicles – Here is where the war could be won and lost. The highly decorated division of Rorke, Fenn and Scott will be expected to strike with "shock and awe". But look for guerrilla tactics from the Shore trio lead by Field Marshall Allen, whom have only been saying three words at basic training "Tora,Tora,Tora".
War Room Tacticians – Shore may hold a slight advantage in this area with both Captains Haskins and Sinclair in their second campaigns over the relatively new pairing of Privates Grant and Lenehan.
Infantry – Field Marshall Terry will lead the charge in the centre of the battle accompanied by new recruit Easy. Expect them to show little compassion as they hit the Shore Colonel of Sheehan and Hedley with a barrage of power.
Cavalry – The speed out wide of the Shore light horse against the power of the Iggies Cavalry will be a sight to behold. Both have had shuffling in their ranks and the battle will be without the "fastest horse in the land" as Captain Rixon is still in the M*A*S*H unit.
Sentries – The custodians of this skirmish have both recently transferred in from the Cavalry units. Shore's Major Gregory and Iggies Captain Smeallie are both charged with maintaining the rear guard of their respective armies and launching various raids from all points on the field.
GOIII predicts
No war is ever won on paper, but the Armies of St Ignatius will be considered favourites by a grenade or two. Bring you hard hat and watch at your own peril.
Scots v Newington
by "Crackerjack"
Last year's joint Premiers face off at Bellevue Hill in what, for the team that loses, could flush any semblance of their Premiership contentions right down the gurgler.
Newington, in two Rounds at home, have leaked more points than Dear Liza's bucket, but they have not played poorly, scoring puh-lenty themselves. Scots, in their first two encounters for the year, have struggled to keep the ball in hand and with continuity to advantage. Some impatience at critical periods of the games so far, me thinks?

The forwards will have a very even tussle in this one, and the battle of the breakdown should be a treat; something akin to an All-in Cage Match. Scots' George Miller (6) and Hughie Green (7) will be evenly matched up against New's Cap'n Tom Serhon (6) and Rory Lynch (7). There'sll be a couple of quality No.8s on the paddock in Scots' Charlie Crawford and New's Nathan Lawson. But the real difference at the breakdown could well be Scots' ubiquitous artful poacher, hooker Charlie Jeavons-Fellows (2).
Much of the fancier action, as well as the final result, will likely rest with how well the backs go – in attack naturally, and especially in defence. Scots will do well to neutralise New's big three-quarters of Tyrone Taukamo (12) and Hamish Duvall (13), but that's what tackling is for.

And the lads in Gold sure won't want to be kicking the pill away and down the throat of New's classy Bailey Simonsson (15) without expecting it to be returned with interest pre-paid.
In the absence of any changes to the Scots backline, New's back three have it over their Scots counterparts in experience, so the Scots lads will need to be on their toes.
It'll be a brutally hard-fought match. But really, aren't they all that way in the top flight this year?
CJ predicts
On paper, and only arguably, New are a leaky nose in front, but those lads in Gold, playing at home, in front of a captive crowd, baggies birling away on the sideline, mmmm? Again with the heart – Scots by 7.