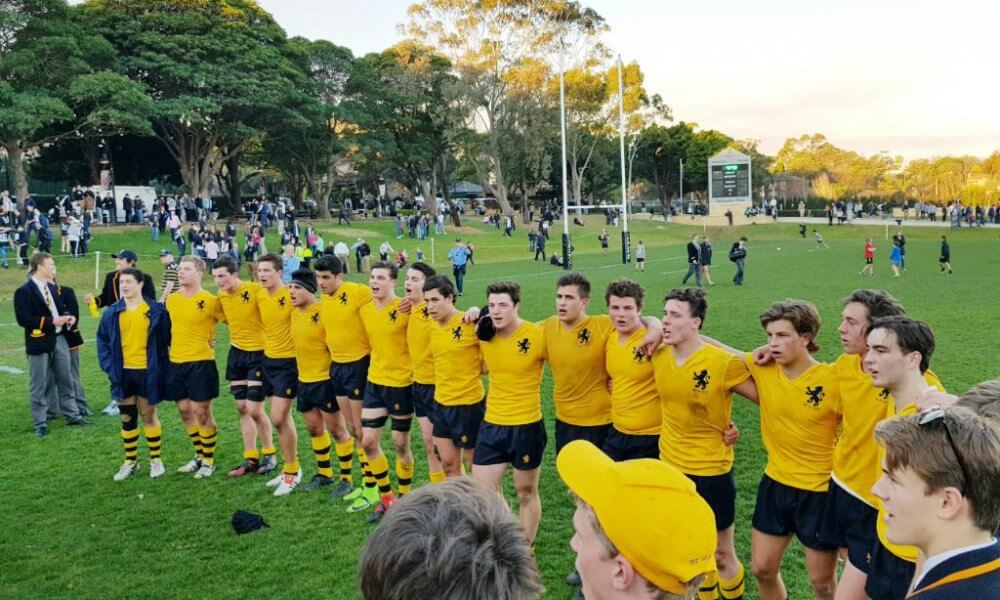 Scots beat Kings 24 to 21 in a cliffhanger at Bellevue Hill to claim their fifth consecutive 'School Challenge Trophy' with one round remaining.
Joeys played some scintillating rugby in their 47 to 24 disposal of Newington at Stanmore. Riverview beat Shore 47 to 21 at Lane Cove. Riverview now sit tied with Joeys in third place, setting up a cracker of a match this Saturday at Hunters Hill.
---
By "Crackerjack"
The penultimate match of a one round comp; a 'decider' for the only two undefeated teams; the chocolates all on the line; the stage perfectly set on a perfect Sydney winter's day.
First half
Early nerves were settled for the home side when Nelson Bours (5), like a seagull stealing chips on a bright, fine day, swooped on a Kings' pass and showed a clean pair of heels to the line.
As they have all season, Scots' locks work in tandem, and only minutes later Jeremy Williams (4) snaffled the footy from the ruck base, and dashed through non-existent Kings' defenders on the edge of the ruck to score Scots' second. Max Robson (11) converted and 10 minutes in, Scots were 12 – 0.



Mid-field and attacking zone drives of both sides were getting shut down by the other's defensive walls.
Step up Scots' two Charlies. A sweet-as-you-like inside pop-pass from Charlie Savala (10) to a trailing Charlie Baker (13) broke through the Kings' three quarters, and Scots had their third try and led 19 – 0 (see video clip of try below, courtesy of "sidesteppa").
With five minutes remaining, Scots' season's leading try-scorer, Tom Yassmin (14), pinched a virtual intercept and ignited his favoured touchline crowd to score down the right.
Half-time score: Scots 24 – 0 Kings
Second half
A Kings' strategic change breathed new life into the contest; champion fly-half, Matt Minogue (10), using his super-boot to kick for territory and let his forwards earn their keep.
An early rolling-maul from an attacking line-out, and rake, Ciaran Loh (2), opened Kings' account. Minogue added the extras and Scots led 24 – 7.
Kings' tactical kicking kept Scots back on their side of halfway for long periods, but Scots' defense held firm, and the game's tension built as the game-clock ticked on.



Kings' patience and their supporters were rewarded 20 minutes in when accurate passing put OC Ben Duckworth (13) in space and a mis-match against Scots' defending loosehead prop close to the line (see video clip of try below, courtesy of "sidesteppa"). Scots 24 – 14.
Kings' custodian, Johnny Connolly (15), then scored down the right, and with 10 minutes remaining, at 24 – 21, a grandstand finish beckoned for the sky-blue and white.
An edge-of-your-seat finish, and Kings threw everything they had at the lads in Gold, including the kitchen sink, but the boys from Bellevue Hill were up to the task and closed out the game with a whole of team defensive effort.
Full-time score: Scots 24 – 21 Kings
THE WRAP
A game of two halves indeed, with everything on show from the pre-match billings for the Season's best two teams. Scots outlasted rather than bested a brave Kings; the second half showing the true mettle of both sides.
Congratulations to Scots, securing the 2017 Premiership and the "School Challenge Trophy" for the fifth year running.
THE PLAYERS
Best for Scots: Jeremy Williams (4) – a standout in the forwards. Brett Wellington (6) – bullocking runs and defensive hits. Will Harris (8) – enormous defensive effort.
Best for Kings: Josh Gunstone (8) – busy as a flea; led by example in hit-ups and tackling. Matt Minogue (10) – a constant threat, with boot and ball in hand. Charlie Brown (7) – led from the front.
SCORING DETAILS
Scots 24 (Bours, Williams, Yassmin, C.Baker tries; M.Robson 2 con) def. Kings 21 (Loh, Duckworth, Connolly tries; Minogue 3 con)
FULL MATCH VIDEO
Courtesy of "sidesteppa"
---
By "Quick Hands"
A beautiful sunny Sydney winter afternoon greeted the teams with sunny skies, a dry track and light westerly blowing across the ground.
First half
The game started with both sides engaging in willing play and moving the ball around before the Joeys backline began to assert their dominance supported by a fast and mobile forward pack.
Newington on the other hand looked more comfortable keeping the ball tight and struggled to penetrate through the backs.
Joeys 8 opened the scoring with a barnstorming run which he converted, followed fairly quickly by a penalty goal for Joeys to lead 10 – 0.



Play then moved down to the other end of the field and Newington scored a forward-based try, which took the score to 10 – 7.
Joeys backline then produced a period of scintillating rugby in which they piled on the points to lead 32 – 7 at the break.
In fact the margin could have been wider at this point but for some desperation defence by Newington and some occasions when Joeys backs over-played their hand and made an error, when simple rugby might have brought a try.
Half-time score: Joeys 32 – 7 Newington
Second half
Whatever the Newington coaches said at half time certainly worked, as the Newington boys came back strongly in the second half.
No 4 scored a try from a strong run which was almost a carbon copy of the try which Joeys 8 had scored in the first half.
Newington then dominated play for the next period as the New forwards put their Joeys counterparts under pressure and thus limited the ability of the Joeys backs to make inroads.



A sequence of tries to Newington with a solitary try by Joeys took the score to 37 – 24 with about 10 minutes to go and counter-intuitively, it seemed to be Joeys who were tiring as the Newington forwards kept coming.
Joeys steadied the ship, and a couple of backline turnovers from mistakes in the Newington backline saw Joeys regain control and another try with five minutes to go saw the lead advance to 44 – 24 and any hope of a Newington victory was extinguished.
A penalty on full-time to Joeys saw the kicker slot it over from near half way.
Great game of schoolboy rugby with Joeys deserved winners, but Newington by no means disgraced in defeat.
Full-time score: Joeys 47 – 24 Newington
THE PLAYERS
Best for Joeys: 8, 9 and 13
Best for Newington: 1, 4 and 6
SCORING DETAILS
Joeys 47 (Quinn, Reilly, Dowling, Scolari, Houston, Bourchier tries; Quinn 3 pen; Quinn 4 con) def. Newington 24 (Kearns, Lewis, Eruini-Bennett, Bell tries; Morgan 2 con)
---
Unfortunately no report was written for this match.
SCORING DETAILS
Riverview 47 (McLennan 2, Beatty, Allsopp, Rorke, Bell, Grant tries; Easy 6 con) def. Shore 21 (Crafter, Williams, Sinclair tries; Sinclair 3 con)