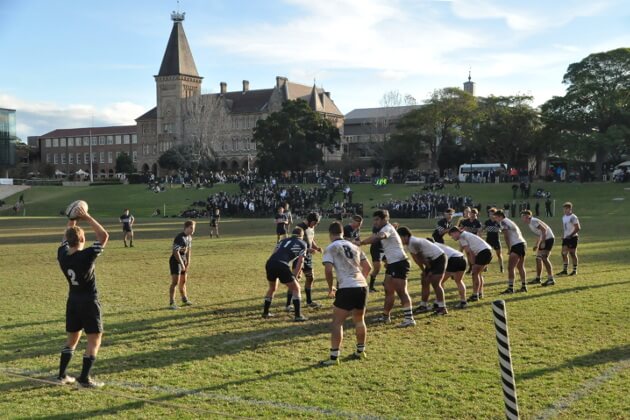 Three more intriguing matches and some wet weather are on the cards for this Saturday, as we approach the half-way point in the 2016 season.
Scots host Riverview at Bellevue Hill, Kings head to Northbridge to take on Shore and Newington clash with Joeys at Hunters Hill.
This weekend's games are the last in the first stanza of home and away matches, so mid-season 'bragging rights' are at stake. To add to the intrigue, this will be the second last opportunity for the players to impress selectors, with the GPS rep teams to be announced after Round 6. And just when you'd think it impossible to dial up the tension any further, it looks like all teams will be tested in the wet for the first time this season.
This week we look at what the Bureau of Meteorology is predicting and how that could impact activity on and off the pitch. We also forecast what to expect from the three matches and look at some of the key head-to-head clashes.
If you missed what happened in Round 4, check out the match reviews, as well as "sidesteppa's" highlights video of the View v Kings 1st XV clash.
The pitch
Rain forecasts for Sydney this Saturday from the Bureau of Meteorology have been scaled back from 80mm to 10-40mm, but 40mm is still a lot.
Kings supporters will be fine. They are well stocked in the gum boots department. But I expect the rest of us may need to raid the department stores over the next 24 hours to grab a pair of 'wellies'.
From all reports, the three pitches are in good knick and it's probably fortunate that New and View aren't hosting games. Their ovals capture more water than most given the surrounding topography and we wouldn't want to see hoards of European 4WDs bogged in the View carpark again (or would we???).
The drainage at Hunters Hill is very good, second only to the drainage on one's wallet often experienced when taking the kiddies to Joey's home games. Damn that ice cream truck.
Meanwhile, rumours that laundromats around the East and Lower North Shore are expecting to 'clean up' this weekend should be tempered. The quagmires that sometimes develop on the cricket pitches at Bellevue Hill and Northbridge usually follow the second major rain event, when the squares have already been cut up.
But there is no doubt it's going to be slippery under foot tomorrow and, at a minimum, we can expect some low scoring games. Maybe even some upsets. It's also going to be an afternoon for the forwards, with suggestions made that the backs may not even take the field because the risk of frizz is way too high.
If the rain sets in early and the grass grows a bit too much over night, there is no need for concern. I've been told that Kings have a small herd of woolly lawnmowers that could be borrowed.
Finally, off the field, further news from Kings is that one of their die-hard supporters has invented a 'pie-cover', so that he can keep the delightfully crispy pastry on the Northbridge pies from going all soggy, should the rain really set in. Photos please.
Preview – Scots v Riverview

by "Rich_E"
Tomorrow's clash between Riverview and Scots could end up being one of those defining moments when we look back at seasons end.
It's first against equal second and if View win, they will end the first half of the comp having beaten all before them. But a Scots win could potentially see three teams on equal first (assuming Kings win at Northbridge).
Riverview won 24 – 12 when the two teams met in a trial back in early April. They are close to full strength this weekend and will front up at Bellevue Hill full of confidence after knocking off Kings last Saturday.
But Scots, who many thought would struggle this season, have arguably been the competitions biggest surprise packet. They will take the field with at least five players not in the run on when they last played Riverview, due to changes in form and returns from injury. And they have the home ground advantage.
Key match-ups
The scrum: View would be expecting to dominate here, but I think it will be a close contest. Scots have made huge improvements in the dark arts and should achieve parity.
The centres: With no disrespect to O'Beirne and Gavin, View's Terry and Easy/Pirina are just about the best in the business and the less it rains tonight, the more likely they will take control of the match and guide View home to victory.
The break-down: Both teams boast players 6 to 8s who have won GPS premierships before and/or made Rep sides in seasons prior. Fenn (View 8) is just about unstoppable. But the conditions are looking perfect for Miller (Scots 6) who was No 8 in the 2014 GPS Presidents 1st XV that included Dylan Pietsch (Kings 8) on the bench. Plus, Scots have at least three more back rowers playing in other positions, which should be a distinct advantage for them if the weather gets really nasty.
Predictions
A few weeks ago I would not have thought twice about calling a View win by a similar margin to the trial. But after watching Scots bring down New and Joeys in two consecutive weeks, and reflecting on the weather I actually now think Scots could pull off an upset. The bottom line? View by 5 but that margin gets shorter with every drop of rain.

Preview – Shore v Kings

by "Gary Owen III"
Only a week ago, this fixture was pencilled in by all and sundry as a mere speed hump on King's road to premiership glory. Kings were on a roll and Shore were struggling, albeit they were looking like they were improving.
But a lot has happened since then.
Last Saturday, Kings were given a bit of a reality check by Iggies and Shore went very close to gaining their first win of the season with an inspired defensive effort against Newington.
To add to the mix is the ever present injury toll.
Shore looks like being without skipper Robin Allen, but welcome back a couple of their backline stars.
Kings, on the other hand, have a couple of forwards – Mac Williams and Charlie Ryan – in doubt. But they do have the luxury of bringing back Joe Skelly and rumour has it that their hooker might shift to the back row for this clash.
Key match-ups
Front row – Edwards (E) v Lombardi (K). Two of the big boppers get their chance to face off and make a grab for a GPS front row spot. Expect plenty of explosive charges from both, which will be met with equally abrupt defensive hits. Sparks will surely fly here.
Locks – Suttor (E) v N.Brown (K). A couple of the form second rowers who both have been mentioned in just about every match report so far. Expect them both to lead from the front with some dynamic ball running on display.
Halfback – Haskins (E) v K.Brown (K). Could this be the battle for the GPS No. 9 jersey? Only issue is that Haskins is playing #10 in this game. Still I'd expect both to have a big impact.
Fullback – Rixon (E) v Osborne (K). The flyers at the back and potential game changers at any time. Osborne has been in spectacular form and is the main point of the Kings' attack. Rixon is returning from injury and will only enhance the Shore outside backs who have looked dangerous in his absence.
Other players to watch
Kings
Pietsch (#8) has been the most dangerous attacking forward in the comp thus far and will be a threat all game. Lynch (#2, but potentially #6) will be busy at the breakdown and #5 Skelly is always hard on the ball.
Shore
Shore #12 Sinclair will strengthen the midfield. #6 Abbott was outstanding in his debut for the 1sts last week. #11 Gregory has been dangerous out wide all season.
Prediction
The game will be a battle of the big Kings forwards v the silky Shore backline. If Shore can get their fair share of ball then they will be in this game, but if the big Kings forwards dominate then it could be long day of tackling. My heart says Shore, my head says Kings but it will be closer than most pundits expect.
Preview – Joeys v Newington
by "Riche-Lee Armchair"
Four rounds down and both teams are sitting on one win. For the victor an opportunity to stay in touch with the leaderboard. For the vanquished, the ignominy of one win from five.
While Newington only put Shore to the sword on the bell last week, they take some winning momentum in to this week's clash.
Joeys, on the other hand, will want to break their new found habit of losing the tight ones. Their three losses from four starts so far have been by less than a converted try.
But Joeys Achilles heel is Newington's strength and a tantalising battle awaits; size over smarts.
Joeys forwards have had trouble against bigger opponents this season, despite having a ton of ticker. But their backs are slick and fast.
Will the large pack and larger backs of Newington revel or flounder in the forecast conditions? Or will Joey's high performance vehicles evade their larger foe and show their talent with an expansive game?
That's a tough call. But what we do know is that some massive match-ups await and the result will come down to whether (and by how much) New get ahead before they potentially run out of steam.
Key match-ups
Big boppers – Helu (N) v Tuinakauvadra (J) . Both love a smash and bash game reminiscent of rutting goats.
Wingers – Taukomo (V) v Tse (J). Polar opposites in stature but boy can they both play.
Predictions
"Rich_E":: New to click and win by 5.
Lee Grant: New will bash Joeys up-front (but no score estimate provided).
"Armchair Selector": New will tire in the heavy conditions. Joeys by two tries.