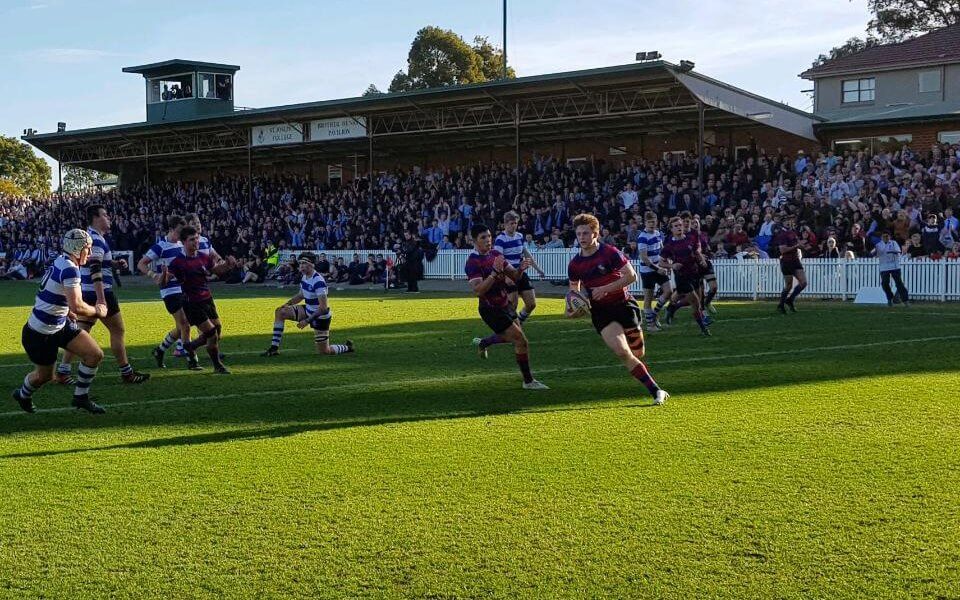 Scots finished the season as undefeated premiers after beating Shore 45 to 7. But the match of the round (and possibly the season) was played at Hunters Hill.
Joeys came from 12 points behind with nine minutes remaining to score three converted tries and claim the most unlikely of victories and 3rd place in the premiership.
Kings bounced back from their heart-breaking round 4 loss with a comprehensive 59 to 21 win against Newington to place second overall.
We will be publishing a full season review and our special awards later in the week – stay tuned.
---
By "Armchair Selector"
Joeys and Riverview have one of the fiercest rivalries in schoolboy sport.
A large crowd gathered to witness the latest chapter in the 110 year history of competition between the schools. To the victor a credible 3rd in the premiership and bragging rights to regale for years ahead.
First half
Riverview forwards laid a strong platform for their backs who hit the Joeys defensive line unrelentlessly.
Seven minutes in, quick ball from a scrum had Riverview #13 Angus Bell in space and over for a try out wide. #10 Dominic Easy converting. Riverview 7 – 0
Joeys defence was under immense pressure. At 20 minutes, #10 Easy wrong footed the Joeys defence near the 22. Scoring to the delight of the old boys looking on. Converting his own try. Riverview 14 – 0
The contest in the engine room was physical with no quarter given. An arm wrestle for forwards ascendency, punctuated by ruck penalties and scrambling defence.


Joeys were being punished in the penalty count. Ruck infringements and tackle release (or lack thereof) was proving expensive.
Quick hands off yet another penalty advantage to Riverview was well finished by Riverview #15 Edward Rennie. Riverview 19 – 0
In the shadows of half time, Joeys #2 James Bourchier broke the Riverview defensive line. This season he has proven to be a dangerous ball runner, with deceptive speed and agility.
Bourchier deftly offloading to #10 Vincent Creagh to score. #8 Jack Quinn converting. Riverview 19 – Joeys 7
Defensive lapses were proving very expensive for Joeys. Riverview had the majority of territory and possession in the half.
But Joeys never give up, exemplified by a one on one tackle by Joey's Captain #7 Paddy Dalton on Riverview's #8 Charlie Rorke, preventing Rorke from grounding the ball in goal for what appeared to be an inevitable try.
With half time, was this going to be the game changer?
Half-time score: Riverview 19 – 7 Joeys
Second half
Yet another defensive lapse by Joeys was punished two minutes into the second half with #10 Easy a beneficiary of poor ruck ball security by Joeys. Over for his second try and adding his own extras Riverview 26 – Joeys 7.
Riverview's Easy and Joey's Vincent Creagh were having a classic battle of the 5/8ths. Creagh slipped through a hole in the Riverview defence offloading out wide to #4 Ben Houston who with space was able to make the conversion kick easier for #8 Quinn who did the honours. Riverview 26 – Joeys 14.
Possession and momentum was shifting to Joeys. Riverview were losing composure and persistent infringements proved punishing. Culminating with #7 Allsop and #9 Grant both yellow carded within two minutes of each other.



Joeys increased the pace of the game. Twenty minutes in, Joeys #10 Creagh line breaks and scores. Quinn converting Riverview 26 – Joeys 21.
With nine minutes remaining on the clock, Riverview #2 Charles Beatty returned serve to Joeys #2 Bourchier with his own line break from half way. Scoring in front of the Riverview old boys who surged forward in delight breaking the fence (see video of try below – courtesy of "sidesteppa"). #10 Easy adding the extras Riverview 33 – Joeys 21.
Joeys were running out of time but will never give up. Five minutes to go #8 Jack Quinn crashed over from the ruck. Converting his own try. Riverview 33 – Joeys 28.
Joeys took the game up another gear. 2 minutes to go, Joeys #11 Liam Scolari outpaced his opposite number offloading to #4 Houston who scored under the posts to the delight of the home crowd (see video of try below – courtesy of "sidesteppa"). An easy conversion for Quinn. Joeys into the lead 35 – Riverview 33.
Half the crowd was silent and the other half in raptures. The final 2 minutes was a tense affair. Joeys controlled the ruck ball and shut down desperate attempts by Riverview to eek out a turnover.
But final honours went to #10 Creagh who backed himself again scoring his third try from a line break. Quinn converting.
Full-time score: Joeys 42 – Riverview 33
FULL MATCH VIDEO
Courtesy of "sidesteppa"
THE PLAYERS
Best for Joeys: Paddy Dalton, Vincent Creagh and Jack Quinn
Best for Riverview: Dominic Easy, Angus Bell and Charlie Beatty
SCORING DETAILS
Joeys 42 (Creagh 3, Houston 2, Quinn tries; Quinn 6 con) def. Riverview 33 (Easy 2, Bell, Rennie, Beatty tries; Easy 4 con)
---
By "Wristman"
It was a bright and balmy afternoon at Northbridge without a breath of wind, perfect for running rugby.
Shore supporters were out in force and from the whistle it was soon evident that someone had forgotten to tell Shore they were underdogs.
First half
For the opening 20 minutes the match bounced from one end to the other with neither team giving quarter.
The heavier Scots pack charged at Shore who were valiant in defence shutting down repeated mid field hit ups.
It was only at scrum time that the two teams could be separated when the superior size and strength of the Scots pack became evident.
Shore struggled to keep their footing and were repeatedly pushed back. Shore's issues were further compounded when prop Edwards, their largest forward, limped off injured.
With patchy ball, Sinclair at fly half was marshalling his backline most effectively, mixing it up to keep Scots guessing and with the pace of Rixon and Kendrick-Little out wide, Scots had to be constantly on their guard.
The deadlock was broken after 22 minutes when scrum half Dulieu darted from the base of the scrum and found fly half Savala at his shoulder, who ghosted through two defenders to touch down. There was an audible sigh of relief from the Scots supporters.



Scots lifted and a second try quickly ensued with battering ram Brett Wellington crashing over from close range.
A third try followed just before half-time, which was the pick of the day and had the Scots faithful on their feet.
Running the ball from inside their own 22, the ball passed through half a dozen sets of hands, all perfectly placed in support, for Harris to touch down under the posts.
It was a classic team try that has become the hallmark of Scots rugby in recent years under coach Brian Smith.
The half time score flattered Scots somewhat, for much of the opening session it had been a much closer affair.
Half-time score: Scots 21 – 0 Shore
Second half
The second half started much the same as the first with a fiercely contested arm wrestle that see sawed back and forth. Shore looked very threatening and 10 minutes into the half the try came.
Scots backline had been charging at Shore all afternoon and a delicate chip over their heads by fly half Sinclair had them scrambling to get back. Shore won the contest and Kendrick-Little touched down for the points.
The Northbridge faithful were in raptures and now at only 14 points adrift it was far from a lost ball game. However, hope was to quickly fade as Scots suddenly found another gear.


The prospect of a loss to Shore and joint rather than outright premiers would have been a bitter pill to swallow for the men in gold.
The last 15 minutes were all Scots with 4 tries. Harris off the base of the scrum for Dulieu to touch down. Wellington at short range again. Harris with his second from a mid field break and in the dying minute, a well timed pass from Savala to hooker Zylstra for a score under the posts.
It was a fitting reward for the front row of Breen, Zylstra and Smith who had dominated the scrums all afternoon.
Full-time score: Scots 45 – 7 Shore
THE WRAP
A healthy win for Scots, as many had predicted, to leave them five from five for the season.
Shore again have failed to register a win this year, but their performance was valiant and those critics who have suggested Shore no longer deserve their place in GPS rugby were proved to be very wrong.
This was no one sided affair. For long sections of the match, there was little between the two teams.
THE PLAYERS
Best for Shore: Sinclair (10) – great vision, smart tactical play and some lovely individual touches. Rixon (15) – quick and elusive, although starved of ball at times, he was a constant danger and threat. Kendrick-Little (11) another speedster with great vision.
Best for Scots: Harris (8) – outstanding as always. Dulieu (9) – another great game, he's made a huge difference since returning from his early season injury. Breen (3) – one of the unsung heroes of the front row, he has been a rock all season.
SCORING DETAILS
Scots 45 (Wellington 2, Harris 2, Zylstra, Dulieu, Savala tries; Savala 3, Styles, Patterson con) def. Shore 7 (Kendrick-Little try; Sinclair con)
---
Unfortunately no report was written for this match.
SCORING DETAILS
Kings 59 (Brown 3, Williams 2, Gunstone 2, Connolly, Stewart tries; Minogue 6, Hicks con) def. Newington 21 (Bradford 3 tries; Morgan 3 con)