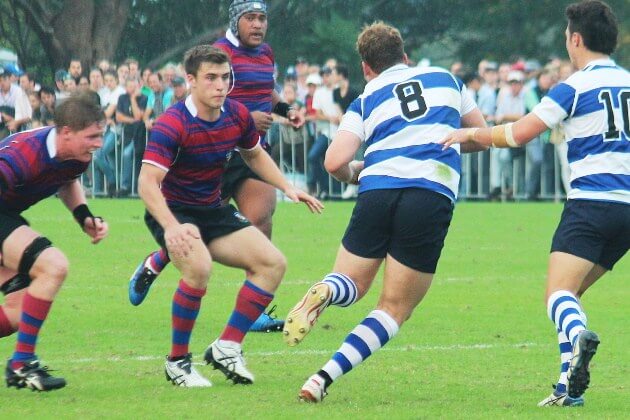 Round 6 marks the start of the second half of the season and Riverview, Kings and Scots are tied for first.
After a week off, all teams will be refreshed and chomping at the bit. Riverview host Joeys at Lane Cove, Newington travel to North Parramatta to play Kings and Scots are at home against Shore at Bellevue Hill.
This week "George Grant", "Crackerjack"  and "Marched Ten" share their thoughts on what are sure to be three entertaining and intense matches.
If you missed what happened in Round 5, check out the match reviews, as well as "sidesteppa's" highlights video of the Scots v View 1st XV clash.
Riverview v Joeys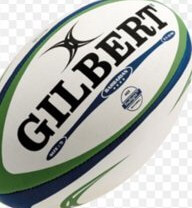 by "George Grant"
The match-up at Lane Cove this week begs to be the battle of the round. This renowned rivalry has seen a recent resurgence, with a thriller played at Joeys earlier this year. Joeys, despite not putting more wins on the board, are still a very dangerous team and on their day can trouble any of the comps best. Riverview, who are coming off a devastating loss to Scots, won't be taking this one lightly either.
Key match-ups
Front-row – Second year 1st XV representatives Layton Holley (J) and Frank Cutler (I) will lead their respective front rows, as they attempt to get one-ups on each other with GPS selections looming. The importance of the dark ministry of arts, that is scrumming, can't be underestimated in this game, as the battle of the set piece is enormous, especially considering the rough forecast for Saturday.
Back-row – Another significant matchup that looms is the opposing number 8's. Red-head Michael Fenn (I) has been one of the best in the comp – combining power, size and IQ. For Joeys, Miti Tuinakuavadra has demanded attention, with his ball running ability and size being enormous thus far in the season.
Five-eighth – The Battle of the Fly's, Tom Lenehan (I) and Nick Wilkinson (J) also has some heavy weighting on it. Both players have been directing their teams well to start the season, and in the first leg of the fixture this match-up was decisive in the end result. While Wilkinson has one year under his belt, Lenehan has sprung out of the gates this season, and this matchup could decide the fly half for the subsequent GPS 1st XV.
Outside centre – Without a doubt, the superstar 13s from both sides will be crucial to their team's chances. Will Terry (I) has been in fantastic form this season, assisting others and making many breaks through the line. Yirribi Jaffer-Williams (J), despite this being his first season at outside centre, has carved up opposing teams' backs, being regularly noted by spectators.
Wing – Both sides wingers are very dangerous, and very different. While Riverview have the strength and quickness of Oliver Smeallie and Jake Pirina, Joeys have the footwork of Adam Tse, and the kicking game of Lachie Day. All these boys have pace and stopping their opposing number will be crucial to their team's success.
Prediction
This will be very close initially, but Riverview to finish strong over the Joe boys in front of the View faithful. Riverview by 12.
Kings v Newington
by "Crackerjack"
Kings got the chocolates in Round 1 in a 10-try extravaganza at Stanmore, 40-32, with the more accurate boot of Kings' sharp-shooter, #9 Brown the difference.
Unless I don a pair of Sky-blue and White tinted sunnies, or get shoved onboard the Azzuri's King's Express, a repeat scoreline this weekend seems unlikely. This will be a tight affair.
Away teams have done well this year, but Kings at home will be hard to toss. Apart from the blemish against joint-leaders Riverview in Round 4 (and points-wise, mostly that was from View's blitzkrieg opening), Kings' D has been strong and getting stronger.
Kings have a fast, fit and mobile pack, are solid across all the backs and have a sound kicking game. They are also lethal at keeping the scoreboard ticking over, having roosted the big skin over the black dot for three-pointers on 12 occasions. They next best is Joeys with 6.
Newington though, closed out the season's first half as the 'big improvers'. Welcoming back their starting flyhalf, Bayley Kuenzle, has given them a boost. Their offence has been firing all the way through. After 5 rounds, they have bagged more meat than any other team, having scored 22 tries to Kings 14. They've also proved they have try-scoring strike power almost from 1 to 15.
Their Big Boppa forwards will revel in the fair dinkum wintery conditions that Sydney in June provides. The sniff of showers this Friday/Saturday, will get the New heavies doing their best rain-dances at training this week, and they will head to Parramatta not merely to demolish the Kings BBQ, but to rip the Kingsmen's season a 'New' one.
For mine, this match will come down to a battle of the teams' respective 'Achilles' – and it's not Kings' 'Foot-longs' or Newington's 'Big Newies' of which I speak. Rather it's Kings' offence against New's defensive 'sensitivities' that are the key talking points of difference.
Prediction
Kings at home by 7
Scots v Shore
"Marched Ten" and "Crackerjack"  submitted previews for the Scots v Shore game. So we thought we'd double you reading pleasure by including both.

by "Marched Ten"
The boys in Blue and White venture 'all the way over the bridge' to take on Scots at Bellevue Hill. The Mane (pun intended) event of the day features the clash of two 1st XVs that sit at opposite ends of the table.
Shore will be looking to end their winless streak, of which they are no doubt capable. For Scots, this is a must-win game if they want to stay in the premiership race.
Both teams will field mobile forward packs and one of the key match-ups will be in the back row. Hugh Green for Scots has been one of the form backrowers in the competition. It will be interesting to see whether Shore skipper Robin Allen can shut him down. One thing's for certain, is that he and his fellow back rowers will give it a red-hot go.
In the backs, Will Haskins returns from injury for Shore. He's a class act who will no doubt have a big impact on the game, due to his size and skill. For the boys in Gold and Blue, Nic Shannon has been in good form, particularly in the last two rounds. Watch for his clearance kicks and punts to the corner.
While Scots would be favourites to win this Saturday, Shore have enough talent across the park and sufficient will-to-win to claim at least one scalp before the end of the season. Will it be this weekend? Only time will tell. But regardless, this will be an entertaining match and no doubt both sides will give it their all.
Prediction
I'm going with my heart and reckon this will be Shore's weekend to cause an upset. Shore by 3.
Other matches
The 2nd VX will be a tough game for the boys in Blue and White, coming up against a Scots team that has won 4 from 5 games. The 3rd XV will be a fast paced and close fought spectacle. Both teams have recorded 1 win and 2 losses and are fighting for the next rung on the ladder.
by "Crackerjack"
Scots may not have a worthy contender for 'Pie-of-the-year', but they do have a balanced, talented, hard-working 1st XV that plays to their strengths and as a team.
Shore will do what they always do. They'll run all day, they'll never give up nor in, they'll be indefatigable. And because of that, Scots won't take them lightly.
But the real issue for the Shoremen is that their offence is going to run into one of the hardest working defences in the comp, who've improved markedly since their Northbridge away win back in Round 1.
As it's been in their most recent games against New, Joeys and then View, Scots' scrummaging, lineout and work in the loose will be a feature and set a platform. Repelling the oncoming attacking waves will require a mighty effort from Shore to stay on level terms through the full 70'.
Prediction
A home team win by a similar margin to their Round 1 result. Scots by 12.