As expected, last week's matches were filled with more drama than an episode of Wentworth. The thrillers at Stanmore and Lane Cove were enough to made Jacko moonwalk in Neverland one more time. Newington remain on the table top and it would appear that even Selleys couldn't seal the gap between the top and bottom three from this point forward.
So what's in store for this weekend? Rich_E reckons:
Scots by 10 with the home ground advantage the difference.
Newington by 3 with the result determined in the final minutes like many of their recent games.
View by 20 as it finally all clicks, with more tries scored than conceded.
Here's what Azzuri, Crackerjack and Gary Owen III had to say about this weekend's matches.
Newington vs Kings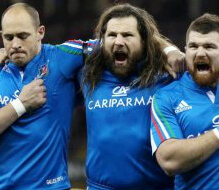 by "Azzuri"
The battlefield
Off the back of five solid wins, followed by a draw last week against the Bellevue Hill glitterati, the 'Wyvern's Spawn' will be sharpening their talons, filing their fangs and licking their lips in anticipation of taking on 'all the Kings Horses and their Kingsmen' at their Stanmore battleground.

With both armies relatively unchanged since their first battle of the year, most of the peasantry would be wagering their little pigskin purses on
Newington's Marauding Hun to slay their less fancied but nonetheless gallant Kingsmen.
As with all armies, the protagonists in this battle have strengths and weaknesses they can unleash faster than Sean Fitzpatrick predicting a comprehensive win by 'The Darkness' at Eden Park. But the local 'Town Criers' would do well to think twice before polishing their bells and hitting the cobblestones of the village square to proclaim 'The Kings are Dead'…
Scalps claimed
While the positives for Kings in their first game against New were thinner than a possum's private bits stretched over a 44 gallon drum, they did stick it to them in the second half. Kings kept New scoreless, which was no mean feat given the dominance of Stanmore's piggies and their razor gang backline.
Kings have continued to show glimpses of what they can do in subsequent games but have failed to convert it to medieval 'heads on sticks'. Last week's solid performance against Shore, however, should reinvigorate them and give them some comfort that if they play to their potential, they have the minerals, work ethic and the fitness to upset at Stanmore.

In contrast, New has continued to dominate, steamrolling all before them in an impressive display of power, speed and quality set piece execution.
Their Achilles heel, however, appears to be their fitness and capacity to stay the course. Their big steam rollers carry some hefty poundage and have huge engines, but they are operating on vapours at the 45 minute mark.
If Kings can keep the black and white within sight in the first half and possibly even get some ascendancy on the score board at oranges, we could end up with an upset at the crow of the cock.
The Knight's table
Newington: Boasts the biggest pack in the comp and their formidable front row cannot be allowed to gain the ascendancy in broken play. Likewise, if the razor gang of Murray, Kennewell and Loga-Tarogi are allowed to run, they will dive into gaps faster than a politician booking a chopper to the local fish shop.
Kings: The dynamic trio of Piestch, Chapman and Brown will be looking to lead by example and take the fight to their more fancied opposition. The backline combo of Matt Orpen, Nick Stubbs and Rhys Millar will look to capitalise on gaps that open up once the big engines start to sputter from fuel starvation.
Prediction
Kings to cause the upset of the round with a penalty goal victory in the dying minutes of the game.
Click on Page 2 below to see previews of Scots v Joeys, and Riverview v Shore.
Pages: 1 2